I, Robomancer: Japan, Buddhism, and Artificial Intelligence
Writer Ang Kia Yee reviews roboticist Masahiro Mori's classic book "The Buddha in the Robot", while reflecting on the text's contemporary relevance to today's late capitalist, geopolitical arena.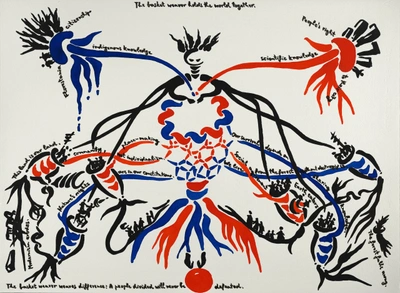 "Japan is still the future, and if the vertigo is gone, it really only means that they've made it out the far end of that tunnel of prematurely accelerated change."
William Gibson

[1]
Debates on the "Tech Cold War" [2] between the U.S. and China are often fraught with alarmist either/or binaries. It's Western libertarianism or Eastern authoritarianism; us or them; win or lose; do or die. And the media is keeping score [3]. Principal to the ongoing trade war is artificial intelligence (AI), the trophy at the end of the tunnel of geopolitical one-upping, the prized proof of dominance over the future through its technologies. More crucially, AI presents the promise of heightened control over data and people [4]. 
Analyses thus far have focused on three key factors influencing the development of AI: talent, funding, and hardware [5]. While China leads in funding due to immense government support, it lags behind the U.S. in hardware, as well as its pool of talent [6]. However, China's large volume of data for machine learning, a result of millions of users and lax policies on privacy, is often cited as a key advantage [7]. This is especially potent when coupled with the government's laissez-faire ethics in terms of AI implementation, especially controversial when it comes to facial recognition technology. 
Yet an additional factor needs to be considered, namely the effect of East Asian culture on the development of AI. Although I can only extrapolate in broad strokes, given the historical "Othering" and essentialising of the East by the West [8], the effect of culture in East Asia necessitates an urgent discussion of cultural clichés. 
When it comes to the legacy of such stereotypes, Japan rises above China as a both romanticised and demonised counterpoint to the West. Its dual image in the Western imagination has remained equivocal through the post-war decades, and continues to proliferate today. This binary logic is apparent in The Chrysanthemum and the Sword, the 1946 landmark study of Japanese culture [9] by American anthropologist Ruth Benedict. In it, the Japanese are described as "both aggressive and unaggressive, both militaristic and aesthetic, both insolent and polite, rigid and adaptable, submissive and resentful of being pushed around, loyal and treacherous, brave and timid, conservative and hospitable to new ways" [10]. This ambivalence is also echoed by Yoshinobu Hakutani, who wrote that "Japan is perceived to be a culture buttressed by its unique national philosophy and arts, 11 [12]. Japan thus presents as "an object of fantasy to the West" which attracts and repels, comforts and threatens [13].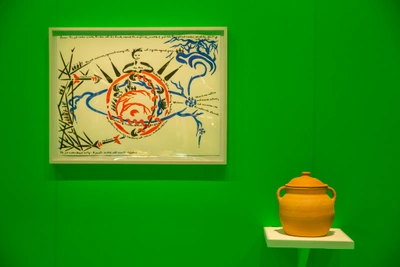 China, conversely, is demonised [14] far more than romanticised; its image does not hinge upon the same duality accorded to Japan. And although China has not adapted to its clichés as willingly as Japan, it has not been consistent or effective in dispelling these assumptions. While "15 China has remained hostile toward and vocal in its criticisms of America [16], thereby allowing the "yellow-fevered" visions of itself as an authoritarian, West-hating monster to fester. The conflict between America's obsession with absolute freedom and China's acceptance of governmental intervention and control only exacerbates this opposition. 
Thus, China and Japan have each formed a specific type of counterpoint for the West. While China terrifies the U.S., Japan has become that "object of fantasy," producing cultural exports that mirror and proliferate an essentialising Japaneseness. America's Japan is arguably re-appropriated as Japan's Japan, a point which I will return to later in my exposition. 
While Japan previously fell behind in the AI race, initiatives such as SoftBank's Vision Funds have revitalised its position as a contender [17] to watch (even despite the recent WeWork IPO disaster). Crucially for this discussion of culture, Japan remains synonymous with the most obvious cultural form of AI: the robot, particularly humanoid robots that destabilise discrete categories of man and machine. The immortality of this characterisation reveals itself in Western popular culture, from the continued celebration in film, music and even streetwear [18] of 1980s post-apocalyptic cyberpunk seinen manga [19] Akira, to the recent 2017 and 2019 blockbuster revivals of a later 90s manga series, Ghost in the Shell [20]. Japan, therefore, retains centrality in the visual ecosystem of representations of AI, particularly for mass Western audiences. 
Drawing upon Japan's dominance in cultural representations of AI, as well as the entanglements between "America's Japan" and "Japan's Japan", I would like to ask these questions: What about Japanese culture encouraged the uptake of AI, particularly in human-like forms? And, examined alongside China, can it be argued that East Asia is, as the West perhaps fears in this Tech Cold War, more culturally predisposed to AI? With these provocations in mind, I would like to pivot from the U.S.-China binary by turning to The Buddha in the Robot, a 1981 book written by robotics engineer Dr. Masahiro Mori [21].
···
In August this year, Kyoto's Kōdaiji Temple began using a robotic priest to deliver sermons and impart wisdom about Buddhism to visitors [22]. Named Mindar, the humanoid was designed to evoke the Buddhist Goddess of Mercy [23]. Almost four decades after his seminal text, Mindar makes literal Masahiro Mori's proposal in The Buddha in the Robot, that within AI is the Buddha-nature. Cementing the link were these remarks by Kōdaiji's head monk Tensho Goto, "Artificial intelligence has developed to such an extent 24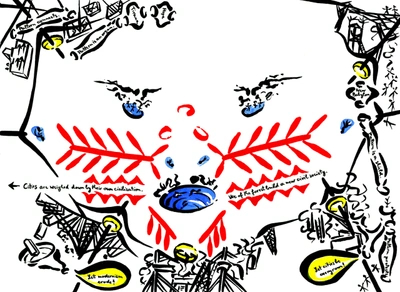 Two key strands align Goto's and Mori's statements: firstly, that Buddhism and robots are compatible rather than diametrically opposed; secondly, that robots are agents of change and affect, which have "a tendency to change people's attitudes toward life" [25]. By undermining the assumption of machines as unnatural, powerless, subhuman objects, Goto and Mori add to the growing field of new materialism, which advocates for the agency of matter [26]. Within this paradigm, anthropocentrism is undercut by a proposal of existence as holistic, interconnected, and reciprocal. Distinctions between man and machine, human and artificial intelligence are thus nullified. Goto signals Buddhism's inherent disregard for these categories when he explains that Mindar "27 Of course, Mori doesn't disregard the differences that be, especially the presence of ego in people as opposed to an absence of it in robots [28]. Yet, as he goes on to illustrate, the absolute control we think we have over machines is matched by the inevitable control machines have over our bodies which have to step on pedals, squeeze handles, press buttons, click fingers, utter commands, or think thoughts to make machines work. "They don't do what you want them to do unless you do what they force you to do." [29] In recognising the reciprocal flows of existence, Mori can be read as a challenge to the supposed prize of absolute control at the heart of the Tech Cold War.
Within this paradigm, anthropocentrism is undercut by a proposal of existence as holistic, interconnected, and reciprocal. Distinctions between man and machine, human and artificial intelligence are thus nullified.
Mori and Goto's perspectives seem emblematic of a broader Japanese psyche. Variations on this theme include philosopher Keiji Nishitani's notion that "30, which sustains Mori's argument that a membrane does not separate so much as form "a vital link" with a "connective function" [31]. Osamu Tezuka, the father of manga, made explicit the robotic relevance of this philosophy when he expressed that, "32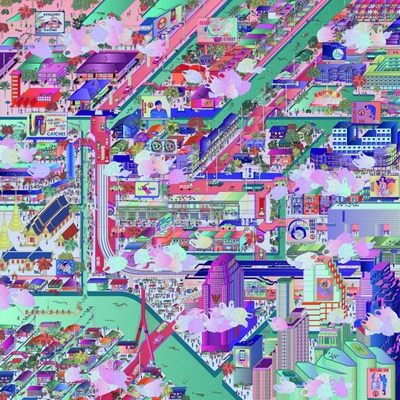 To activist and entrepreneur Joi Ito, the absence of a supreme being in Buddhism is fundamental to understanding this divergence from Western thought, for while "33. He suggests that the emergence of animal husbandry, ownership, and economics produced the concept of dominion, which, matched by mass slavery, led to the "fear of being overthrown by the oppressed, or somehow becoming the oppressed". Although the Japanese developed similarly, Shinto and Buddhist influences helped retain the belief that "Nature doesn't belong to us, we belong to Nature, and spirits live in everything, including rocks, tools, homes, and even empty spaces." [34] Ito's argument is limited, given the history of the Japanese as oppressive feudal lords and modern colonisers. Nonetheless, it is valuable to consider. I'd like to argue that the historical thread of nuclear devastation extending from Hiroshima and Nagasaki to Fukushima, coupled with the frequency of natural disasters in Japan, has also shaped a psyche especially attuned to the interdependence between precarious human bodies and an unpredictable world. Thus, when wondering what propelled Mori to draw conclusions in 1981 that continue to be relevant and surprising, we arrive at a cultural sensitivity embedded in Japanese Buddhism and consciousness, a coupling of existential beliefs and historical experiences that predispose Japan toward a societal embrace of robots and AI.
Everything is fused together, and we accept robots easily along with the wide world about us, the insects, the rocks — it's all one. We have none of the doubting attitude toward robots, as pseudohumans, that you find in the West.
The resultant disruption of anthropocentrism is central to The Buddha in the Robot, in which Mori frequently underscores the limits of common sense and perception [35]. There is the paradox of "sight", in which we look but do not see. Time, too, is beyond us, as most change is "too fast or too slow for human beings to perceive" [36]. We are always at the mercy of our limited bodily functions, and by recognising this we begin "to train the eye to see things that do not yet exist." [37] Even more counter-intuitively, we must acknowledge that existing value structures of practicality and activity (as opposed to passivity) are unreliable [38], especially in the face of environmental disintegration. Mori prompts us to "adjust ourselves to the will of nature and the disposition of heaven," to see passivity as a mode of agency [39]. Notably, what Mori claims as Buddhist actually inflected by Shintoism, the ethnic religion of the Japanese, which is animistic in nature. As the most dominant belief system of Japan, Shintoism may in fact be the greater factor in shaping the non-anthropocentric worldview of the Japanese. Whether essentially Buddhist or Shintoist (many Japanese adhere simultaneously to both), his text heralds a "man-machine system," a "new social complex" in which human beings and machines co-exist as mutual actants [40], neither wholly controlling nor possessing the other. 
It must be understood that Japan's divergence from Western thought doesn't indicate a binary between East and West. Admittedly, there is the Japanese prioritisation of group over self, which opposes the American centrality of individualism and ego as a basic right. Western dominance has eroded this seishin, or spirit of productivity, for which work is a means of developing a strong spirit and finding happiness [41]. Nonetheless it continues to proliferate in both China and Japan, and remains a cultural similarity shared between them. However, the Chinese model of AI is inclined to bypass ethics and morality (or at least rationalise them within the logic of accelerationism) for an absolute embrace of data and new technologies; whereas for the Japanese, AI forms a part of the moral and existential equation. Summarily, for the U.S., robots are unnatural, triggering debates on transhumanism and posthumanism; for Japan, robots are natural and "neutral", a part of the whole to which we all belong [42]; and for China: it doesn't matter if robots are natural, they are a means to an end.
Whether essentially Buddhist or Shintoist (many Japanese adhere simultaneously to both), his text heralds a "man-machine system," a "new social complex" in which human beings and machines co-exist as mutual actants, neither wholly controlling nor possessing the other.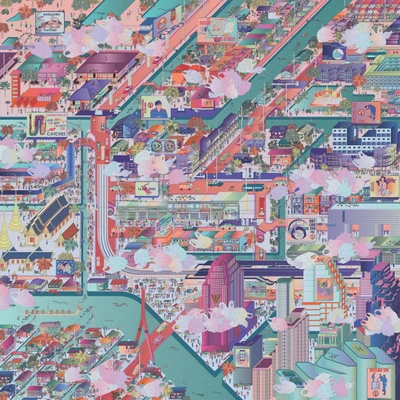 Naturally, the question of culture, particularly predisposition, risks essentialism. Worth considering as well is that these predispositions have been shaped by the fraught political past of Japan, in which imperialism, self-preservation, and victimisation are entangled. 
I argued earlier that Japan is a focal point of binary clichés in the Western imagination, and that this led to the adoption of America's Japan as Japan's Japan. To be clear, the Japanese were as much involved in this process as the Americans. Even today, its self-perception is governed by an equivocal mode of "auto-orientalism" [43], "reverse orientalism" [44], and "self-Orientalis45. What this means is that Japan embraced Western-made clichés, which they then distilled as "Japaneseness" — a public formulation of "unique" cultural traits that "maintain46. The largely undebated view of Japan as it own kind of oddity, as though it lies outside of globalising forces, signals the success of these individual and national performances.
Why did Japan choose to self-orientalise? Like its choice to modernise, which included "wholesale educational and governmental reforms based on Western models, a fervent embrace of the capitalist system, and, tragically, not only the total adoption of Western military techniques but of Western military and colonial aspirations as well" [47], Japan was driven by the need to self-preserve against Western imperialism and its xenophobic ideology, the Yellow Peril. The binary logic was ideal, for while the Japanese wanted to be seen as a superpower, they also needed "to be perceived as peaceful and gentle, like Japanese art... 48 By claiming the West's essentialist readings for themselves, the Japanese were able to construct a national identity in line with their own aspirations, in opposition to a West imagined solely for the purposes of Japanese self-definition. Their narrative, then, has become not one of victimhood, so much as a bildungsroman turned on its head. The "unique" cultural temperament that Japan presents is not quite innate, but rather an installation of deep-seated anxiety. Perhaps, then, the Japanese predispositions to AI that suggest themselves may also be suspect.
As though reflecting Japan's illusory timelessness, Mori's text is devoid of meaningful engagement with time. Despite noting that "we cannot grasp the real truth of things unless we take the passage of time into consideration" [49], he hardly addresses the context in which he writes, or the historical conditions that led up to it. Even the most explicit sliver he offers is elusive: in the preface, he mentions "a great turning point" and "enormous barrier" which "concerns every single member of the human race" [50]. In contrast, time is gripped tightly by the late capitalist reality that dominates China and Silicon Valley, in which acceleration, repetition, and sudden shifts in speed are key to AI development. (Mori describes repetition as "lead51) 
Historian Bruce Cumings made a telling judgment, that Buddhist and Confucian worldviews are not "capable of understanding the mechanisms of industrial capitalism" [52], which might explain Japan's struggle to catch up with the AI race. The primary incompatibility presents itself in Buddhism's (and Shintoism's) egoless logic, which contradicts the ego-centric mechanisms of geopolitical intimidation and competition. While Buddhism accepts both the limits to knowledge and the presence of intuitive knowledge that cannot be proven, AI demands concrete data, hard facts. Buddhism does not desire to conquer the unknown, but rather to co-exist with it. And so while an egoless, anti-anthropocentric perspective positions Japan to embrace AI, it goes against the desire, insecurity, and pride that makes AI competition possible. It goes against the addiction to speed that drives accelerationism, hyperproduction, and repetitive labour. 
Thus, within the (in)sensibilities of capitalist repetition and reproduction, the timelessness of Mori's advice falters as time itself is hijacked and repurposed as pure number and heuristic, a matter of making duration so granular that it disappears entirely.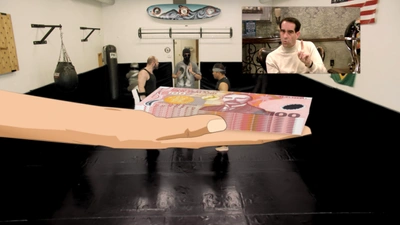 And so while an egoless, anti-anthropocentric perspective positions Japan to embrace AI, it goes against the desire, insecurity, and pride that makes AI competition possible. It goes against the addiction to speed that drives accelerationism, hyperproduction, and repetitive labour. 
To close: a small caveat, namely that Buddhism's incompatibility with AI development might in fact be symptomatic of an incomplete mastery of Buddhism. This possibility occurs to me as many of Mori's proposals should in fact embolden and enrich the development of AI, such as the emphasis on sustainability (quality over quantity), the awareness of human hubris as obstacle to true understanding, and the value placed upon creativity and invention. Perhaps, then, the movement of Buddhism from theory to practice is incomplete for most followers within the faith, and to accord this limitation to Buddhism itself is reductive.
Moreover, and following Cumings' arguments, Buddhism's incompatibility with AI development may in fact signal its incompatibility with late-stage capitalism. We must, then, distinguish a compatibility with AI development from a compatibility with rapid and aggressive AI development, especially if "53 The U.S. and China might arrive first, but they might not achieve the wisdom that makes a meaningful, even joyous, co-existence with AI possible. Thus, even if the above caveat proves untrue, I would argue that Japan remains an ideal ecosystem for the adoption and embrace of AI, more so than America or China. It may have fallen behind in AI development, but it is posed to outperform other countries in its next phase — the incorporation of AI into another "man-machine system" and "new social complex". [54]
···
This essay was paired with selected artworks and installation views from The Posthuman City: Climates. Habitats. Environments. at NTU Centre for Contemporary Art Singapore. The exhibition proposes a "mindful coexistence between humans and other species", all the more urgent in our time of climatological crisis. As our technological and financial arms race is deeply implicated with global warming (parodied by Hito Steyerl's Liquidity Inc.), perhaps an anti-anthropocentric perspective may serve our planet better in the coming decades and centuries. Even as we speed into the future, the paradigm we must adopt to survive it is old, rather than new. It traces its wisdom back to Shintoism, indigenous cosmogonies as mapped out by Marjetica Potrč's Earth Drawings, or animistic thought patterns, graphically rendered in Animali Domestici's Bangkok Opportunistic Ecologies. Find out more about these artworks by visiting the exhibition until 8 March 2020.
1

.

William Gibson, "My Own Private Tokyo," WIRED, September 1, 2001. https://www.wired.com/2001/09/gibson/

2

.

Raymond Zhong and Paul Mozur, "For the U.S. and China, a Technology Cold War That's Freezing Over," The New York Times, March 23, 2018. https://www.nytimes.com/2018/03/23/technology/trump-china-tariffs-tech-cold-war.html

3

.

Debby Wu, Henry Hoenig, and Hannah Dormido, "Who's Winning the Tech Cold War? A China vs. U.S. Scoreboard," Bloomberg, June 20, 2019. https://www.bloomberg.com/graphics/2019-us-china-who-is-winning-the-tech-war/

4

.

The specific concept is algorithmic governmentality, which is a rising form of governance built upon the data economy, in which people are reduced into their data. It is reflected in Netflix's "taste groups" and Amazon's analyses of your spending habits, with corresponding recommended purchases. See Antoinette Rouvroy, "The end(s) of critique: data behaviourism versus due process," in Privacy, Due Process and the Computational Turn, eds. Mireille Hildebrandt and Katja de Vries (London: Routledge, 2013), 143-67; and Charles Duhigg, "How Companies Learn Your Secrets," The New York Times, February 16, 2012. https://www.nytimes.com/2012/02/19/magazine/shopping-habits.html

5

.

Iris Deng, "China's AI industry gets the most funding, but lags the US in key talent, says Tsinghua," South China Morning Post, July 17, 2018. https://www.scmp.com/tech/china-tech/article/2155600/chinas-ai-industry-gets-most-funding-lags-us-key-talent-says; also Sarah O'Meara, "Will China Overtake the U.S. in Artificial Intelligence Research?" Nature, August 24, 2019. https://www.scientificamerican.com/article/will-china-overtake-the-u-s-in-artificial-intelligence-research/

6

.

Iris Deng; Sarah O'Meara.

7

.

Debby Wu, Henry Hoenig, and Hannah Dormido. See also Meng Jing, "China trails US in every area of AI development except big data, Oxford University report finds," South China Morning Post, March 19, 2018. https://www.scmp.com/tech/china-tech/article/2137887/china-trails-us-every-area-ai-development-except-big-data-oxford

8

.

Edward Said, Orientalism (United States: Pantheon Books, 1978).

9

.

Ruth Benedict, The Chrysanthemum and the Sword (United States: Houghton Mifflin, 1946).

10

.

Ruth Benedict, 2.

11

.

Yoshinobu Hakutani, Postmodernity and Cross-Culturalism (Madison: Fairleigh Dickinson University Press, 2002), 14. Interestingly, Hakutani's use of the term "postmodern" signals a disruption. For while "postmodern" assigns duality, it also ascribes "effacement," specifically "of the older (essentially high-modernist) frontier between high culture and so-called mass or commercial culture, and the emergence of new kinds of texts infused with the forms, categories, and contents of that very culture industry so passionately denounced by all the ideologues of the modern".

12

.

The emergence of a middle ground or "class" between the high and low thus characterises the postmodern; applied to the dualism articulated above, perhaps Japan collapses the opposing categories, producing a third that, instead of oscillating between two sides of a coin, is an unending, frenzied dialectic across the coin that now only has one face. Japan embraced West-prescribed either/or, and therefore became both, or neither, or something else entirely.

13

.

Susan J. Napier, From Impressionism to Anime: Japan as Fantasy and Fan Cult in the Mind of the West (New York: Palgrave Macmillan, 2007), 2-3.

14

.

Michael D. Swaine, "The U.S. Can't Afford to Demonize China, Foreign Policy, June 29, 2018. https://foreignpolicy.com/2018/06/29/the-u-s-cant-afford-to-demonize-china/

15

.

Koichi Iwabuchi, "Complicit exoticism: Japan and its other," Continuum: The Australian Journal of Media & Culture, Vol. 8, No. 2 (1994). https://wwwmcc.murdoch.edu.au/ReadingRoom/8.2/Iwabuchi.html

16

.

Chris Buckley, "Chinese Embrace America's Culture but Not Its Policies," The New York Times, September 28, 2015. https://www.nytimes.com/2015/09/29/world/asia/china-united-states-culture-policy.html

17

.

Sissi Cao, "How SoftBank CEO Masayoshi Son Upended Global Tech in 2017," Observer, December 27, 2017. https://observer.com/2017/12/how-softbank-ceo-masayoshi-son-upended-global-tech-in-2017/. See also SoftBank Group Corp, "Launch of SoftBank Vision Fund 2," July 26, 2019. https://group.softbank/en/corp/set/data/news/press/sb/2019/20190726_01/pdf/20190726_01.pdf

18

.

Also in 2017, American skateboarding and streetwear brand Supreme released the Supreme x 'Akira' 2017 Fall Collection, proving that Akira still has a youth cult following.

19

.

Japanese graphic novels marketed to young men.

20

.

Another relevant release is 2019's Alita: Battle Angel, a cyberpunk action film based on 1990s manga series by Yukito Kishiro, which reproduces the West's techno-Orientalist impressions of Japan.

21

.

Masahiro Mori, The Buddha in the Robot (Tokyo: Kosei Publishing, 1981).

22

.

Agence France-Presse, "Can this US$1 million robot revive Buddhism? Japan temple puts faith in Mindar the priest," South China Morning Post, August 14, 2019.

23

.

The Buddhist Goddess of Mercy is called Guanyin in China, or Kannon in Japan.

24

.

Agence France-Presse.

25

.

Masahiro Mori, The Buddha in the Robot (Tokyo: Kosei Publishing, 1981), 49.

26

.

Jane Bennett, Vibrant Matter (North Carolina: Duke University Press, 2010). See also Bill Brown's Thing theory—a good place to begin is Things, ed. Bill Brown (Chicago: University of Chicago Press, 2004), followed by Bill Brown, Other Things (Chicago: Chicago University Press, 2015).

27

.

Agence France-Presse.

28

.

Ironically, this difference situates robots as closer to buddha-nature and enlightenment than people.

29

.

Masahiro Mori, 177.

30

.

Keiji Nishitani, "Nihility and Śūnyatā" in Religion and Nothingness, trans. Jan Van Bragt (Place: University of California Press, 1983), 77.

31

.

Masahiro Mori, 95-6.

32

.

Henry Scott Stokes, "Japan's Love Affair with the Robot," The New York Times, January 10, 1982. https://www.nytimes.com/1982/01/10/magazine/japan-s-love-affair-with-the-robot.html

33

.

Joi Ito, "Why Westerners Fear Robots and the Japanese Do Not," WIRED, July 30, 2018. https://www.wired.com/story/ideas-joi-ito-robot-overlords/

34

.

Joi Ito.

35

.

Masahiro Mori, 98.

36

.

Masahiro Mori, 80.

37

.

Masahiro Mori, 122.

38

.

Masahiro Mori, 156-7.

39

.

Masahiro Mori, 106.

40

.

Masahiro Mori, 50-1.

41

.

Christena Turner, "The Spirit of Productivity: Workplace Discourse on Culture and Economics in Japan," Japan in the World, eds. Masao Miyoshi and Harry Harootunian (United States: Duke University Press, 1993), 146-8.

42

.

Masahiro Mori, 53.

43

.

John Lie, "Ruth Benedict's Legacy of Shame: Orientalism and Occidentalism in the Study of Japan," Asian Journal of Social Science, Vol. 29, No. 2 (2001), 256.

44

.

Mitsuo Sekii, "Muishiki toshiteno seiyo no chikara" (The Western power as unconscious), Bungakukai, February 1987, 289.

45

.

Koichi Iwabuchi, ""Soft" Nationalism and Narcissism: Japanese Popular Culture Goes Global," Asian Studies Review, Vol. 26, No. 4 (2002), 459. https://www.blackwellpublishing.com/content/BPL_Images/Journal_Samples2/ASRE1035-7823~26~4/138.PDF

46

.

Koichi Iwabuchi, "Complicit exoticism: Japan and its other," Continuum: The Australian Journal of Media & Culture, Vol. 8, No. 2 (1994). https://wwwmcc.murdoch.edu.au/ReadingRoom/8.2/Iwabuchi.html

47

.

Susan Napier, 15.

48

.

Kenzaburo Oe, "The Novelist in Today's World: A Conversation," Japan in the World, eds. Masao Miyoshi and Harry Harootunian (United States: Duke University Press, 1993), 168.

49

.

Masahiro Mori, 79.

50

.

Masahiro Mori, 9.

51

.

Masahiro Mori, 86.

52

.

Bruce Cumings, Parallax Visions: Making Sense of American-East Asian Relations at the End of the Century (United States: Duke University Press, 1999), 82.

53

.

Sissi Cao, "SoftBank's AI-Focused Vision Fund 2 May Actually Be Dangerous for AI," Observer, August 7, 2019. https://observer.com/2019/08/artificial-intelligence-funding-bubble-softbank-vision-fund-2/

54

.

Masahiro Mori, 50-1.