Your Home Everywhere: New Eelam by Christopher Kulendran Thomas
Writer Sharmini Aphrodite reviews a cloud-based subscription service for diasporic home-makers that manifests in biennials and museums around the world.
These days, borders bleed. Take the one between Johor Bahru, Malaysia and a region in the north of Singapore called Woodlands, for example. Malaysians sometimes jokingly refer to those living in Johor Bahru as Singaporeans, while Singaporeans might refer to Woodlands as just being the southernmost part of Malaysia. In one of the regional languages, antarabangsa : international; antara bangsa : between nations. The jokes have their reasons. More than 300,000 [01] people cross the border daily. A Malaysian who works in Singapore might cross over in the morning, spend their day there, and slip — or squelch, the traffic being more akin to sludge — back across the border at night, once the sun is down and the city's lights are up. A day, a life, spent straddling borders. 
After all, it is, and has been for the past few decades, the age of both rising nationalism and global, hyphenated identities. A person can easily be a resident of two or three countries these days. This dissolving of borders allows for a liminal, fluid existence, where the state of "in-between" has become a nation unto itself. And although events like Brexit might aim to staunch the flow, it doesn't seem to be really stopping anytime soon. Through Christopher Thomas Kulendran's New Eelam: Brisbane  (produced in collaboration with the curator Annika Kuhlman), these themes are stretched to their critical, and also playful, limits as the artist proposes a future beyond borders — a future in which technology could have a part to play in their dissolution. Sequestered in its own gallery within the space of the Institute of Modern Art Brisbane, Kulendran's work was presented in three components: an installation, a series of photographs and a film.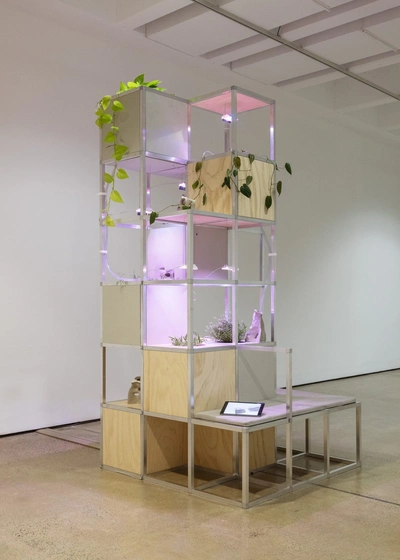 The installation could be described as a "living sculpture", meaning that it is a sculpture one could possibly live in. It is also a sculpture that is alive, breathing and growing with each passing minute. Structurally, it is a tower of plywood cubes, compartmentalised by aluminium beams like a miniature housing estate. Creeping, hydroponic plants soften the strict, minimal lines of the installation, while a pink glow fills it with a futuristic air. A series of tubes loops throughout the grid, pumping liquid from plant to plant, giving the sculpture a semblance of life. An iPad set on the structure's lower levels is open to a webpage that reads: "Your Home Everywhere: the Future of Global Living". Swiping through, the page zooms into a leaf so deeply green that it appears black. "Historically," this page reads, "people living between places and across cultures have been responsible for flows of ideas and inventions. New Eelam is developing housing for people to be connected to multiple communities and across multiple cities." In tandem with this proposal, a film on the adjacent wall is narrated by a soothing, ever-present but never overwhelming voice. Several photographs line the walls of the gallery, displaying scenes of a city at night, of buildings lit up in fluorescent squares. The effect is as if one is looking through a window at the city that surrounds them. A visitor sits down in the pale pink light and the voice beckons towards a promise of comfort.
Titled 60 million Americans can't be wrong , the 27-minute short film discusses the founding of New Eelam and its possible futures, but begins with its past. It first elucidates a bit of modern history and the circumstances surrounding the Sri Lankan civil war in 1983. The war took place between a militant organisation called the Tamil Tigers [02] and the Sri Lankan military over the country's northern regions, where the Tigers aimed to create an independent Tamil state. It is this secessionist, socialist state of Eelam, that Thomas' artwork derives its title (the artist himself also being a member of the Sri Lankan Tamil diaspora). Eelam was the dream of an idealised, egalitarian society that would be free from the trappings of class and gender oppression, and would shake off the snakeskin that had oppressed the Tamil minority for years. But the intense brutality of the 26 year-long civil war devolved and waylaid this mission. In 2009, the Tigers were finally defeated by the Sri Lankan military. In the aftermath that followed, Sri Lanka opened up to opportunistic foreign investments and Western tourism. Since then, a brittle peace has descended upon the island, carrying with it the inherently exploitative nature of capitalism.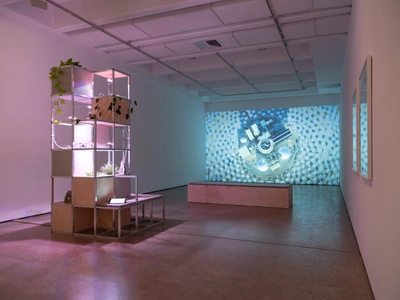 To Thomas, this emerging market has bloody feet, standing as it does on a ravaged nation — the socialist ideal of an oppressed people swallowed up by arbitrary borders drawn up by colonialists, by the chaos and cruel indifference of globalism. New Eelam is erected upon this history, and looks into the future by proposing a few simple questions: what would happen if such an ideal nation had succeeded? What if New Eelam was to leverage upon the current state of globalised capitalism and work through it to achieve its purposes of worldwide solidarity? The notion is idealistic, and the film describes the act of border-crossing — necessary for much of Sri Lanka's Tamil population — as one that is equally so. One crosses a border in search of a better life, in search of like-minded communities striving for a better world.
The film moves on to discuss how technology, which itself has accelerated and allowed for globalisation on a mass scale, could usher in these possibilities. Thomas illustrates this with the aftermath of the 2016 American elections, when the Canadian immigration webpage was visited by so many distraught Americans, the site ended up crashing. This virtual border-crossing — however successful or not in this instance — points at how technology might provide alternative routes and solutions to individuals who may feel let down by their home nations.
What if New Eelam was to leverage upon the current state of globalised capitalism and work through it to achieve its purposes of worldwide solidarity?
An artwork in a tech company, or a tech company in an art gallery, New Eelam's mission statement is: "Your Home Everywhere". The entity sets out to revolutionise the housing market through co-ownership and collectivism, in "dissolving" — if not deconstructing — traditional home ownership through a cloud-based subscription service that allows its members to gain access to homes located in "some of the world's most charismatic neighbourhoods". Appropriately, many of New Eelam's iterations have been displayed in biennials, such as the 9th Berlin Biennale and the 11th Gwangju Biennale. With their collaborative nature and diplomatic positioning, biennales are a locus of cross-cultural and transnational interactions. Used as platforms for city branding and rejuvenation, they also draw a network that spans beyond their host cities and remind their visitors of the world that surrounds them. Yet this globalised nature of biennales also has its drawback. Biennales risk becoming a "playpen" [03] for the wealthy elite of the art world, while possibly acting as a driving force for gentrification.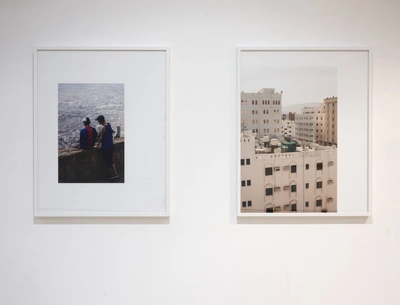 This, in turn, raises another question: as New Eelam finds itself inhabiting new cities outside Sri Lanka and along the global art world circuit, how will it resonate within each unique, urban community? How will it always address the "You" of "Your Home"? Artist Christopher Kulendran Thomas answers this by drawing a thread throughout all of his versions worldwide, and though they are similar, they are also each site and context-specific. In New Eelam: Brisbane , for example, Thomas worked with local Australian figures: landscape designer Pete Shields, who created the hydroponic set-up, and ceramic artist Tim Wilson. In a satellite programme held by the Institute of Modern Art with Pete Shields and traditional plant specialist Steve Kemp of the Ghungalu peoples [04] , the concepts behind New Eelam  launched a discussion on the local ecology of Brisbane.
Perhaps it is in its plants that the heart of New Eelam reveals itself. Each iteration of New Eelam includes them: little pots of green connected by the soft chugging of their feeding tubes. Hydroponic plants are not rooted in soil; typically, they are set in water or air. Both of these elements are fluid and ever-changing. The nutrients that the plants receive do not emerge from the ground, rather, they thrive on materials that are more "cloud-like". New Eelam seems to ask, what if citizenship was treated in the same way? What if our concepts of home or belonging were to be released from hereditary, national or territorial strictures — what if we could move with the porousness of water or air? The Internet is — as 60 million Americans can't be wrong describes — one way to achieve this, if only virtually and metaphysically. As people continue to communicate digitally, they surpass the demarcations that have been etched into the earth. New Eelam  ponders taking that act further, brainstorming a structure of living situations that exist beyond the confines of place.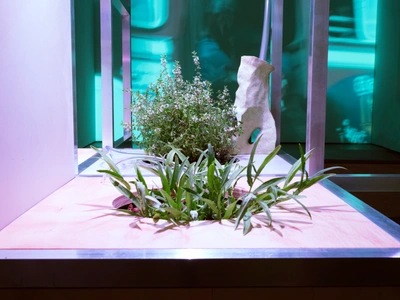 Thomas' own diasporic experiences underscore these themes; he was born in London to parents who fled the violence of the civil conflictl. Those who fled Sri Lanka's civil war might have left their country, but the first generation carried the trauma with them, folded into their skin. Upon this first diasporic wave, the nation's boundaries were stretched. Now, every successive generation — such as Thomas himself — has to grapple with this amorphous concept of nationhood. Some wrap the homeland so tightly around their bodies that the fabric becomes thin, and in the straining, they reduce it to stock smells, colours, tastes. Others throw it away entirely, placing their loyalties and affiliations squarely on the countries they have been raised in. Still others float between nations, and it is to them that a proposition like New Eelam might be most appealing. It is, or could be, a nation that beckons beyond borders, between borders — a nation of choice . It is a nation that allows for permeability, that draws its life through air and liquid. Within Brisbane  and its other manifestations, we can see how New Eelam pays homage to its locality. At the same time, the fluidity that the project embraces is represented in its plants, which possess infinite possibility, flourishing wherever they find themselves.
It is, or could be, a nation that beckons beyond borders, between borders — a nation of choice .
01

.

More information on this phenomenon and the daily journey of the Malaysians who commute to Singapore can be found at: https://infographics.channelnewsasia.com/interactive/causewayjam/index.html

02

.

The Tamil Tigers were formed in response to institutionalised violence by the state of Sri Lanka against the Tamil people. Such examples include the passing of the Sinhala Only act in 1956 which discouraged Sri Lankan Tamils from working in public sectors), the banning of the import of Tamil media, and the state-sponsored colonisation of traditional Tamil areas.

03

.

This article details the darker side of the globalised nature of biennales, discussing how they might spread gentrification and further commodify the arts: https://www.theguardian.com/cities/2017/feb/24/city-art-biennial-curatorial-truffle-pigs-contemporary-architecture

04

.

The Ghungalu and Kangoulu Peoples are the traditional owners of the land of Central Queensland, Australia