See(k)ing Southeast Asian Futurism
Curator Jing Yi Teo speaks to Syaheedah Iskandar, co-curator of State of Motion 2021, an art exhibition and film programme exploring the intersections between cinema, art and filmic research.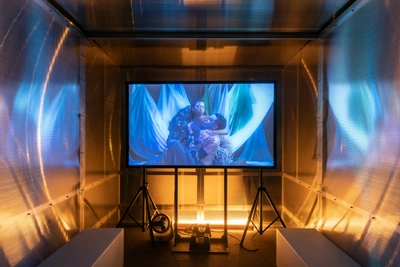 At the beginning of every year since 2016, the Asian Film Archive holds State of Motion , an art exhibition accompanied by a film programme exploring the intersections between cinema, art and filmic research. State of Motion 2021: [Alternate / Opt] Realities exhibited works by international and Southeast Asian artists including Natasha Tontey and Debbie Ding, who are supported by the SO-FAR Incubator. Held at the hybrid mall-office-residence complex Marina One in the financial district of Singapore, the exhibition explored potential modalities of Southeast Asian Futurism through image technologies and science fiction. SO-FAR contributed to the talks programme with Platforms, Accidentally , an interdisciplinary panel discussion moderated by Lead Incubator Programme, Jing Yi Teo. Shortly before the panel took place, Jing Yi spoke with co-curator of State of Motion 2021 Syaheedah Iskandar about the curatorial process behind the exhibition, and where it sits in her practice, life and lineage.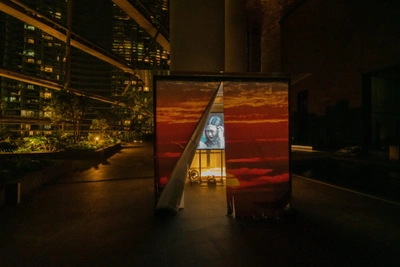 Jing Yi Teo: This year's exhibition focuses on science fiction. How did that come about?
Syaheedah Iskandar: Before Thong Kay Wee, former Programmes and Outreach Officer at the Asian Film Archive, invited me to co-curate the exhibition, we were already discussing the nature of science-fiction. When the pandemic hit us, it cemented everything that we had been discussing. Technology is accessed globally nowadays so we wanted to rethink the power of the image, and one of the resulting ideas is how science fiction eventually actualises into science. The pandemic is a reflection of that. 
Of course, there has been discourses about power and mechanics of the image, but these readings have been written by academics, theorists and art historians mostly for an Euro-American scholarship. We know screen technologies and image-making exercises are vessels for our imagination, but I wanted to revisit this idea again in our local and regional contexts. What does it mean to harness that power — as a vehicle for extraordinary truth — to predict our future? 
JYT: How do you situate this exhibition in your curatorial practice?
SI: The exhibition is another exercise for me to rethink our modes of seeing. The visuality discourse is built from hegemonic systems of seeing, and I wanted to make space for other ways of seeing (and sensing) that have been left out. These conversations have always existed, but they are also subjective to an individual's lived realities — upbringing, gender, social status, ethnicity, vernacular, cultural and religious belief systems, etc. How you think about what you can and cannot see comes from these systems and lived experiences. 
I was introduced to science fiction at a young age. When my family got our first LaserDisc[1] player, my dad would bring me along to the neighbourhood film rental store, eventually introducing me to Star Wars , Back to the Future and Terminator [2], just to name a few. Aside from his appreciation of science-fiction, he was a Silat[3] practitioner, so he dwells in certain ideologies that shape his way of seeing. For him, the unseen and the seen converge on the same plane. That psyche is embodied in how he sees the world, and in sharing his knowledge, shapes mine too. 
My practice explores the dilemma between the seen and the unseen — what you cannot see as one extreme, and hyper-visuality as the other extreme. State of Motion is an experiment in hyper-visuality and what it means to look at the moving image as more than a film, which is often where imagination takes place. Can we think beyond its use as an expression of our imagination, and accept it as a functioning portal? 
The exhibition is also about how we think about technologies beyond engineering. We're not all engineers; we don't all know how to build technology. In an age of a lot of misinformation and information overload, how do we possess and process visual knowledge? I've understood that sometimes, not all knowledge is meant for you, and sometimes you just have to sit with the discomfort of not knowing.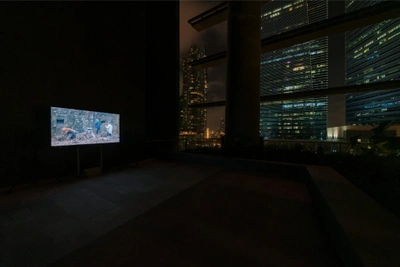 JYT: What do you mean by "not all knowledge is meant for you"?
SI: Capitalism is not just the commodification of goods or neo-liberal ideas of globalisation; there is also knowledge capitalism where knowledge is built on a system that doesn't benefit all parties. We are taught that knowledge is power, but we also forget that not all knowledge is consensual. Certain knowledge(s) have also been colonised, taken away without consent and commodified into something else, befitting hegemonic systems. The extraction of Indigenous knowledge is one example. I'm sure many can relate to this feeling of being curious about old, new and current ideas; I often find myself lapping them up. Responding to this speed of knowledge production suddenly became counterintuitive for me. 
JYT: What is Southeast Asian futurism?
SI: Firstly, to be clear, I have no answers to that. In its enquiry, the notion of time became a starting point, tying my interest in the idea of the Axis Mundi to the context of Southeast Asia. The Axis Mundi were sacred places of power representing the lowest and highest points. In Southeast Asia, Angkor Wat and Borobudur are[4] some examples. The ethnic rationalisation of these spaces during their construction was based on how far an individual could see. These sacred places of power were built within the cosmology of people who were Indigenous to the land. For example, in Cambodia, Angkor Wat and its "timezone" was built from Hindu, Buddhist and folk cosmologies where time is perceived differently.
With colonisation, the Indigenous perception of time was disrupted and the rationalisation of their space became assigned to the Western sense of chronological time. In the exhibition, this was explored in Riar Rizaldi's Tellurian Drama portraying the disruption of the Indigenous way of sensing time, built from the understanding of their environments. Maybe Southeast Asian futurism is inarticulate because of this misalignment. 
JYT: Are there, or were there sacred places of power located in modern-day Singapore?
SI: If Bukit Larangan (Malay for 'Forbidden Hill')[5] can be considered as a sacred place of power, then by extension, the Central Business District is a contemporary model, with capitalism being the contemporary power. The exhibition acknowledges this. By introducing these artworks that function as portals, they acted as a form of intervention to the space. Natasha Tontey's From Pest to Power is a pronounced example of giving agency to non-humans, allowing them to speak to the space and subvert its existing power.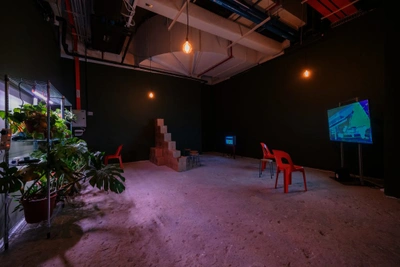 JYT: Was that why Marina One was chosen as the exhibition venue?
SI: Yes, Marina One is smack in the middle of the Central Business District. Its projection of how our future might look is surreal. It's incredible, but in a strange way.
JYT: Like it exists in a disrupted timezone? Singapore may be distinct from the rest of Southeast Asia, but there is also a hyper-romantic view towards Singapore, trapped in a certain timezone that isn't certainly past or future. People find Singapore exotic, but in a techno-futuristic sense.
SI: That was one of the conversations we wanted to have. We wanted to bring up Southeast Asian futurism because sci-fi imagination has been mapped and projected by the West, but also East Asia, in particular Japan. Singapore, while distinct, is as you say, trapped in its own romanticised time zone. We also thought about other futurisms: you have Sino-futurism, which has [6] been explored in Lawrence Lek's works[7], and of course there's Afrofuturism[8], but the struggles and emancipation of Black bodies is not something we should freely appropriate or imagine to understand. There is also Gulf futurism[9] (mentioned before) which is also another context worth considering. At the core of our project, questions that came to be also remained: whose futures are we amplifying? Who builds it, and whose voices are left out? 
JYT: Tell me more about curating the exhibition in the rather newly opened Marina One.
SI: The East and West towers on the Upper Deck of Marina One have completely different views. From the East tower, you have a view of the city, in particular the Central Business District, with skyscrapers all around; from the West tower you have a view of the sea and the port, where metaphorically we see capital and goods flowing through into the city. Mount Meru is a very[10] important aspect of the Axis Mundis in Hindu-Buddhist cosmologies. We wanted to portray skyscrapers as the contemporary mountains, built differently for a distinct purpose. We also wanted to occupy a space that is not necessarily accessible to everyone[11].
You go into this building, which has residences, office buildings and an underground mall. Immediately from the entrance, you are met with the "Green Heart", which holds familiar tropical plants of Southeast Asia, all domesticated and confined in this eco-futuristic landscape. When you walk around, you are greeted by background music, but also birds and crickets chirping, all recorded audio. It felt like a quintessential projection of what Singapore wants to be in the future. 
With that surreal backdrop, we wanted people to experience this sense of entering other worlds. One of the exercises that we did in this exhibition was mapping out the lowest and the highest point of the venue. 
JYT: Exercises?
SI: Yes, because that is how you think about the Axis Mundi. The highest point in the East tower is Riar Rizaldi's Tellurian Drama , on the West tower it is Pure Ever's Sunset X - This is not sci-fi, this is heartbreak and Ada Adhiyatma, Shawn Chua and Tay Ining's Safe Exit . So we have all these works occupying different levels from Basement 4 to Level 4. The lowest point is another work by Rizaldi, Kasiterit .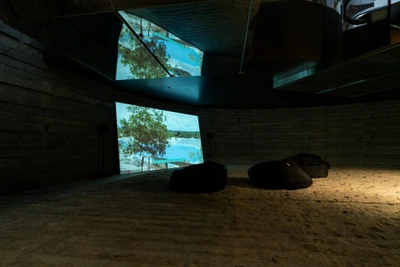 JYT: You mentioned earlier that State of Motion is an experiment in hyper-visuality. Can you speak more about visuality in your work relating to that of the Asian Film Archive?
SI: AFA's work of locating these sci-fi imaginations of Singapore and the region is vital to understand the lens in which we are seen to be, or that we see ourselves to be[12]. The pandemic proves how the sci-fi genre can engineer a prophecy for the future so we applied that formula into the exhibition. 
My practice of rethinking hegemonic systems of seeing is a way to make space for other modes of seeing, sensing and knowing that have been left out. The question of sight as our most dominant sense comes down to my own personal experience: I have sinus problems, so my nose is always partially blocked, and I experience hearing inconsistencies in my left ear. I rely so much on my sight that I wonder, sometimes, what if my tongue eventually fails me? Will I then be guided only by my eyes? In the aftermath of evolution when all other senses cease to exist because of their futility, how do we imagine a future where only sight is used? And how do we experience this future? As we live in a state of hyper-visuality, [Alternate / Opt] Realities — in micro — was an experiment to legitimise realities beyond the surface of Marina One through artworks as pockets of interventions. On the macro level, the exhibition emphasises hyper-visuality's entanglements with late capitalism (mass media, surveillance, consumer culture, climate crisis, screen technologies etc.).
JYT: Have there been responses to the show that you would like to share?
SI: We've had feedback that the space is really overwhelming — yes it is, and that is the whole point. As much as I tried to think deeper about each component and element aforementioned, I also wanted others to think about them as being entangled with one another.
1

.

The first commercial optical disc storage medium, LaserDisc is a home video format. It is not fully digital and also stores analog video signals.

2

.

All three franchises were first released in the late 70s to the 80s, and have become characteristic of the time period.

3

.

Silat is a class of martial arts practised in Malay culture which stretches across Southeast Asia. Its origins are traced to the early days of Malay civilisation and is known for the infusions of Islamic philosophy and elements of Islamic mysticism, known as Sufism. See 'Shadows of the Prophet: Martial Arts and Sufi Mysticism', D. S. Farrer, Springer Netherlands, 2009.

4

.

Originally a Hindu site, Angkor Wat, located in Cambodia, was converted to a Buddhist temple towards the end of the 12th century, and is the largest religious structure in the world by land area. Borobudur is the world's largest Buddhist temple, built in the 7th century during the reign of the Sailendra Dynasty.

5

.

More commonly known as Fort Canning, the hill is considered a historic landmark especially sacred to Malays, and holds the shrine of Sultan Iskandar Shah, the last monarch of Singapura. Today it functions as a park and outdoor event venue. See 'Keramat Sultan Iskandar Shah on Fort Canning Hill : close-up', M. Ashif Padili, PictureSG, National Library Board, 19 May 2003. https://eresources.nlb.gov.sg/pictures/Details/44b62c99-8152-4023-939e-c987ead0453b.

6

.

Artist Lawrence Lek released the video-essay Sinofuturism (1839-2046AD) in 2016, which explored the idea of China's technological advancement and the people behind it as components of a greater Artificial Intelligence. The work used and subverted cultural cliches on China to illuminate perspectives on Chinese society.

8

.

Coined by American author, lecturer and cultural critic Mark Dery in 1993, Afrofuturism addresses issues of the African diaspora through speculative fiction and technoculture.

9

.

Gulf Futurism was coined by the Qatari-American artist Sophia Al Maria to explain and explore changes in culture, urban planning, architecture and art in the Gulf region, spurred by the region's petro-capitalist economy.

10

.

Mount Meru is the sacred mountain of Hindu, Buddhist and Jain scriptures, represented in various pagodas and temples, most recognisably in the five central towers of Angkor Wat, a Buddhist temple in Siem Reap, Cambodia.

11

.

A bit of history into the building: it was built by M+S Pte LtdWhen Singapore took back the Tanjong Pagar Railway Station, Singapore had to recompense the land to Malaysia. Marina One and DUO Towers sits on that compensated land. For more information: https://marinaoneresidences.org/the-developer/

12

.

A recent example filmed in Marina One is Westworld (2016 — present) is a HBO television series set in a futuristic-dystopian amusement park where visitors interact with android "hosts". https://en.wikipedia.org/wiki/Westworld_(TV_series)