Proof of Work: Art in Sim Lim Square
Adeline Setiawan follows the four artists of the Sim Lim Square Art Residency around the offbeat mall for a day, as they develop "conversations and investigations" with the communities therein.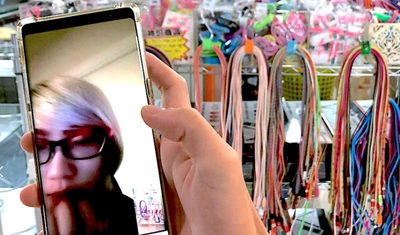 Sim Lim Square is six storeys of tech-eclecticism, a kind of one-stop Mecca for gadgets old and new. Situated on the border between the central shopping district and the cultural enclave of Little India, the mall with its maximalist, utilitarian aesthetic is infamous for scamming tourists, but famous for its allure to the hardcore tech-devout. As you meander through a maze of shops, each with more questionable integrity than the last, all rather indistinguishable with their haphazardly-placed displays, spy-cams, and candy-coloured cables, it's easy to get lost in your search for a particular graphics card. Amongst the glare of LCDs and gaming consoles, there is no time, no space, no curated silence for window shopping. 
‍
As the gears of the Singapore Art Week machine growled into motion with dozens of events around the city, I headed to this offbeat mall, but not for shopping. The  Sim Lim Square Art Residency  (SLSAR) had settled in for an open studio since the beginning of the month. Eom Jeongwon, Weixin Quek Chong, Ko Tzu An, and Johann Yamin had been chosen by art-tech collective  INTER–MISSION  1 to occupy an empty unit on the sixth floor, that was formerly used to operate cryptocurrency mining hardware. Until 27 January, these four young resident artists been asked to develop "ongoing conversations and investigations" with the "diverse communities connected by the mall" 2. An arresting proposition, given how Sim Lim Square is so necessary, yet oddly marginalised in the Singaporean consumer vernacular. 
‍
I spent two days following the artists around the mall to ask them what they've discovered, and to peer beneath the layers of this messy, misunderstood mall. 
Weixin Chong
"Hello, Adeline? Can you hear me?" Weixin Chong's glowing hair and unmistakable red spectacles flickered onto a screen as her local assistant Tng. Tng and I huddled over his mobile screen. Singapore artist Weixin is located in Belgium but participating in the residency remotely. She was on a shopping mission to buy touchscreen mirrors and cables in Sim Lim Square with the help of her proxy, Tng. 
WC: I like how pointless and irrational these touchscreen mirrors are. I'm interested in the mediated tactility of things. For the residency, I wanted to create a "portal-like" space, and something that's slightly disorienting, that will be like an Instagram filter that pops out at you.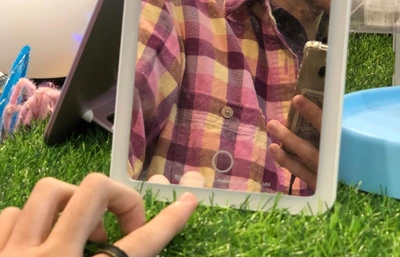 WC: I've been thinking about cables. Sure, they extend power supply. As a mass, they're material. I think a mass of cables in the space will highlight all the other cables. 
We think tech has this utilitarian function. But isn't it funny, how useless it is? All these things are pretty much accessories...
I want to bring back an organic, messy look to the wires by playing more with their aesthetics. So in a way, I want their function to reflect more on the human viewer... Symbolic tech.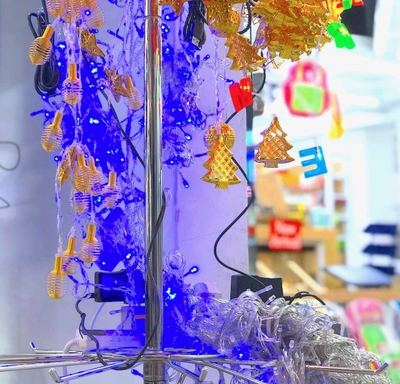 Eom Jeongwon
I caught Eom Jeongwon, a bright-eyed Korean artist who hailed from Busan, as she was in a discussion with the staff in a specialty mount shop. On the counter, sat a helmet, rigged with two tablets, and a shiny red nob. It reminded me of Doraemon's helicopter cap.
EJ: I made a self-reflection machine by using four screens. Two are tablets and two are smart phones. They face each other, so that they make infinite spaces in each screen. I'm interested in that infinite space. I'm sending this information to another four screens that will be shown in the SLSAR unit. I call this a "wearable digital gadget", and I want to invite people to wear it and walk around Sim Lim Square with it.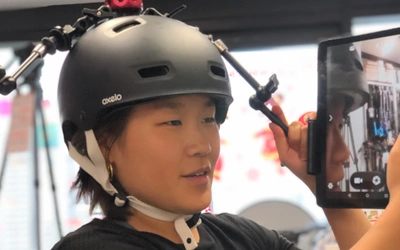 Eom's helmet with a custom mount for her two tablets, all sourced from various shops in Sim Lim Square.
EJ: I've also been walking around recording with a camera on a chest mount at midnight. All the shops are closed. You hear sounds of the air conditioning, owners leaving, people still working silently and preparing for tomorrow. Sometimes there are people watching movies. They turn the volume on so loudly — it seems like this is their world. It's very interesting how a space can be so different at night time and during the day. That reminds me of this building's moment of transition. We see an increase in online marketplaces, and nobody really comes to offline shops anymore.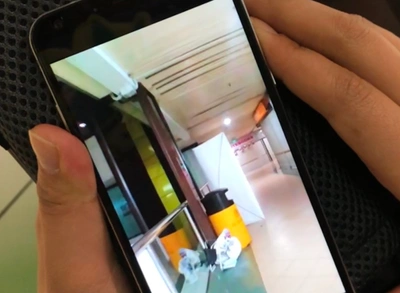 Ko Tzu-An
"Oh before I go, let me get my wallet!" The petite Taiwanese artist Ko Tzu-An reappeared with a holographic silver purse in hand — what I imagine a robot would carry if it had to carry some cash.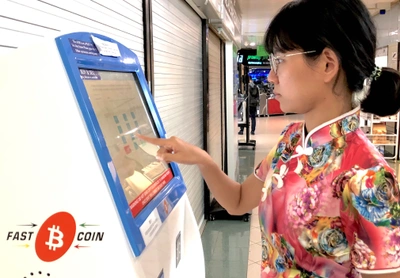 KTA: My artwork is about currency. I'm curious as to why humans need to work, and what is a human's value, exchange, and price. Before this residency, people were using this unit to mine cryptocurrencies. So the things I find most interesting in Sim Lim Square are spaces about coins, like a coin shop, a money changer, and a Bitcoin machine. I was surprised that there are these fiat coin exchange shops in Singapore. 
They have a lot of bills and coins from many years ago. I'm very surprised they even have the Taiwanese dollar. This one is 108 years old from Taiwan, when we first became independent. It's my favourite note.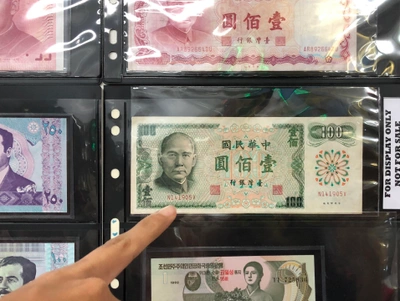 KTA: In my currency, I'll put a Sim Lim Square building in the coin, so it looks very Singaporean. And I'm going to put a robot on it and the date. Dates are important. A hundred years ago, coins were this size. I think my currency will be a hexagon. Someone told me it's a lucky shape. Maybe I can set up a stand for robot coin money changer here. It's a good location — I could bring a little competition. Instead of being attended by a human, it would be attended by a robot. 
Johann Yamin
Singapore-based Johann Yamin reveals that he went through his old pirated video games as part of his residency. He came across the pirated games he used to play, and was inspired by the glitchy, wavy, aesthetics of their cracked introductions all over again.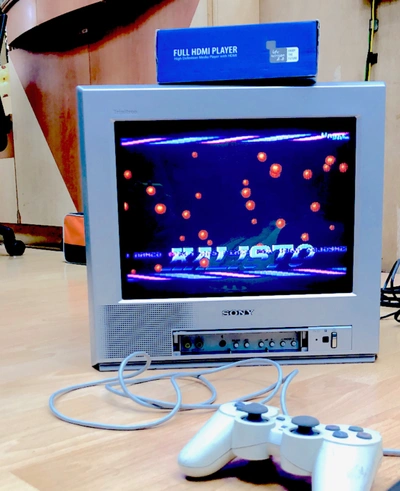 JY: I'm using older, more marginalised and obsolete technologies that are in line with the idea of media archaeology. It's not about looking at technology as this smooth, lubricated service towards progress and efficiency, but perhaps looking at less logical uses of media that kind of loop around and reveal the complexity and history of technology.
Part of this residency had me going through my own old, pirated video games. I thought I'd draw upon CRT monitors, which were used prevalently in the 90s before we switched over to LCDs. I was genuinely expecting to find older equipment here, but I realised because of the demand for specific types of screens, they've been almost completely rendered obsolete now. I was surprised to locate just one store that sells these CRT monitors. The only reason the shop-owner has them is because he still services them for industrial purposes, like for the shipping industry. 
When you look at media works now, they kind of treat the screen as a flat media apparatus. I enjoy playing with how sculptural the TV is — the physicality of the screen, its placement in the space, and also its cultural properties, as coming from a specific era. The way it works is also quite fascinating — firing out electrons, and using the vacuum space. It's quite dangerous to work with, because if you don't do it right, the vacuum is going to suck in a spray glass all over the place.
The author is moderating a panel with technologists, artists, and researchers titled Lost Tech at the Sim Lim Square Art Residency on 20 January 2019, 2 - 4PM. More information  here .
The SO-FAR launch party A Proof of Werk: Popular Music and Movements, in collaboration with INTER—MISSION and Horizon99 also takes place at the Residency space on 27 January 2019, 9PM till late. More information here and RSVP  here .
1

.

INTER–MISSION is a Singapore-based art collective comprising of new media and performance artists Urich Lau and Teow Yue Han. It is "dedicated to discourses of technology in art" and aims to "inhabit the gap between technologically engaged artworks, artists and audiences." "INTER—MISSION," INTER—MISSION, accessed January 14, 2019, http://inter-mission.art.

2

.

"Sim Lim Square Art Residency", INTER—MISSION, accessed January 14, 2019, https://inter-mission.art/SLSAR.

3

.

LASALLE College of the Arts is right next door to Sim Lim Square.