NFTs in "only losers left alive": A Q&A with Audrey Yeo
A Q&A with Audrey Yeo, founder of Yeo Workshop, one of the first galleries in Singapore to include NFT artworks in a two-part exhibition.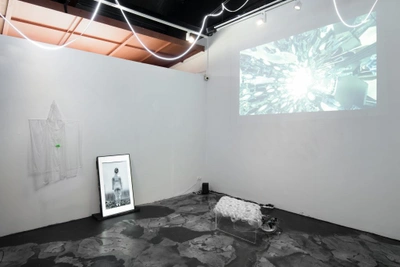 With every technology, there comes a watershed moment when a billion or more users are on-boarded, where prior to that, for whatever reasons, it may have only been used by a niche population. The same is true for crypto and DeFi (decentralised finance), where now a billion users are anticipated coming from the realms of culture and the arts because of the steady, then surging rise of the NFT with its manifold use cases in collectible objects, fashion, music and so on.
In the traditional art world, NFTs have prompted revulsion, critique, curiosity and questions. Over the past year, those who embraced the medium most quickly were, of course, the auction houses — populated by hustlers and deal-makers — not such a different demographic than the majority of crypto. Initially, because of the segment that marketed them and the headlines that resulted from marquee, "historic" sales like EVERYDAYS: The First 5000 Days [01], NFTs were thought of as a new, blue-chip asset class, alongside other significant artists that Beeple surpassed in his auction record: Jeff Koons, Damien Hirst, et al.
It was a year when technology finally became real, used and felt for the art world
As this slow-moving Titanic of an industry collided with the racing whirlwind of crypto, there were many other interesting actors in the space besides the auction houses who were quick enough to catch up. It was a year when technology finally became real, used and felt for the art world, beyond new media exhibitions or interactive websites. Artist collectives formed on Discord, art fairs curated NFT sections, galleries added cryptocurrency to their balance sheets. To decentralise the attention on blue-chip NFT sales, we spoke with Audrey Yeo, the owner of a gallery called Yeo Workshop, which was the first in Singapore to include NFT artworks in a two-part group exhibition.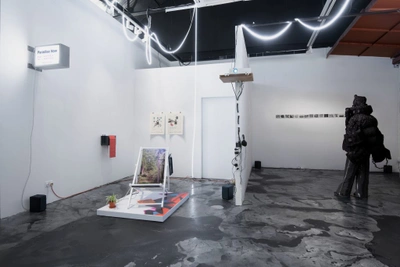 CJC: For Singapore, your two-part exhibition only losers left alive has been one of the first gallery forays into NFTs. How did you make the decision to venture into this medium — was it daunting, was it strange, or did you feel confident? 
AY: We had three NFTs: Brandon Tay's Death Spiral , X.U.E.'s Eclipse , and Juria Toramae's Uncanny Lagoon . The NFT is a new medium and also functions as a collectible certificate for the works. It was an interesting, yet natural and fitting logistical exercise for us to embark on with the artists we collaborate with, to explore the blockchain and the NFT as a new medium and tool of art.
NFTs are rapidly changing the landscape of the art market and influencing new trends. They allow digital artists to maximise technology and get their messages out into the world. Even if it seems strange or daunting, it's not harder to do than anything else.
CJC: The result was incredible — 10/10 of Brandon Tay's editions of the work  Death Spiral  were completely sold out ( so-far also purchased one for our own collection!) How did collectors respond to the other, higher-priced NFTs in the exhibition?
AY: Brandon Tay's work sold out easily as it is visually arresting and priced accessibly. The animated reel is replete with familiar pop culture elements and sci-fi imagery. It captures the zeitgeist of these anxious times. Now fans could purchase a work by one of Singapore's premier digital artists whose works we all may have seen projection-mapped during major festivals.
We also sold an edition of Juria Toramae's Uncanny Lagoon , even though the work is at a higher price point at 1 ETH[02]. This video artwork, which can be projected on a big screen, has an impressive dataset of over 700 research documentations of plant and marine species she painstakingly collected during sunrise dives near the islands surrounding Singapore. Using this dataset, she created mesmerising marine morphologies, finessed with AI technology.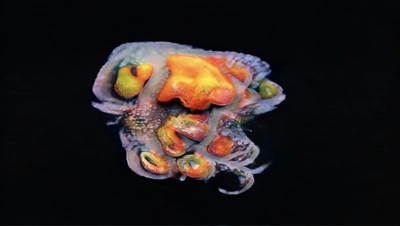 CJC: Can you tell me more about the premise of the exhibition? The looping nature of NFTs that are actually GIFs do work with the show's filmic foundation. 
AY: The central proposition of only losers left alive (love songs for the end of the world) is: what would happen if the world came to a screeching halt, say, tomorrow? When something as apocalyptic as that happens, what are we left with? Curated by Louis Ho, the title of the show is a riff on Jim Jarmusch's 2013 comedy-drama film on two vampires who continue to survive as society collapses, Only Lovers Left Alive (2013) . The featured artists take direct inspiration from shows and movies, including La Jetée (1962) , Brazil (1958) , 12 Monkeys (1995) , Mad Max (1979) and Gundam (1979-present).
The show provides real-world context for the mood of despondency within the current pandemic
Occurring in two parts, the exhibition takes its visual and conceptual cues from cinema, featuring tableaux populated by objects, images and sounds that evoke the moods of a universe ravaged by unknown forces. This is a show that derives its tone and tenor from science fiction, a conjuring of the future where sensorial pleasure comes from the act of retro-projection. The show provides real-world context for the mood of despondency within the current pandemic, and the climate of fear, uncertainty and paranoia in which the global population has been mired. Where the first instalment focused on human bodies, technological objects and an almost monochromatic palette, the second half of  only losers left alive foregrounds instead bright and pastel colours, and visual motifs centred on flora, fauna and alien shapes — almost as if the human presence has now departed the equation, and only a regenerated, post-human world remains.
CJC: I found it particularly interesting how the black-and-white floor bleeds into the same inky tornadoes of  Death Spiral . Can you tell me more about the floor piece? 
AY: The floor piece formed a backdrop and a foundation to the show. It is part of Victoria Hertel's installation Short Circuit , which aims to draw attention to the two poles of architecture, the floor and ceiling, also the most overlooked parts of a building. The work is a topography or history of the space as it pools and dips into the varying elevations, causing marble-like patterns to form on the floor.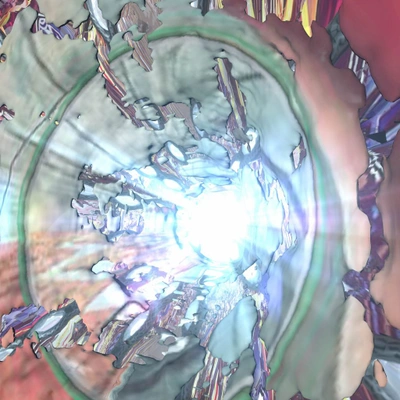 CJC: The NFTs are available on the Rarible platform. How did you advise collectors — especially those who are less crypto-native — to "own" and display the NFTs? 
AY: Most of the collectors seemed quite content to just own the NFTs in their crypto wallets, like MetaMask. There were also un-lockable files which came with the artwork which allow the collector to display the works on large screens for physical screenings.
CJC: Did you encounter any friction, in wallets, transactions, etc? 
AY: There was definitely a barrier to entry of owning cryptocurrency, since we were pricing the NFTs in Ethereum, which is already relatively expensive to trade with for later adopters. There was also the question whether collectors would want to transact with crypto or fiat. Other challenges included high gas prices and transaction fees on the Ethereum blockchain. Also, some of the technology is quite nascent so it's not that seamless to use yet.
CJC: Overall, do you feel there would be a potential, sustainable market for NFTs in Singapore or the region? 
AY: Here in Southeast Asia (and Singapore), we are rich with talented digital artists who have interesting stories to tell. It also looks like the NFTs are here to stay. So why not?
01

.

A digital artwaork created by Mike Winkelmann (Beeple), which was sold for $69 million in March 2021.

02

.

As of publication, 1 ETH is equivalent to roughly 4000USD.