It's the Year 2019, and We Hope…
Christina J. Chua wonders if art students can inspire hope for the planet's future by tinkering with technology at the MeshMinds Foundation's exhibition "Art x Tech for Good".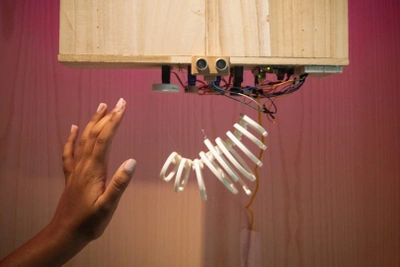 It's the year 2019, and I've now crossed over a decade of looking at exhibitions. Exhibitions all over Asia-Pacific, Europe, the US — I've travelled and looked at art. And in all this looking, it's not so often that I see art "for good", meaning for the good of  society , rather than for its own inherent aesthetic or cultural good. Sure, there are your annual charity galas that raise amounts to keep public art institutions running, and the philanthropy is well needed and intentioned. But even though many artists align themselves and their work with a myriad social causes and inequalities, exhibitions that are curated to explicitly raise awareness, and even more — funds for those said causes — are far and few between.  ‍ At the time of my writing, there are a hundred exhibitions opening around the city and another hundred rumours about the sudden, shocking closure of the Art Week's largest one [01]. I trekked out to a show that distinguished itself from all the others. It was a bit off the beaten track, held at Roger&Sons, a maker studio known for woodworking. Here, in a maple-panelled room that was awash in the neon pink of the organiser's branding, the MeshMinds Foundation had partnered with 12 LASALLE College of the Arts students from Broadcast Media, Fine Arts and Music programmes to put on a show candidly titled  Art x Tech for Good . 
I stumbled in just as Chief Connecting Officer, a longer name for founder, Kay Poh Gek Vasey was announcing the show's variety and its bold mission, "We have Virtual Reality (VR), Augmented Reality (AR), 3D printing, all kinds of cool things… Our exhibition aims to promote public awareness for sustainable consumption and lifestyles, as well as show how we can use creative technology to achieve the UN SDGs." Her light-hearted confidence was palpable. Behind me, I found a rotating colour wheel that spelt out how "UN SDG" meant "United Nations Sustainable Development Goals", of which there were 17 [02]. I spun the wheel. The bright colours danced through these objectives: yellow for Affordable and Clean Energy; red for No Poverty, and so on. I considered when the last time I had heard "clean energy" said plainly in an exhibition text. The curatorial vocabulary I was used to was never so straightforward — so urgent.
Next to Kay, stood Steve Golden, Director for Division of Industry and Community Engagement in LASALLE, who read from his notes, "Art and technology share a common root – the human imagination. This collaboration presents a unique opportunity for our talented students, across multiple disciplines, to experiment with art forms and the latest technology to imagine solutions to global issues and inspire hope in the process." Hope — now that's a golden word that has been tossed around a lot lately [03]. It is, after all, 2019. But it was, again, less found and frankly looked forward to in the visual arts, as it was so unusually here.  ‍ I turned its glowing meaning over in my mind, while an oddly shaped disc glimmered green, and turned in the other direction from the colour wheel across the room. R. Yashini was standing nearby her piece, nodding and smiling as the DJ was getting started on his hip hop set. Her mechanised, glow-in-the-dark 3D prints were titled Sabaism . 
Hope — now that's a golden word that has been tossed around a lot lately.
"What does that mean?" I queried. 
"Sabaism is the study and worship of the stars by ancient Arabians and Mesopotamians. This project was inspired by my love for astronomy. So I titled it after the origin of this study — this faith," replied Yashini.
"And what does astronomy have to do with SDG 13: Climate Action?"
"I've been doing astrophotography for four or five years now. But because of light pollution in Singapore, I have to travel a long distance to Batu Pahat, Malaysia to shoot these cosmic bodies. Many people are unaware of light pollution and there are many consequences. It affects the migration of sea turtles, the flying behaviour of birds, our sleeping patterns. If this goes on, large observatories are under the threat of closing down. And of course, the utmost priority is the excessive use of fossil fuels." ‍ Through Photoshop, Yashini had extracted the luminosity levels of two photos she had taken — the Lonely Tree at Punggol Park, a suburban district far from the centre of Singapore, and the Helix Bridge at Marina Bay Sands, in the heart of the CBD. Then she used the comparative data that emulated the horizontality of a light wavelength, a "visual skyline", as she called it, to spiral into an organic landscape. The resulting sculpture spun around green, but I wasn't yet sure if this was symbolic for anything close to hope. I would have to look further. 
Yen Yun Ni Odelia waved me over to her work,  From Another Perspective . With a wide smile, she helped me put on the VR headpiece. The reality I was ushered into was both stunning and frightening. Ghouls hovered from the corners of a bedroom and whispered cryptic words I couldn't make out in my ears. The scene changed at disorienting angles and a red, whirling vortex appeared within a train car. Slightly shaken, I freed myself from the goggles.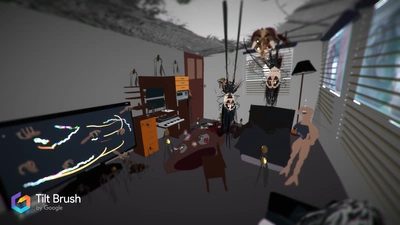 "I was a 2nd year nursing student when I met a girl at the Institute of Mental Health (IMH) during an attachment. She was the same age as me — 18 years old. I wasn't expecting to meet young people. She was so stricken — she kept kowtowing to the Goddess of Mercy. I saw her fear — she was so afraid. And it was her age that really led me to see how anyone, at anytime can have this disease," Odelia explained. ‍ I was impressed, and open. I had never thought Virtual Reality could be used to induce a schizophrenic hallucination, let alone, empathy for patients who have them. I thanked her, and crossed over to the other side of the room. 
I had never thought VR technology could be used to induce a schizophrenic hallucination, let alone, empathy for patients who have them.
Another student, Chok Si Xuan, was fiddling with a small bony structure that hung within a shelf. She tested the motion sensor and it wriggled to life. The miniature 3D printed fossil was supposed to represent an animal going through rigour mortis.  ‍ "It's a little morbid," I observed.
"Yeah… Actually that wasn't something I had in mind when I designed it. It was modelled after a porpoise or a dolphin. But I think the context matters, as the work talks about the struggle of a creature and our relationship with it, but when you see a fish writhing in the supermarket, chances are the first thoughts you'd have is, 'That's fresh!'" 
"Is the work supposed to be induced shock?" I asked, looking at the wall text. Its title was  Affect . 
"It could very well. I'm hoping that my audience just begins to ask questions. Is the work talking about overconsumption of seafood? Or our impact on their habitats? Or not eating animals altogether?" ‍ Questions were indeed a good place to begin. I wanted to ask Si Xuan if she had a particular solution to these questions, or even if she had amended her eating habits herself, but she had returned to testing the sensor. 
I whirled around. By now, the room had become crowded with visitors trying out the synthesisers and music machines on the central table. Their rhythms clashed with the beats from the DJ console. In their fascination with the interactive Arduino circuits, I wondered whether any of them were actually entertaining those intended questions.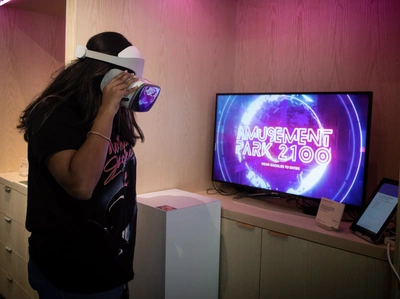 Behind me, a girl mounted VR goggles to experience a work called  Amusement Park 2100  by Alex Pan. I waited my turn, then tried them on myself. In the expansive lens, a boat took me down an eery, neon-lit canal. It looked like it could be Venice, until I realised that the buildings surrounding me were the apartment blocks of Singapore. The seas had risen. It was the year 2100.  ‍ "I had found 'the year 2100' in several research papers on the topic. But to me, that number largely indicates the future in general," said Alex, as I unfastened the wearable. 
"The year 2100… that's more than 80 years away." I tried to hang and understand the figure for time, just for a moment. 
It is the year 2019. Most people say we only have a dozen years to act on climate change before the planet reaches 2C, a half-a-degree difference from the current 1.5C that could affect millions of lives [04]. As the DJ increased the tempo, I suddenly felt the urgency. ‍ Although a few of the pieces were still rough around the edges, MeshMinds had coordinated a worthy grassroots effort with the bright young students of LASALLE. It was the presence of empathy, the space to ask questions that matter, and a sense of the impending, urgent future that set the exhibition apart. I left the woodworking studio that evening, knowing that it was a small, but nonetheless good work in progress, a significant step towards a vision of hope. 
01

.

Lorenzo Rudolf, the President of Singapore's largest art fair, Art Stage Singapore, had announced on Monday, 16 January 2019, to the shock of the galleries participating, that the fair would be cancelled. It was scheduled to be held at Marina Bay Sands from 24-27 January 2019. Chee Boon Tan, "Art Stage Singapore 2019 cancelled," Prestige, January 16, 2017, http://prestigeonline.com/sg/art-culture/-/art-stage-singapore-2019-cancelled/.

02

.

In September 2015, the United Nations General Assembly adopted the Envision2030 Agenda to include 17 Sustainable Development Goals. "About the Sustainable Development Goals", United Nations, accessed January 22, 2019, https://www.un.org/sustainabledevelopment/sustainable-development-goals/. ‍

03

.

Amongst the many thought leaders speaking out for hope in these dark times, Rebecca Solnit presents one of the clearest rallying cries in her book Hope in the Dark (2004). Read her foreword to the 2016 edition here, https://www.londonreviewbookshop.co.uk/blog/2016/9/hope-in-the-dark---rebecca-solnit.

04

.

Climate scientists issued a "landmark report" for the UN Intergovernmental Panel on Climate Change (IPCC) on the global temperature change. 10 million people living on coastlines could be affected if the half-degree extra warming were to occur by 2100. Jonathan Watts, "We have 12 years to limit climate change catastrophe, warns UN", The Guardian, October 8, 2018, https://www.theguardian.com/environment/2018/oct/08/global-warming-must-not-exceed-15c-warns-landmark-un-report. Read the IPCC Special Report on Global Warming here, https://www.ipcc.ch/2018/10/08/summary-for-policymakers-of-ipcc-special-report-on-global-warming-of-1-5c-approved-by-governments/.