Home Economics
Artist Stephanie Jane Burt and fashion practitioner Daniela Monasterios-Tan of the interdisciplinary arts collective A Stubborn Bloom talk about perceptions of femininity, home economics, and material culture.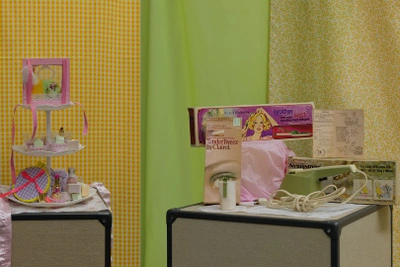 A Stubborn Bloom[01] is an interdisciplinary collective founded by artist Stephanie Jane Burt[02] and fashion practitioner Daniela Monasterios-Tan[03] in 2019. Sharing an interest in the exploration of feminine tropes, the duo brings a new perspective through a synthesis of film, fashion, and material culture. Their upcoming digital presentation, Lucy's Dictionary of Femininity , is a digital anthology of feminine objects and femininity, following the dictionary chart of the alphabet[04]. It takes inspiration from the Museum of Modern Art's (MoMA) talks programme for their exhibition, Items: Is Fashion Modern? [05]. The talks featured a roster of designers, curators, critics, and scholars discussing different topics based around art and fashion, each beginning with the letters of the alphabet.
Lucy's Dictionary of Femininity is an online exhibition accompanied by a video series created by A Stubborn Bloom that takes cues from home economics textbooks[06] used in secondary schools in Singapore in the 1970s and 1980s, when the subject was under much contention[07].
A total of 26 objects of femininity have been selected for the 26 letters of the alphabet, each holding meaningful representations of girlhood. By assembling these objects into an alphabetical and curated system, this dictionary seeks to reframe domestically-feminine objects that are conventionally perceived as objects and signs of weakness, thus imbuing them with contemporary notions of strength. The following exchange comprises excerpts from a conversation about their upcoming project and is also an informal introduction to both of their creative practices.
DMT: Hi Steph, we've been looking at a lot of research on home economics and its relation to education, especially in the 1970s. It was a compulsory subject for girls ever since its inception and was shaped on ideas of what makes a good homemaker. What do you remember about home economics as a subject in school?
SB: I remember making cottage pie and pasta and really liking the set-up because there were little stoves in this kitchen and everyone was sitting in their booths. I was paired with this girl and she felt quite exasperated with me because I was so clueless in the kitchen. We were around 14 and I had never used a stove before.
DMT: I was in Crescent Girls' School[08]. I was very excited to do it only because it meant that you would have food for recess. I think I learned how to sew with a sewing machine. But it's a very vague memory,  compared to everything else I learned. In relation to other subjects, did you feel that it was unimportant?
SB: I don't really remember much else from it, just that it was really fun that I got to do something outside of studying, and I liked that we were cooking. My teacher was very pretty, and I remember she boiled a whole pot of plain pasta. As a child, I really loved eating plain pasta without any sauce, so I asked her to give me a bowl of plain pasta, she looked at me and said, "But there's no sauce," and I said, "I like my pasta like that, no sauce."
DMT: [Laughs] You're still like that!
SB: I know! I like to eat plain, specific foods.
All these dull and seemingly simple tasks — folding the clothes, doing the laundry, cooking — it's actually work that goes unseen, unchecked and unpaid for.
Dani: I don't remember much of this subject… I remember gruelling subjects like physics, and a lot of literature as well. I wonder if it's just because of the way home economics was positioned in my syllabus — it wasn't deemed as something important. I don't even think it was offered as an O-Level subject[09". In our research, it was cool for me to find out that the proponents of home economics, such as the super talented and well-educated Mrs. Christina Fones[footnote = "10], were actually stationed at Crescent Girls'. Back then, if you were "weaker" academically, you could take art; it was not an option for the science stream[11]. I wonder how my school has changed its emphasis on science subjects. 
It's so fascinating revisiting home economics textbooks from the 1970s, and how the subject ties in with the beginnings of fashion studies. It was very multi-disciplinary! The textbooks cover things like how to beautify your home, how to budget, how to arrange flowers, how to entertain, how to take care of your clothes and fabrics. These are really important skills we require as adults; it's about aesthetics and what makes a good life. You know, I only learned how to cook properly for myself when I was in my late 20s in London, alone without my mother!
SB: I only learned how to cook when I went to university. I forced myself to learn because for my first year, I just ate instant noodles. There was a running joke with my hall-mates — they used to call me "noodle girl", or just "noodles".
DMT: That's quite cute.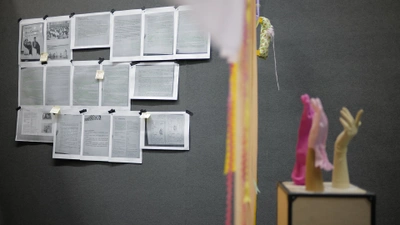 SB: But yes, I know what you mean about only learning these skills when we have to, when we should already be equipped with them. Home economics was launched as a subject in Singapore because at one point, working mothers were too busy to teach their children, so home economics became a substitute.
DMT: They originally believed home economics gets taught in the house, right? You just do what your mom does. It was always a subject that was aimed at young girls. 
Another interesting moment was when home economics became optional in 1977[12]. That's when the Ministry of Education realised that girls might not want to take it because they might want to advance their careers and take subjects that would give them better jobs. The ministers looked at this with apprehension and made it compulsory for girls to take the subject again in 1987, while it was optional for boys. It was also deemed essential that both genders know how to share the workload of parenting and housework; thus, from 1997, it became mandatory for both boys and girls to take home economics[13].
SB: This brings up the question of a woman's work. All these dull and seemingly simple tasks — folding the clothes, doing the laundry, cooking — it's actually work that goes unseen, unchecked and unpaid for.
DMT: Yes, and it's so tiring, yet it makes you feel good to have a home that is well-cared for and clothes that are nicely-ironed. Now we have YouTubers like the Korean influencer haegreendal[14] who teach you how to cook and make chores fun, how to "Marie Kondo"[footnote = "15''] your house, fold things properly, organise… Is this part of the new wave of the commercialisation of home economics?
It was also deemed essential that both genders know how to share the workload of parenting and housework; thus, from 1997, it became mandatory for both boys and girls to take home economics.
SB: [Laughs] I like that.
DMT: Buy this and your house will be this neat!
SB: Sponsored ads by Dyson. Commercialised home economics.
DMT: This idea of domestic spaces becoming a place for consumer products began in the 1950s, when all of a sudden there were so many electronics that you could buy for the kitchen to make life easier. Take the invention of the microwave for instance, which was meant to ease cooking, or processed foods. Now we're in a place where science tells us all this food is actually unhealthy for us. Experts in America say there is an obesity crisis. I mean, this doesn't really have anything to do with our research, but… 
SB: I think that this absolutely has everything to do with everything! By analysing these old objects, we learn more about social history and where we are today. That's what we are trying to do with A Stubborn Bloom — to look at these objects from the past and understand them in relation to their social and political histories — why they were made and how they have led us to where we are today. We learn more about ourselves through these lived histories of things around us, and that's what constitutes material culture. Fashion is a tool to understand lives or histories that came before us; each dress has a story to tell. Even a microwave or an oven that gets inherited by a new generation — these objects reflect what was happening during a particular time. There are so many interesting conversations to be had around them.
DMT: Yes, I agree.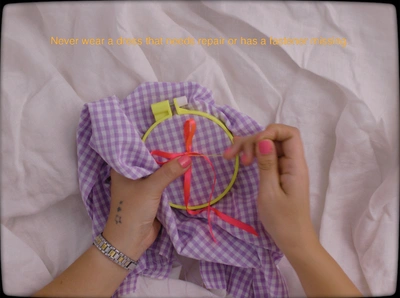 SB: We were walking around Singapore, sourcing for materials for our film and looking at different sites for research. We stumbled upon a historical site in Katong[16] and discovered old modernist buildings in the area, such as Katong Shopping Centre which was built shortly after Singapore's independence. Its structure is an icon itself, and it really defined Singapore's modernist look during the era we are exploring. Singapore does have a very interesting history that is often forgotten and neglected. We want to understand why these buildings were created in the past, and where it has led us. So much of this research is already out there; we're just repositioning it within a framework that we are interested in. This is what is unique about A Stubborn Bloom, because despite our differing creative backgrounds, we have a lot of overlapping interests that we are curious about.
DMT: When we started working on Lucy's Dictionary of Femininit y, even though we were thinking about fashion as a way to develop or communicate an identity, there were other objects such as clothing irons or hair curlers that became part of our anthology. I procured some of these consumer products on eBay and saw how they were marketed and sold to young women in the 1970s. The objects' colour palette, the lines in the design mirror the interiors of homes that people were living in. It's so interesting what style tells us about behaviour in society. Interior design, fashion and consumer products influence one another; this is how material culture is a reflection of society. I wonder what is the style we are living in now? I'm not very sure.
SB: Where are we now?
DMT: There's now a rise of the hyper-feminine or girlishness in fashion with designers like Simone Rocha[17], Molly Goddard[18] and Cecilie Bahnsen19. This fluffy, ethereal, unabashedly girly femininity.
SB: I think that it's a response to the growing social awareness amongst millennial girls. Rookie magazine by Tavi Gevinson held a great influence on this generation[20]. The thoughts, emotions and inner lives of young teenage girls became important — even respected — through her publication. I particularly love the article on "getting over girl hate"[21]. Internalised competition amongst women was seen as part of a system we were raised in. There is healthy competition — the kind that makes you want to be a better person — and then there is shrivelling toxicity. That article, along with the whole magazine, really pivoted a generation of young women toward embracing themselves and not being afraid to ask questions that seemed too embarrassing. It made teenage girls feel normal for them to be themselves, and celebrated the girliness of teen-hood. Coupled with the #MeToo movement[22], the rise of modest fashion[23], all of these things coincided to enhance our experience of contemporary femininity.
DMT: Tavi Gevinson was part of an international group of fashion bloggers that changed the fashion publishing industry in the mid-2000s, who then left fashion in pursuit of a larger feminist and pop culture discourse.
I thought I'd bring up a designer we looked at a lot in the beginning: Simone Rocha. She's makes clothes that are very feminine and have lots of volume, that hold space for women's bodies. These are dresses that we would have wanted to wear as little girls with ruffles, pearls, oversized silhouettes. It also brings up this question: why do little girls like to dress that way? Is that something that has been conditioned? Or is it just simply that little girls love lace and volume, tulle and ruffles?
We learn more about ourselves through these lived histories of things around us, and that's what constitutes material culture.
SB: She's very interesting because she takes references from feminist art to create her garments. It's almost as if she's creating her own work of art — which is really quite extraordinary for a young female designer — about what frames and constitutes girlhood or the role of fashion in a feminine experience.
DMT: She even collaborated with the Louise Bourgeois Foundation[24]. What's also interesting is that she is inspired by the works of Rei Kawakubo[25], who has been creating works that challenge the idea of beauty while simultaneously using feminine tropes such as apron dresses, oversized ruffles and little girls' clothing.
One of my favourite works by Kawakubo is the Spring/Summer 1997 Lumps and Bumps collection[26]. Kawakubo's silhouettes are familiar. They are actually bodies we've seen before, like a pregnant woman or a person with kyphosis[27]. These are bodies that are also normal bodies, bodies we can recognise around the world. I remember in Bolivia, there would be women carrying babies or bundles on their back in these woven cloth slings. It looked like the bundle was morphing as a lump onto their body. Francesca Granata, a fashion theorist, posits that Kawakubo's work is an example of the grotesque in fashion and how the idea of the "perfect body" has led us to these conversations on diversity to challenge ideas of normality or perfect classical bodies[28]. Instead of form-fitting and cleavage-baring clothes that were popular in the 1980s, Kawakubo was making sweaters that had holes in them, embracing asymmetry and wear-and-tear. She challenges the notion of sensuality, where erogenous zones are not only limited to the cleavage or butt; they could be a hole at the back of the knee or the elbow.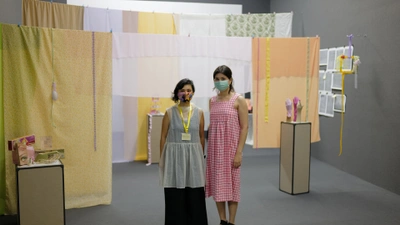 SB: I love those notions. Bringing it back to where we were before: the use of material culture in these seemingly innocuous little cuts in design really prompts questions about our perceptions of femininity. Constructing fashion really begins with learning basic skills such as sewing — lessons taught to us in secondary school or domestic settings.
DMT: Many fashion scholars came to fashion research from home economics when the field split up in the 1970s. Researching books and articles related to home economics was one of my biggest finds; it relates so much to this multidisciplinary view of cooking, aesthetics, and how to dress appropriately.
SB: Yes! Remember this book I shared with you in the library? It was a how-to manual for the public about how to groom yourself when you go on dates, what you should wear, and how you should conduct yourself. It really reminds me of the Coronet films of the past[29].
DMT: It is all this material culture that allows us to see how young girls are taught to be, what ideals they reflect. It's been wonderful!
01

.

A Stubborn Bloom, https://astubbornbloom.blogspot.com/

02

.

"Artists - Stephanie Burt," Yeo Workshop, http://www.yeoworkshop.com/artists/stephanie-jane-burt

03

.

Daniela Monasterios Tan, https://www.danielamonasteriostan.com/

04

.

Follow their research on A Stubborn Bloom's Instagram account. "A Stubborn Bloom," Instagram, https://www.instagram.com/a_stubborn_bloom/

05

.

"Items: Is Fashion Modern?" MoMA, https://www.moma.org/calendar/exhibitions/1638

06

.

Lee Sook Ching, Seow Peng Kim, New Comprehensive Home Science for Lower Secondary Schools: Book 3 (Singapore: Federal Publications, 1973).

07

.

Sheree Ng, "Recipes for the Ideal Singaporean Female" Biblioasia, Volume 13, Issue 4 (Jan-Mar 2018), pp. 34-39.

08

.

Crescent Girls' School, https://www.crescent.edu.sg/

09

.

The Singapore-Cambridge General Certificate of Education Ordinary Level (GCE O-Level) examination is an annual national examination that is taken by Secondary School students in Singapore, https://www.seab.gov.sg/home/examinations/gce-o-level.

10

.

Christina M. C. Fones wrote Let's Learn to Cook, a classic instructional book from the 1970s. See "Let's Learn to Cook – Christina M. C. Fones," Google Books, https://books.google.com.sg/books/about/Let_s_Learn_to_Cook.html See also Linda Chee, "learning to cook in post-independence Singapore," The Peranakan Magazine, Issue 1 (2015), pp. 30-5. https://peranakan.org.sg/magazine/2015/Issue1/Issue_1_2.pdf

11

.

Streaming is a process by which students are divided into "streams" based on their grades. See Faris Mokhtar, "The Big Read: Streaming — the good, the bad and the ugly side of an outdated policy," CNA, March 12, 2019. https://www.channelnewsasia.com/news/singapore/the-big-read-streaming-the-good-the-bad-and-the-ugly-side-of-an-11332116 https://www.google.com/search?q=streaming+education+singapore

12

.

"By 1977, the policy of having 50% of lower secondary girls study technical subjects was changed to allow girls the choice of taking either technical studies or home economics." See Kho Ee Moi, "Economic Pragmatism and the 'Schooling' of Girls in Singapore," HSSE Online Research and Practice in Humanities and Social Studies Education, Volume 4, Issue 2, 2015, p. 68

13

.

Kho Ee Moi, p. 70.

14

.

Haegreendal is a South Korean influencer. Her vlogs offer meaningful musings on life, home keeping and cookery. "해그린달 haegreendal," Youtube, https://www.youtube.com/c/haegreendal

15

.

Marie Kondo is a Japanese organising consultant, author and TV show host. KonMari, https://konmari.com/

16

.

Katong, or Tanjong Katong, is a residential neighbourhood in Singapore.

17

.

Simone, https://simonerocha.com/

18

.

Molly Goddard, https://mollygoddard.com/

19

.

Cecilie Bahnsen, https://ceciliebahnsen.com/

20

.

Rookie, https://www.rookiemag.com/

21

.

Tavi Gevinson, "Getting Over Girl Hate," Rookie, June 9, 2011. https://www.rookiemag.com/2011/09/getting-over-girl-hate/

22

.

me too. Movement, https://metoomvmt.org/

23

.

Modest fashion refers to a trend or practice of wearing less skin-revealing clothing.

24

.

"Simone Rocha Has Launched Louise Bourgeois-Inspired Earrings," AnOther, May 1, 2019. https://www.anothermag.com/fashion-beauty/11684/simone-rocha-has-launched-louise-bourgeois-inspired-earrings

25

.

Rei Kawakubao is a Japanese fashion designer, and the founder of Comme des Garçons and Dover Street Market. "Rei Kawakubo," BoF, https://www.businessoffashion.com/community/people/rei-kawakubo

26

.

See Osman Ahmed, "Lumps and Bumps at Comme des Garçons S/S97," AnOther, January 5, 2016. https://www.anothermag.com/fashion-beauty/8174/lumps-and-bumps-at-comme-des-garcons-s-s97

27

.

Kyphosisis a condition where your upper spine is particularly curved, making your back look especially rounded.

28

.

Francesca Granata, "Fashioning the Maternal Body: Rei Kawakubo," in Experimental Fashion: Performance Art, Carnival and the Grotesque Body (London: I.B.Tauris, 2017).

29

.

Jonathan MacDonald, "Eating Right in 1950s Educational Films ," The Recipes Project, January 29, 2019. https://recipes.hypotheses.org/tag/coronet-instructional-films