Genesis Launches Soulmate, The World's First Life Extension App
For the first time in history, users will be able to digitally upload and interact with human consciousness.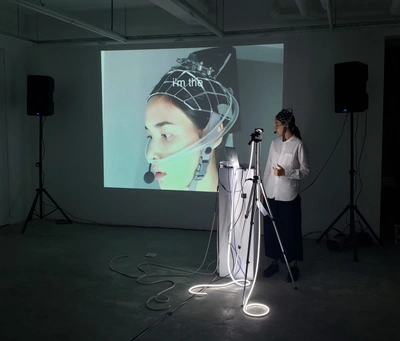 FOR IMMEDIATE RELEASE — NEW YORK, February 18, 2038 -- Genesis, Inc. announced today the launch of their newest app, Soulmate , a breakthrough in neurotechnology developed to address humanity's perennial dilemma: death. Heralded as the world's first and only affordable consumer solution, Soulmate allows users to upload human consciousness moments before death, within seconds. The magic happens when the uploaded data transitions into a new proprietary format called SoulSet™ . The SoulSet™ continues to live on the app's revolutionary system as a fully-conscious digital being. 
While the world is still years away from a true AI Singularity, one of Soulmate's pioneering features is the ability to retain the original memories and personalities of the individual, whilst actively developing new Memory Time signatures. Thus each SoulSet™ continues to learn and evolve in his or her own natural path. As a result, users will be able to interact and grow with their loved ones. To enhance this unique service, Soulmate also features Genesis' acclaimed 4DSound and Empath Technology to fully engage the users' sensory and cognitive receptors.
There has been significant innovation in the field of Life Extension in the past ten years with new discoveries and advances in Quantum Memory Equations (QME). One of the reasons why no one has successfully launched a commercial solution is because of the limitations of the technologies available. Some solutions are exorbitantly expensive, or have been proven to be impractical, such as Anthropomorphic Automatas rentals or Cortical Mind Mapping (CMM) which require expensive and bulky machinery. Other controversial solutions violate Mill's Harm Principle, and have faced harsh criticism for its unethical practices. Yet customer expectations continue to increase rapidly. In this highly competitive, nebulous landscape, companies have been investing billions in R&D to emerge with a superior offering.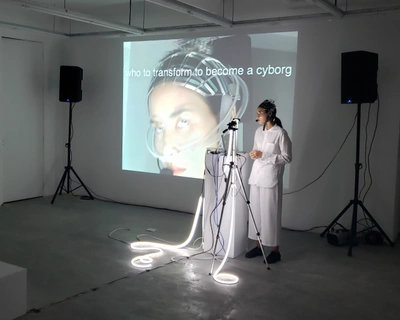 "Soulmate enables users to hear the voices of their loved ones clearly in 4DSound so they can enjoy the richness and complexities of human dialogue. Moreover, our game-changing Empath Technology and Memory Times registrations have marked yet another major milestone in the search for an effective Life Extension solution. This is as close to true AI as you can get now," said Mr. Mas Kalon, CEO and Founder of Genesis, Inc. "We have a long track record of answering our customers' demands with enriching products and services. Now, we are poised to be the first to successfully integrate living consciousness into the digital realm. This is a new dawn for humanity." 
Genesis' unique innovation in the Life Extension field is to approach it as an app service, bypassing the need for any equipment or messy prosthetic integrations. After a simple user registration and agreement process, data transition is fast and seamless using Genesis' own universal HyperCable™. Another innovation by the engineers at Genesis Labs is the Laplace Algorithm Conversion: a breakthrough secret formula to extrapolate and reformat data. Adding to their suite of award-winning apps and digital services, Soulmate integrates all of Genesis' technologies in one affordable and user-friendly app for the very first time. 
The Beta release of Soulmate covers three main languages globally: English, Chinese, German and French. The company aims to expand into all languages and cultural vernaculars by 2040. Soulmate is now available for download at $399.99 and runs on all digital mobile platforms. 
To arrange an interview, contact Jay Zebos at media@genesisincsoulmate.com 
About Genesis, Inc.
Founded in 2023 by Mas Kalon, Genesis is a multinational technology company that focuses on e-commerce, Quantum Gravity computing, digital Empath streaming, and AI Entertainment. Genesis is also behind the social network, YOU-R®, with 3,000,000,000 active subscribers reported last year. Genesis is guided by three principles: innovation through technology, humanity first, and passion over profit. 
• • •
Customer Reviews 
Kurt Alvarado
★★★★★ "Works and sounds great!" 
Reviewed in the United States on March 20, 2038
It was not an easy time in my life when I learnt that my partner of 20 years was diagnosed with late stage cancer last month. She had 2 weeks to live. We have seen Soulmate on the news and decided to give it a go. Really, what choice left did we have?! After signing an agreement with Genesis Medical Center and a basic online user registration, we were set up with an account on Soulmate. Together my wife and I agreed on how and when she should be transitioned, and made arrangements. Finally the time had come and she was connected to Soulmate. I held her hand as she passed. Within minutes, there she was, blissful and "alive" in the app on my mobile device. The first word she said, in a perfect pitch, was my name. I was in tears when I heard her voice. Soulmate's face-mapped avatars are so realistic, she lives again across all my digital devices!
Yang Jiahao
★★★★☆ "Fantastic memory recall" 
Reviewed in the Taiwan on March 28, 2038
My dad has been telling me so many stories from his childhood. Most of them I have never heard before. His adventures are so colourful. Seems like the app is improving his memory and happiness, and I am thankful. We are enjoying our conversations again as father and son. My only complaint is that I cannot turn off the app without making my father angry. Hopefully Soulmate will add that function in the next upgrade!   
Ruth Sharp
★☆☆☆☆ "Do not use! Very Glitchy" 
Reviewed in the United States on May 16, 2038
Omg I wanted to love this for changing the world! After all, I am a LOYAL customer of ALL Genesis products. I eagerly launched Soulmate in excitement to talk to my best friend of 30 YEARS but I swear that it is not him!! The voice does not sound like him, not to mention it is muffled and rough. But sometimes I notice it is Tom because of his personality and the very unique way he says helllllo. Very strange! Or when we do interact, the exchanges are so ROBOTIC I do not understand! I am very frustrated because clearly this is a glitchy product! What is the use of the app anyways? You are talking to a ghost! Use at your own risk! Support a natural passing like how God intended!!!!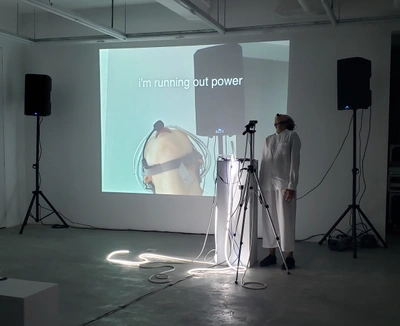 Sheena Cochran
★★★☆☆ "Fantastic for the first 3 months. Now doesn't respond 90% of the time." 
Reviewed in the United States on June 19, 2038
My husband suffered a stroke in his fifties, but luckily we have already adopted Genesis' Insurance Family Plan that will allow any one of us to transition into Soulmate seamlessly. The first few months were great! I truly enjoyed his company, and the assurance that he was still around. I think he was happy too... when I asked him he had said so. We shared our daily activities, jokes and even sometimes quarrelled. The response was fast and the sound quality was amazing, like John was right there! What really stood out for me was how John was able to remember our new interactions. We even enjoyed some pleasurable romance and he could always sense when I'm in the mood. That was then. It's been 3 weeks since John last responded. I hope it's an issue with the Soulmate software. I've tried updating the app and reinstalling to no avail. Even customer service claims they could not find any technical issues. My children have Soulmate loaded on their mobile devices too, and also have been complaining of a lack of response. Am I crazy to think that John is cheating on me? Please help! 
Dustin Yee
★☆☆☆☆ "Something is wrong..." 
Reviewed in the United States on June 22, 2038
I've been getting bad headaches. I can't be certain, but I suspect it's her...