Zoom, Click, Waltz
Artist Sarah Choo Jing documents her neighbours dancing in their apartments during the lockdown, while Chief Editor Christina J. Chua also reminisces dancing alone, together.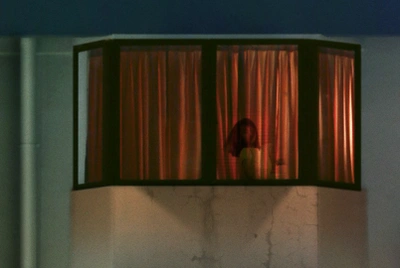 I was not the only one to dance alone during lockdown. A friend, Krystal, had organised a series of virtual parties which live-streamed her friends all over the world via Zoom to the steady beat of jungle and techno, which played through a simultaneous window on Twitch[01]. I "attended" the first of the series, donning red lipstick to accessorise my polka-dotted silk pyjamas, since we were encouraged to dress things up. After two glasses of wine, it was already a proper boogie. While in between moves, I'd check the Zoom chat to say "hey" to friends I knew, sizing up or down the gallery view to scroll through other costumes and funky backgrounds. In these virtual halls, I had noticed gallerist Audrey pouring cocktails while waving her hands around, my Italian friends Carolina and Raphael nodding to the rhythm with alligator masks on, amongst others like Tiffany, or Shermin and Yang who were chilling on sofas, curious, observant. It was a fun night, but at the end of it, I turned off the lights, and was still alone.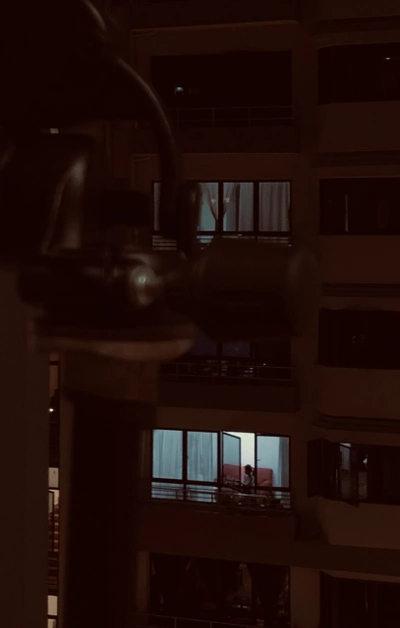 The novelty wore down sooner than later, and I skipped out on the next sessions. A couple of weeks later, the same Audrey who owns the art gallery Yeo Workshop, invited me to a Zoom conversation with Singapore artist and filmmaker Sarah Choo Jing. This time in nought but yoga wear, I clicked to log in, comfy but ready to learn. Sarah began playing a slow-moving video, the medium she is most known for. After a few slides elaborating her practice, as artists usually do during such fireside chats, she paused at her most recent pieces.
Sarah talked about how her previous video series Accelerated Intimacy had begun with her rather compulsive habit of staying in hotels, slipping quizzical notes under the doors of neighbouring rooms to her own. Sometimes the anonymous occupants would write back; sometimes they would not. Yet the secrets she and they shared became the backbone of an entrancing video montage which she presented in an atmospheric exhibition at Yeo Workshop in 2018[02].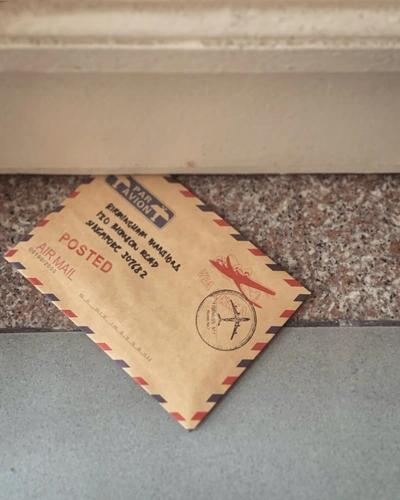 This practice of letter-writing had enabled her newest work-in-progress which was begun during lockdown. Entitled 27 Happenings  (working title), it was an ongoing survey of Sarah's neighbours roused also by her daily trips in her apartment building's glass elevator to throw the trash away. Every day, taking the lift down and up again was in itself enough of an event, as she peered into the rooms and apartments of other shut-in individuals, busy or not at their desks, working out, watching TV. Sarah began to develop a letter where, instead of expecting a written reply, she anticipated a moving one. She begins the missive with a poem that is formed like the shaft of an elevator, stopping at a floor, where "you are home".
Here, several months after our lockdown has lifted, and not knowing whether it will ever be imposed again, I attach the letter and the documentation. May it be an empathetic reminder of that unforgettable season, when we were all strangers, all alone, together.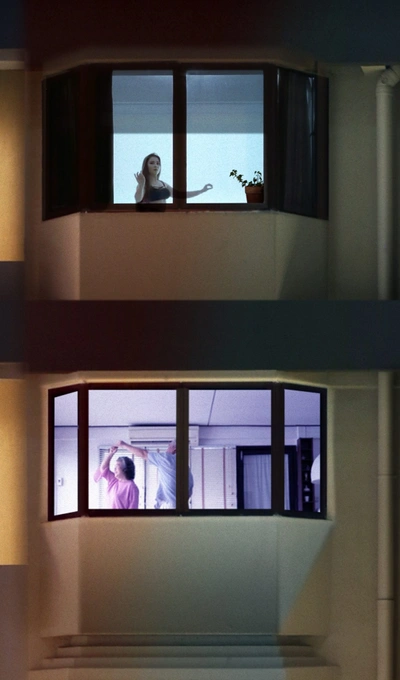 Dear Stranger,
this May,
there is everything
to hope for —
and nothing to regret.
we have come a long way —
where day bleeds into nightfall.
and we are, all;
alone, together.
tonight, I dance
with tears in my eyes.
a distant memory of my first dance
— with dad.
more, an embrace.
how beautiful and comforting
that stillness was.
tonight, I dance alone;
to the memory of his limp gait
to the scent of Sandalwood & ash
to the sound of music inside my head.
you are home.
waltz with your partner;
sway on your own.
think back to a shared memory.
tonight, in your living rooms,
slow dance to the tune
of moon light.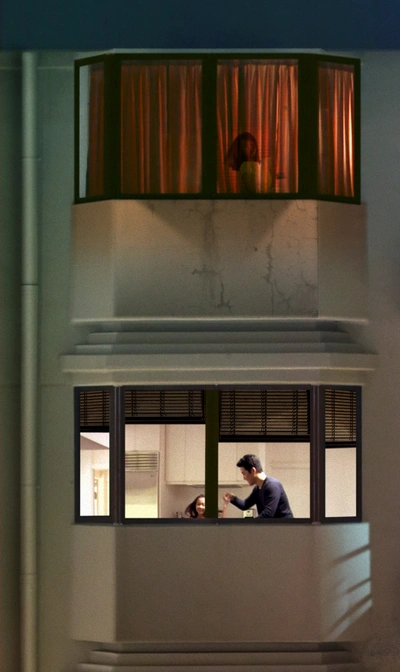 5 May 2020 at 11:17PM:
My name is Sarah Choo Jing, and I am a Singaporean artist living across from you at The Strata.
Firstly, I'd like to thank you for taking the time to read my letter. This is a project inspired by relationships, longing and intimacy during this period of Circuit Breaker[03]; it is a work that is close to heart.
I am writing to you to kindly seek your participation in my upcoming film project that documents a person or people dancing in the living rooms of their homes.
Should you be interested to be part of this work, you are invited to dance with a partner(s), or on your own on the evening of 15th May 2020, from 8.30 – 9PM. Kindly draw your curtains and switch on all your lights in your home. Dance to your choice of music by the window in your living room.
Your willingness to be a part of my project will mean so much to me.
However, should you rather not participate in this project, I completely understand and will respect your choice. Please draw your curtains and I will not include your window in my recording. Thank you once again for your time.
Very sincerely yours, Sarah Choo Jing
01

.

Twitch is an American video live streaming service.

02

.

"Sarah Choo Jing: Accelerated Intimacy" (2018), Yeo Workshop, Singapore. www.yeoworkshop.com/exhibitions/sarah-choo-jing-accelerated-intimacy

03

.

The "circuit breaker" was a stay-at-home order implemented by the Singapore government in response to COVID-19. See Prime Minister Lee Hsien Loong, "PM Lee Hsien Loong on the COVID-19 situation in Singapore on 3 April 2020", Prime Minister's Office Singapore, April 3, 2020. www.pmo.gov.sg/Newsroom/PM-Lee-Hsien-Loong-on-the-COVID19-situation-in-Singapore-on-3-April-2020