The Adventure is Enough
Over the course of almost six months, from June to November 2021, writer Anmari Van Nieuwenhove and artist Tomas Daukša have become pen-pals, talking about art, ideas and life. This is the result of their correspondence.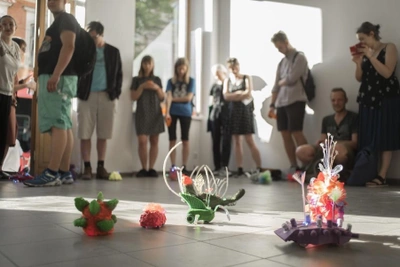 I was first introduced to artist Tomas Daukša's work by SO-FAR's founder Christina J. Chua, who had seen it at an art fair in Dubai. She thought I would be attracted to his art and said not much else. When I saw images of No Limit — colourful, neon, out-of-this-world, feather-duster like creatures — I thought they looked like other-worldly slugs, the type of organism that would inhabit this earth on a micro-level or lingering deep under the sea. Familiar, yet at the same time completely alien. When I Googled the artist (as we do), I found cute miniature figurines of a Yeti-like creature called Bigfoot.
When does knowledge become belief? Or are they one and the same? Someone once posed this question to me: do you know that I love you, or do you believe that I do? Interviewing an artist, what does one want to know — or believe ? Where and what he studied? Where he lives and what socio-political issues he faces? What he does in the morning, for exercise? How he came up with the idea to make a piece; how he made that; what inspired him?
Talking to Daukša, I found it difficult to separate conversing about daily things — walks in parks, parties, dogs and babies, childhood memories — from talking about work. We chatted languidly, over several months from June to November in 2021. We sent each other photos, like pen-pals.
His work is about "unknowing" — taking apart the very idea of knowing; teasing apart belief systems to chart new territory. Daukša simply describes his work as "fun and excitement", which for him mostly is an exploration of things that he encounters daily and that spontaneously interest him — both are the same thing.
Value is something placed upon an object, as long as enough people agree upon its existence, and believe in it. With what can seem like a scientific, methodical approach, Daukša teases apart "belief" from "meaning", by creating and then deconstructing logical systems. Another way to look at it is he treats belief and meaning like a game, with its own set of rules — easily replicable and achievable as long as x & y are achieved.
As someone who had never seen his work in person, I had no expectations about our conversation, which ended up working well for both of us. At one point, we suggested that this interview could have become a "work" in itself by being fictional — and sometimes, I still wonder if it is.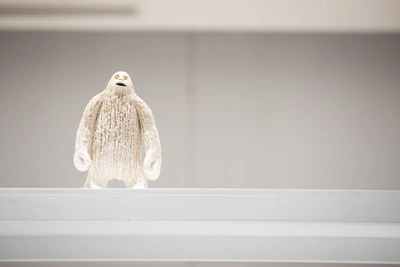 In 2015, Daukša made a work where he cast a marble replica of what he claimed was a special stone he supposedly got from Venice, while at the Venice Biennale. At the exhibition, he had a priest sanctify the replica. One can describe these processes as extraordinary for an art exhibition, but at the same time, that is what most art exhibitions try to do anyway — produce an air of sanctity, purity, originality and authenticity — of having a higher purpose and thus, value. His body of work consists of what the contemporary art world might consider childlike, "folkish", or mythological — bigfoots, aliens, beaver sticks and fountains. Yet ultimately, what is fictional and what is real in the context of the art world? All is storytelling. All is context. All is created.
When it comes to Daukša's work, I find myself struggling to define anything, or fall back on the usual narratives we employ when looking at and talking about contemporary art.
When I ask him about whether he prefers to be open-minded or a sceptic, his answer (that he tries to keep an open mind but that it's also easier to be a sceptic) reminds me that the two are sides of a coin: would you consider a conspiracy theorist open-minded or sceptical? Both could be true. Contradictions are present everywhere, all the time. Multiple versions of the truth exist.
When asked to describe his work, Tomas gives no grand narrative about an academic inquiry or research but blurs the line between life, leisure and labour. "There are times when I spend all my days fishing or walking in the woods, or watching blockbuster movies, or doing some silly things and consider that work. Then there are times when I go to the studio every day, work from morning till late evening. Then there are also times of moderate working and experimenting with ideas and materials."
In the end, he acknowledges that there is no fixed answer: "It would be very difficult to predict what I'll be doing the next day and what I would consider as work… everything that I consider as work has to be exciting and fun or at least immediately lead towards that."
When asked about how he became an artist, he tells me a story of how as a little boy, he and some friends would think up ingenious ways to bully a teacher, Makis. The memories are so vivid that he can provide diagrams.
...everything that I consider as work has to be exciting and fun or at least immediately lead towards that.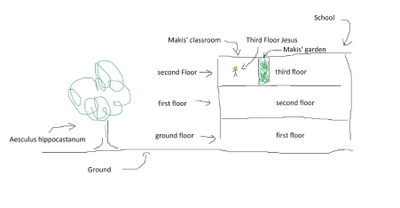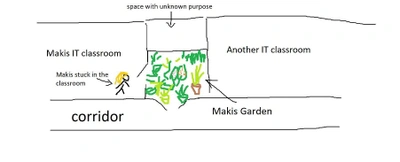 Naturally, I ask Daukša if he believes that art is essentially rule-breaking, finding flaws in set systems or closed loops of logic.
"For me, the most enjoyable thing about art is the vagueness of rules and definitions, and the freedom to do whatever I find interesting, even though rule-breaking is never the goal in itself. For the moment I'd say that art for me is adventure and exploration, and certain negligence towards rules is natural since you have to go somewhere unknown — whether physically, socially or mentally — to have an adventure."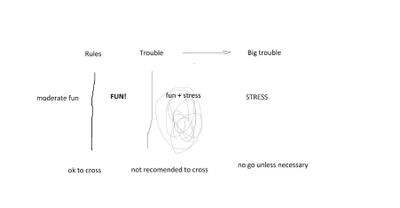 Adventure and exploration come to mind when I think about how Daukša created his "Bigfoot" series. He was walking in a remote forest when he chanced upon what looked like nests so wide a person could easily lay in one. His first thought was that a Bigfoot must have made them, even though it felt unbelievable, illogical, irrational. After watching many Bigfoot documentaries, he started to think about how narratives are formed and created a formula, which he then presented at an exhibition — but at the show, he found that people paid more attention to Bigfoot and its existence, than to the "calling out" of belief as a construct.
As time went on, the Bigfoot creatures were featured in more and more exhibitions, in more and more variations — glazed in gold and adorned with sapphires and pearls, and even as larger-than-life sculptures.
"As I see it, the project has three stages: you begin to believe something and start to construct a narrative around/about it; your belief becomes absolute and unquestionable; the object of belief dissolves," Daukša said.
The same goes for a new piece, Lights of Happiness , first presented at History of Joy, Part 4, at the Kim? Contemporary Art Centre in Riga, Latvia .[1]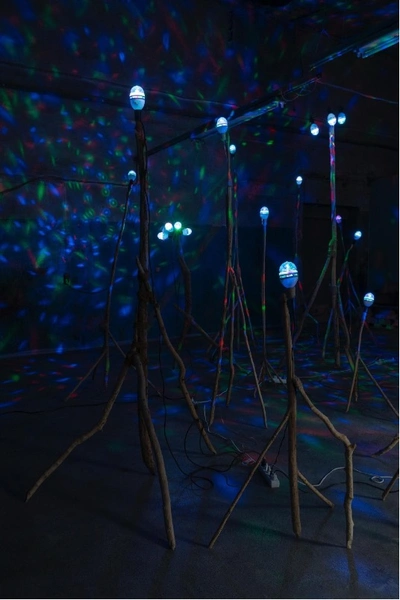 The work, which is made of beaver-eaten branches and LED disco light bulbs, might leave you asking questions about the meanings behind these specific material choices, to identify patterns from his body of work. The answer is rather random, and yet not un-meaningful. The artist allows chance encounters to create opportunities to construct new narratives. There is no premeditated outcome. The piece could be a commentary on the irony or meaninglessness of eco-friendly products (the work uses mostly recycled or found objects, except for the bulbs which are cheap, plastic, fast-consumable LED disco bulbs), or it could be about how the boundaries between art and design are blurred (since it is a piece of art, but also a functioning lamp), or it could be about the effects the disco lights have on one's mood (fluctuating between calm and meditative when seen in isolation, and uplifting once they're viewed as a group). But how I saw it for Daukša was that he had a walk in the woods and stumbled upon something beautiful or interesting, which later sparked an idea, that led to another, and so on. If it's exciting and fun, it's an adventure.
I'd say that art for me is adventure and exploration, and certain negligence towards rules is natural since you have to go somewhere unknown — whether physically, socially or mentally — to have an adventure.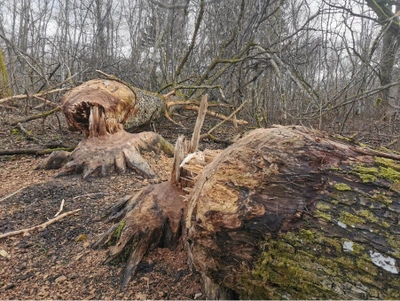 On the History of Joy website , the work is viewed together with an excerpt from The Tale of Peter Beaver by Beatrix Potter[2], with changes made by the artist (instead of rabbits Flopsy, Mopsy, Cotton-tail and Peter, this tale is about four beavers: Plopsy, Plucksy, Paddle-tail and Peter) as well as what looks like a fictional biography:
Tomas Daukša (Lithuania). In 1990 Tomas Daukša started attending kindergarten 'Fairy Tale' where he developed an interest in spontaneous processes and collaborative practice. Of many noteworthy projects implemented during that time, arguably the most extraordinary was a mass unsanctioned escape orchestrated in collaboration with another nursery school. Parallel to these spontaneous events Daukša attended music school for eight years where he learned to play the piano. After graduating from school he never touched the instrument again and claims to have successfully lost all of the skills he obtained during that period. In 2019, Daukša was awarded his doctorate from the Vilnius Academy of Arts.
Ultimately, I'm left thinking about this space we call the "art world", with its beliefs about the sanctity of art, experimentation and ideas. I'm wondering existentially about the world outside of this, how it functions, the stories we are told and what people need. An interesting story: the Venice pavement stone work of Daukša's got him beat up by a stranger on the street who was very offended by the religious ceremony.[3]
As the artist himself notes, "Rule-breaking can very often be fun but probably only until it's not out of pure necessity."
A game is a set of rules and parameters — parameters you ultimately set or create. Once you realise that this set of rules applies to almost every scenario, it feels rather dystopian. Yet when you look at his work, and other things like it, the rest becomes unimportant.
There is little room for games and play in a capitalist, productivist world. The go-to frame of mind is, "What is the outcome of all this?" But Daukša's work reminds me that maybe adventure is enough.
1

.

Curated by Kaspars Groševs, Virginija Januškevičiūtė and Siim Preiman, History of Joy is "an archipelago of artist films and physical and virtual events or interruptions across the Baltics". Tomas Daukša was selected through an open call contest.

2

.

The first edition of The Tale of Peter Rabbit was published in 1902, and follows the hijinks and adventures of the eponymous rabbit.

3

.

Someone in town heard about the 2015 show in which the artist asked a priest to attend the opening and sanctify the artwork. Presumably taking offense, he hid and waited for the artist while he was walking on the street, ambushing him to hit and curse at him.