The State of In-Between
Post-lockdown, writer Sharmini Aphrodite reflects on forced displacement and borders through Albert Samreth's art.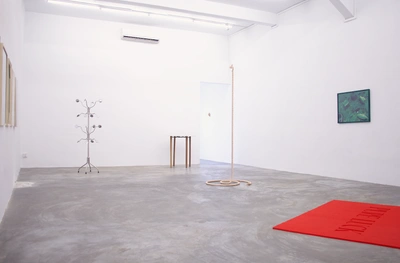 "While visiting the zoo with her parents, a girl walks to a cage where a tiger is sleeping. The tiger wakes up so she takes the opportunity to ask the animal a question. 'Why do you live here? Isn't it nicer where you're from?'"[1]
The above anecdote is how ...Know Know , an exhibition by Albert Samreth, was introduced via an email blast. The imagery in the anecdote is ripe with irony. One pictures the tiger turning its amber eyes onto the girl as it wilts in its enclosure. Perhaps the enclosure is as lush as the ones in the Singapore Zoo, which takes great care to replicate its animals' natural habitats. Or perhaps this zoo is depressing like the cramped cages in the trending Netflix series Tiger King , all dry scrap and yellow grass. Either way, the girl's question to the tiger is also a rhetorical statement: "You don't belong here, so why are you here, instead of where you should be?"
Albert Samreth knows a thing or two about displacement. Born in Long Beach, California, the artist is based between the United States (US) and Cambodia, where his parents, fleeing the Khmer Rouge, hailed from. His works often bridge the politics of his personal experience with their environs. For instance, his solo exhibition ...Know Know , held at the now closed, but nevertheless groundbreaking non-profit art space SA SA BASSAC in Phnom Penh, "borrowed" [2] the city's materials: a red plastic mat which reads "PURE LUCK"; a spool of rope crafted so that it stands upright like a snake following a song; a stale croissant and an accompanying stream of ants tacked to the wall. All these were displaced objects, things that had been removed from where they were supposed to have come from. A croissant held aloft in a hand or glazed in a bakery window is ordinary, but tacked to a gallery wall it becomes absurd — a joke.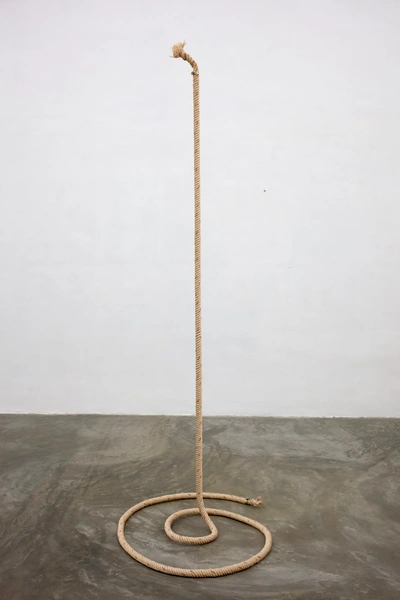 Removed from their original contexts, these otherwise ordinary objects have become awkward things. Their displacement leaves viewers disorientated, leading them to wonder why the objects have come to rest in a gallery, of all places. Framing the work against Samreth's own situation as a child of immigrants, and the location's own Cambodian locale, viewers were made to grapple with the idea of the Cambodian-American immigrant, and the situation that caused their influx to the US.
Before the 1970s, there was actually no history of Cambodian immigration to the US. It was not until 1979 — four years after the fall of Phnom Penh to the Khmer Rouge, and the year that this regime was overthrown — that Cambodians began to leave for the US in large droves. Of the almost 160,000 Cambodians who made it to the US between 1979 to 1994 [3], a staggering majority arrived as refugees. They were flung far from the land of their birth into the belly of an unfamiliar country and continent, carrying the trauma of genocide and its resulting displacement. Once in the US, they began to make their way to places that had emerging Cambodian communities, or climates similar to the tropical country they'd left behind. They created places such as Cambodia Town, in Samreth's native Long Beach, where they could congregate with familiar food and music, and find mental health services to help them cope with their newfound displacement.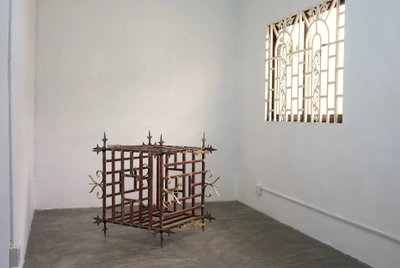 Recently, the question of displacement has been in the forefront of my mind. As I write this, Malaysia is undergoing a partial lockdown — or Movement Control Order — enacted on 18 March 2020 to "flatten the curve" of COVID-19's spread. Initially, the lockdown was supposed to last two weeks, but a few days ago, the Malaysian government announced that it would be extended another two weeks to 14 April. The announcement of the first leg of the lockdown spurred an exodus from the city of Johor Bahru (JB), the southernmost point of Malaysia, to Singapore, as many of the 300,000 Malaysian workers who typically crossed the bridge border daily had to decide whether they would be staying or leaving. Many of these workers are "essential", as far as the pandemic expression goes. They work in manufacturing, labour, hospitality, transport and service. But most don't live in Singapore permanently because it is often too expensive, especially when they have families of their own in Johor. So programmes were quickly put in place to house many of them in Singapore during the two-week duration [4]. Others scrambled to find places to stay in the homes of colleagues, or last-minute rooms for rent. Unable to find accommodation in time, I made the usual journey back to Malaysia that night, to spend the lockdown at home.
I've been crossing the border for 18 years, first for school, then for work. By now, I would say that I know the causeway deeply, even intimately. I had never seen anything like the night of the 17th of March. The trip back to JB, usually congested with workers making their way home, was eerily smooth. It was the road into Singapore that was clogged. What appeared to be hundreds of people were walking across the tarmac strip of the causeway, pressed close to each other, many of them lugging along suitcases. They were walking because the causeway itself was utterly congested — all a clutter of light from the vehicular traffic, which stretched 7-kilometres beyond the Malaysian Customs, Immigration and Quarantine (CIQ) itself. I could hear the honking of horns long into the night from my house, even past midnight, the time the border on the Malaysian side was set to close. Nothing like this has ever happened before. The last time the border was shut was when the British had blown it up in 1942 during the Second World War to stop invading Japanese forces. Singapore — which had been connected to Malaysia and mainland Asia via the land bridges of Woodlands and Tuas — was now truly an island again. 
But the state of being caught, spending hours stalled on the no-man's-land of the causeway, has not changed. That in-between-ness has extended to my predilections too.
Over the years, I have become familiar with living in a liminal state. Some things have changed since I first started this journey in 2002 on a clattering, old-fashioned Bas Sekolah [5]. For instance, there was a shift in the technology used in the border crossings around 2010, from walking past rows of officers seated in counters to automated machines with facial and fingerprint recognition. But the state of being caught, spending hours stalled on the no-man's-land of the causeway, has not changed. That in-between-ness has extended to my predilections too. There were times when I was younger when I appreciated the safety and convenience of Singapore, yet there were other times when I would ache for Malaysia's languor and open skies, her unbound verdancy, and her unruly streak. I was familiar with both lands, and floated between them.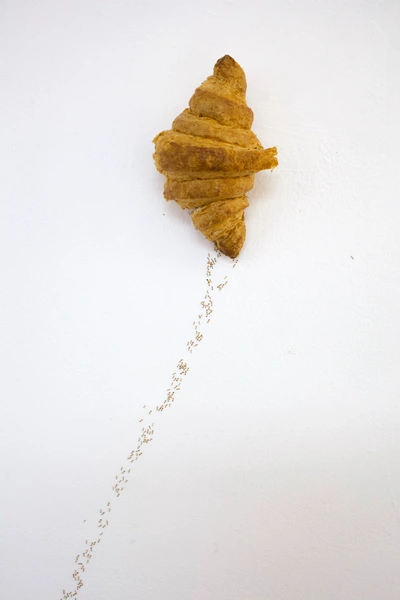 There is a similar sentiment present in Samreth's work, of the liminality born of existing in "borderlands" both physical and metaphysical. When one exists perpetually in between nations and imagination, this often spurs the desire to bridge the gap, to (re)create a country of one's own. In Samreth's work, much of this has to do with the unique historical trauma of Cambodia. In his solo exhibition, The Archive and the Everyday , presented at Singapore's SPRMRKT Cluny Court in 2019, Samreth painted stills taken from Cambodian films before the Khmer Rouge came to power. The paintings have a murky, indistinct palette, and the characters within them are either featureless, or have their features painted rudimentarily. The aesthetics place the viewer in a hazy state, representative of the dissonance of being in the borderlands of immigration or memory. The conceit behind the paintings, however, is where one senses a desire to reclaim what has been lost. When Pol Pot came to power, he aimed to wipe clean the consciousness of Cambodia, re-dating the calendar to "Year 0" [6]. This turned Cambodian history and collective memory prior to his rule into a liminal space of erasure. Part of this "re-dating" included the destruction of Cambodian films that existed before the Khmer Rouge came to power. Few films, prints and negatives survived this period. The Archive and Everyday was thus a posthumous restoration, an act of resurrection. Samreth pulled a lost past out of the sea, recreating history so that memory could regain a foothold.
Memory, too, is the country of an immigrant, refugee, or exile [7]. When desiring comfort in a middling state, the known past can be easier to conjure, and live in, than a footless present or an unknown future. In another solo exhibition at SA SA BASSAC in 2017, New Khmer Architecture , it was memory that Samreth grappled with. Once again, the works expressed the effect of the Khmer Rouge on Cambodia. "New Khmer Architecture" [8] was an architectural movement that blended modernity with more traditional Khmer forms, mixing the grandeur of Angkor Wat with more proletarian, domestic dwellings. The issue with the buildings of this movement, however, was that they did not respond well to their surroundings. Time and corruption left many of them to disintegrate over the years, their forms acting as reminders of a grisly past. This is all presented in New Khmer Architecture , with the most obvious reference being what looks to be a crumbling block of cement, titled "Memory 1". Its harshness is an outlier in an exhibition otherwise teeming more organic forms of plant life, which spill over shelves, or grow out from beneath wooden strips laid against the gallery wall. The emphasis on the endurance of nature casts a hopeful light on memory, reflecting its continued existence despite and throughout erasure and violence.
The emphasis on the endurance of nature casts a hopeful light on memory, reflecting its continued existence despite and throughout erasure and violence.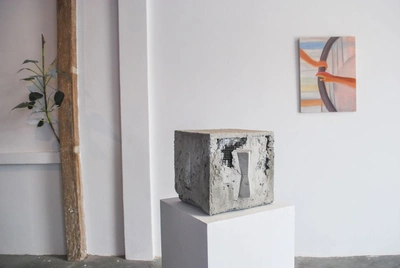 Nature is a thread that Samreth seems to continuously pick at. In his video One Lightyear on Earth , also displayed in New Khmer Architecture , one can hear the phrase, "In Cambodia nature always makes its way in." In Cambodia, as in the rest of Southeast Asia's equatorial countries, nature does always make its way in. Trees break through the stone of Angkor Wat. Tropical foliage drapes itself over cement. There is no change of seasons in this part of the earth, so nature remains unchanged from day to day. Like memory, it is always there, both an immutable bridge and a borderland between the past and the present. 
And nature exists, too, beyond borders. Plants grow beneath the causeway, the same tropical foliage that spreads, rash-like, across both Malaysia and Singapore, paying no heed to the concept of nationhood, the causeway itself both a bridge and a borderland. I've walked across it countless times, familiar with the smell of the Straits that blow through it, with that bend in the road where you have to run across, avoiding motorcycle traffic. I know the first faces of both countries — the tops of public housing apartments in Woodlands, the stern façade of the Singapore customs office, the board raised on the Johor side that reads "Home of the Southern Tigers". I've been lucky enough to have taken it for granted. I'd never imagined that one day it would be closed — that one day the waltz between both countries would come to a standstill.
Yet in most places of the world, borders have always been sites of violence; they never had even the illusion of peace. The border between Cambodia and Laos is still a site of tension since the French left more than half a century ago [9]. The spillover of Cambodians across the US borders is a result of violence. The trauma of the Khmer Rouge was carried over oceans, leaving its survivors looking for home in a foreign place, their life stories compressed into statistics and government policies, condensed into the faceless formality of a passport thumbprint, or a registration number. 
Yet in most places of the world, borders have always been sites of violence; they never had even the illusion of peace. 
Borders highlight the porousness and instability of identities, and Samreth's work reflects this. How easy it is to render a ubiquitous, unassuming croissant into something absurd, for example. All one has to do is take it away from where it belongs, and plunk down into a place where one assumes it shouldn't. This movement highlights the rupture inherent in immigration, what John Berger describes as the "10. This is particularly true in the scenario of an unwilling immigration stimulated by the violence of capitalism or war, when one has been wrenched from normality, shuttled into a space that is often hostile. The violence of that shuttling causes a disconnect between reality and the mind, a trauma that trails after the shock of the actual leaving. One may dwell in the present of an unknown country, but the memory of the homeland continues to percolate. History collides endlessly with the present, creating a friction that exists because of and beyond borders.
COVID-19 has shown us, as lockdowns are being enacted globally, how fragile globalisation is. It has shown us how fragile we all are in relation to it, how easily it puts any one of us in a liminal state. The Woodlands causeway, once the busiest land border in the world, is now silent: devoid of light and sound [11]. All over the world, countries are grinding to a standstill as lockdown measures are being enforced, leaving so many of us — permanent residents, workers and students on visas and temporary passes, those with international families — displaced, scrambling for flights home or stuck in foreign countries, wondering, at the end of this pandemic, when and how we will land.
One of Samreth's works in ...Know Know that keeps drawing my eye is the red plastic mat that reads "PURE LUCK" instead of the usual "WELCOME". The mat was placed at an angle in the middle of the SA SA BASSAC gallery, calling attention to its awkward position: large, red, confident. It is emblazoned not with a phrase of acquiescence, but a bold declaration. PURE LUCK . Two words which say, "Wherever I was supposed to be, here I am now. And perhaps I don't know where I'll be soon, but here I am now."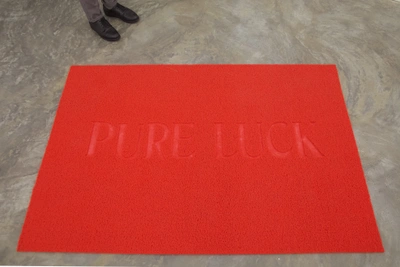 We move back to the tiger. What would it have said to the girl? When she asked, "Why aren't you home, why aren't you somewhere better, somewhere you belong?" Maybe the only answer the tiger could have given, shrouded in the green shadows that could only emulate a jungle, waiting, biding its time, was simply, "Because here I am now. No matter what has happened or will happen, I am still here now — alive, alive, alive." And perhaps, for the moment, that is enough.
1

.

"Albert Samreth's Know Know at SA SA BASSAC, Cambodia". SFAQ, 2 May 2013. http://sfaq.us/2013/05/albert-samreths-know-know-at-sa-sa-bassac-cambodia/ (accessed 31 March, 2020)

2

.

"… Know Know, Albert Samreth". SA SA BASSAC. http://sasabassac.com/exhibitions/19_knowknow/knowknow_brochure.pdf (accessed 31 March 2020)

3

.

Between 1975 to 1994, around 158, 000 Cambodians entered the United States. Of this number, about 149, 000 entered as refugees; the remaining number was split between immigrants (roughly 6000), and humanitarian/public interest parolees (roughly 2500). See: "Cambodians in the United States: Refugees, Immigrants, American Ethnic Minority". Oxford Research Encyclopedias, September 2015. https://oxfordre.com/americanhistory/view/10.1093/acrefore/9780199329175.001.0001/acrefore-9780199329175-e-317

4

.

As of 7 June 2020, the Malaysia's Movement Control Order (MCO) and following conditional MCO has lasted for almost three months.

5

.

Bas Sekolah means "school bus" in Bahasa Melayu.

6

.

"Cambodian History on a Human Scale". B-Side Magazine. https://b-side.city/post/albert-samreth-camdobia-and-the-number-zero/

7

.

"What is homeland?—To hold on to your memory, that is homeland." Mahmoud Darwish, Journal of an Ordinary Grief. Beirut, 1973.

8

.

Coined by authors Helen Grant Ross and Darryl Leon Collins, the term describes an architectural movement that took place in Cambodia in the 1950s and 60s. The movement came into being under "Sangkum Reastr Niyum", founded by Prince Norodom Sihanouk in 1955; this was a political experiment which also placed emphasis on innovative architecture. It came to an end when Sihanouk was overthrown by the Cambodian General Lon Nol in 1970.

9

.

Part of this sustained tension is due to irredentism: there are ethnic Lao who believe that parts of the borderland should be returned to Laos, while some ethnic Khmer believe that the Cambodian border should be extended to contain parts of Southern Laos.

10

.

John Berger, And Our Faces, My Heart, Brief as Photos. London, 1982

11

.

As of 29 June 2020, while the many of the domestic constraints within Malaysia have been lifted, the border has yet to be reopened to the state that it was in prior to the lockdown