The Nonsensical AI Doctor: A Conversation with Ye Funa
Writer Clara Che Wei Peh speaks to artist Ye Funa about AI and artifice in a world reshaped by filters and COVID-19.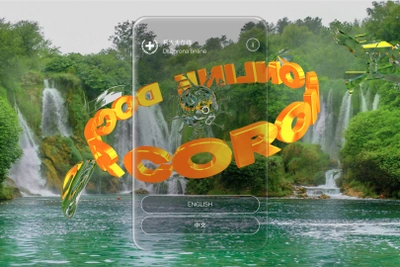 I first came across Ye Funa[01], the young and eclectic Chinese artist, when researching her site-specific installation, Beauty + Save the World  (2018)[02]. The installation was presented at "Chinternet Ugly", an exhibition held at Manchester's Centre for Chinese Contemporary Art in 2019[03], exploring the pervasiveness of Internet culture in China — home to the world's largest online community of more than 802 million users[04], and four of the world's top ten Internet companies. Beauty + Save the World integrated selfie cameras and digital screens displaying real-time images against absurd and fantastical filters drawing from cyberpunk aesthetics. While designed as an in-person experience, the installation sought to fully immerse its audience into the virtual world of Meitu[05], an app where selfies taken are instantly edited according to algorithm-driven aesthetics of Internet beauty. In the exhibition, there was me — the person standing in the physical space of the gallery, and then there was me , the one captured and manipulated on the app, made downloadable and shareable on the screen.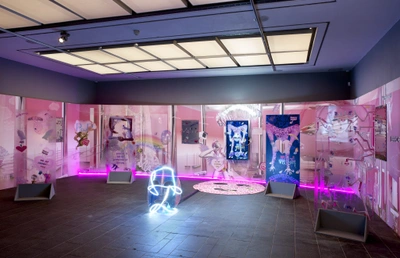 Founded in 2008, Meitu has been a revolutionary force in China's social media culture and economy. Meitu's mobile applications see a total of 295 million monthly active users[06], and "Meitu Xiuxiu" — which directly translates to beautifying the picture then showing it off — has been deeply integrated into the Chinese lexicon. Paired with the nation's rapid growth of the medical beauty industry, apps like Meitu, which allow its users to change the shape of their face, add double eyelids and sharpen their noses all within a few clicks, have been reshaping the physical appearance of social media influencers and followers alike. Oftentimes, those who undergo plastic surgery even use Meitu to preview their selected procedures.[07] The omnipresence of Meitu's instant "beautification" effects are seen across China's online platforms and increasingly, in the permanently physically altered faces of people as well, blurring the boundaries between the Internet and real-life, and extending the influences of the virtual realm infinitely. Beauty + Save the World was a response to this changing reality.
Ye has continuously sought to question the distinctions between digital and physical life through her artistic practice. Another examination of such is her earlier work, Flying Dance (2017)[08], adapted from The First Intimate Contact , an online novel by Tsai Jhi-Heng[09] about a Chinese woman in Germany who meets a man on the Internet then blackmails him with a false pregnancy after they meet in-person. Flying Dance is interwoven with this narrative and Ye's performances of a queer alter-ego. Juxtaposing the aesthetics of online dating, Internet chatrooms, recorded footage of the Sims and Ye's own videos, the video work ruminates on the fluctuating nature of the virtual world.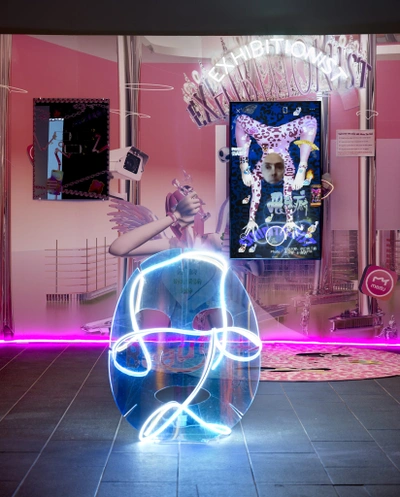 Earlier this year, Ye furthered her experimentations with the limits of digital interactions into the area of healthcare and wellbeing, with her conversational artificial intelligence (AI), Dr. Corona (2020). Commissioned by Chronus Art Center, Art Center Nabi and hosted by Rhizome and the New Museum for "We=Link: Ten Easy Pieces", an exhibition of new works of net art, the character Dr. Corona  is a virtual "doctor" that allows its users and "patients" to pose questions and voice their concerns relating to the coronavirus[10].
I visited Dr. Corona for the first time in April, when I was serving my 14-day quarantine after relocating back to Singapore in a hurry as the nation prepared for its version of a national lockdown dubbed the "Circuit Breaker"[11]. Entirely isolated from the outside world and forbidden from being in physical contact with another human being, virtual encounters and conversations became my only  possible interactions, leading them to be more necessary and affective than ever. This realisation encouraged me to reach out to Ye Funa, someone who has been cognisant of the flexibilities and vitalities of the virtual world for a long time now. This is a part of our conversation, which unfolded over Zoom.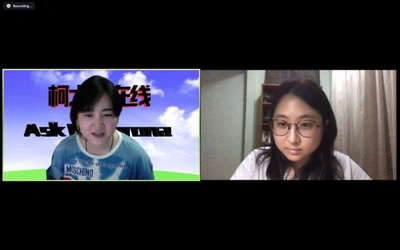 CP:   Tell me, who is Dr. Corona?
YF: When I was commissioned by Chronus Art Center to create an artwork responding to the coronavirus, it was when China was at the peak of its outbreak. We were receiving constant news updates, some of which were fake and others, just rumours. Everyone was trying to find a solution. I was very worried about the virus, so I tried to respond to the situation and process my thoughts through the art-making process. While I was creating the work, I considered representing real news or accounts of a real person, but I gave up. Too many things were happening and I don't think anything could have really represented what we were all experiencing.
Virtual encounters and conversations became my only  possible interactions, leading them to be more necessary and affective than ever.
I decided to create a space where people could ask questions and voice their concerns. Dr. Corona is a character I created in reference to this old Chinese magazine column, "Dr. Ke (科大夫信箱)". The column ran in a popular health magazine, Family Doctor from the 1950s to 1990s. My family subscribed to the magazine because it was the only magazine for medical knowledge, and I read it often. "Dr. Ke" was also the most popular column in China at the time. Each month, they would receive around 10,000 or 20,000 letters from readers who asked various health-related questions. But Dr. Ke didn't actually exist, it was only a character the magazine created. The readers' questions were answered by high-level medical professionals all across China. What I found interesting was not how the magazine responded, but what was being asked. I think the questions represented what the Chinese people were thinking at the time. When I created Dr. Corona , I thought I could find some connection to this column. The work is about giving people a space to ask their questions, without providing specific instructions or solutions.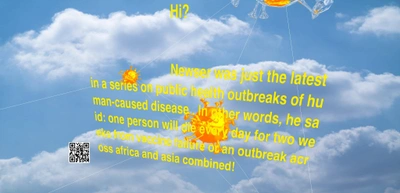 CP: There are no guidelines or restrictions to the types of questions people can submit . What are some questions that Dr. Corona has received, and how has he responded?
YF: That's a difficult question because there is no record on the back-end of this programme, so I don't know either. In the beginning, the project was meant for questions about the coronavirus, but I think many people didn't even mention the virus. They just asked random questions to see how the AI doctor would respond. It's kind of like fortune-telling. The programme offers a little peek.
When I collected text sources to build the AI's corpus, the Chinese and English sources were quite different. The Chinese texts were largely sourced from Weibo, so the response to questions asked in Chinese are heavily influenced by the Internet slang used on the platform. Sometimes, the doctor may come across sounding very angry because many posts on Weibo use bad words. I think it's very funny that the doctor appears to be scolding its "patients". I've discussed with my team whether we should ban some swear words or fix the text source, but I kind of like it. It feels more human and it's a reflection of what really happens on the Internet. The English sources are from self-help texts, motivational quotes, song lyrics and even long essays, so the AI doctor appears less human in English.
Perhaps this is why our pets can't really be treated with Chinese medicine, because this psychological effect doesn't work on them. So Dr. Corona 's prescription is designed to serve such a purpose, like a placebo.
CP: On the website, you describe the doctor's response as a diagnosis or a prescription, similar to prescribing a Prozac. Can you elaborate more on this?
YF: At the time when I created this work, there were no conclusively effective ways to diagnose and cure the virus. The doctor's response, which may sometimes be a motivational quote, might function like a placebo or palliative pill. Even if it is not functional, you might get better simply because you believe the medicine works. In China, the world of traditional medicine is full of this. Of course, Chinese medicine is effective, but there are also some medicines that serve more of an emotional function. You might even go to the temple to bless the medicine and believe that it's more effective. Perhaps this is why our pets can't really be treated with Chinese medicine, because this psychological effect doesn't work on them. So Dr. Corona 's prescription is designed to serve such a purpose, like a placebo.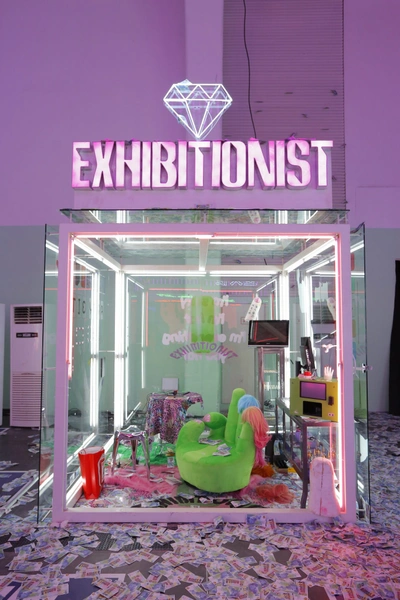 CP: You're one of the artists who have been interested in creating artwork purely for an online audience for some time now. How do you approach art-making in the digital realm?
YF: It just happens naturally because I use the Internet a lot. I started working with the Internet  at the beginning of my creative career, from 2009. The first time I went online was perhaps in 1999. Curated Nail is an earlier project where I used the Internet almost as a tool. At the time, I was trying to find a platform to promote my project, and I realised that if I did it face-to-face, I could only find a few people to participate. But if I posted it on the Internet, so many people could see it and get involved.
Before, Internet art was only on the Internet and there was a clear distinction between the online versus offline. But increasingly, we don't actually have an "offline" state anymore — we are always online. Everything we want can be done on our smartphones. We have these apps that can engage in O2O, which means online-to-offline software. Through an O2O app, I can call my manicurist, order delivery, send mail and wash my clothes — all through my phone, so I'm never really "offline".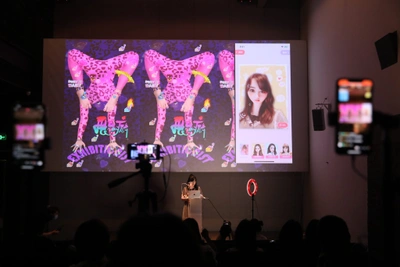 CP:   What are the things you consider when you're designing an online interaction?
YF: It depends on the project. With Dr. Corona , I ran some tests and when there was a prototype, I asked different people to help me try it out. Then I put it out and it became up to the audience how they wanted to use it. But with other projects, like Curated Nail , I created the work and waited for responses before I continued building and realising new versions of it. I like the idea that users can give me new insights to create from. Maybe I shouldn't call them users — rather, artists or collaborators.
CP: In your performance lecture, You Live in the Desert of the Real, but I Live in Beauty (2020), you talked about how some people consider beauty apps to be empowering, because it "grants individuals the possibility of seeking a sense of presence in the virtual". This virtual presence is not necessarily restricted to the virtual realm, but can have a direct impact on the physical as well. How does this dynamic play out in Dr. Corona ?
Even when they see the real you, they wouldn't think you look strange because they will have a "mental filter" of your selfies.
YF: The performance lecture[12] was about Meitu. I'm very interested in how these beautification filters create a virtual appearance that influences practices in medical beauty and plastic surgery,  and therefore, actually impacts people's faces. I think about how so many girls edit their photos or use Meitu to create selfies that are over-beautified, looking like a different person on Instagram or WeChat. These selfies don't show their real faces. I wondered why they do this when people will eventually see their real faces? I recently read an article which claimed that if you keep representing yourself with edits and beauty filters, people will be mentally influenced to think you look like that. Even when they see the real you, they wouldn't think you look strange because they will have a "mental filter" of your selfies.
For Dr. Corona , it's not the same but the effect is similar. If you go to Dr. Corona , you will always get a response. The response may be nonsensical, but it may have a real effect on you. You can share the response from Dr. Corona with your friends or on your social network. At a time when there is so much uncertain news circulating and making us anxious, we can only trust ourselves and the people around us that we have real connections to. Currently, Internet culture is not good because we are bombarded with too much information. One day, a big headline shows up that everybody starts talking about, then the next day, another headline appears and it may be the total opposite of yesterday's news. But the same group of people who shared yesterday's news will share today's as well, while none of them really have their own point of view. They usually just reinforce the headlines. It's very important to ask your own questions, to have your own point of view and communicate it. Dr. Corona sort of pokes fun at this.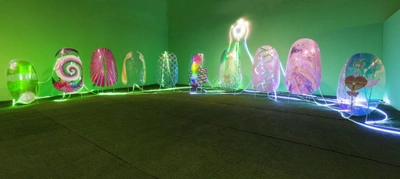 CP: How has the coronavirus outbreak affected your creative process, if at all?
YF: I think everyone has been affected in some way. I participated in many online shows and events, and I think people are finally realising that net art is important. Before the pandemic, I made lots of these kinds of programmes but nobody really cared. Maybe people had many other things to do, so they didn't think net art was important, until the pandemic forced them into a particular physical situation. This year, many museums and galleries have started to realise that they need to move online.
I've been questioning, is this it? Is everyone just going to see each other on screens? Will this continue into the far future and will we all live like this from now on?
CP:   How do you feel about the possibility that more of our reality will become located in the digital?
YF:   Indeed, real life is suddenly becoming like what we see in sci-fi films, and it's happening very quickly. This worries me. I've been questioning, is this it? Is everyone just going to see each other on screens? Will this continue into the far future and will we all live like this from now on?
On the other hand, maybe it's also an opportunity to create something new. We always say that our generation hasn't suffered any big changes — things have always been peaceful. Now that we feel change is happening, no one knows where we should go.
01

.

YE FUNA, http://funaye.com/

02

.

"Beauty + save the world," YE FUNA, http://funaye.com/2019/07/06/beauty-save-the-world/

03

.

"Chinternet Ugly," Centre for Chinese Contemporary Art, http://cfcca.org.uk/exhibition/chinternet-ugly/

04

.

Iris Deng, "Chinese internet users surge to 802 million in test of government's ability to manage world's biggest online community," South China Morning Post, August 21, 2018. https://www.scmp.com/tech/china-tech/article/2160609/chinese-internet-users-surge-802-million-test-governments-ability

05

.

Meitu is a popular Chinese photo-editing and filter app.

06

.

"About Meitu," Meitu Inc. https://www.meitu.com/en/introduction

07

.

Jiayang Fan, "China's Selfie Obsession," The New Yorker, December 11, 2017. https://www.newyorker.com/magazine/2017/12/18/chinas-selfie-obsession

08

.

"Flying Dance," YE FUNA, http://funaye.com/2017/12/09/briefe-aus-dem-gefangnis-flying-dance/

09

.

The full text in Chinese can be found here: "第一次亲密接触—蔡智恒(痞子蔡)," 爱读书—idushu.com, http://www.idushu.com/zhong/qmjc.htm

09

.

Dr. Corona was co-commissioned by Chornus Art Center, Art Center Nabi and Rhizome of the New Museum, for the online exhibition, We=Link: Ten Easy Pieces. WE=LINK SIDEWAYS, http://we-link.chronusartcenter.org/

11

.

Matthew Mohan and Ang Hwee Min, "COVID-19: Singapore makes 'decisive move' to close most workplaces and impose full home-based learning for schools, says PM Lee," CNA, April 3, 2020. https://www.channelnewsasia.com/news/singapore/covid19-decisive-move-workplaces-closed-lee-hsien-loong-12606614

12

.

Ye, along with her collaborators of the collective, MondayOFF, presented a performance on medical beauty. See "MondayOFF Sub-brand Mondayitis Presents: Cosmetic Angel," X Museum, https://xmuseum.org/portal/program/5