Tan, Oily, and Muscular: Constructing the Gym as a Site for Art
Writer Hilary Yeo interrogates artist Julian Abraham "Togar" on his ongoing engagement with the Jatiwangi rooftile community, and his transformation of an art gallery into a fitness centre.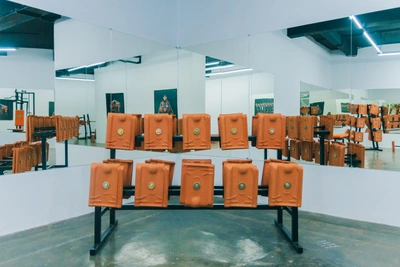 What constitutes an "art" space denotes a particular set of interconnections, be it social, cultural, or political, and this formation has been often (re)contextualised by many. In her essay "Is the museum a factory?", Hito Steyerl stated that the museum-as-factory relationship is one that "continues to be produced. Installation, planning, carpentry, viewing, discussing, maintenance, betting on rising values, and networking alternate in cycles. An art space is a factory, which is simultaneously a supermarket — a casino and a place of worship whose reproductive work is performed by cleaning ladies and cellphone-video bloggers alike." [1]
Artist Julian "Togar" Abraham's Ulah Tanah (Mischievous Earth) presented the gym as a consideration for this very formation, so that the gym became a conduit for art to speak to industry, or vice versa. While maintaining the premise of being a solo art exhibition for Togar at RUCI Art Space in Jakarta, its curation by Arief Yudi Rahman and Grace Samboh related itself more to a factory-like production and reproduction of an image.
Togar aimed his focus on the Jatiwangi Cup, a bodybuilding competition held in the factory-town of Jatiwangi in West Java during Indonesia's Independence Day celebrations which he initiated with the curators in 2015 under the auspices of the local non-profit arts organisation, the Jatiwangi Art Factory (JaF) [2]. The event continues annually, where roof tile factories send their strongest workers to compete in a show of brawn, and the artist made an incredible attempt at capturing their sturdiness and hyper-masculinity. Through his photography and interactive installation, as well as a compilation of online videos from the public and journalists who have recorded the event, the cultural and political points of the Jatiwangi roof tile industry intersected with the hyper-masculine lens of gym culture and bodybuilding. By subverting traditional notions of body-making and fitness, Ulah Tanah turned the materiality of the Jatiwangi roof tiles into usable gym equipment, literally replacing iron weights with them.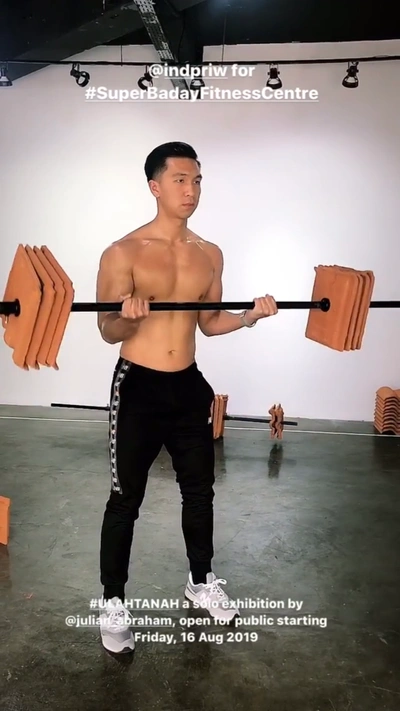 Thus, the exhibition reiterated itself through recurrent image-making — the stacked mirrors on the walls that might encourage "gym selfies", the contrived poses in the photographic prints, the multi-channel videos, and even the social media sharing through fitness influencers, all facilitated this. Subsequently, Ulah Tanah , the space of art-as-factory-as-art, was turned into a month-long Super Baday Fitness Centre and was open to public interrogation and reinterpretation.
An art space is a factory, which is simultaneously a supermarket — a casino and a place of worship whose reproductive work is performed by cleaning ladies and cellphone-video bloggers alike.
But how can we even begin to consider the ways in which a gym might appeal to the interconnectedness that the art-as-factory-as-art supposedly holds? Or is the gym as plain as what Arnold Schwarzenegger described in the 1977 documentary on professional bodybuilding, Pumping Iron , being akin quite carnally and simply to an orgasm? [3] While Hito Steyerl might have described the art-factory reproduction as ultimately collapsing the idea of the art space on itself —simultaneously producing new meanings around it — Togar's piece struck me more distinctly as a piece of commentary. On one hand, it reflects the ejaculative nature of bodybuilding culture and the explosive media sensation that became of the Jatiwangi Cup. But on the other hand, it also intrigues a more layered provocation: what kinds of significances and parallels can we tease out of bodybuilding, the roof tile industry, and of the definition of an "art space" itself? I sat with Togar over Skype to talk about his work around the Jatiwangi Cup, and his remarkable engagement with the roof tile industry workers.
Hilary Yeo: Let's jump right into the cultural significance of Ulah Tanah and the Jatiwangi Cup. How does the Cup relate to you personally as an artist?
Julian 'Togar' Abraham: To me, it was an experiment. Initially, my intention was to produce an image that somehow related to the roof tile industry in Jatiwangi, Majalengka, West Java. There are at least 267 home industry factories. Out of population of 90,000 in Jatiwangi, almost half are somehow related to roof tiles. Either their grandparents, parents, spouses or siblings have owned or worked or still work in these factories. Basically, the lives of people in Jatiwangi revolve around roof tiles.
My aim was to refocus attention on ideas of the self, and the community or village, to help regain confidence in traditional industries. Whether this strategy has worked long-term is of course another conversation. However, in the case of the Jatiwangi Cup, to create something the village could be proud of is very much within the context of the JaF's long-term work in this area. I believe it has been a true success. The Cup has given us, as art workers, and me, as an artist, the chance to be a part of building a new tradition. We hope that it could be a start of the discussion on the sustainability of these industries.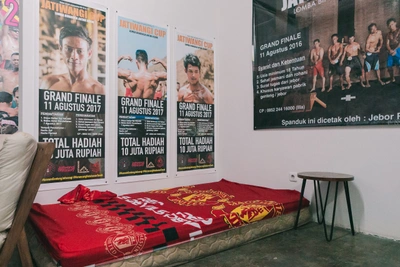 As curator Arief Yudi Rahman put it, "Usually, people need to go abroad in order to be able to appreciate what they have back home. Before we can afford to send everyone out, let's borrow the eyes of these outsiders. Hopefully, by socialising with other citizens of the world, people in Jatiwangi can appreciate the good side of their livelihood." This was achieved by supporting villagers to host JaF's guests in their houses, be it art workers in residence or audiences coming through town to witness cultural life in Jatiwangi.
HY: So you see this Cup as a positive thing for the community? 
JTA: I don't think I'm capable of assigning it that kind of value, whether negative or positive. If I say that it's positive, people might just see me as someone who only champions what I do. But if I put a negative value, then it doesn't sound good either because I'm doing it anyway. It's a process. There are positive aspects of it, of course, and yet we try to negotiate with the negatives. 
For example, I often received questions like, "Where are the women in this? Why is this so masculine?" In the context of Ulah Tanah , Grace, Arief and I also asked ourselves, "How can we work with the super masculine image of muscle-bound factory workers without reproducing the patriarchal realities that dominate our societies?" In contrast to the display of masculinity on stage, most of the Cup judges are actually women. 
Moreover, we should not forget that they also work with the earth. It's interesting to look at the traits of the four champions of the Cup from 2015 to 2018. What stands out is that the judges have taken into account their creativity, style, flexibility and how their honesty is reflected in their self-confidence when posing. The earth teaches their bodies to be patient and caring. Before being moulded into tiles, the soil must be carefully inspected with an eye kept on the weather waiting patiently for the right conditions — it can't be too dry; it can't be too humid. Once the mud is harvested and moulded, the wet tiles must be tidied and dried under just the right amount of sun. In this phase, the tiles are extraordinarily fragile. The slightest touch could change their shape, and a seemingly solid block could easily be broken. After being fired, the clay becomes fixed in form — it becomes immortal. No part of this process can be skipped or cheated on. As such, it's perhaps no surprise that honesty is one of the key criteria of the jury. Does honesty have a form? Here, we firmly state: it does! It can! The earth masters who appear on the stage for the Cup are living proof of this. Amongst ourselves in Jatiwangi, I repeatedly say, " Ini semua ulah tanah! ", which is Bahasa for, "This is all the earth's mischief!"
The judges have taken into account their creativity, style, flexibility and how their

honesty

is reflected in their self-confidence when posing. The earth teaches their bodies to be patient and caring.
HY: Along the lines of that masculine/feminine dichotomy, I often think of bodybuilding and weightlifting as something quite vain. Did you draw any kind of connection between bodybuilding and the kind of attention or cultural significance that you've brought to the roof tile industry in Jatiwangi?
JTA: Not really. Like I said, it was all part of the process. There were obviously those elements in it. For the first few competitions, we invited an official from the Association of Bodybuilders. He wanted to scout talents to bring to the national competition. It obviously didn't work because a lot of the participants refused to leave their jobs, except for one anomaly. One guy who took part in the 2nd edition (but didn't win) joined a gym club after, got hired as a member, and started registering for competitions outside Jatiwangi. This is questionable because one of the conditions of the Cup is that you're not allowed to be a gym-goer. Your muscles have to come from being a worker in the roof tile industry.
But coming back to Ulah Tanah , and the Cup, my interest and entry point goes back to the modularity of roof tiles. Each brick and each roof tile looks the same and can only function with other tiles. They fulfil their destiny in togetherness. They have no function alone. But together, they protect us from sun and heavy rain.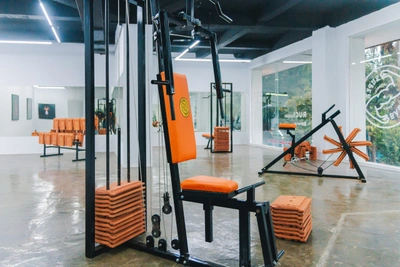 HY: How is the roof tile gym different from an actual gym?
JTA: Well, much like how the Cup turns a roof tile factory into a festival site for one day, Ulah Tanah turns RUCI Art Space into the Super Baday Fitness Centre for one month. This fitness center is unique in that it uses ceramic roof tiles, rather than solid iron blocks, as weights for its machines. And since we are art workers, we use our artistic practice and strategies to present, interrogate, test and study our own work.
The Super Baday Fitness Centre also represents the different cultures. Nobody claimed the Cup to be a part of culture. But to me, it's definitely a cultural thing. The gym setting provokes the idea that culture can be transferred into other contexts. The gallery context gives new life to this iteration or continuation of the JaF project. The significance of the gym setting brings out the significance of Jatiwangi too, while processing the dialectic of human and earth. 
Yeo: The Cup was described as being a media spectacle. Can you elaborate on that?
Togar: When we initiated the first Cup, it was never with the intention of creating a spectacle. The mass media coverage was more about the insider community rather than the outside community or the world. Since mass media can be accessed from literally any place, these images of sweaty men proud of working in the Jatiwangi roof tile factories could also be screened and viewed in the homes of Jatiwangi. This translates to the ubiquity of the participants being simultaneously someone's neighbour, father or husband. The fact that these images are somewhat "filtered" through these different forms of media completely change its value. The media spectacle that has been created by the Cup has affirmed these communities, that traditional industries are something to be proud of.
Online footage of the Jatiwangi Cup 2018.
The day before the 2019 edition of the Cup, prospective participants gathered for a technical meeting at JaF's headquarters. Because no tiles were available, the physique of the workers were on full display. The imagery of these muscly built male bodies began to spread across social media. In the capital, the production team of RUCI Art Space were also holding a shoot for Ulah Tanah . Behind-the-scenes photos and videos also surfaced because of the fitness influencers involved. Back in Jatiwangi at JaF, the earth masters left their tiles behind and were posing in front of mirrors and cameras, as if they were sports and fitness figures too. The fact that these two sets of images appeared simultaneously on social media seemed to be fate; none of us had intentionally designed this moment of remote exchange. The two sets of images that appeared on 10 August were equally unique and specific to their respective contexts.
The media spectacle that has been created by the Cup has affirmed these communities, that traditional industries are something to be proud of.
HY: Going to the gym is often associated with the rather Western, humanistic narrative of the ideal body. Does your work actively disrupt this paradigm — what we think of as the perfect male body?
JTA: To be honest, I never thought about it that way because I grew up watching MTV which at times would have Bahasa sessions and songs. So I'm not sure if such a dichotomy is relevant in my practice, even though I am conscious about it. I suppose, if you wanted to talk about Indonesian art history, the most prominent text was written by an American, Claire Holt in the 1960s [4], and was first published in English before Bahasa. Regardless of which language is more dominant now, in relation to our contemporary lives, I believe it doesn't really mean anything.
Rather than an East and West binary, I see it more to be between the rural and the cosmopolitan. In building bodies, repetition is the key; it doesn't matter where the weight came from. You could lift a bicycle or a crate of Coca-Cola and both would enhance the same muscles. Looking back, I recall how we came together as fans and initiators of the Jatiwangi Cup. In 2015, what first triggered us to exclaim, "Wow!" was when we saw this sexy, sweaty worker with a six-pack. That ripped, sculpted body really stood out in its modesty. In the cosmopolitan world, such a body could only be obtained by following a strict workout regime in the gym. But in the world of these men, their bodies are simply a consequence of cultivating the earth and making tiles.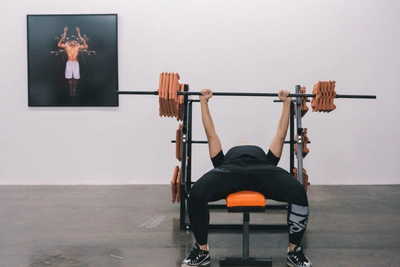 The stage created by the Cup is an extension of that humility, and the factory owners and workers have made an annual meeting place. Their relatives and neighbours can join the festivities as part of their Indonesian Independence Day celebrations, in a context they are all familiar with, free to cheer and be happy together.
HY: Now speaking about the development or continuation of Ulah Tanah , the political or cultural phenomenon that is embodied in the work has now moved forward and taken a shape of its own. How then do you feel about that kind of progress in time?
JTA: Change is inevitable. That's what I have always believed. For Ulah Tanah , the idea was to first liberate myself. I don't want to keep coming back to the competitions to explain what they are. These artworks are a hallmark of the Jatiwangi Cup and the competitors themselves, just in different forms. They are somewhat of a continuation too, but these things don't just fall onto a sole ownership of the artist alone, which so often happens with art. Next, I want to liberate the Cup. Similarly, so that it doesn't fall into my hands alone, because the Jatiwangi Cup is more of about the community. The exhibition Ulah Tanah was born out of the Cup. And likewise, the Jatiwangi Cup was born out of the phrase, "ulah tanah", meaning the mischiefs of the earth.
In the cosmopolitan world, such a body could only be obtained by following a strict workout regime in the gym. But in the world of these men, their bodies are simply a consequence of cultivating the earth and making tiles. 
One of the main things we have learned from the experience of admiring the Cup is that images — whether still or moving — have an extraordinary power to shape our experience of reality. The practice of producing and reproducing an image need not be limited to its author. Anyone can and is free to own the images and use them for their own purposes. We believe that the image-production practice creates a chance to become equal participants, alongside the artist, in the production of an image. Grace, Arief and I were consciously experimenting with this in Ulah Tanah . It was intended to be a self-generating platform, much like the Cup.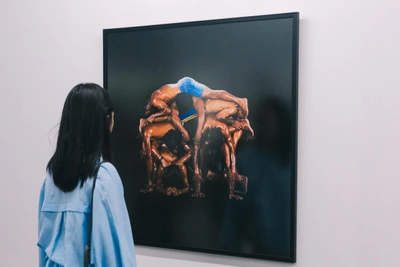 This article was edited with the assistance of Grace Samboh.
1

.

Hito Steyerl, "Is a Museum a Factory?" e-flux, no. 7 (June-August 2009), https://www.e-flux.com/journal/07/61390/is-a-museum-a-factory/.

2

.

Find out more about the Jatiwangi Art Factory here: https://www.transartists.org/air/jatiwangi-art-factory.

3

.

Arnold Schwarzenegger said in Pumping Iron, "The greatest feeling you can get in a gym… is the pump. Let's say you trained your biceps: blood is rushing into your muscle, and that would be called a pump. Your muscles get this really tight feeling, like your skin is going to explode any minute… It blows air and it feels different, it feels fantastic. It's as satisfying to me as cumming is, as having sex with a woman and cumming. So can you believe how much I am in heaven? I'm getting the feeling of cumming in a gym… When I pump up, when I pose out in front of 5,000 people, I get the same feeling, so I am cumming day and night. It's terrific, right? So I am in heaven." Pumping Iron. Directed by George Butler and Robert Fiore. (1977, White Mountain Films) DVD.

4

.

Claire Holt was an American anthropologist and art historian specialising in Indonesia. Her most significant work was the book Art in Indonesia: Continuities and Change (Ithaca, NY: Cornell University Press, 1967).