Weaving histories: A conversation with Stephanie Comilang and Simon Speiser
After their first solo exhibition at Berlin's Julia Stoschek Collection, artists Stephanie Comilang and Simon Speiser speak to Charmaine Li about speculative documentary, how the pineapple connects the Philippines and Ecuador, and what transpires when ancestral knowledge mingles with emerging technology.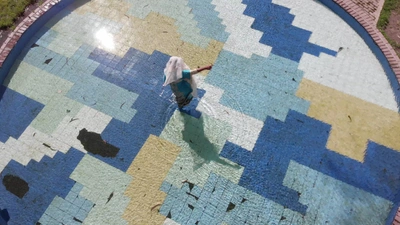 For Stephanie Comilang and Simon Speiser, treading between two worlds is nothing new. Their latest exhibition, Piña, Why is the Sky Blue? , was conceived from conversations about their personal cultural splits, Filipino/Canadian and Ecuadorian/German, respectively. Pairing a video and virtual reality (VR) installation with textile collages, the show explores how emerging technologies and ancestral knowledge can come together to open up new ways of seeing and communicating. In the cosmos that Comilang and Speiser create, the viewer is flung into a soothing, time-bending space that straddles the past and the future, the physical and the virtual, the familiar and the unfamiliar.
The video and VR installation make a polyphony, combining the stories of a spiritual medium named Piña with real characters from Ecuador and the Philippines — there are interviews with members from an Indigenous feminist collective, a botanical healer and activist, and a babaylan.[1] In the video, Piña, which is also the Spanish word for pineapple, is an artificial intelligence present in the form of a voice. In the VR component, however, Piña is embodied as a human we can't look away from. Piña, Why is the Sky Blue? looks at how surviving stories and ancestral wisdom transform through encounters with new generations and vehicles for sharing. Comilang and Speiser spoke to Charmaine Li about weaving two cultures and histories together for their latest exhibition.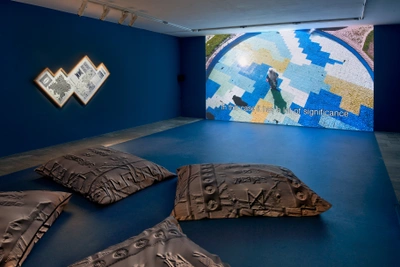 Charmaine Li: The video component, which shares the name of the exhibition, is a "speculative documentary", a form that Stephanie has explored in earlier works. What does the term mean to each of you? Why were you drawn to combining science fiction elements with documentary storytelling?
Stephanie Comilang: For me, putting the two side by side is really important. I find it almost impossible to just do a documentary because you're forced to think about what truth means. In a documentary, you're proposing a truth, a perspective of truth — that's very difficult to do when there are many truths. By adding a speculative or science fiction element, you're able to tell a rounder story. You can layer truths on top of each other.
Simon Speiser: Although I haven't worked much with interview-based videos, I've worked a lot with science fiction and political texts, which were partially what inspired me to work with VR. Previously, I built sculptures or prints related to the stories I was writing, as a way to bridge fiction and reality. In that way, I think we both have a similar approach to working with science fiction in our practices.
CL: The way the installation brings together distinct voices while never pushing the viewer to any resolution reminded me of the author Ursula K. Le Guin's The Carrier Bag Theory of Fiction , which presents an alternative theory of human evolution and of storytelling itself.[2] Instead of the linear, conflict-centered victories we're used to hearing about in the West, she proposes a non-linear, carrier bag narrative focused on gathering and holding different stories and worldviews. I'm curious about what the process of collecting these stories was like.
SC: I think we both use technologies and storytelling as a way to look at the world differently — I don't know if "positive" is the right word to describe it, but it's definitely not "negative". With the protagonists we interview in the video, who we call "messengers", we found them by driving around Ecuador and the Philippines. On our first trip to Ecuador, Simon's dad came with us while we were driving around. He's really good at talking to people. In the Philippines, Simon and I talked to people and did interviews, and then went back a second time to see who would be good in the film.
SS: After a day of recording the interviews, we reflected on them and wrote short scripts for the characters to use. It was important for us to do this when the interviews were still fresh in our minds. With some interviewees, it was sweet because as we were telling them about the project, they decided to create rituals for Piña — that we included in the film.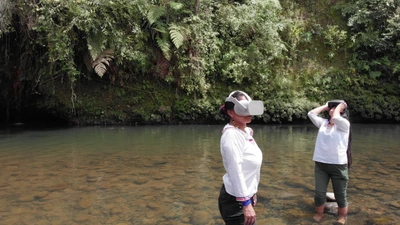 CL: In the matriarchal lineages you depict, the modes of communication are wide-reaching. In addition to writing and radio, knowledge is collected and transmitted through rituals, dreams, plants and messages from the spirit world. What significance do these various forms of communication hold for you?
SS: They were a focal point for us. We were interested in how ancestral knowledge is passed on… What kind of life does it have? How can it be passed on into the future as human society evolves? How was this knowledge affected by colonial histories? It's also something that goes back to weaving, a form of technology that many cultures have developed as a way to code their stories into fabric and keep that knowledge alive.
SC: For me, the piece is about communication. There are so many ways of communicating portrayed. For instance, the CiberAmazonas use radio and writing to communicate to their local communities — but also to each other because they're a pan-Amazonian feminist collective. In the VR component, there's something happening with Piña trying to communicate messages to the viewer. Then there are the weavings themselves, which are a kind of carrier of information in the context of the exhibition.
CL: Some people see VR as something that leads people to escapism, others regard it as a tool to bring us closer to our physical lives. How did you see the role VR in this work?
SC: Our thinking with the VR was to create a space where you could be in the character Piña's world, where you felt taken care of in some ways and could potentially ask questions. The title of the exhibition is Piña, Why is the Sky Blue ? It's a question that a child might ask their parents.
SS: I've been working with VR since 2017 and for this collaboration we wanted to create these intimate moments with Piña, which required a new approach. It was also important for us that people could experience the VR component in the same room where people are watching the video. There's something interesting about seeing others use a VR headset and be in their own bubbles. For the VR part, we were thinking about how people could share space while also connecting to something outside of it.
CL: Piña struck me as simultaneously personal and transpersonal. They act as a kind of caring intermediary between the messengers and the future, and they also embody the tangle of forces – historical, political, cultural – that shape a distant future. Could you say more about the development of this character?
SS: The starting point was our travels to Ecuador and the Philippines. We started seeing so many similarities in these two cultures and were interested in making something together about it. While researching each country's respective colonial histories, we came upon the history of the pineapple. It's a fruit that was cultivated by the Indigenous tribes of South America and taken by Spanish colonisers to the Philippines .[3]
SC: We were thinking about something that could bring the two places together — that was the pineapple. In the Philippines, the pineapple was harvested so well that they started to produce a fabric called Piña, which is made from the leaves on top of the pineapple. This fabric is now used for traditional shirts for men and dresses for women. We also added the textile collages, which are made of Piña fabric squares that have traditional weaving patterns from the Philippines and Ecuador 3D-printed onto them, mixed with machine learning illustrations. We then hand-sewed the patches together.
SS: During colonial times, so much knowledge was destroyed, especially in the Philippines. And yet, somehow it still exists. There were some people we interviewed who didn't know where their ancestral knowledge was coming from. Stephanie was always saying that it's as if they were downloading it from a collective cloud. It's like there are still pieces of knowledge floating around in space and Piña is collecting them and patching them back together.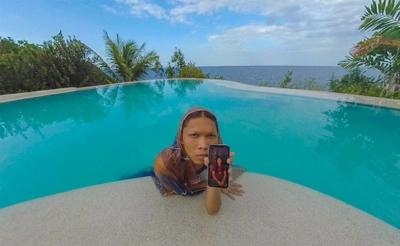 CL: This reminds me of the VR component where viewers are led into Piña's inner world, a dreamscape where there's a dilapidated house with missing remnants. I kept thinking of a quote by researchers Fariba Bogzaran and Daniel Deslauriers from the book Integral Dreaming , "Dreams are fragments that can and should be connected to larger wholes. To work with dreams is thus an attempt to recapture the missing parts; not only at an individual level but also at a collective level."[4] It seems to me like the fractured house might be recovered by the ancestral knowledge provided by "messengers". Why did you decide to end the VR part with a journey into the subconscious?
SS: In our initial research, we came across a man from the Sápara, an Indigenous tribe that used to occupy the border between Ecuador and Peru. I met him when he was here in Berlin for a conference. He told me that the Sápara have a ceremony where people in the village wake up early in the morning and come together in a circle to drink a tea called wayusa. Then they talk about and read each other's dreams.
SC: It's a way to look at the future.
SS: I think, for the Sápara, waking life and dream life are very related. There are certain things that can be found in dreams that can be helpful for moving forward in waking life. It's a big part of their culture. This made me think about the places we go to in our sleep. There's this idea that Piña is situated in the future and the goal is to meet them in your dreams.
Piña, Why is the Sky Blue? is on view at the Julia Stoschek Collection in Berlin until December 4, 2022
1

.

In the pre-colonial Philippines, babaylan, or Filipino shamans, were regarded as wise figures who could heal the sick and mediate with spirits.

2

.

Ursula K. Le Guin, The Carrier Bag Theory of Fiction, Ignota Books, 2019.

3

.

Exhibition From Pineapple to Piña: A Philippine Textile Treasure, SFO Museum

4

.

Fariba Bogzaran and Daniel Deslauriers, Integral Dreaming, SUNY Press, 2012.