Nepenthe Valley: An Immersive Healing Experience
HORIZONS: AORA x SO-FAR present a new project by Lawrence Lek, Nepenthe Valley, an immersive virtual simulation meant to induce healing and a sense of well-being.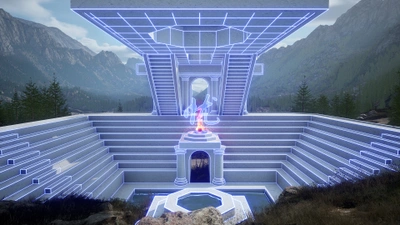 Then Helen, daughter of Zeus, took other counsel.
Straightway she cast into the wine of which they were drinking a drug
to quiet all pain and strife, and bring forgetfulness of every ill.
— Odyssey, Book 4, v. 219–221
Inspired by Nepenthe, the fictional drug of forgetting and healing first mentioned in the fourth book of Homer's Odyssey , simulation artist Lawrence Lek's Nepenthe Valley envisions a virtual landscape where all our sorrows can be washed away. Set within a sublime valley surrounded by high, sylvan mountains, Nepenthe Valley is a world that draws on the so-called "doorway effect" whereby passing from one space to another short-circuits our short-term memory. Lek has conjured a virtual realm where we can heal not through mindful introspection but momentarily forgetting ourselves.
Nepenthe Valley is composed of three chapters — The Source , The Journey and The Point — each unlocking new elements of Lek's healing landscape. There are nine places between the entry and the final point, each of them welcoming the traveller to stop and rest, as they symbolically evoke different restorative practices through their architectural language, immersive sound and native flora. Amidst the serene landscape, visitors encounter specimens of healing herbs, thriving in the valley. Each resting stage is accompanied by an integrated NFT drop which provides a chance to engage with the story and its community. Travellers will also be able to collect a selection of medicinal plants and hold an element of Nepenthe Valley , or even make their own remedy.
Commencing with The Source , we embark on an allegorical journey guided by a fox-like avatar. With each resting point, we are reminded to let go of our pain and dissolve into the surrounding landscape, modelled after the sublime expanses of romantic landscape painting. As the Nepenthe Valley gradually unveils itself to the traveller, they become more focused, more relaxed and more aware that the purpose of such an immersion is not a linear sprint from start to finish, but the release and the relief of the journey itself, flowing through the landscape effortlessly, like water.
Conceived by Lawrence Lek and curated by Jenn Ellis, Nepenthe Valley is an immersive project unveiled by HORIZONS, a new partnership platform between AORA x SO-FAR. Accessed exclusively via HORIZONS' new virtual gallery, the first chapter, The Source , will launch at Art Dubai 2022, revealing the first four locations in the Valley. The second chapter, The Journey , will unravel systematically throughout the year, while The Point , as the final chapter, will disclose the landscape of Nepenthe Valley as a whole.
Once the overall Nepenthe Valley experience is released, each traveller will be able to assemble the entire NFT collection, forming a major work by the acclaimed contemporary artist, as they explore the possibilities for healing and restoration in virtual worlds.
First preview:
Art Dubai, Booth X14
March 9-13, 2022
Launch: March 9, 2022
Dates: March 9 - January 2023
Explore the Valley in the HORIZONS virtual gallery.