Navigating Distance, Bodies and Spaces: The bang. Prix Diary
bang. Prix participant İrem Buğdaycı reflects on the loss of the centrepiece of her interactive installations — the body — amidst a time of social distancing.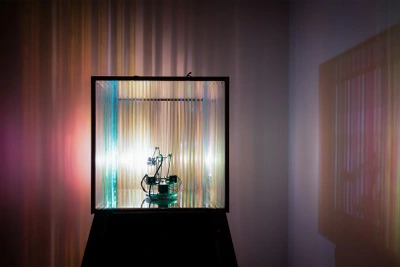 Earlier this year, I wrote about the process that my team went through in the restructuring and participant selection of the annual interdisciplinary prize, bang. Prix. Several weeks on and in the middle of a global pandemic, though we are now working from home, the work we do doesn't seem so different from what was originally planned. Our five participants are still scattered around the globe, and we were already communicating and working remotely. Two of our participants are continuing the series by sharing their thoughts and work processes during the time they're engaged with us. First up is İrem Buğdaycı, an interactive media artist and architectural designer based in London. Her current practice focuses on the ways in which visual technologies reconfigure the observer in relation to space. With bang. Prix, Buğdaycı is expanding on her research project "Ways of Seeing" consisting of interactive installations, eye-tracking experiments and robotics prototypes that can be characterised as "Vision Machines". — Jing Yi Teo
In recent months, feelings of fear, uncertainty and confusion have taken over our lives as the pandemic reveals new dimensions everyday. With our daily lives radically altered, institutions and systems adapted, personal lives conflicted, we are all trying to invent new ways of living. Work, social life, and other essential activities seem to be passing through a convex lens curving inward to a focal point in space — that is, our bodies secluded within domestic spaces. In this anamorphic state of deprived social and sensual encounters, we attempt to revert this shrinking by using a concave lens projecting outwards to offer us alternative realities. To understand how one virus can affect humanity at such a scale, I turn to the unit of our society: the body. 
The body finds itself at the centre of our discourse, as we navigate this acute narrowing of our outside world that also traumatises our sense of community, social habits, touch and more. Walking outside, I often feel like one of the dancers in Oskar Schlemmer's seminal Bauhaus performance The Triadic Ballet [footn have never been this aware of the way our bodies move in space. Beyond visualising distances, we feel the volume sculpted between our body and others. A strange choreography unravels itself as we strategically position ourselves in relation to others, circumnavigating invisible boundaries. How do "advised" measures of distancing enforced under the pandemic relate to our knowledge of bodies in space? And how does this influence our understanding of space itself?
While outside, we build safety chambers around us; inside our domestic spaces, there is another set of interesting challenges we face as we adapt to an evermore increasingly digital and information-based world. Experiences that were previously predicated on being present are now translated into digital forms, and in the process, they loose immediacy, bodily presence and punctuality. We have access to these spaces, through rather different means and interfaces — our personal devices and screens being at the forefront of this. We find our bodies crouching over our computers or an arm extending out to frame our face on video calls to become this strange optical apparatus. This inward motion of our bodies follows the intense packaging of our external worlds into our domestic spaces. What was outside is now inside our screens.
The ways in which our bodies maintain a coherent, practical world with the aid of seemingly "abstract" and "immaterial" technologies expose the paradoxical state of ocular-centric disembodiment we are experiencing. By accepting the body as the active source of meaning, a tactile and material understanding of technology can be recovered to help us relieve the anxiety it causes. As we navigate virtual environments, the concerning loss of immediacy, physicality and punctuality give way to a new set of relations between groundless atemporality and bodily existence in the digital. Although the homogeneity of these interfaces may be alarming, it is more concerning to think of these platforms as "disembodied" and lacking in reference to the "real world". Digital media and its interfaces face a grave challenge here as more people increasingly rely on these systems for emotional, practical and technical reasons. 
As we navigate virtual environments, the concerning loss of immediacy, physicality and punctuality give way to a new set of relations between groundless atemporality and bodily existence in the digital.
The body's central role in these interactions can be observed by paying attention to how various technologies and instruments are giving form to different motor activities and patterns of behaviour (such as the screen crouch or selfie arm extensions). While these fluid and functional crossings between virtual environments and physical spaces prove our capacity to adapt to new interfaces, it also raises concern over the body's reconfiguration by digital technologies. Being critical of the way in which we access information through navigating digital landscapes in various forms of media can help us move beyond an understanding of information as abstract and detached from the perceiving body. Artists working with technology can support this programme by commenting on our transforming relationship with the digital or devising radical new ways of sensing, interacting and even being. These approaches create embodied responses in a landscape of corporeal detachment, restoring the body as the centre of meaning, actively framing information.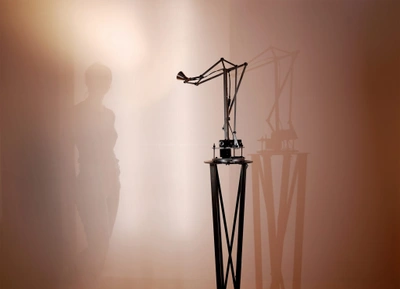 The visionary artist Roy Ascott began to consider the cultural implications of telecommunications in the 1960s, envisioning artistic collaboration between participants in remote locations, interacting via electronic networks. Coining the term "telematic art [02]", Ascott explored computer-mediated telecommunication networks as a medium of art, and interdisciplinary exchange "that could expand human consciousness [03]". Today, telecommunication or tele-art is not new to us or perhaps even remotely interesting. However, Ascott's affective approach to telecommunication, favouring embodied sensing, stands in stark contrast with the values of neutrality and rationality promoted in similar technologies we use today.
Beyond Ascott's technically progressive ideas, his incorporation of consciousness and meaning into the logic of technological communication offers an alternative to alienating scenarios by reminding us of the affective potentials of our engagement with these networks. Ascott coined the concept "technoethics [04]" to propose a complementary, intertwined relationship of consciousness and connectivity diving into the esoteric terrains of rituals, spirituality and even theories of love in "telematic embraces [05]". Although Ascott's somewhat utopian and outlandish idea that a telematic embrace would constitute an "infrastructure for spiritual interchange that could lead to the harmonisation and creative development of the whole planet [06]" has proven ill to a degree where we have seen the Internet foster hate as much or even more so than love and embrace, it provokes us to contemplate the global embrace and sympathy born out of this pandemic.
Can the pandemic be an opportunity to embrace the close-knit relationship between the body, the mind and the environment?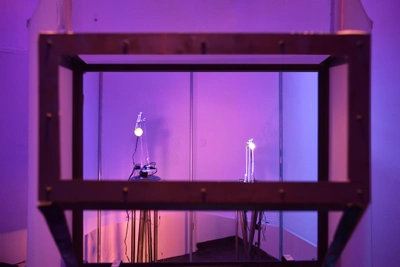 As we enjoy the warmth of this telematic embrace, however long it lasts, let us reflect on the current future and the second wave of digital connectivity that is happening. How can we make screens radical again? What has really changed in our ways of communication and interaction since the 1960s? Can the pandemic be an opportunity to embrace the close-knit relationship between the body, the mind and the environment? And can it help us build a positive programme around technology that accepts how closely integrated we are as the human race?
And most importantly, what can we make of the observer in an age like this? My collaboration with bang. Prix began with the excitement of making prototypes: "instruments of vision" that would devise "new ways of seeing" through the use of robotics with eye-tracking technology. My work aims to overcome an interpretation of the body as solely a receptive centre for visual sensations. Instead, it proposes the body as an affective, embodied source of haptic and dynamic space that is guided by the visual sensations created. Aligning with post-cognitivist tendencies, these prototypes grounded knowledge within the interaction between an observer and an environment. However, the observer before COVID-19 is not the same observer we have today, and not the one we will have after.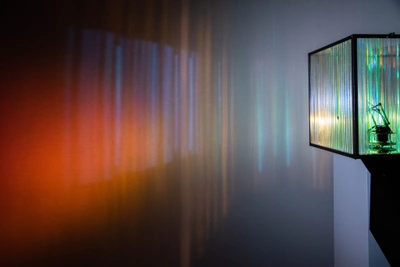 My research began with a project called "Your Eye's Motion by Luna" that I developed with my research colleagues Anne-Héloise Dautel and Robert Wuss during our studies at the Interactive Architecture Lab of the Bartlett School of Architecture. The installation used eye-tracking as an input for controlling a small robotic arm (named "Luna"), assigning the observer's point of gaze in space as a target position dynamically informing each vector. As the observer navigated the enclosed space of Luna with her eyes, Luna followed her gaze, pointing a light in that direction to create an extension of the observer's eye. Our intention was to show how vision is inherently subjective, material and embodied, situated somewhere in between the agent and the environment, simultaneously machinic and human.
Reflecting back on this project, I can't help but miss Luna, who made me aware of the act of seeing as it was translated through her motion. The inward motion of peeping into Luna's world is not too dissimilar to our posture that forms when we look at screens, however, Luna's animate movement rejected any claim of objectivity by creating an embodied response in the observer in the way screens often fail to. I, along with many others who interacted with Luna grew deep affection and attachment to her. My favourite moment was during our exhibition at Ars Electronica last year, when a girl pointed out, "She's blushing!" after Leika's (another aluminium-coupled robot arm) light dimmed as a response to detecting her eye.
After these emotionally-packed encounters with Luna and several other pet robots, it became difficult to accept the idea that technology inflicts corporeal detachment. Being critical about what each media form affords our bodies and the implications of these affordances is essential to reconfiguring our ways of seeing and being in a time of social distancing, and whatever post-pandemic world comes next. After all, our relationship with increasingly interconnected and intelligent systems tells more about us and the way we see and make sense of the world than the technology itself.
01

.

Oskar Schlemmer's Triadic Ballet performed at the Bauhaus in 1924 explored body, form and movement with inventive costume designs that restricted the motion of dancers resulting in abstract, geometric choreographies.

02

.

Roy Ascott and Edward A. Shanken, Telematic Embrace: Visionary Theories of Art, Technology, and Consciousness (Berkeley, CA: University of California Press, 2007), 54.

03

.

Roy Ascott and Edward A. Shanken, 5.

04

.

Roy Ascott. "Edge-Life: Technoetic Structures and Moist Media." Essay. In Art, Technology, Consciousness: Mind@Large. Bristol, UK: Intellect, 2000.

05

.

Roy Ascott and Edward A. Shanken, 74.

06

.

Roy Ascott and Edward A. Shanken, 74.