Miao Ying: Beyond the Great Firewall of China
Curator Caterina Riva journeys beyond the Great Firewall of China with Internet artist Miao Ying.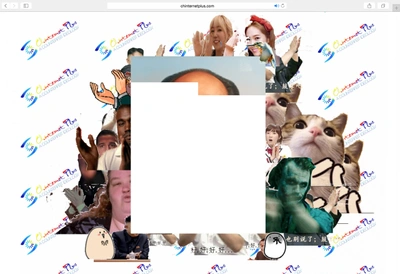 I am not sure where your IP address is located as you read this article. I am in now Italy trying to question the reach of digital technologies in our lives, interactions and flailing democracies. I started becoming more aware of the role of technology in society while living in Singapore, noticing how interfaces were shaping the city and its inhabitants. Red and green lights were mounted on the pavement to let pedestrians bent towards their phone screen know when to cross or to stop; food joints became increasingly cashless, you could only order and pay via tablets or apps without any trace of human interaction. Later on, when I was at Bard College in upstate New York researching how digital technologies are affecting the ways in which artists and curators consider exhibitions, and how audiences experience them, I reached out to an artist named Miao Ying whose research aligned with many of my questions.
Miao Ying is from Shanghai, lives in New York and travels to China regularly. Her work observes what goes on beyond the Great Firewall which keeps in check what can be read, shared and broadcast in China. The galaxy of her thoughts on these Chinese digital platforms are mixed with equal knowledge and use of their Western counterparts. Her works often take the form of websites which at first seem goofy, but the more one scrolls through kittens and unicorns, reading sentences in the comic sans typeface, it becomes apparent that she is using a friendly interface to critically question the boundaries of language, art and censorship. 
After she agreed to see me, I met Ying at a cafe in the Meatpacking District on a sunny morning in June 2019. A few minutes into our meeting, I asked if I could record our dialogue with my phone to then transcribe it. Ying agreed and when I took out my Huawei phone, we joked about not being able to use it much longer in the USA (it was around the time that Huawei's founder's daughter was arrested in Canada and the US authorities were considering to ban the Chinese network) 1. When I played the file sometime after our encounter, I realised that 20 minutes into the recording, after two people sat next to us, the microphone only picked up their voices. What follows is a somewhat flawed recollection of the topics we discussed.
I had seen Blind Spot , the first work Ying made in 2007 when still in school, in a group exhibition organised by Rhizome at the New Museum. The artwork holds the seeds of much of what she would be focusing on in her subsequent projects. The work consists of a Mandarin printed dictionary from 2005 in which the artist erased 2,000 terms by covering their definition with white tape every time each term led to a dead link when searched on google.cn . Of course, since Google shut its Chinese operations in 2010, google.cn itself is a now dead link. The labour of looking up (by way of reading and then typing into a computer) 65,000 words took Ying 100 hours and 3 months; from the get go, the artist questions how technology shape-shifts and how it charts the way control can be applied to citizens.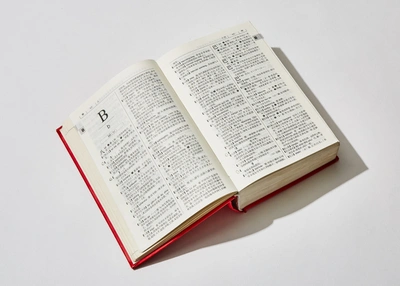 Recently, Ying has been busy working with researchers from Cornell Tech at Roosevelt Island on a fellowship in which an artist, usually literate in computer science like she is, is invited to collaborate with Cornell's researchers. Ying explained how the working group has been analysing data collected from the Sesame Credit system, implemented in 2015 by the Chinese commercial conglomerate Alibaba 2 whose platform controls and allows payments, dating, shopping, and much more. The system collects offline and online data building the behavioural analytics of millions of users and organises the results into five macro categories. The algorithm calculates and assigns a score to each customer on the basis of trustworthiness (350 is considered low, 950 high). The threshold of 600 points constitutes the divide between those who gain privileges and those who start to lose them; furthermore one can lose points simply by being affiliated with a badly scoring user. This information is publicly available and impacts all aspects of life from transport to access of social services, in truly Black Mirror fashion 3. At Cornell Tech, the researchers are building a live simulation software using machine reinforcement learning that mimics the Chinese social credit system. The machines are given tasks, their behaviour receives a score and they are expected to improve in results.
Applicable to both sides of the Great Firewall, Ying's work also offers tips to counteract the ongoing creation of a "filter bubble" — the algorithmically designed and personalised information landscape surrounding each user. Her website Hardcore Digital Detox , created as a digital commission for Hong Kong's M+ Museum in 2018, is embedded with hashtag strategies that resist surveillance capitalism like #confuseyourcookies and #fightfirewithfire. Hardcore Digital Detox invents an ironic wellness business and digital retreat in the very place self-care tells us to steer away from: the online world. It is a post-nature video game island, where brands coexist peacefully besides scholars rocks, and where animals — both real and fake — graze on virtual turf. Hardcore Digital Detox has a manifesto, consisting of a longer list of hashtags with categories to put on hold while dwelling in this suspended realm: #noalgorithm #noboss #nostress.

In her 2018 exhibition Stones from Other Hills at Shanghai's MadeIn Gallery, Ying presented the physical palimpsest of the website. She arranged in the space MDF partitions and display structures, as well as fake rocks, framed memes, and writings on the walls of the gallery in the same chalky font as the website's. Ying told me about this operation as the physical manifestation of something that could also be experienced online, like an Apple Store, our generation's aspirational space for self-actualisation.
Indeed, the Internet — whether behind The Great Firewall or anywhere else — is about marketing; one doesn't need to actually sell the product, one only needs to tell the story behind it convincingly. Similar concerns were tackled in the 2016 Rhizome and New Museum online commission Chinternet Plus , another one of Ying's art-websites that tells visitors how to brand an insubstantial idea or "counterfeit ideology" in 5 steps or sections: "Our Story", "Our Mystery", "Our Goal", "Our Vision" and "Our Experience". The first, "Our Story", is dedicated to finding a logo for the whole campaign. 
Ying told me about this operation as the physical manifestation of something that could also be experienced online, like an Apple Store, our generation's aspirational space for self-actualisation.
Beyond the irony is something more insidious. Scrolling down, animated GIFs, memes of animals, celebrities like actor Heath Ledger as clapping Joker, Shia LaBeouf and Kanye West, and politicians like Chinese President Xi Jinping and North Korea's Kim Jong-un populate the page. Right at the centre of this GIF collage, the faces of these two men are covered by a white window that signals the browser error 404, leaving visible only a fragment of one's forehead and the other's uniform. The artist, by placing that white frame over the contested imagery, gives us an example of self-censorship (a preventive censorship done directly by the artist to control the aesthetic result). All the while, she fishes for memes and stickers from WeChat — the widespread messaging and social media platform in China — where politics and pornography are the main topics targeted by censorship. In another section of the Chinternet Plus website, a slide claims, "Technology does not fix everything". Against the backdrop of scientists wearing white masks and lab coats, it presents a carrousel ironically titled Fresh Images of urban landscapes depicting smog-plagued cities in China. The site invites the visitor to apply the filter of the app MeituPic to get rid of the grey fog and reinstate — at least on one's phone — clear blue skies.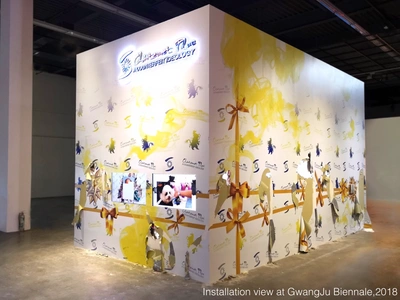 Like her exhibition at MadeIn Gallery, Miao Ying transposed Chinternet Plus into a spatial installation for the 2018 Gwangju Biennale, and the change of medium poses a welcome challenge in her visualisation strategy. The website became a room with several screens and wall texts in English and Korean which advertised and explained her 'counterfeit ideology' to visitors. For the installation, Miao Ying embraced an eye-catching style: a box shaped room's temporary walls were decorated with golden printed bows, but also were pierced by holes, as if someone had smashed them on purpose with a baseball bat. Through the resulting gaps, the viewer could peep at the flat screens and wall texts inside, considering elements of the project from various perspectives. Gallery installation dealing with technology can be sometimes dry and uninspiring, but it is not the case with Miao Ying's playful environments both online and offline.
Since I started writing this text, the Lunar New Year has come and gone, and there has been an outbreak of coronavirus in China causing distress around the globe.4 Watching at home in Italy, I saw news footage from the Milan airport of doctors in sterile uniforms entering planes to check passengers' vitals before allowing them to disembark. There is so much uncertainty about China, online, through the media, and offline, as we encounter its citizens abroad. 
"Technology does not fix everything"
While thinking about Miao Ying's works, I have tried to be more discerning in my online behaviour and started noticing how often I am asked to accept cookies each time I enter a new website. A "Cookie", as explained in the Hardcore Digital Detox series, "is the curse of our personalisation algorithm age." My strategy now is to visualise them as chocolate chip cookies as seen in Miao Ying's website and I click 'YES' or 'NO', depending on my time's availability, level of frustration and blindspot alertness. Awareness is the first step in understanding, and Ying in her humour and irony, has lightened my mood as I trace the Great Firewall of China even in the bleakest of times. 
1

.

Meng Wanzhou, the CFO of Huawei and its founder Ren Zhengfei's daughter, was arrested while transferring planes in Vancouver with allegations of defrauding banks. Meng became a bargaining chip in the US-China trade war, of which Huawei is at the centre. Read more on her extradition to the US: https://www.nytimes.com/2018/12/05/business/huawei-cfo-arrest-canada-extradition.html

2

.

Zhima Credit, also known as Sesame Credit, is essentially a credit scoring and loyalty rewards system developed by Ant Financial Services Group, an affiliate of Alibaba. Any social media interaction or purchase that is made via the Alipay mobile wallet can be scored and ranked.

3

.

According to an official release from Alibaba Group, "Sesame Credit's services are expected to be applied in a slew of daily life scenarios. For example, landlords will be able to check potential tenants' credit scores; employers will be able to make better hiring decisions by checking the credit histories of job applicants; users with good creditworthiness can rent a car without paying a deposit." Read more here: https://www.alibabagroup.com/en/news/article?news=p150128 However, Sesame Credit is not to be confused with the Chinese government's Social Credit System. Although Alibaba was an initial technology partner of the project, the government decided not to pursue this partnership due to a potential conflict of interest. Read the full expose on WIRED: https://www.wired.com/story/china-social-credit-score-system/

4

.

The coronavirus outbreak began in early January 2020 in Wuhan, the capital and largest city of Hubei province, China.