Messages to Her: A Zoom Call between Charmaine Poh and nor
Towards the end of the city-state's lockdown season, the two artists check in on each other through a Zoom conversation.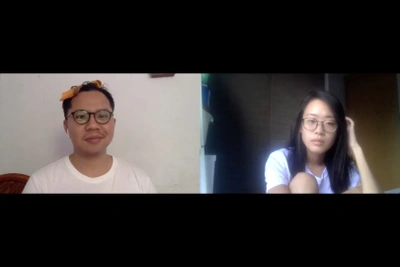 Charmaine Poh (C) and nor (N) are both lens-based practitioners. In October 2019, Charmaine reached out to nor and met in a cafe in Singapore's Chinatown to have a casual conversation about negotiating visibility, the Internet, gender and strategies on survival. These conversations continued since through a private Instagram account @messages2her , with 280 followers getting access to almost intrusively intimate posts shared between the two. For safety reasons, the account remains private. Towards the end of the city-state's lockdown season, or "circuit breaker" [01], they checked in on each other through a Zoom conversation. The exchange was transcribed and edited for clarity.
N:   I've been watching a lot of anime series back to back. There's Beastars [02], about a wolf who is a carnivore, who falls in love with a rabbit who is a herbivore. I find that the world-building and character development in anime is top-tier. It's amazing how they can achieve that within a twenty-minutes episode.
C:   I watched Fruits Basket [03]. I do feel that the anime world is quite comforting. It's a combination of the aesthetics and storytelling that feels very consoling in this time.
N:   There's something very gentle about the storytelling in anime. It's the idea of mono no aware [04], like time passing… I find that super beautiful. 
C:   The way they conceptualise place — it's close to reality in that they illustrate the textures, but it's far enough that you know it's a dream. Even the sunsets and the clouds…
N:   The sunsets recently have been so amazing. Intense and purple and orange. 
C:   Have you been going out much?
N:   Only to get my ingredients, or for my runs. Otherwise I'm at home. I'm also fasting, so I don't want to waste my energy. 
C:   You also run 10km.
N:   I just want to get back to my 2017 body! 
C:   Were you really skinny?
N:   I was scary skinny. OK, we want to be skinny, but we don't want to be that obsessed. I did it in a short period and cut out sugar completely; it was during the summer of 2017.  Now if I don't want to run, I don't. It's more gentle. 
[Pause]
I thought of some questions regarding Messages2Her . One was: which came first, the vision or the collaboration? Or was it inseparable from the get-go? 
C:   I think it was. If I remember correctly, I was thinking about various practices and immediately made the connection between self-portraiture and your work, Instagram and technology. You were the only name I had in my mind. I felt it was time to have conversations because I hadn't seen enough. And sharing a space was something I was interested in. So I wouldn't say they were separate. They came together. And obviously the idea was refined along the way. 

N:   You use the word conversational, and that's the core of the work. It's a conversational work, instead of a photographic series. Initially I thought we were going to head into a photographic series, because we both come from lens-based practices. You have a specific sense of aesthetic that people associate you with — "the Charmaine Poh brand", "the Charmaine Poh experience". Yet the project took a more experimental approach because there was no specific aesthetic or art-direction in the Instagram posts we were sharing. I feel aesthetic is important to you, but since we were working in a non-aesthetic way, how was the experience like?
C:   The aesthetic mattered as far as it connected with the platform or technology. For me they all came together. So the fact that we were taking pictures with our phones or trying to have a letter-writing quality to it already tied the aesthetic in. It wasn't a brand in that conventional sense. But there's a sensibility to how the project turned out — using archival images, for example, which people already use in a more vernacular way. As a whole, you can see an aesthetic that is tied to the medium. What about you? I feel like you have a strong sense of aesthetics.
N: I don't think I have a specific aesthetic. I'm more of a shape-shifter. 
C:   It looks quite like a whole piece, like a dialogue. It's not like we made it in silos, I feel, when I look at the project. Were there certain revelations or discoveries you made throughout the project?
N:   For me, it was basically two people conversing. I feel that conversations aspire to reach a place where people can talk about their vulnerabilities. Vulnerability is not a problem for me, so there wasn't anything new for me in terms of being able to share. But what was new to me was you being vulnerable and being able to share the things that most people wouldn't get to see within your practice. Because you're an artist with a socially engaged practice, you work with other people's stories, and use your work as a platform. So I was learning a lot of things from you, about you. What was new to me was trying to connect your practice with other people with your own stories and experiences. How was this exercise in vulnerability for you? Were there any posts where you were like, OK, this is "go-time"? 
C:   It's definitely newer for me. I've always felt already vulnerable, and so less inclined to share in that kind of open way. But I felt that in order for the project to reach a certain potential, I had to access certain things. It was definitely a new exercise in vulnerability for me. At the same time, it was just doing it and putting the story out there, as opposed to freaking out over the vulnerability itself. We chop and edit and erase our own narratives all the time in daily life. My focus was how to connect these narratives into the wider story of the project, so that other people could connect to it. I felt there were parts of my narratives that were another side or facet to what you were sharing, so if we could somehow expand these ideas, then it would be productive to share. 
N:   The conversation, despite the name Messages2Her , is also shared with other people. Were there people who reached out to you? Because it didn't happen to me. 
C:   Did you share anything new that people didn't know about? 
N:   No, the ten in my immediate circle already know about the stuff I was posting. But most of the people on my main account don't. Maybe people were too shy, or felt like they were intruding on something personal. On your side, did anyone write to you?
C:   Yeah, for the one that I posted about acting, people were like, fuck, I didn't know. That was a unique experience. It's a very particular perspective to have in understanding your own gender. Anyone who views you will never really see it unless it's revealed. So yeah, people responded to that one. There were many strangers as well — probably your friends, and people whose names were familiar but I'd never really had a conversation with. If I was one of those following, I would also stay quiet if I didn't know the person well. Because it does feel like a very intimate space being played out on Instagram. 
I saw your post yesterday, about how self-portraiture is danger. Self-portraiture is about the right to exist, but there are also real consequences. What are your thoughts on that?
N:   There's no one solution to it because where we are — where I'm at — society is opening up. But it's still very unforgiving. All I can do is learn ways of navigating. An older queer person told me how in one of the episodes of RuPaul's Drag Race [05], during a comedy challenge, RuPaul said to one of the queens, "You don't have to reinvent the wheel." It made so much sense to me, because I'm not the only one going through this. Many other people have learned to be comfortable with existing one way and feeling another way inside.
That's given me more comfort than the liberation of self-portraiture. I started taking portraits of myself because if I could see myself this way, then I could believe this way of living for me could exist. That's the whole beauty of lens-based media, film and photography — if you're able to see a city of flying cars then you would want to make flying cars in the future. But things happened to me over the past year where I was put in a lot of danger simply because I have a very recognisable and familiar face. There's no way I can run from looking this way unless I do extreme drag and my practice is not about that.
I started taking portraits of myself because if I could see myself this way, then I could believe this way of living for me could exist.
There are these two words in the Malay language: surat and sirat . Surat means "to be documented", whereas sirat  means "to be hidden in plain sight". Sometimes both can co-exist. For instance, I can say there's an apple on this tree but it means something else. It took me a really long time to understand that queer Malay Muslim people like me, who have to navigate how they can exist, have done this for a long time. There are people, even artists, who will not specifically say they are queer. However, if you take a proper look at the unsaid world they are setting up, they've been here the whole time.
Right now, I need to navigate how to do self-portraiture without showing myself. I've been thinking about this every day while in quarantine. How do I exist without endangering myself? It's very important that people who have the ability and privilege to not worry about being in danger, do the work. Even if I take a step back and use a different method, someone else is going to come along. There're always going to be other people, so it's just a matter of how. As long as people are doing the work.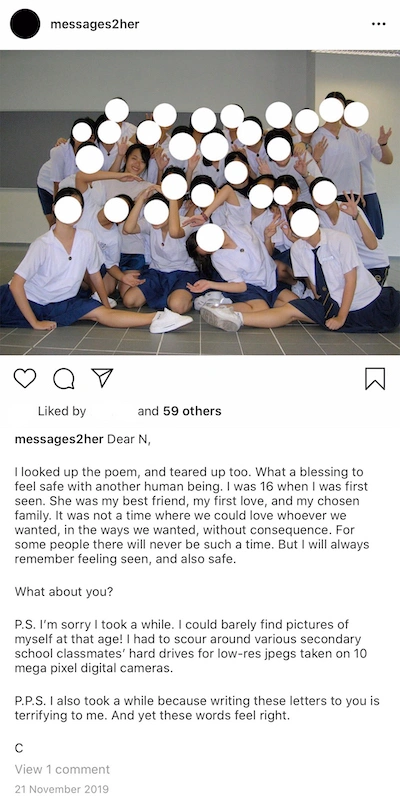 C:   Yeah, it wasn't something I felt comfortable doing for a long time. Due to being in a very particular environment, I held the belief that you're supposed to be living one kind of life. It was through my practice that I could gradually determine whether or not it was important to talk about it. The idea of hiding in plain sight was something we talked about — trying to be as generic as possible and having that built into your psyche as a form of strategy. Now that I'm older, I'm not so concerned about that anymore. It's not so terrifying, I think. As you obtain some kind of agency for yourself, the world doesn't seem as terrifying anymore.
As you obtain some kind of agency for yourself, the world doesn't seem as terrifying anymore.
N:   With regards to strategies, my own understanding of gender has changed so much as well. Now, there are no two ways about it. The system somehow wins all the time. Even if you make physical changes to yourself, it's expensive. Allowing myself to be more flexible with my own ideas of femininity, beauty, and what the body is supposed to be, is also a form of resistance against capitalism. It's all about the money I have to pay to be a certain type of something that, at this point in time, might be acceptable to the wider society.
Even if I do change, not all of society is going to accept the new body or the new way I present myself. Ten years down the road, the way I present myself will be completely different. And the ideas of beauty and femininity in 2020 are going to be so different from ideas of femininity in 2040. Ideal hip to waist ratio is going to change. Maybe defined facial features will not be in fashion anymore.
What's giving me a lot of comfort is the existence of non-binary people and how they've recently become more present in mainstream media, in the sense that, just because I identify a certain way doesn't mean I have to present a certain way. Of course, sometimes you cannot run away from performing a type of presentation that people feel more comfortable with. For example, if I were to go to an all-women event, I would present myself more femininely. If not, people would question what's this "male" body taking up space for? 
So much of our identity and existence has to happen in the presence of others. Now in quarantine and not having to interact with other people, it feels good to not have to put makeup on every other day. How has it been to not have non-surveillance?
C:  Without surveillance, I feel less connected to my body, and almost less connected to my gender. It's more cerebral. Surveillance has a lot to do with physicality and awareness about the body moving through space. And we're not moving through space. It's a different way of thinking, I suppose. In some ways, it's freeing.
I wonder how confidence plays a part in this conversation. More specifically, do you feel more full or more yourself with some kind of performance? I don't know if it's just something we've had to do for such a long time, like a ritual, such that if you don't perform, it feels like a part of your identity is missing. Can performance make you better? Maybe. Enacting your way into a fullness or freedom — I think there's potential in that idea. 
[Pause]
You know, when we started, we were doing this across the world. I was in Berlin and you were here. 
N:   And we've only met twice in a period of close to six months. Where do you see this project going? Do you think that our project is exhaustive?
C:   I think our performance-project Messages2Her was about a new way of having conversations about intimacy and visibility. And the more we look at what we're talking about and exploring, the more there will be threads to other issues. It's like when we look at feminism — the more we examine it, the more we see intersections. Our performance was about work life, artist life, our growing up, how we navigate queerness, and how our genders are perceived. It felt wide but also deep.
It's funny because we are using technology so much to talk about this project, but everything we're talking about is so human. The body is so central, and I really love this connection. It's everything we're experiencing online alongside everything lived away from the screen.  I was reading about the people who had come before us, artists who have done work similar to what we sent each other over Telegram [06]. It comes from this rich lineage. You were telling me about Jack Halberstam [07] and queer space and queer time [08], and then there's Hannah Black [09], and Legacy Russell's [10] Glitch Feminism [11]. There are so many references that we can draw from. In our context, it makes me feel really happy to know that we're just another micro-chapter of what has happened before.
N:   I've also been obsessed with the idea of possible futures and speculative fiction. Even with image-making, the whole purpose of self-portraiture is to bridge the gap between how I see myself in a different timeline. It would be interesting for us to create something like Cindy Sherman in Film Stills [12].
C:   Yeah, for sure. I think that would be something outside of Instagram. That would be fun.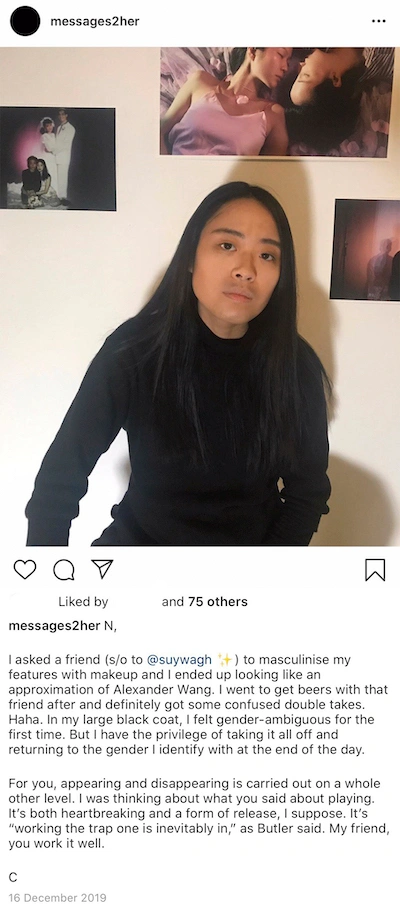 01

.

The "circuit breaker" was a stay-at-home order implemented by the Singapore government in response to COVID-19. See Prime Minister Lee Hsien Loong, "PM Lee Hsien Loong on the COVID-19 situation in Singapore on 3 April 2020," Prime Minister's Office Singapore, April 3, 2020. https://www.pmo.gov.sg/Newsroom/PM-Lee-Hsien-Loong-on-the-COVID19-situation-in-Singapore-on-3-April-2020

02

.

Paru Itagaki and Nanami Higushi, Beastars, directed by Shin'ichi Matsumi et al. (2019; Tokyo: Orange, Los Gatos: Netflix), anime television series. https://www.imdb.com/title/tt11043632/

03

.

Natsuki Takaya, Fruits Basket, directed by Yoshihide Ibata et al. (2019; Tokyo: TMS Entertainment, Los Gatos: Netflix), anime television series. https://www.imdb.com/title/tt9304350/

04

.

Lit. the pathos of things. See Graham Parkes and Adam Loughnane, "Japanese Aesthetics," The Stanford Encyclopedia of Philosophy (Winter 2018 Edition), ed. Edward N. Zalta, last modified Dec 4, 2018. https://plato.stanford.edu/entries/japanese-aesthetics/#MonoNoAwarPathThin

05

.

RuPaul's Drag Race, directed by Nick Murray et al. (2009–; Los Angeles: World of Wonder), reality television series. https://www.imdb.com/title/tt1353056/

06

.

Telegram is a messaging app that was launched on August 14, 2013. See "Telegram FAQ," Telegram Messenger. https://telegram.org/faq#q-what-is-telegram-what-do-i-do-here

07

.

"Jack Halberstam is Professor of American Studies and Ethnicity, Gender Studies and Comparative Literature at the University of Southern California." See "BIO," Jack Halberstam. http://www.jackhalberstam.com/bio/

08

.

See J. Jack Halberstam, In a Queer Time and Place: Transgender Bodies, Subcultural Lives (New York: NYU Press, 2005).

09

.

Hannah Black is a British visual artist and writer who lives and works in New York. See "people," Sharjah Art Foundation. http://sharjahart.org/sharjah-art-foundation/people/black-hannah

10

.

Legacy Russell is an American curator, writer, and artist. See "MEET LEGACY," Legacy Russell. https://www.legacyrussell.com/MEET-LEGACY

11

.

Legacy Russell, Glitch Feminism (London and New York: Verso Books, 2020).

12

.

See Josephine Van de Walle, "Modern Classics: Cindy Sherman - Untitled Film Stills, 1977-1980," artlead, September 21, 2017. https://artlead.net/content/journal/modern-classics-cindy-sherman-untitled-film-stills/