EDEN: The bang. Prix Diary
Curator Jing Yi Teo and artist Christiane Peschek chat about the process of creating EDEN, a smartphone retreat designed to deepen our bodies' relationships with our phones.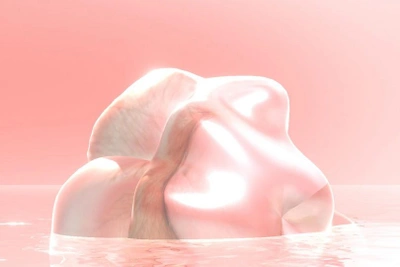 As I'm writing this and recounting our journey with EDENI [01] from conception to where we are at this very moment — trial-testing user experience and debugging the platform — our teams are getting a glimpse and feel of EDEN for the very first time. "Our baby's ultra-sound," we joke. Conceived as a smartphone retreat, EDEN is a project on virtual enlightenment by Christiane Peschek, initiated by bang. Prix[02] after the programme's original plans started derailing as a consequence of the pandemic. Most of the adaptations and shifts that we've groaned about and speculated into hyperboles of every imaginable aspect of our lives and work have now nestled into the landscape in which we plan our future.
Peschek's practice and research has, for several years, been focused on the concept of future archaeology — how will archaeologists of the future discover the ways we live today? With EDEN , she flirts with the idea of virtual longevity. The search for a perfect mind-body condition is transposed into a one-way audio-visual journey towards a conjectured net-based paradise as final destination. Users make decisions that form their individual journey guided by their instincts, desires while a mysterious voice narrates like an omniscient angel, reminiscent of workout and meditation apps, digital tools of the wellness industry. Expect meditative sounds and relaxing visuals, but also expect to be summoned into contemplating the peculiar fate of our age: locating spirituality in the smartphone. Can we memorialise an on-screen version of ourselves that also embodies our consciousness?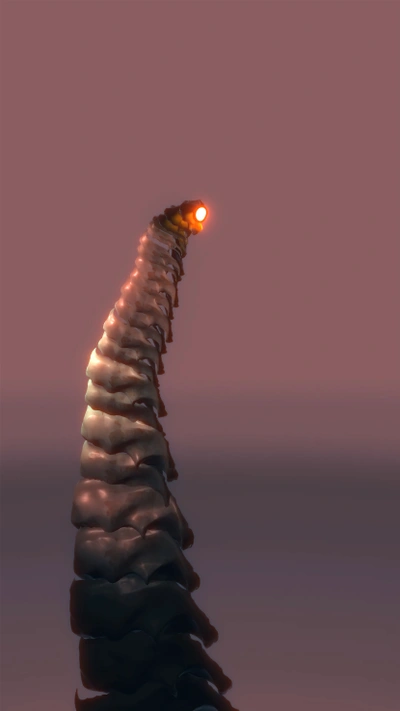 Jing Yi Teo (J) / 16 October 2020 at 12:45AM:
Dear Christiane,
It is worthwhile recounting how EDEN began. It seems incredible that the project was born out of a disrupted agenda. In March, when the pandemic first made its way through Europe, here in Istanbul, my team and I were anticipating changes in the bang. Prix programme as international travel plans were possibly going to be postponed or cancelled. With you, we were planning a research trip through archaeological sites in the southeast part of Turkey with local experts. You had an idea to document the research in video format, and we brought in a video production team, Vigo Film, which is now a part of EDEN 's production process as Vigointeractive[03].
One day, I received a message from you saying: "let's put things on pause." You suddenly needed to figure out how to work things out back in Vienna as two of your major shows this year were being cancelled.
Can you describe one of the shows and how it became EDEN , the smartphone retreat?
Christiane Peschek (C) / 26 October 2020 at 10:39PM:
I was supposed to have a solo show at the Johanniterkirche[04], a former Catholic church, in the small town of Feldkirch in western Austria. It had always been my wish to develop an installation for a sacral space as I'd previously worked around the topics of self-sacralisation and contemporary beliefs.
For this show I developed a multi-sensory installation including scent, sound and smartphones entitled EDEN .
I was interested in the shift of faith: from an all-mighty god to a self-worship culture, and from sacral religious places to body-optimising spaces like fitness clubs and yoga studios.
The idea was to use effects of the church to strengthen a sense of faith, but also to fill it with contemporary lifestyle obsessions such as wellness and fitness. I was interested in the shift of faith: from an all-mighty god to a self-worship culture, and from sacral religious places to body-optimising spaces like fitness clubs and yoga studios.
Focusing on the concept of "the enlightened God" using the sunlight involved in the architecture of the church, I investigated a contemporary translation of enlightenment in a time where close-body technologies such as smartphones reign. An oversized arch of light-reflecting metal on the threshold of the apse was to form the core of the installation. A flashed photo of the interior would illuminate an otherwise invisible gate. This would become a wonderful technological continuation of the metaphor of the third, universal eye: only with the help of technology do I "see" through the screen what my physical eye is not able to see.
Unfortunately, it never got to be seen by anyone as the show was cancelled at the last minute.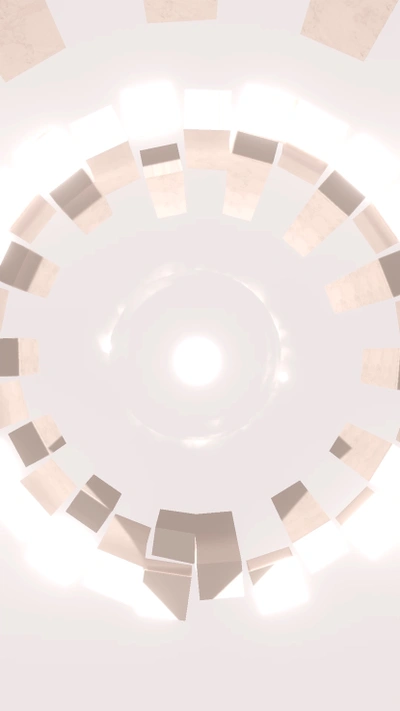 Having all that research done and a loaded concept on the table, I was asked by bang. Prix to redevelop EDEN virtually. I had never worked with virtual space exclusively, although the topic of virtuality has been a central element of my work for several years. I accepted that challenge to create something that goes beyond a pure adaption of an exhibition into the digital space. My vision was redirected towards the idea of developing a retreat that can only be discovered once, using elements from yoga and fitness apps. The aim of EDEN was to create an individual and interactive journey towards virtual enlightenment with the purpose of leaving behind one's physical body, gender, name and origin.
We're inclined to think that digitisation is contradictory or counter-productive to well-being — but is it?
J / 26 October 2020 at 11:44PM:
I'm a yoga practitioner myself and have been trained in yoga teachings. Yet, at the onset of the pandemic, I found myself following yoga studios' Instagram Live sessions, AirPlayed from my phone to the television, even though practising yoga at home was not new to me.
So when you speak of the physical body going through virtual enlightenment, I can relate — I was, after all, doing salutations towards my smartphone and television. I wonder what your experience has been with these home solutions for workout and wellness. We're inclined to think that digitisation is contradictory or counter-productive to well-being — but is it?
C / 27 October 2020 at 1:34PM:
Indeed, this is the absurdity of the trend of yoga apps. They make you praise the device, not yourself. I'm playing with that observation in the texts seen and heard in EDEN . I feel that most of these yoga and workout app designers misunderstand the relation between our close-body devices and ourselves. Instead of integrating the device as an essential tool within your practice, it is understood as a means to an end. In EDEN , I focus on exactly that missing connection. You are asked to make intuitive decisions on your journey which will deepen the relationship between your body and the device you are connected with.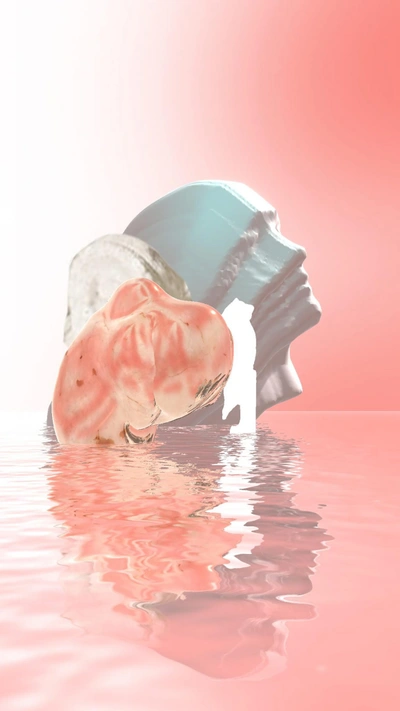 J / 27 October 2020 at 2:24PM:
I want to know more about your writing process for EDEN . At the start of summer, you went to Greece and when you returned in two weeks, you had the text ready in full.
C / 28 October 2020 at 6:04PM:
That truly sounds magical. Of course, the process took much longer than the two weeks of escape. I'm constantly collecting phrases while reading, thinking and talking. All that ends up in my little black notebook. Some of those lines are transferred from one book to the next until, after months of editing, forgetting and rediscovering them, I find the matching connection within a project. 
EDEN  is definitely the climax of a long study on virtualisation and immortality. With EDEN , I had the purpose of bringing together many loose elements that had been floating around in my mind for quite a while. 
I knew that I needed to escape from my routine and place my physical self in a unique and calm natural environment in real life to understand the bigger idea behind my collections of text. And that's where the magic happens, somewhere below the Aegean water surface with the flickering sun above…
J / 28 October 2020 at 9:03PM :
The water surface, ocean and sunlight definitely played parts as key visual and audio elements. You worked together with the artist Ernst Lima[05] on the sound design. Overall, I feel like you managed an exquisite balance between the meditative and consequential. I recall that when you shared the first sound tests with the team, it was the first moment the project really felt like it was materialising. As you said, it is the first time you're working exclusively virtually, so we had little inkling about how the project would turn out. But from that moment on, it was very clear to us how the user would feel, the way we would communicate about EDEN , et cetera.
And that's where the magic happens, somewhere below the Aegean water surface with the flickering sun above…
C / 04 November 2020 11:54AM :
I have been working with Ernst Lima for approximately one year. She's a brilliant artist and sound designer. As we have a very deep and strong connection, it was pretty easy to create the soundscape for EDEN . 
She was involved in my processes from the very beginning, which set our co-operation on another level. We barely talked in the process: it was more of a dialogue between different mediums. Creating EDEN became a very sensual process. I'm very honoured to have found a partner who knows how to translate my concepts into sound elements to create an integrated experience rather than a soundscape.
Together with digital artist Lukas Dworschak[06], who did an amazing job on the animations, we created a virtual experience that is more than digital entertainment but a portal to a new understanding of the consequences of virtuality for the physical body.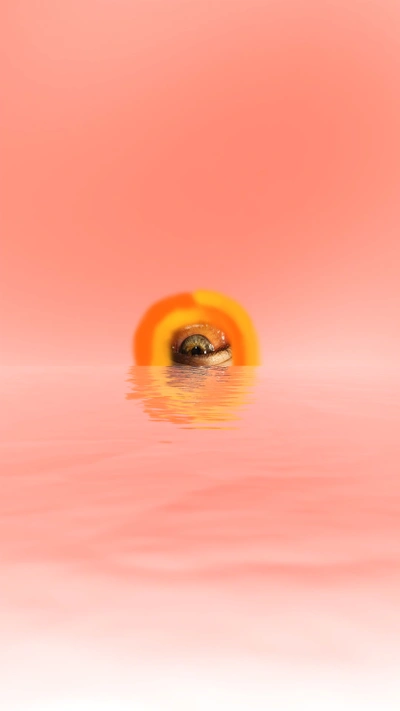 J / 04 November 2020 11:58AM
Has the project shone light on new possible trajectories for your artistic practice?
C / 04 November 2020 8:03AM
Yes, absolutely. I am working on an offline continuation of EDEN for the upcoming year where I will combine elements of the online retreat with the dynamics of physical presence in a real space. This might still sound a bit cryptic, but I don't want to spoil too much yet. In addition to the offline happenings, I plan to expand the theories and philosophies behind EDEN to create a platform for virtual body-mindfulness as a part of my artistic research. There is huge potential in the current shift in what we define as body, life and awareness. I have the vision to create a network for like-minded people who want to practise a new kind of consciousness that goes beyond the limits of our physical bodies, that spreads deep into the areas of individual online presence. This is what we might experience as eternal existence.
01

.

EDEN can be accessed via mobile. Eden, http://www.enter-eden.net/

02

.

"Based in Istanbul, bang. Prix is Turkey's leading platform where art, design, technology and science intersect, founded in 2015 by a team of interdisciplinary minds with backgrounds in various fields and the common desire to share their curiosities and develop beyond the scope of their fields." "About Us," bang. Prix, http://bangprix.org/about-us/

03

.

Vigo Film, https://www.vigofilm.com/

04

.

Johanniterkirche Feldkirch, https://www.johanniterkirche.at/

05

.

ernstlima, https://www.ernstlima.com/

06

.

Lukas Dworschak, https://lukasdworschak.com/