Colliding Routes: The Uneasy Afterlives of Saudi Arabia and Singapore
Writer Sharmini Aphrodite chats with artists Ahaad Alamoudi and Fyerool Darma on parallels in their visual language and how their contexts have informed their works.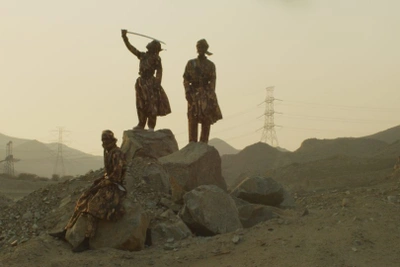 When I brought the Singaporean artist Fyerool Darma and the Saudi artist Ahaad Alamoudi together for this discussion, I was interested in the similarities between their visual languages and the contexts through which their work emerges. Singapore and Saudi Arabia loom large in the contemporary narrative as landscapes of bustling modernity and breakneck change. They are countries where history seems to be relegated, shoved aside for the scramble towards glitzy futures. The three of us sat down over Zoom to discuss these ideas, the afternoon sunlight strong in Ahaad's London setting, while the light in Fyerool's room in Singapore shifted over the course of our discussion — starting with a milky tropical twilight, then ceding to the dark.
Moving Through Flux
SA: Let's start with introductions.
AA: I do a lot of moving image work. Images affect us constantly, innately, even if we don't want to look at them. They're there 24/7. My background is in visual communications, so I'm interested in media branding — forming visual identities in and around spaces and places.
FD: The idea of visual communications seeped into my work from my surroundings. In Singapore, you are constantly bombarded by several languages and cultures. All expressed in very visceral ways.
SA: Saudi and Singapore are nations that are going through periods of intense change, whose histories lean on the idea that they've both become modernised in a short period of time. There is an aspirational element to that narrative, projecting through images — advertisements that broadcast futuristic architecture and developments. But these "utopic" images don't always match what is happening on the ground. How does this mismatch manifest in your works?
AA: A lot of Saudi visual identity is a projection from outside the country, asserted by the western ideas about Saudi as a conservative and desert space. I claim ownership of these images by dissecting them and reframing them in my work. And then I project them onto an audience.
I claim ownership of these images by dissecting them and reframing them in my work. And then I project them onto an audience.
FD: Through my work, I have been embracing several movements, particularly surrounding the ideas of postcolonial and anthropological bodies. We're living in an age of constant change, the age of the post-image[01], which for me ties into the idea of the anthropological body[02], which itself is something that shape-shifts with new discoveries and movements. I'm trying to find a method that resists how colonial archives have used images — images of the body, of the natural world: all things framed in a colonial context.
AA: Can we elaborate on the idea of bodies? Shifts in prominent ideologies can shape how our bodies move. For instance, laws in Saudi that allow women to drive have literal implications on how women — as individuals — can function within the country, on what spaces they can enter. That is something I try to capture in my work.
SA: Do you have a similar experience in Singapore, Fyerool?
FD: Singapore prides itself on its multi-culturalism, but that official narrative of harmony is not precisely reflected on the ground. There is a projection of state discourse onto particular races, mapping out what their respective narratives should look like what they should act like. In a way, it's an extension of colonial perceptions of race[03].
SA: You both bring up the idea of subversion. There is a subversive element to humour, which exists in both your works.
AA: Many of the topics I deal with are sensitive, so humour is a good way for viewers to access them. There is also an element of Arab culture that is satirical, where we laugh at ourselves — a lot of sensitive topics in the region are dealt with through humour.
FD: For me, humour is a language. It's everywhere, but it's not always understood. Some audiences in Singapore find my work funny, while others take it very seriously. In ancient Nusantara[04], the body was constantly being "humoured" upon; it's a way to entertain and to connect to others.
AA: Yes, humour can break through these rigidities. My work is specific to the region, with shorthands — such as the falcon, the pomegranate, the desert — that express the landscape and history. Sometimes certain audiences refuse to engage with the art because it is so particular, so I found that humour — as a universal language — helps ease that disconnect.
I'm trying to find a method that resists how colonial archives have used images — images of the body, of the natural world: all things framed in a colonial context.
SA: What are the struggles of reaching out to an audience that has such an entrenched preconception of your contexts? Singapore and Saudi are countries that the West has such a firm idea about — countries they consider aspirational but alien, conservative yet economically lavish.
AA: My work is for everyone, but certain elements — signs, symbols — function as inside jokes. It goes back to claiming a context — staging these particular stereotypes of what the Arab world is and reframing it for an audience — forcing their conceptions to grapple with mine.
FD: I use similar tropes: the tropics, the jungle. I always end up having to do a lot of explaining, however. It makes me wonder: why do I, as an artist, have to stand next to my works and explain them? Why aren't the visuals enough? I don't mind being mistranslated, actually. Mistranslation reflects the current moment and reveals various nuances in culture.
AA: There is a Walter Benjamin text, where he states that translation is the afterlife of an original.[05]
SA: The idea of afterlives has an uneasy presence in Saudi and Singapore, given that both nations focus on constantly-evolving infrastructures, on never-ceasing activity.
AA: In Saudi, you see construction sites everywhere, and they never stop appearing. It never ends. There is a friction between generations: between the older generation who grew up in a world that no longer exists and the younger generation that has no knowledge of that past.
FD: In Singapore, there is no sense of dormancy. Construction sites are everywhere too. My secondary school no longer exists — it's been demolished and is now just an empty field. Friends tell me that they go away for a few years and return to an unfamiliar landscape.
SA: But there's a class element to that and to the idea of what is allowed to be preserved and historicised. What you say about the demolishing of your neighbourhood school[06] — would it have happened to an "elite" school?
There is also a sense that modernity — visual and infrastructural developments — seems to be a sort of power. We grapple with these contradictions.
AA: That is something I sense here, where I am now in London. For Europeans, having a physical space preserved, owning that physical history, is a form of power. Whereas for us in Saudi, and seemingly in Singapore as well, there is also a sense that modernity — visual and infrastructural developments — seems to be a sort of power. We grapple with these contradictions.
FD: In Singapore, history is used as a form of control. Nostalgia, under capitalism, becomes a commodity. You look at particular cafés or spaces that recycle certain architecture or elements as a way to draw consumers. And time just… melts. There is no strong sense of past or present. This brings me back to my work: I use tropes as a sort of time-stamp — an anchor.
AA: As in Saudi — we don't have things to hold onto. We have to deal with memories, which of course, are themselves susceptible to flux.
FD: Speaking about memory, about intangible heritage, I'm reminded of a connection between the Arab world and Southeast Asia. In the past, trade routes brought over mediums such as sya'ir[07], or textile art. There was a figure, Munsyi Abdullah Abdul Kadir, a mixed-race scribe for the colonial masters in Singapore. People go back to his texts as markers for modernity to see the influence of a changing world. For instance, he describes an interaction with a daguerreotype used in colonial photography[08]. He called it a "demonic, magical thing". Through his texts, you can see his difficulties with flux, with the collision of cultures and his own various experiences.
AA: For the longest time, photography — images — were seen as demonic within Saudi. They were thought to capture souls attempting to replicate the work of the Almighty. So we recognise that transference between my side of the world and yours. I come from Jeddah, a port city that is also the entryway to Mecca; I was used to multi-culturalism growing up. My family is also from Yemen.
FD: Munsyi had a Yemeni lineage.
AA: Was he from Hadramout?
FD: Yes! There are a lot of Hadramouts in Malaysia and Singapore. The Jawi script, which is influenced by the Arabic script, is thus a way of denoting that community's movement to Southeast Asia.
AA: We're all family now!
01

.

The profusion of images in the age of the Internet and after the rise of modern advertising has led to the idea of an image being untrustworthy, while the sheer volume of images we are faced with on a daily basis has led to a sort of a visual fatigue.

02

.

A reference to the body as a subject to be observed and studied.

03

.

During the colonial period in Malaya (which then encompassed Singapore), the British entrenched certain ideas of race as a way to "divide and conquer" the population, thereby reducing the possibility of resistance against them as both colonial rulers and heads of business.

04

.

The regional term for maritime Southeast Asia, encompassing the nations of Malaysia, Singapore, the Philippines, Indonesia and Brunei.

05

.

The German-Jewish philosopher Walter Benjamin proposed works of art as being transient instead of belonging strictly to a particular time. In Benjamin's theories, each work has a "temporal effect", which refers to the context in which it was written. As these contexts cannot be directly reconstructed, Benjamin's theories of translation describe the act of translation as one of recreation — the transmutation of meaning from one language to another.

06

.

"Neighbourhood" and "elite" schools are more casual terms used in Singaporean settings to discuss the differences between various hierarchies of schools ranging from primary level to Junior College. A "neighbourhood" school would refer to your "average", suburban school. For further reading: https://spj.hkspublications.org/2018/11/26/elite-and-neighbourhood-schools-exploring-school-names-and-social-hierarchies/

07

.

 Sya'ir is a form of traditional Malay poetry. The earliest record of sya'ir comes from the work of Hamzah Fansuri, a Malay poet from the 17th century. Sya'ir employs four-line stanzas, maintaining a unity of ideas from the first to the last line in each stanza.

08

.

The Hikayat Abdullah was completed in 1845 and first published in 1849. Described as Munsyi Abdullah's autobiography, it contains his views on the societies of Melaka, where he was born, and Singapore. It is one of the first Malay literary texts to be published commercially.