Alice Bucknell's New Worlds
Finding affinities between ancient rituals and emerging technologies, the artist and writer's Somerset House Studios event series spotlights artists seeding alternative futures within the uncertainties of the present.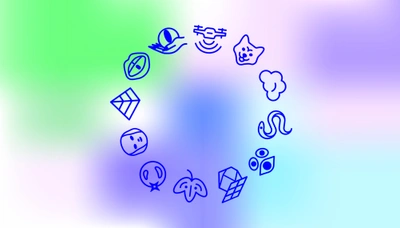 Artist and writer Alice Bucknell's New Worlds is a series of talks and presentations taking place at Somerset House Studios, London featuring nine artists and thinkers whose work combines mysticism, magical thinking and technology to chart new pathway within the uncertain terrain of the future. Building out from topics explored through Bucknell's platform New Mystics — which featured experimental collaborations between artists, writers and the AI language model GPT-3 — the series delves into the interconnected topics of sound and ritual, myth-making, non-linear storytelling, ecological futures, and more-than-human narratives. The formidable line up includes Lawrence Lek, Evan Ifekoya, Himali Singh Soin, Alex Quicho, Sammy Lee, Zadie Xa, Bones Tan Jones, Joey Holder and OMSK Social Club. Ahead of the program, Bucknell spoke with SO-FAR about techno-mysticism, speculative fiction and collaborative worlding.
Guy Mackinnon-Little: Your New Worlds program at Somerset House Studios builds upon the New Mystics platform you assembled last year. Could you tell us a bit about how that project came about and how it has since evolved?
Alice Bucknell: New Mystics came out of a desire to constellate in a non-prescriptive way the work of artists using emergent technologies like artificial intelligence and game engines to expand on themes of magic, mysticism and ritual. It wants to create a new, shared language that expands these practices through the technologies they incorporate. Each of the New Mystics texts is a collaborative writing process between artist, writer, and the AI-powered language model, GPT-3. New Mystics is also a response to the restrictive hierarchies of conventional art writing, which tends to arrange the writer-artist relationship across certain formats: the exhibition review, the profile, the interview, and so on. Having the opportunity at Somerset House Studios to bring these practices off-screen and into a public gathering through a number of formats — screenings, workshops, rituals, readings and listening practices — brings a new, embodied and multisensory dimension to this project, which I'm really excited about.
GML: How do you understand the relationship between technology and mysticism more broadly? Why is the seemingly secular world of technology so often cut through with these speculative or even spiritual impulses?
AB: A pretty instrumental text that I reference a lot is Erik Davis's Techgnosis [1], which argues that technology has always been imbricated with magic; more recent surveys of this idea appear in Nora N. Khan's essay, "The Poetics of Artificial Superintelligence" [2], which suggests that in order to develop a less anthropocentric relationship with this technology that leans into the unknown, we need to develop new and speculative language structures. Then, there's research into contemporary techno-mystical practices like technopaganism and the algo-séance , explored by writers and thinkers like K Allado-McDowell and Ben Vickers.[3] Other writers have suggested that a reason we look to technology as a kind of divination tool or oracle in the present is because in the current crisis mode, the narrative structures that frame our world no longer make sense. I personally see it more optimistically — that it speaks to a much more ancient desire of interconnectedness and a longing to communicate with the unknowable, a desire that stretches us across both time and place.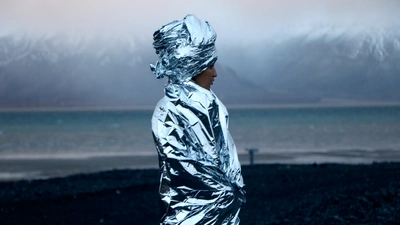 GML: Could you say a bit about the various artists and thinkers you've brought together for this series? What commonalities or useful frictions were you hoping to tease out in putting the program together?
AB: New Worlds brings together both artists from the original New Mystics project and artists with associated practices that I really admire. The New Worlds series is devised as a more expansive and immersive journey into the worlds instigated by New Mystics — across the five events, we're digging deep into certain themes that emerged as undercurrents across the New Mystics writing, and serve as important bridges between the artists' practices: non-linear time, ecological storytelling, machine magic, deep listening and the healing potentials of sound. By dedicating an evening to each of these themes and exploring them through multiple perspectives and artists, we'll get to temporarily inhabit these worlds, stretch them and experiment. I would say there's an overarching ethos shared by the artists alongside many shared interests, although the modes of expression vary greatly: from poetry readings, to live action roleplaying, to multisensory game world walkthroughs, to organising collective rituals. Likewise, the format of the New Worlds events will morph from one event to the next.
GML: And how does that curatorial work differ or converge with your own work as an artist?
AB: It's very much in line with my own practice, which draws on technologies like game engines and artificial intelligence as well as speculative fiction strategies to develop narrative environments that hinge between present and future, exploring the possibilities of worlds to come. I think the making of worlds, or worlding, works best as a highly collaborative practice, a mix of authors contributing to a sense of ongoingness, as no world is ever complete or self-contained. The New Mystics project and New Worlds program are ways of following that idea, without any preconceived expectation of what might emerge on the other side.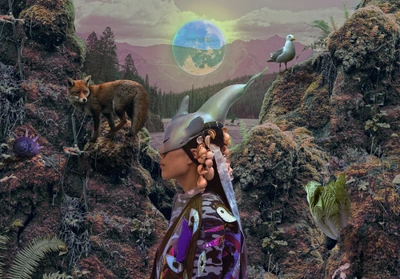 GML: What do you find compelling about speculation as an artistic strategy? How would you distinguish the kind of speculative worldbuilding you're interested in from the utopian visions that propel technocapitalism's scammy frontiers?
AB: Speculation is a powerful strategy that generates a carrier bag of multiple potential futures, avoiding the techno-progressive linear arrow-throw of Silicon Valley-style hypercapitalism. I am inspired by the work of speculative fiction authors like Octavia E. Butler and Ursula K. Le Guin, who take a social sciences and cultural approach to science-fiction and its offshoots, and I consider the work of speculation to be a descriptive, rather than prescriptive, practice.
GML: World-building is something of a buzzword at the moment, and like most buzzwords, it's a seductively slippery concept. How would you (re)define it?
AB: I prefer to think of it as worlding, to both distance it from the science-fiction context and associated baggage of "world-building"; and also consider it as a verb, as a process that's always ongoing. If the technical aim of world-building is to generate and add a sense of believable richness to a singular imagined world, worlding is to leave the portal open to multiple possible worlds.
I'm also partial to Donna Haraway's term "worldings" — to suggest all the constituent parts that make up these worlds, which are never round and complete and self-contained, but messy, unspooling processes.[4] I think the question of language is incredibly important in how we frame discussions around this emergent practice; in other words, words world worlds.
More information about New Worlds can be found here .
1

.

Erik Davis, Techgnosis: Myth, Magic and Mysticism in the Age of Information, North Atlantic Books, 2015.

2

.

Nora N. Khan, "The Poetics of Artificial Superintelligence", Stages Journal, 2021.

3

.

Hans Ulrich Obrist and Ben Vickers, "Algo Seance Rising", Spike Magazine, 2019.

4

.

Donna Haraway, Staying with the Trouble: Making Kin in the Chthulucene, Duke University Press, 2016.