21 Questions with Hothouse
Curator Jing Yi Teo asks rapid-fire questions to artists of the interdisciplinary project space.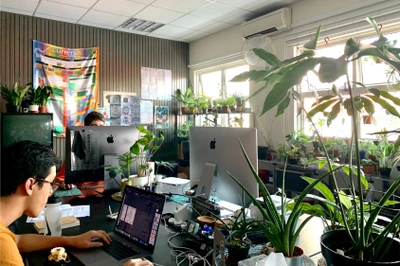 SO-FAR's new Incubator section provides an insider's view into the projects, collaborations and practices of our artists who are pushing the boundaries of interdisciplinary thought and research. The first entry comes in the form of twenty-one rapid-fire questions for Hothouse, an exciting collaborative and interdisciplinary arts initiative in its nascent stage. 
Holed up in Aliwal Arts Centre, the multi-facility arts venue in the Kampong Glam heritage district of Singapore, Hothouse functions as a workspace shared among design studio Currency (Melvin Tan and Samantha Yap), art collective INTER—MISSION (Urich Lau and Teow Yue Han), and the creatives that co-work there under the Hotdesk programme. We caught up with Melvin, Samantha, Urich and Yue Han through WhatsApp, the main communication channel of today — although we quickly learned that it does not suffice for the Hothouse crew, who shared with us a list of platforms through which they reach one another and other glimpses of teamwork as they thread between online and offline spaces of collaboration. 

1: What hardware do you have in Hothouse?
Urich: Computers, TVs, projectors, audiovisual equipment & mixers, speakers, cameras & camera gear, photocopier, lighting, and a fridge.
2: List the softwares you use:
Urich: Final Cut Pro X, DaVinci Resolve, Adobe CS, Pages, Keynote, Google Suite, amongst other miscellaneous small media software.
3: What music is played?
Melvin: Nature Sounds of a Forest for Relaxing .
4: What communication platforms do you use?
Urich: Facebook Messenger, WhatsApp, Telegram, KakaoTalk, Line, Instagram Live, Slack, Microsoft Teams, Google Meet, jitsi.org, Zoom…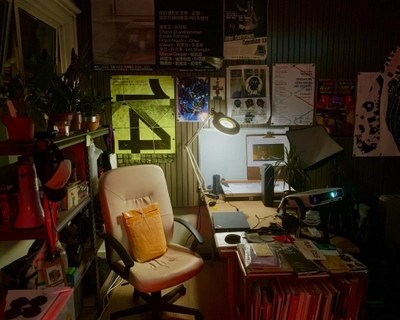 5: Storage: Google Drive or Dropbox?
Melvin: Dropbox.
6: Describe a typical meeting at Hothouse:
Urich: Sitting in the same space, but video chatting via computers or doing demonstrations with gears and gadgets.
7: Which is drunk more at Hothouse: coffee or tea?
Urich: Coffee.
8: What's one must-have item at the worktable?
Urich: Headphones.
9: Busiest time of the day at Hothouse?
Melvin: All the time.
10: Who's got the coolest desktop wallpaper?
Urich: Errr… I'm geeky — I have this using double monitors:

11: If Hothouse were to be situated anywhere but Singapore, which city would it be?
Melvin: Anywhere, no? Place is just a matter of coordinates.
12: It seems like you have a lot of plants at the studio. Who's in charge of watering them all?
Melvin: Me for now, but we will all grow to learn how to do it.
13: Are there plants that have died under your watch? :(
Melvin: That's a very sensitive question. Maybe @Samantha can say something.
Samantha: I brought back some of Melvin's plants during the circuit-breaker period when we had to take a brief leave from Aliwal. That was in May? It's August now, and I'm not so sure if I will be able to bring each plant back in one piece... 🥺 One of them is a black Begonia.
Melvin: Oh, so that one is also dying 😂
Samantha: Oh dear. I'm not a good foster parent but I think it's because I try too hard. One was a Tradescantia carnivale (R.I.P.)
Melvin: The other was a Strawberry Begonia — a fake Begonia. It's actually called Saxifraga stolonifera. The black one is a Begonia Rex.
14: Hardest project you've ever worked on?
Melvin: Getting grants, LOL. I can't answer this. @Yue Han?
Samantha: Trying to align all four of us onto the same page. But not in a bad way — we're after the same things although we articulate them differently.
Melvin:
Urich: Each project has a different difficulty. Nothing is easy. Rather, we don't do easy things.
15: Ideas you've had that never materialised?
Urich: As Hothouse, we haven't even been around for a full a year yet. But speaking as an individual or on behalf of my collective INTER—MISSION, I would say, a full-fledged media art festival. I took part in the Athens Digital Arts Festival [1] and I think that's our best example. Plus it would need to run for at least 5 to 10 years to achieve a sizeable archive. Hong-Gah Museum in Taipei hosts the Taiwan International Video Art Biennale. There you've also got the Taipei Digital Arts Festival by the Digital Art Centre. Hong Kong had the FLAME HK Video Art Fair. There're quite a lot of festivals in South Korea and Japan. Singapore lacks focus in this area.
Samantha: Maybe an easier way for us to answer since we're still in that green phase, is through the idea we're trying to work on — to create a working archive of media and digital art practices and considerations in Singapore.

16: Who have you been working with towards this goal?
Urich: We did various exchanges with two or more countries. But none on that scale yet. So far it's been with collaborators from other Asian countries.
17: Dream collaborators?
Urich: The Japan Foundation [2]. INTER—MISSION participated in their show in December 2019 to January 2020 [3]. I think they have more funds than the EU [4].
Samantha: Dr. Crystal Abidin!
Melvin: Brad Troemel .
18: What's one thing money (more specifically, public art funds) can't buy (for Hothouse)?
Urich: That's a very philosophical question.
Jing Yi: Doesn't have to be!
Urich: Cheesy — freedom of expression.
Melvin: Money can't buy a reply from @Yue Han.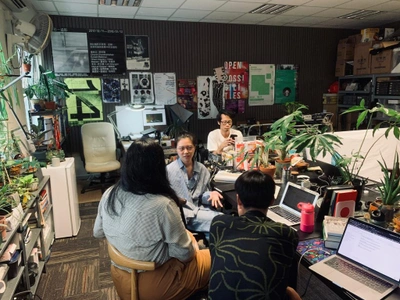 19: How do you select the artists you incubate, work or hot-desk with?
Melvin: We engage with creative practices that do not shy away from excesses and layers. They are not only artists but also designers, researchers and media practitioners who explore how to layer various mediums in relation to their practice. Especially post-Covid-19, we work with artists to develop work over a broad range of formats beyond the more commonplace modes of presentation.
20: What are the challenges of up-keeping a virtual studio during pandemic restrictions?
Urich: Adapting with other artists to work purely online, in the sense that we really have to live and breathe as digital natives.
21: How is virtuality changing under pandemic conditions?
Urich: I don't see any change in virtuality itself; the technology has always been there. There are just more users emphasising it because of the pandemic. And more adaptable and applicable forms of communication and presentation are used. But web-based art, online teaching, virtual assistance and applications have always been around.
1

.

Urich participated in the 2018 edition of the Athens Digital Art Festival, SINGULARITY NOW. http://2018.adaf.gr

2

.

Japan Foundation. https://jfac.jp/en/

3

.

INTER—MISSION participated in the exhibition "Open Possibilities: There is not only one neat way to imagine our futures" at the Japan Creative Centre in 2019.

4

.

European Union. https://europa.eu/