The Greater Depression, the Silken Road
Issue 3: Blockchain is framed within the context of a dire economic recession, provoking a need to destabilise the male-dominated world of finance.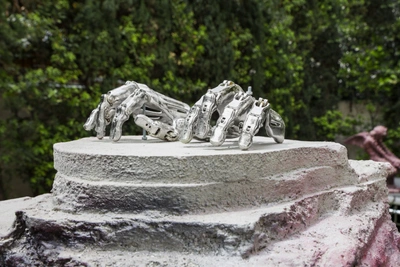 I. The Greater Depression 
"We're already in recession," I recently reminded another art consultant as we updated each other on our feelings about where our industry was turning. Late last year, I had been keeping my ear to the ground, listening to friends who were investors, traders, start-up consultants, entrepreneurs — anyone who had a pulse on the market. Every individual was foretelling the same thing: "Recession will come in Q1-2 2020." They were mostly men, and as men usually do, they spoke their opinions with authority and absolute certitude. 
I was curious how the financial markets were being — to use that quintessential Valley term —disrupted, especially in the context of an oncoming recession. Recall that it was during the last global recession of 2008, which was triggered by the subprime mortgage and credit crises of the previous year, when a mysterious, unprecedented technology emerged. This "peer-to-peer electronic cash system" was outlined in a white paper [01] published by a certain "Satoshi Nakamoto", and presented an iconoclastic alternative to the banked, institutional economy.
This time round, the projections are far more grim. And no matter how sure my male advisors were then, none could have predicted that we had just jumped from the frying pan into the searing flames of a full-blown, global pandemic. A realistic forecast predicts that the recession will last one to two years, until a vaccine is discovered. In the darkening evening of this year said to be far worse than 2008, worse than even the Great Depression [02] , is it worthwhile to once more consider this alternative application? Where and what is Bitcoin, or its mother technology: the blockchain?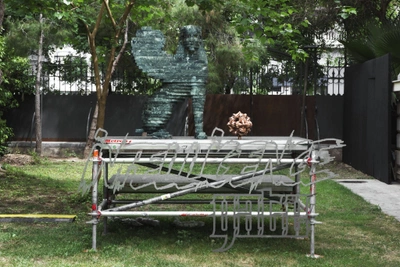 Pre-virus, the optimistic chatter I was hearing was that the halving [03] of Bitcoin (BTC) on the 11th of May should have shot its price through the roof. Even Goldman Sachs was betting, naming it the best-performing asset of 2019 [04] . Some speculators, deliriously hungry for returns, were prophesying that a coin would reach the US $1 million mark. But that hasn't happened, to their dismay. As an outsider and onlooker into this largely male, "bro" space, I have watched its upticks, booms and busts with as much curiosity as skepticism. 
The inbuilt transparency cryptocurrencies claim to have — with thousands of nodes, or computers, simultaneously strung together to match and tally each other's transactions — has not served to impart their nascent sphere with a stamp of integrity. In fact, the opposite has remained its stubborn Achilles heel, and no matter how many digital currency and blockchain start-ups have attempted to inspire confidence amongst corporations, enterprises and central banks, Bitcoin and its counterparts still exist in a notoriously murky domain. This 12-year old technology is like the teenager who just won't stop getting into trouble. It's rife with hoaxes, money launderers, fraudulent conmen, and spammy emails with subject lines like "The simple formula for becoming a Bitcoin millionaire". Its most infamous of these scams circulated around a dubious, underground or "dark web" [05] marketplace called Silk Road [06] , where you could purchase anything from synthetic psychedelics to erotica and even firearms completely under the cloak of anonymity through BTC. 
The inbuilt transparency cryptocurrencies claim to have — with thousands of nodes, or computers, simultaneously strung together to match and tally each other's transactions — has not served to impart their nascent sphere with a stamp of integrity.
For Issue 3: Blockchain, I wanted to unravel the sticky morass within and surrounding this peculiar technology that has magnetised anarcho-capitalists, opportunistic libertarians, "conscious" capitalists, idealistic non-profits, all the way through to my most left-leaning, socialist buddies. You will meet a few of these along the technology's rather recent history in the follow-up to this introduction. In this introductory chapter, SO-FAR's curator-at-large and Lead of our Incubator Programme Jing Yi Teo will ask sculptor and cryptocurrency miner Krister Olsson as well as gallerist-designer Christopher Fussner from the speculative design collective Tropical Futures Institute how they began to delve into the shadows, establishing high-energy mining farms [07] , pump-and-dumping "shitcoins" [08]. 
With this candid storytelling as a starting-point, recounting the real lives who were just trying to keep their heads above the water, I wish to provoke at the beginning of this Issue, how there must have been something else  in the turbid depths of recession and failing fiscal policy. And perhaps this something else could have produced the inexplicable, fictive character of Satoshi Nakamoto. 
Indeed, I suspect that the atmosphere around the blockchain industry continues to be so nebulous precisely because the whole thing was founded on a mystery, that is, his or her or their identity. Yet I claim this knowing full well that — as with both of our previous investigations into smart cities and artificial intelligence — we may end up at the end of it with, at best, unforeseen conclusions, or at worst, spiral outwards into unanswerable, vacuous terrains. That is the exciting risk that we at SO-FAR will always take with our provocations and hypotheses. 
The atmosphere around the blockchain industry continues to be so nebulous precisely because the whole thing was founded on a mystery.
And for this third Issue, we will elongate the latter outwards to its furthest, possible reaches. This is a reach that arcs through time and history, far back before 2008, and into the ages when international trade and currency first began. In this manner, Issue 3 will be mapped in a meandering way onto the Silk Road, so that the historical land route from which so many legends and myths have emerged will be layered onto the now defunct online black market [09] of the same name. 
II. The Silken Road
It was never really a road, or at least, not in the sense of it being a single thoroughfare. The Silk Road was a global network that criss-crossed the ancient world, allowing technology to disperse, religions to syncretise, and languages and art to intermingle. Its arteries evolved from regional proto-parts, such as the Steppe Route from which lapis lazuli was mined in Central Eurasia and traded into China in 2000 BCE, and the Persian Royal Road with its beating heart in modern day Iran around 500 BCE. Finally, 300 years later, through the verdant mouth of the Fergana Valley in Central Asia, the Greco-Bactrian inheritors of Alexander the Great's extensive conquest made contact with "Seres", the Chinese. The far eastern land was at the time ruled by and named after the Han Dynasty, but the Greeks called it "Serica", China. These words were derived from their name for that desirable product: sērikós,  silk.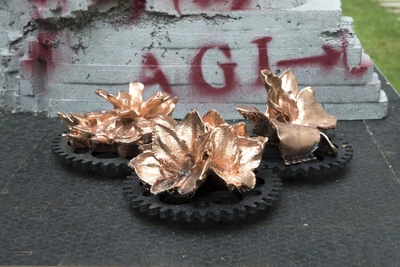 Sericulture, or the process of producing silk, had been miraculously endowed to the Chinese by a mythical empress, the Lady Hsi-Ling Shih, also known as Leizu. By the time the textile enraptured the west, it had already become somewhat of a currency amongst Han subjects, where farmers could pay their taxes, or civil servants could be salaried in the material. The silk worms that had fallen into Leizu's steaming teacup, causing a fine filament to unravel around her finger as she delicately fished it out, would later weave themselves throughout the known world, dressing wealthy women from Rome to India. 
Indeed, that a commodity so associated with the lustrous feminine could stimulate so much ancient global exchange for nearly two millennia is a titillating historical point of entry for SO-FAR, if only to reimagine a present or future alternative to the largely male-dominated world of finance and economics. In a time when the economy is nosediving through bailouts and hyper-inflation, could another order emerge amidst the chaos? By returning to the female impulse behind the expansion of the Silk Road and by exhuming the fiction of Satoshi Nakomoto, we will seek to destabilise the hyper-masculine space of the blockchain. 
By returning to the female impulse behind the expansion of the Silk Road and by exhuming the fiction of Satoshi Nakomoto, we will seek to destabilise the hyper-masculine space of the blockchain.
Four works of quasi-historical and speculative fiction by four female writers will helm the upcoming chapters of Issue 3, released in stages until November. Each of the chapters will be titled after four male characters in two analogous pairs that stand as emissaries of the historical and present-day Silk Roads: Kublai Khan and Marco Polo; Satoshi Nakamoto and Dread Pirate Roberts. These fictive essays and the respective chapter's contents will reembody these characters in the feminine, dressing them in a softer fashion, and opening them up to other tangents and queries so that supple roads of silk will fold into the blocks on the chain.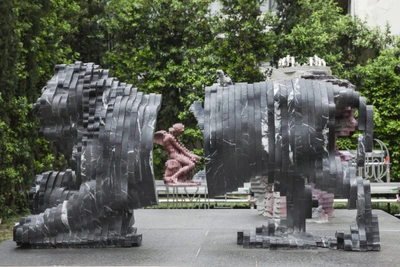 Writer and performance artist Ang Kia Yee opens Chapter 2: "Kublai Khan" with a hallucinatory, magical realist narrative on the diplomat Zhang Qian's [10] travels to open trade routes throughout the Silk Road. Paired with artist Latthapon Korkiatrakul's disintegrated banknotes, the story reveals money as a construct, a social agreement that is materially-cast and geographically-governed. Thinking of untold historical precedents for global trade, new media and performance artist Natasha Tontey casts her net even further, telling a mythical account of how the Minahasa, an Indonesian ethnic group, came into contact with the Mongols. 
On the bridge between the Great Khan and his Italian counterpart, we can envision coins passing between envoys and monks. Through an email exchange, I observe the sculptural and relational work of Marco Cassani, who has dealt in the mystical, even supernatural properties of money through his many years of living amongst the Balinese.
In Chapter 3: "Marco Polo", the signifier of that stranded Venetian merchant afloat in the silken seas of history conflates with the tragicomedy of The Lost Beat Officer, a bumbling character invented by screenwriter and performance artist Lucy Pawlak to personify a cerebrally disconnected node stranded from his mother chain of big data. Researchers Genevieve Costello, Mi You and Yin Aiwen confront the failed dream of the neoliberal, technological west with ReUnion, their female-founded blockchain welfare solution to an increasingly atomised, lonely society. 
Could it be that the blockchain industry has more in common with the art world than most realise, with all of its hypocrisy, degeneracy, and also idealism, and utopianism all intermingling?
Could it be that the blockchain industry has more in common with the art world than most realise, with all of its hypocrisy, degeneracy, and also idealism, and utopianism all intermingling? Chapter 2 holds space between Ruth Catlow, an artist-theorist and co-founder of the UK's leading art and technology space, Furtherfield, and artist and curator Penny Rafferty on their series of "Artworld DAO" [11] think-tanks held in partnership with the Serpentine Gallery. Jing Yi Teo interviews net artist Michael Mastrototaro, who wrote a prescient cyber novel Machfeld  in 1999, which described the mining of a digital coin called Konjungate 9, and whose main character was uncannily named Nakamoto.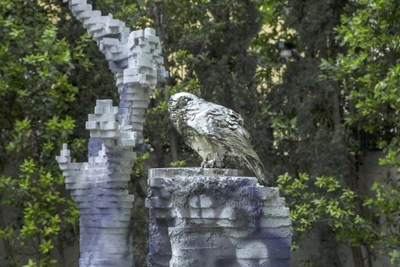 Crossing over into deeper undercurrents, Chapter 4: "Satoshi Nakamoto" rummages through the anonymous, degenerate aesthetic of the Tor browser [12] with a speculative essay co-written by curator Sanne Oorthuizen and Natasha Tontey replete with links that dive into the dark web. Then artist-collective soft/WALL/studs — Kin Chui, Weixin Quek Chong and Luca Lum — archive their collaboration with Cypher BILLBOARD, a site-specific project for a public billboard in London. The trio erected a portal for a "biotechnical entity composed of drill bits, surveillance, globes and an orchidaceous shell". In my mind, at least, their work evokes Leizu, the Goddess of Silk, as if she could be reanimated through the new Silk Road. Finally, researcher Shawn Chua speaks with economist and artist Cassie Thornton on debt, care and her proposition for a "feminist economics". 
SO-FAR closes Issue 3 with Chapter 5: "Dread Pirate Roberts", the heroic enigma in The Princess Bride  who conceals his identity with a black silk mask and whose pseudonym was borrowed by Silk Road's creator, Ross Ulbricht. Upon his conviction, we ask in an open-ended conclusion, whether there can be a sense of justice, ethics, true accountability, or even a renewed social system along the lines of the blockchain? Cecilia Wee writes a story that encircles characters relating to the "ANF (A Neutral Flag) Foundation", a decentralised structure that enables citizens from any country in the world to anonymously disclose situations of wrongdoing deemed to be in the public interest. Shawn Chua and multidisciplinary artist Bani Haykal co-write a performative correspondence on ciphers, encryption and intimacy in blockchain technologies. 
In every chapter of this exploration through the dark, cryptographic net, and back up to the surface; or back through time and speculation into the annals of ancient trade, to recount a recent history of late capitalism, we hope to re-emerge in a realm that is better, more learned and evolved. We look forward to finishing Chapter 5 with a conversation on the potential of supply chain accountability between designer Juhee Hahm and Jessi Baker, the founder of a blockchain non-profit called Provenance. Through dialogues and other essays, our contributors will eventually lead us out of the fictive, and into the realm of the "legitimate", where blockchain attempts to establish itself as a potent technology — a force for good.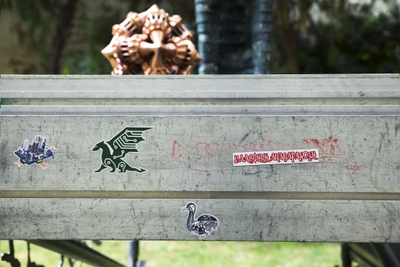 III. The Gift of Automation
I chose to pair this introduction with a series of "anti-monumental", hybrid sculptures by Petros Moris, which are guided by his interest in ancient technologies developed by Mediterranean and Central Asian civilisations. The artist collapses the work of those open scientific communities with today's open-source, copyright-free and peer-to-peer sharing models. Deconstructed Greek sculptures are staged on platforms splattered with the paraphernalia of Internet culture: vector graphics and freeware fonts. In their deconstruction, the sculptures expose their ribcages, so that we can see pathways through and between them. I believe that these rifts in time — these crumbling openings between the historical, the mythological and the technological — offer up gifts to our present civilisation in what is perhaps its greatest depression. I hope that you will look for the rifts, holes, and gifts, and enjoy your reading of Issue 3: Blockchain. 
01

.

Read this white paper in full here: https://bitcoin.org/bitcoin.pdf

02

.

Many financial journalists are saying the same thing, predicting a disastrous unemployment rate of 20 to even 30%. Here is Bloomberg's analysis, distinguishing this oncoming depression from the last recession of 2008: https://www.bloomberg.com/opinion/articles/2020-04-22/the-coronavirus-recession-will-rival-the-great-depression

03

.

Miners solve increasingly complex mathematical equations on their computer hardware to confirm the legitimacy of their transactions. They add these transactions onto a "block", creating chains of transactions which form a blockchain. For every block that is processed, miners are rewarded in Bitcoin. Once every 210,000 blocks along the Bitcoin blockchain are processed, or approximately every four years, the reward in Bitcoin given to miners is cut in half. This halves the supply and rate at which new Bitcoin is released into circulation, and is the network's own synthetic form of inflation that continues until all Bitcoin is released into circulation.

04

.

Read the 2020 blockchain report on CBInsights: https://www.cbinsights.com/research/report/blockchain-report-2020

05

.

The dark web contains sites that are not indexed or discoverable by legitimate search engines, intentionally hidden for illicit purposes. These exist on encrypted overlay networks, or "dark nets" which require specific browsers, software or configurations to access them.

06

.

Read the Gawker article that led to a spike in its traffic and alerted the Feds to its illegal activity: https://gawker.com/the-underground-website-where-you-can-buy-any-drug-imag-30818160

07

.

BTC miners have a humongous carbon footprint. Some estimates claim that global Bitcoin mining consumes more energy than most small nations like Ireland or Serbia. Check out the controversial data here: https://powercompare.co.uk/bitcoin/

08

.

Shitcoins is a derogatory term for cryptocurrencies that have become nearly worthless.

09

.

Silk Road was launched in 2011, then was shut down by the FBI in 2013. Over this short period, over a billion dollars worth of BTC had been transacted on the platform. A month later after being virtually seized, Silk Road 2.0 was relaunched and remained online until its founder Ross Ulbricht was arrested in November 2014.

10

.

Zhang Qian was the Han Chinese emissary who opened transcontinental trade routes from East to West.

11

.

A DAO stands for a decentralised autonomous organisation, which is an organisation built upon a secure digital ledger, where financial transactions, records and rules are completely transparent, thus omitting the need for a third-party auditor to verify transactions. It is usually a company controlled by shareholders, however its legal business status according to central governments is unclear.

12

.

Tor, also known as "The Onion Router", is the main browser that can be used to access the dark web. It shuffles and encrypts users' identities in a multi-layered manner, analogous to an onion.