The Currency of Belief: An Exchange with Marco Cassani
Chief Editor Christina J. Chua chats with artist Marco Cassani about the sacral values ascribed to Balinese coins, and how currency relies on collective belief.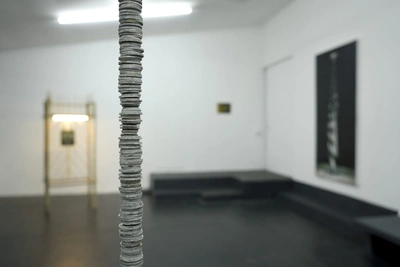 Ubud is a thick jungle, its lanes and rice paddies overcrowded by yogis in elephant-printed jodhpurs and university students in organic cotton, bare-backed dresses. They sling artisan-made straw bags over their shoulders, making their pilgrimage to the spas and wellness retreats, as if to purify their modern souls from the dirt of the cosmopolitan rat race. "Especially since Eat Pray Love, " complained my partner, "they come in hordes." As our vehicle rumbled past these single file lines marked by their exercise mats, I asked him, "Where is this place, anyway?" He looked over me into the forest, and paused, "Some place no one knows about."
We turned into a side lane, and quickly lost the din of the main road over a rather derelict bridge. A time-worn sign read: "Rumah Topeng dan Wayang Setiadarma", or "Setiadarma House of Masks and Puppets". Then, quite suddenly, a different sensibility expanded the area as we pulled into a vacant car park. The light here was not like the light on the street. It was guarded, stronger, and older. The only other car in sight was a vintage Rolls Royce, parked in the shadow of a wooden joglo , a traditional Javanese house .  The groundskeeper waved at us with a familiar, Balinese glowing smile. Nearby, the contemporary artist Marco Cassani also stood to welcome us. 
Here in this light-filled park, the powerful auras of thousands of costumes, wayang kulit (Indonesian puppet theatre figures), and masks from throughout the Indonesian archipelago and many other far-flung indigenous tribes around the world were contained within half a dozen joglos. Marco relayed how all of them were held in the private collection of the landowner, a patron of the arts, Mr. Hadi Sunyoto. Their displays were slightly worn and handmade, and the joglos were musty without any air-conditioning to keep the humidity at bay, but their less-than-pristine condition seemed appropriate to the subjects. In the halls of a climate-controlled institution, they would have lost their power. It was a house, after all, not a museum.  
After our tour of the Setiadarma House, we paused at an amphitheatre that overlooked the valley below. There were a few women weaving their crafts, and carving masks. At its steps, Marco waved us over to the joglo we had actually come for. It was the one that was home to the organisation he managed, Kayu Lucie Fontaine. A reference to the architecture and its core material, Kayu, meaning "wood" in Bahasa Indonesia, is a branch of Lucie Fontaine that has been based under the auspices of the Setiadarma House since 2014.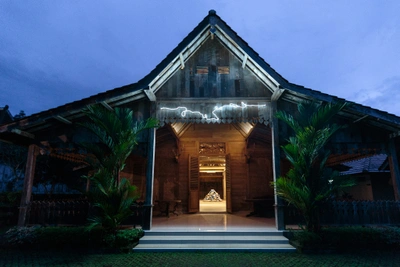 Lucie Fontaine is an art organisation that began in Milan in 2007, and has held various exhibitions and inhabited pop-up spaces in Tokyo, Los Angeles, Prague, Stockholm, here in Bali, and other cities around the world. Marco Cassani is an "employee" of this organisation, and he oversees its Indonesian operation, its programmes and exhibitions. And since art galleries are often named after their founders, Lucie Fontaine is an individual. The artist gestured, as he described her in formal terms, "She is an employer — an art employer." But unlike Mr H. Sunyoto — who is by all means a real individual, patron and owner of the park — Lucie Fontaine is a persona representing a collective artistic practice. Lucie Fontaine is a façade that embodies a new configuration for presenting art, its commercial structure and material form. Lucie Fontaine is a mask that draws attention to herself… 
Although I had seen Cassani's art in other places, I realised that his practice had its greatest resonance here in its natural home, in what he called an "altrove… 01 In this hidden lattice deep in the rainforest, he turned the institution of the art gallery and the transactions that took place therein on their head. As we spoke in the garden and the joglos, I could tell that his broader examination of the economy — its values and the cultural consensus it is built upon — emerged in a stronger, clearer light, where reality was seen and felt differently. 
His practice had its greatest resonance here in its natural home, in what he called an "altrove… [or an] elsewhere… a place between magic and dreams in complete opposition to the usual white cube gallery."
Over a year later, I reconnected with Marco over an email exchange to recount our time in Ubud, and understand the intricacies of his practice. The following is the record of our correspondence.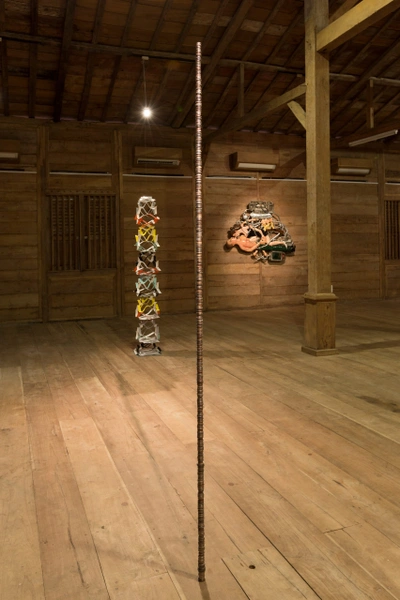 Christina J. Chua (C) / 3 March 2020 at 3:49PM:
Dear Marco, I'd like to kick off this interview by asking you, when and how did you become fascinated with currency and trade? You've collected probably hundreds of coins now. Why this obsession? 
Marco Cassani (M) / 16 March 2020 at 4:45PM:
Hundreds? Haha, I presented more than a couple thousand coins in my last solo exhibition "C" at Honold Fine Art hosted by Tony Raka in Bali in 2018. 
Regarding the "trade" you mentioned in the question, although I understand well how it operates, I was honestly never interested in it. Perhaps it has to do with spending my childhood in the context of creation and development. I grew up in a family of industrialists. In 1956, during the Italian financial boom of the post-Second World War period, my grandfather founded TecnoValvo, an artisan industrial factory in Milan. Later the company was passed on to my father, as often happens in Italian family enterprises. The factory created industrial products by merging art, design and engineering. The products were manufactured using exotic materials for the construction of chemical and petrochemical plants.
My interest in applying found coins as material in my artwork, particularly their relationship with the concept of power and the transformation of value, began when I moved from Milan in 2009 to live with my family in Bali. I was surprised to find out how the value of the currency in coins is transformed into something both physical and spiritual by Balinese society. This is contrasted against the trend of contemporary society, where money is becoming more and more invisible after taking on the form of digital currencies. The coin changes its value according to the uses ascribed to it by the Balinese within their daily rituals: as an offering to the gods, as an object to express a wish, or as a decorative element in traditional and sometimes ritual sculptures. An example of this is the circulation of "Pis Bolong", a Balinese word referring to ancient Chinese coins with holes in the center. Even if these coins are no longer used as currency, they continue to circulate as "object-money": replicas of old Chinese coins, sold at shops for the purpose of offerings and gifts. Their value is based on the validity of a common agreement and a collective belief. 
Even if these coins are no longer used as currency, they continue to circulate as "object-money".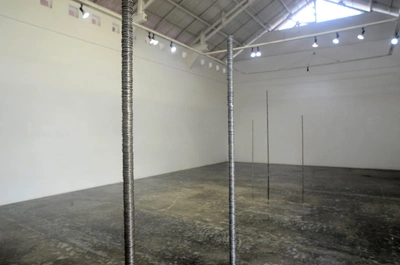 This, in my opinion, also happens in art. "The credibility of an artwork, like that of money, depends on collective agreement. People must have agreed in advance that it expresses a particular value", as Isabelle Graw wrote in her book entitled High Price [02], referring to the artwork 192 One-Dollar Bills (1962) by Andy Warhol. For this reason, I am fascinated by those found coins that I collect from the springs and fountains. They are a manifestation of the transformation of value: a combination of economic value and spiritual value, attributed by the people who throw them into the water as an expression of their wishes and desires. These two "immaterial" values are projected onto physical objects, coins made of metal, used individually or in combination with each other. 
This reminds me of the fantastic Bronzes of Riace[03], which are exhibited at the National Museum of Magna Grecia in the Southern Italian city of Reggio Calabria. They are made of brass, the same material as some coins found from various Balinese sacred springs, which I recently recycled and used as a material for an "intervention" (in form of a collaboration) in the artwork titled Trust , an iron gate from Fendry Ekel's Gate series. For this collaboration I melted the collected bronze coins into the shape of letters, forming the phrase "In God We Trust" in a specifically developed type font by Ekel that was later inserted in the upper section of the gate piece. The artwork is currently displayed as part of the group show "We Move Amongst Ghosts" at the Museum Fine Arts and Ceramics in Jakarta. The use of found coins as sources for "animated" metal material have become an invisible signature in my artworks.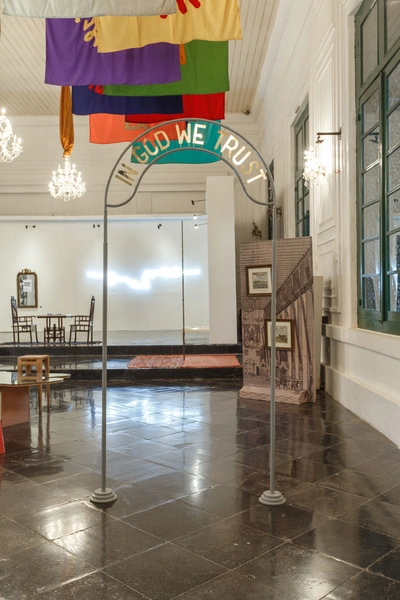 C / 1 April 2020 at 12:44PM: 
So much has happened in the past 2 weeks. The economy is definitely in turmoil. I hope you're keeping well and staying safe at home. You mentioned the iconic text "In God We Trust", which you appropriated for your collaboration with Fendry Ekel. It's ironic that this statement is embedded in the western conception of money — imprinted on the US dollar. There is surely no place for God (or the supernatural) in Wall Street, the halls of late capitalism. But in Bali, there is an additional layer of the spiritual in the Balinese handling of money. Do your own works incorporate the Pis Bolong? What other rituals do the Balinese employ with these coins?
M / 1 May 2020 at 4:42AM:
Yes, only in some of my artworks, such as the series Acquasantiera (2018) and Still Life (2019-ongoing), there are some Pis Bolong I melted together with other coins found in the Balinese sacred fountains. It is never my intention to use them literally in my art. Besides, their particular shape of having a hole in the centre intrigued and inspired me to add a hole as well in all my found coins to get rid of their monetary value and "neutralise" them at the same time. Fortunately, the same holes in the coins led me to the idea to pile all of them like towers for my Fountain series (2014-ongoing). As I mentioned before, these coins are mainly used as offerings to the gods and in main Balinese rituals, such as weddings, funerals, blessings for new houses, etc. The coins are also used to create magic dolls. The Balinese believe that the dolls made from the coins, held together by cotton thread, guarantee that all the organs and body parts of the deceased will be in the right place during their reincarnation. They believe these coins contain a power, which is transmitted to the coin through rerajahan (Balinese sacred design or calligraphy) after rituals performed by some priests.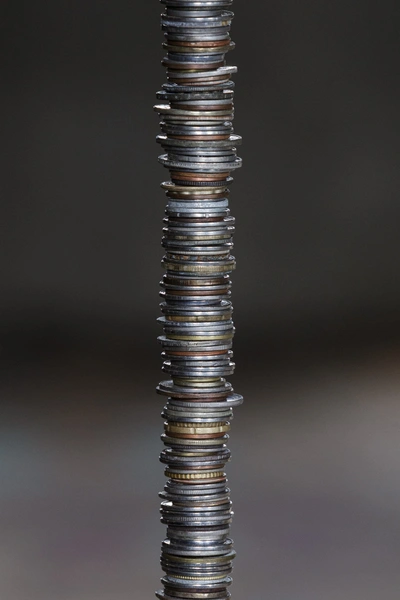 C / 7 May 2020 at 8:01PM:
Can you also speak more about the forms of your coin sculptures? Usually we see them in thin, tall stacks, one or two at a time. Do you arrange the coins to become like totems, because of their supposed sacred power? Arranged in an unbroken, upright line, they do acquire a kind of symbolic transcendence. 
M / 17 May 2020 at 11:17AM: 
I am happy that you mentioned it. Thanks to the holes in the coins, I wanted them standing exactly like totems. The act recalls something basic and primitive, but at the same time it creates a sense of contemplation and spiritual resonance.
I remember when I was working in 2015 with the first two columns, Inseparable Two , I had an immediate association with Brancusi's Endless Column . In addition to having a relationship with the divine, I believe that my works deal with the concept of certain realism and question limitations.
I'm always intrigued by the human condition and also by the fact that we spend our existence exerting a great amount of effort to make parts of our life stand upright: our own bodies, the houses we construct or the children we raise. If we achieve these tasks, we feel a sense of gratification.
We spend our existence exerting a great amount of effort to make parts of our life stand upright: our own bodies, the houses we construct or the children we raise.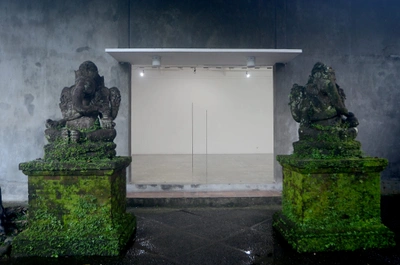 C / 5 June 2020 at 3:25PM:
Perhaps this is the duality we all face, between the everyday and the divine.   
Speaking of the construction of houses rooted in the real, you also work within the collaborative context of this joglo-gallery, called Kayu Lucie Fontaine — joglo referring to the traditional Javanese wood house and kayu meaning wood. It is located in a special park called Rumah Topeng dan Wayang Setiadarma (House of Masks and Puppets). There, many objects that have spiritual resonance are gathered in an extensive collection owned by an Indonesian Chinese businessman. I remember feeling a chill when I walked with you past the aisles of masks, knowing that these things still had active auras even if they were no longer used in daily rituals.   
Kayu Lucie Fontaine is erected somewhere along or upon a bridge between these poles: the everyday and the divine. I remember another one of your pieces featured a metal table with one of the legs resting on several of these coins. Can you speak about this piece, how it relates to your series of Fountains and how it was curated within that exhibition, "The Great Archipelago"?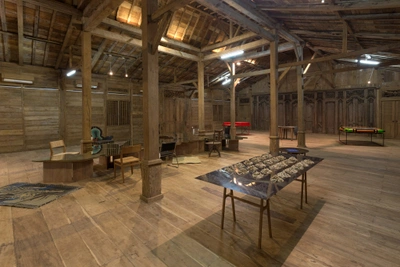 M / 17 June 2020 at 7:09PM
The artwork that you are referring to is Acquasantiera . I took the title from the name of the holy water basin, which usually is placed at the entrance of any Catholic church.
It consists of a mirror, composed of a polished aluminum plate made from melted Indonesian coins which I collected from a sacred spring and fountain in Bali, that had previously been thrown into the water by locals and visitors in order to make an offering to the gods and cast a wish. The silhouette of the tabletop follows the shape of the inner floor layout of that particular fountain.
When you visited me in Bali and saw the artwork, there were some coins under one of the legs of the sculpture. These coins were not part of the artwork; I put them there temporarily for a technical reason, to balance the artwork because the wooden floor of the exhibition space wasn't level.
While I was executing the piece, I was also producing Michelangelo Pistoletto's large size mirror installation titled Il Grande Arcipelago for his participation in the show "The Great Archipelago", which I curated at Kayu Lucie Fontaine in 2018. The artists in the show were invited to present artworks as tables, which were then also used to host guests during the first Rebirth Forum, "Sustainability Through Differences" at the same location.
In a way, the work Acquasantiera can be considered as a dialogue with Michelangelo Pistoletto's mirror table and it deals with the idea of transformation and purification.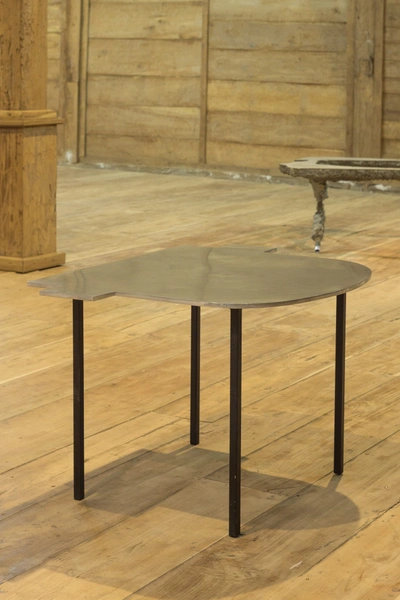 C / 26 June 2020 at 12:19AM
Honestly, Acquasantiera is my favourite work that you've made. The more I consider your oeuvre, the more I wonder whether the economy, something we know as "Capitalism" with a capital C, emerges not just as something structural, systemic, material or ideological, but also something in the air, in the glimmer of a mirror, in the rubbing of a shiny surface to produce a wish. Could it be something uncanny, something our spirits emit, or that our silhouettes radiate? (I hope I am making sense…) If we think of capitalism in this way, it makes sense to see how old a system it is, going back to the beginning of civilisation, and how it's been so deeply embedded and embodied in humans. What do you think? 
M / 17 July 2020 at 6:51PM
Nice thought on your part there, coming from the observation of my work…
The capital C that you mention for capitalism recalls my solo exhibition that I mentioned earlier. The title of that exhibition was 'C', which stands for 'Column', 'Currency', 'Coin' and 'Credibility', all terms tightly connected through the concept of the creation of value . Capitalism was not one of them, but I can imagine people easily make connections with that.
Somehow capitalism is excluded from my oeuvre by the fact that the coins — found in Balinese sacred fountains and processed in my work — have been neutralized in terms of their monetary value, by perforating a hole in every one of them (in the case of my "Fountain" series) or by melting them into a metal substance in the "Acquasantiera" series.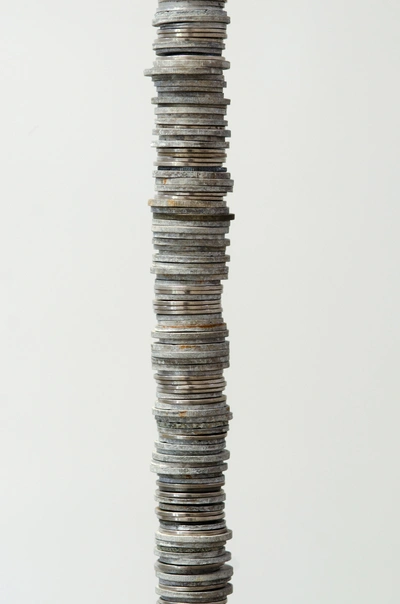 However, I think there is some truth to what you say, especially considering the dematerialisation of monetary units and labour (or other things for that matter) based on "trust" in our contemporary economic system and in times of digitalisation.
Along with that continuing dematerialisation goes a different kind of concept of economy: operating on a spiritual level, based on belief . It forms the primary motivation in the human desire of making; of creation as a way of reflection in order to come close to the essence of life.
If we consider the economy as a system with the sole purpose of distributing the earth's resources amongst all humanity in a sustainable way, then we can also consider energy and transformation as forms of currency. Energy refers to the spirit (the energy of the body and soul) that generates the belief to create something extraordinary — something which is able to neutralise the numbers of capitalism. Perhaps that's what you mean by "something mysterious, something our spirits emit."
On a certain level, I think artworks can somehow operate like currency… but never the other way around.
01

.

Marco Cassani, "From Biella to Indonesia: The Impact of the Third Paradise in Bali in the Name of Art and Sustainability", Cittadellarte Journal, 11 December 2019, https://www.chicagomanualofstyle.org/tools_citationguide/citation-guide-1.html#cg-journal.

02

.

Isabelle Graw, "High Price: Art Between the Market and Celebrity Culture" (Berlin: Sternberg Press, 2009), 184.

03

.

Also called the Riace Warriors, these bronze sculptures were created by the Greeks in 460-450 BC, and were discovered in the sea near Riace, Italy.