Speculating in Dark Times
Curator Sanne Oorthuizen offers a new introduction to Speculating in Dark Times, an essay written with artist Natasha Tontey which dwells upon the possibilities of the Dark Web.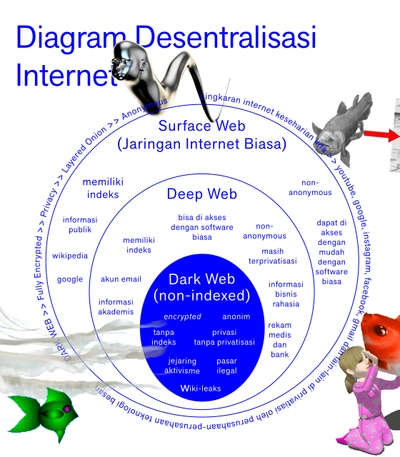 "0.8 Demon, ghost, fiend, terror, dreams and ⁠⁠fear are synonyms of future. ⁠We fear the unknown. ⁠The future is unknown. ⁠Why do we fear the unknown? ⁠Why do we fear a place called hell as well ⁠as the repression of chasing nirvana? ⁠Am I forever wrong? ⁠Is that all we have? ⁠What if I said, that in our present ⁠condition, fear is fabricated ⁠by the one who has power? ⁠Fiction and speculation are the ⁠antidote of fearfulness."
— From The Manifesto of Tactile and Fanciful Tactics on how to build a Speculative Future through 1.0 list of an alternative and plausible cosmic solution (2018-2019) by Natasha Tontey

[1]
This is a new and updated introduction for SO-FAR's republication of Speculating in Dark Times , an essay co-written by artist Natasha Tontey and myself over the course of one year between August 2018 and July 2019[2]. It was published in the fourth issue of the online academic journal Mahkuscript , entitled WHATEVER SPECULATION .
Invited to write an essay related to ALMANAK , Natasha Tontey's solo exhibition at Cemeti – Institute for Art and Society in Yogyakarta in 2018, Natasha and I decided to join forces, and to use the opportunity to think, research and speculate together. At that time, Natasha was interested in the Dark Web[3] (where she recently had a work "on show"![4]) and we were both excited to try our hands at combining fiction and theory. This contribution, consisting of text, images, fiction, borrowed materials, links (they're everywhere!), takes Natasha's The Manifesto of Tactile and Fanciful Tactics , in particular "Point 0.8" (see above epigraph), as its incantation and guide to explore the Dark Web and speculate about post-capitalist futures.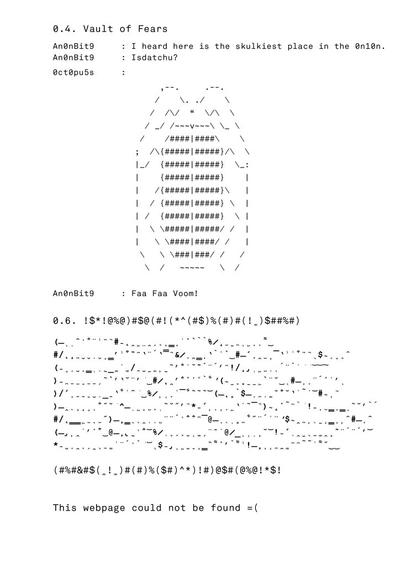 Reading the text now, a year later, in the midst of a global pandemic, I'm coming to it from a very different place and mentality. How do we relate to the unknown mentioned in "Point 0.8", which at the moment shows itself, or rather doesn't show itself, in the shape of a virus that is trying to survive on a planet that is being destroyed? While the COVID-19 pandemic has exposed injustices and inequalities that existed long before the outbreak took hold and amplified movements against institutional racism worldwide, it has simultaneously provided a perfect storm for an increase in extraction and exploitation. In Indonesia, where Natasha and I are based, COVID-19 travel restrictions have created "a spike in illegal deforestation"[5]. This is one of the major contributing factors to the climate crisis, causing the displacement and dispossession of many indigenous communities, forcing a terra nullius [6] into existence for capitalist speculation to thrive in the form of large-scale monoculture plantations like palm oil. Meanwhile, due to the pandemic, homeless and displaced people around the world are finding themselves in even more precarious situations than before, as the lack of access to basic needs such as water, food, shelter and healthcare, a lack of space, as well as the closing of borders, has become even more urgent[7].
A deep dive into the Dark Web doesn't seem like such a bad idea. We are in dire need of alternative, post-capitalist futures that are less dark.
In the digital world, where the essay Speculating in Dark Times floats, the pandemic has given surveillance capitalists a field day. As many of us have had to move our work, social lives and schooling online, there has been a tremendous surge in the use of digital meeting platforms like Zoom, Google Classroom or Houseparty. These are corporations that collect and sell our user data for advertising purposes and product development. Combine this with the rise of disease-tracking devices that will surely be used to further track, exploit and capitalise on our digital selves, and the Hungry Oracle conjured up in the essay continues to eat its way into obesity.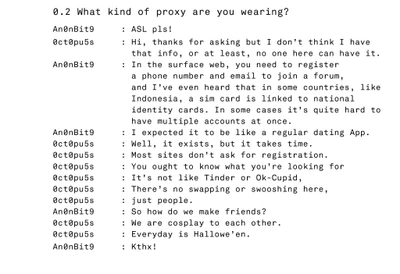 A deep dive into the Dark Web doesn't seem like such a bad idea. We are in dire need of alternative, post-capitalist futures that are less dark. By "less dark", I don't mean "more bright", nor "a happy ending". I mean futures that aren't rooted in the conditions of the present, but instead, futures that actively resist the systemic exploitation and inequality that continues to be (re)produced by those in power. A future where a multitude made up of not only humans, but of all living beings, can have equal access to resources, services, healthcare, infrastructures and their own means of subsistence.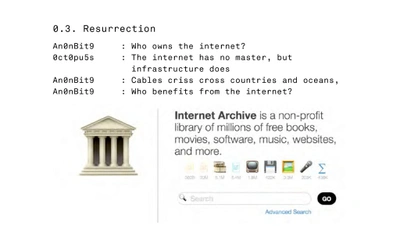 The essay Speculating in Dark Times meanders through various speculations, putting Natasha Tontey's Manifesto 's imperative that "fiction and speculation are the antidote of fearfulness" to the test. I keep thinking about the two iceberg images that served as a guide while we wrote the essay. The first is a representation of the diverse economy by J. K. Gibson-Graham[8]; the second shows the different dimensions of the Internet. In my mind, these two icebergs merge into one image, reminding me of adventurers that climb Mount Everest. If and when they reach the top, they stand in a long queue, a flag held between their frostbitten fingers, as one after the other occupies the same "winning" spot, adjusting jackets and hats, taking a breath of shallow air, and smiling for the camera: picture-postcard perfection of their lone selves on top of the world. As they relish their own endurance and the beauty of the world they have just conquered, they don't realise or care that the very fact they are standing there is causing its — and their own — very destruction[9]. Although it might be tempting to follow a warped notion of "success" to the top (embodied capitalist values are hard to shake), I'd like to ask you to join us in sliding down the icebergs' windy slopes to imagine other futures.
Sanne Oorthuizen

Yogyakarta, September 2020
-
Download the full PDF text here .
'Speculating in Dark Times' was previously published on MaHKUscript. Journal of Fine Art Research.[10]
1

.

Natasha Tontey, The Manifesto of Tactile and Fanciful Tactics on how to build a Speculative Future, artwork (2018-2019). Access the work here: https://docs.google.com/document/d/13UMHOU54GcOraEjGrwljm2h5OJFomihlEfLIFKh98LQ/edit

2

.

Sanne Oorthuizen and Natasha Tontey, Speculating in Dark Times, MaHKUscript, Journal of Fine Art Research, 3(1), 2019, 9, https://www.mahkuscript.com/article/10.5334/mjfar.56/

3

.

"The dark web is a part of the internet that isn't indexed by search engines." See Darren Guccione, What is the dark web? How to access it and what you'd find, CSO, March 5, 2020, https://www.csoonline.com/article/3249765/what-is-the-dark-web-how-to-access-it-and-what-youll-find.html

4

.

Natasha Tontey, photo about NeoFormal.Onion, Instagram, August 11, 2020, https://www.instagram.com/p/CDwFD1-giBF/

5

.

Chloé Farand, Forest destruction spiked in Indonesia during coronavirus lockdown. Climate Home News, August 18, 2020, http://climatechangenews.com/2020/08/18/forest-destruction-spiked-indonesia-coronavirus-lockdown/

6

.

Terra nullius is a Latin expression which means "nobody's land".

7

.

Katy Fallon and Harriet Grant, Lesbos coronavirus case sparks fears for refugee camp, The Guardian, March 11, 2020, http://www.theguardian.com/global-development/2020/mar/11/lesbos-coronavirus-case-sparks-fears-for-refugee-camp-moria

8

.

J. K. Gibson-Graham is the shared authorial voice of Julie Graham and Katherine Gibson, two feminist economic geographers. Professor Katherine Gibson, Institute for Culture and Society, https://www.westernsydney.edu.au/ics/people/researchers/katherine_gibson

9

.

Read more about the ecological cost devastation of summiting Everest here: Pablo Figueroa, Vanity, Pollution and Death on Mt. Everest, Our World, July 15, 2013. https://ourworld.unu.edu/en/vanity-pollution-and-death-on-mt-everest.

10

.

Oorthuizen, S. and Tontey, N., 2019. Speculating in Dark Times. MaHKUscript. Journal of Fine Art Research, 3(1), p.9. DOI: http://doi.org/10.5334/mjfar.56