Seen a Lung Cloth
Poet Adam Staley Groves responds in ekphrasis to artworks by Ryo Matsuoka, an artist who creates with a sewing machine.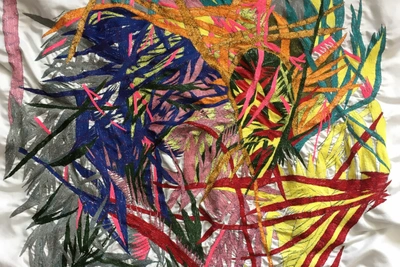 When this lung cloth
Was made, it made
Its own question, as afterfact.
Above and below; won't determine.
By spider
Underlung.
We know its feat, less features
Forget coordinates
Grafted by our stars, the world's desire, its geometral dementia
Only
Lithe fingeringing
Upon a cloudsheet.
The Cloud etches this bent symmetry
The Cloud etches the clouds appearing
. . .
By the way,
Warmth has no hue.
In another way
Just as a fist takes, from time to time, the form of the Cloud.
Just as
A heart aspires, to a cloud
Just fist
Like a fist, it presses the heart's spasm
Into the, the world
Just as the heart's four chambers
There are four fingers
And one abductor pollicis , the heal of the hand
This is a pivot from which
soft spasms of the heart
Tell stories of an underlung spider.
Forget the palm's geometry dementia
Hearing hueless moans
Feeling once wet tones
Flung voice, drying in sky
And wont reach
The palm of the sky
A heart vapour.
. . .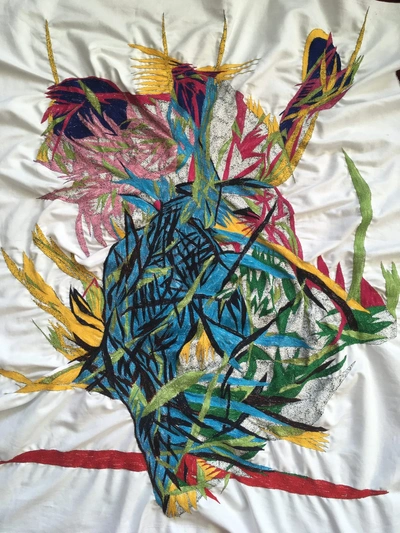 He was told
Cardiomancy made
From its electric oven
A bird.
Impaled by grass
Burnt by seastreams.
The terminus was not a finger,
More like a pen, with a foot.
To the poet
Art is ever only form
Which has representation
As it.
And says that poet
Please be pieces.
Just as the hand guides the hand
Just as the foot's pierced by a terminus
The seaflamed bird shatters upon turf
The machine dreams well
Just the, the image on cloth
. . .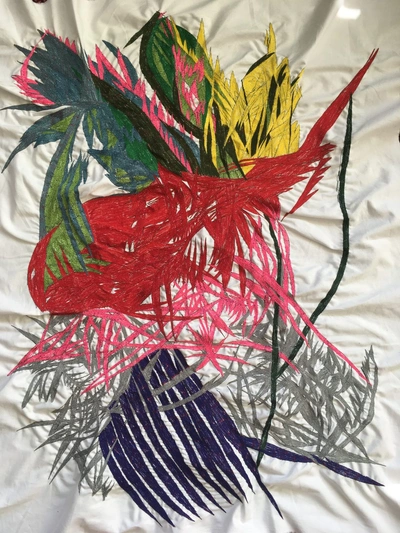 Did you know
We won't need separation
Or recollection.
Arachne still hangs, but not still.
The poems must remain poems
The machine is still and that, is close enough.