Source Material: Vista of the Future-Past
Curator Deborah Lim shares observations drawn from Petros Moris' art, beginning with his emotive response to Dictée by Theresa Hak Kyung Cha and moving into considerations of crossovers, memory and narratives.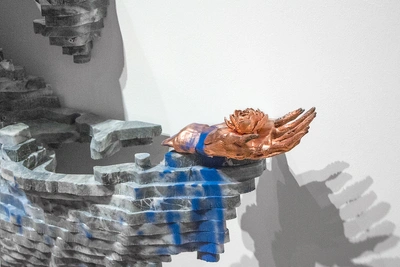 Lauded as the most intelligent of beings, humans are a montage of manifold histories and visions of the unknown. Our knowledge is buffeted by Internet access, archives, stories and myths; compression of time and space is now a given. We have arrived at the seat of the 21st Century, of the era that is both current and common.
From the vantage point of the Present, the vista of the Past manifests romantically in The Architect's Dream [01] — an 1840 painting of Arcadia [02] by Thomas Cole [03] where the architectural canon (spotlighting Gothic, Grecian, Roman designs) recedes from the foreground or " parlour curtain of the present… to the horizon of antiquity" [04]. The tableau of the past is further mirrored in the night sky, with lights of galaxies entering our vision upon delay, having left their origins several thousand million years ago. In contrast, light emanating from a present event ripples outwards in a widening circle, which Stephen Hawking charts as the "future light cone of the event" [05]. Light expands to form "a (three-dimensional) cone in (four-dimensional) space-time" [06] — which is illustrated in a diagram symbolic of possibility and what lies beyond.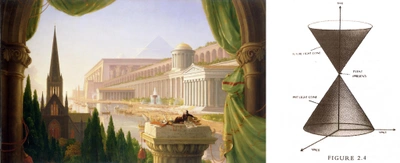 For us, as beings caught between future-past, we recognise that there are universal qualities to our experiences — a collective memory. Yet, we should be aware that the sources our knowledge stems from are never truly neutral and there is continuous room for research and accumulation of perspectives. It is source material that structures our personal narratives, and this is the overarching basis with which one can approach the art of Petros Moris.
Rather than a linear or chronological unfolding, Moris' practice is explored through a series of keywords and a conversation that is kept, where possible, organic. A thread that emerges in both the works and Moris' sources is the notion of layers: experiences across time, the surface of the earth, how phrases and texts are presented and read, compositions and assembly, effects and distortion, the history of materials and mediums-upon-mediums (think graffiti).
Below are four observations drawn from Moris' art, beginning with his emotive response to Dictée  by Theresa Hak Kyung Cha [07] and moving into considerations of Crossovers, Memory and Narratives that deal strongly with sources and material. Naturally, still further tangents can (and should) be extracted and discussed; the artist himself branches into rich analyses of diverse topics, not being content just with a handful. In the spirit of John Berger and his final statement in Ways of Seeing : " To be continued by the reader…" [08].
1. Dictée (1982)
A gathering of texts by the late avant-garde artist and novelist Theresa Hak Kyung Cha drew forth a response from Moris, giving rise to a body of work titled Nature of Translation (to Theresa) , commissioned for the Singapore Biennale 2019 [09]. In what Moris described as a "special encounter" [10] with Dictée , he experienced a complex feeling of both closeness and distance at the same time. The book itself was a conceptual web of narratives and literary styles, invoking names of female figures and their associations: Hyung Soon Huo, mother [11]; Jeanne d'Arc, martyr [12]; Yu Guan Soon, activist [13].
Ever-present as structures that shaped the book were the nine Greek Muses [14] —  daughters of Zeus and Mnemosyne, the goddess of memory —  [15] never distanced from power and time. Where one would position the preface, Hak listed the Muses paired with their domains: Clio with History, Polymnia with Sacred Poetry [16]. In each area, they lay claim to both invention and protection, and have stirred the creativity of artists for centuries. As Hesiod [17] wrote in his poem, "Theogony": "18. Therein lay connections with memory, culture, identity, civilisation; Moris' works evoke considerations of these and more.
Within Dictée , Hak wrote about words in the throes of time, and a lack of longevity as text eventually dissolves to its base remnants:
Words cast each by each to weather        avowed indisputably, to time.        If it should impress, make fossil trace of word, residue of word, stand as a ruin stands, simply, as mark having relinquished itself to time to distance [19]
This curtailing of speech was extended to the author herself, where, in a twist of fate, Hak met with a tragic end [20] — cruel irony considering the title, Dictée , which alludes to speaking for another to inscribe words. The book was published posthumously, and as Moris navigated the complexity of reading an individual who could not respond in real time, the idea of translation took on new significance.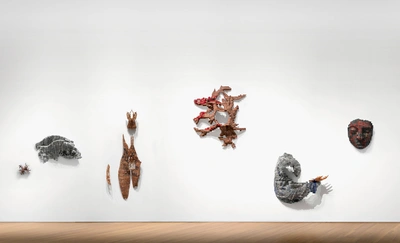 The book's emotional characteristics and delicate nature can be perceived as an antithesis to the austere marble surfaces of Moris' works. To counter this, connections were drawn between composition and content to derive a sense of familiarity. Moris spoke of the unique adaptation of Greek mythology in Dictée and his view of its relation to the Homeric epic poem [21]. Observing his works' final forms, one notices their organic qualities and curvatures before the recognition that solid marble is their foundation. Suffused with intimacy, the features (eyes, hands) and natural phenomena (flowers, insects) prompts further examination. What is evident is a thorough and considered process: finely-wrought details mingling with spray can markings, unlikely material combinations occupying comfortable and convincing positions. The parts themselves seem animated and sentient, able to rise from wall surfaces and gain motion.
The parts themselves seem animated and sentient, able to rise from wall surfaces and gain motion.
Through close reading, acknowledgment and respect for suppressed voices like Hak and Homer, Moris guided the lives of himself and Hak into conversation, demonstrating a hybrid manner of working between genres with dedicated response, and responsibility.
2. Crossovers
In conversation, Moris remarked that he was as intrigued by perceptions of his work from those outside the sphere of arts, as by people within. While hinting at his pursuit of research across genres, this comment also revealed an openness to collaboration — a mode which began in his days at art school as a means of engaging with others.

KERNELwas founded in 2009 as an art collective comprising Moris, Pegy Zali and Theodoros Giannakis [22]. In 2010, their project Full/Operational/Toolbox tackled practices which examined artworks as " hybrid objects" [23], sites of possibility and process. In 2011, Word of Mouth featured in the 3rd Athens Biennale, and invited other collectives and artists to respond to cultural output and creative gestures, thus addressing production, distribution and experience [24]. The outcome was listed as the result of "a network of collaborations" [25]. Interviewed by BOMB Magazine, KERNEL emphasised that the copious amount of dialogues involved added a "special texture" [26] to their art, with diverse backgrounds of participants evolving works and their narratives.
As a form of socialising, Moris related collaboration to ideas of artistic production. Within a group, different opinions and ideologies surface rather than a single voice that is set in stone. This provides a direct challenge to contemporary art and its preference for the superstar individual, brand name or coveted signature.
At the other end of the spectrum, Internet culture allows for anonymity, distribution and collective creation. Open source software such as the Linux operating system [27] was conceived and continues to be maintained by more than 15,000 programmers worldwide. The concept dates back to 1983, when free software activist and programmer Richard Stallman championed the idea of source code that was free for use, modification and, importantly, sharing with others [28]. Linux is an example of a "kernel" (an apt name for an art collective) — the basis of an operating system, the main node between software and hardware that translates clicks or typed keys into commands.

Commons (1,2,3,4,5) (2013) [29] by Moris involved compositions of mosaics based off publicly available vector graphics material. This series was methodically expanded in batches, with titles in numbered sequences increasing up to Commons 18  (2014) [30]. The ethos of craftsmanship involved in the mosaics drew Moris closer to home, where his parents themselves are mosaic makers and involved with the restoration and documentation of artefacts in archaeological excavations [31]. Dating from the 5th Century BC, Greek figurative mosaics had always been an entrenched tradition and applied art extending to architecture and design [32]. Linked closely to religion and the enforcement of certain ideals, mosaic studios worked collectively towards a common aim. No artisan was really singled out for recognition, although nuances in interpretations and styles could be slipped in. This raised the question of where one's signature began or ended. It is curious that the notion of partnership and creativity can relate both to traditional mosaic culture and open source communities, reflecting the construction of civilisations in partnership with others, across time.
3. Memory
Moris addresses the allure of ancient Greek history and culture extending to someone like himself, who spent a good part of his formative years trying to escape the tradition of classical sculpture, workshops and apprenticeships. Monuments of former temples and gathering grounds are replete and inescapable, with ruins in varied stages of restoration described by Moris to be "as frequent as graffiti", dotted across the urban landscapes of Greece. They are sacred sites rooted in mythology and idealised architectural expressions, symbols of ancient civilisation which make for strange visions in a modern city such as Athens.
Since Maurice Halbwachs crystallised collective memory in 1992 [33], the notion of it as a social construct has been frequently floated, but more integral is the use of this accumulated knowledge to influence contemporary culture. The ethical considerations of "official" versions of history, conveyed through preservation of monuments from selected eras, undoubtedly influence collective memory, leaving much to be desired by way of all-inclusive contexts for contemporary culture. Clifford Geertz defined culture as "the ensemble of stories we tell ourselves about ourselves" [34]. While residues of ancient civilisations emerging from the earth allow for an encounter with stories in physical form, Moris' works bridge older and newer notions of culture and experience.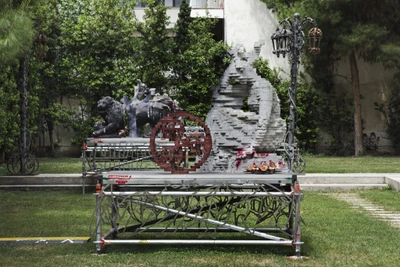 Layered marble sculptures atop scaffolding and platforms in The Gift of Automation  (2019) series are described as "anti-monuments" [35]. Marble as a medium is commonplace in Greece, and the veining and changes in patina are results of impurities present in the oldest layers of the earth's crust. Yet, the compositions of Moris' installations are also realised through 3D printing and the digital, embellished with graffiti ,  stickers, " vector graphics and freeware fonts" [36]. What emerges is a remix, deterioration paired with the potential of creation, future-past hybrids in a single view.
What emerges is a remix, deterioration paired with the potential of creation, future-past hybrids in a single view.
4. Narrative
Moris' practice is ultimately contingent on narratives rather than cycles, combinations instead of evolutions. The works display coherence and continuity, with titles, mediums and compositions resurfacing over time. However, narratives are constructed through each series in an open-ended and abstract manner, without fixed beginnings or ends. There are, invariably, points that intersect, and these relate to Moris' personal history or hold specific meanings to him. The narrative only exists by virtue of the fact that his works are shared and received by a public. Even if the works are not interactive in themselves, transmission to, and reception by, audiences prolongs the lifespan of these stories.

Ending off with Moris' most recent body of works, Future Bestiary (2020) [37], we see a suspension of material with artworks in a process of transformation, occupying in-between states. The staggered marble structures relate to assembly and modularity, framing the organic body in a unique and raw manner. They enforce the basic ideas behind digital fabrication, such as the stacking of layers to create a final product (as in the case of 3D printing), or the buildup of pixels that form computer images and graphics. Figures are derived from photogrammetric scans, the act of taking a myriad photographs and composing them into digital surfaces. By virtue of this method, distortions are created — objects begin to resemble the ghosts of their structures, rather than perfect scientific specimens.
Relating to the ancient, the "daemonic beings and mythical animals" [38] of the series were said to have resided in the Athenian cemetery of Kerameikos [39], serving as "protectors of life and death" [40]. Superimposed onto these bodies are digital imagery and texts that convey contemporary anxieties of technological paranoia, fading natural ecosystems and sociopolitical change. Once again, notions of time are compressed and the sculptures convey their content differently when viewed in physical and video-projection forms. One could muse upon the idea of the underground — the buried, layers of earth and their symbolisms, myths and superstitions and man's unending drive towards progress through labour and technology (which may or may not be self-destructive, taking both physical and emotional tolls on us). Extracts of texts are paired with Future Bestiary (Kerameikos) as part of Moris' residency with the Delfina Foundation in London [41], with a perceptive quote by Li Chunfeng [42] and Yuan Tiangang [43] who wrote 推背图 (Tui Bei Tu) , a book from the Tang Dynasty said to predict the future of China [44]: "the natural course of the human race shall be broken…Pushing the man's back, forcing him to rest, is actually better" [45].
What can we make of an artist, who manages to unveil such complexity in a single installation, sculpture or digital rendering? We observe an inquisitive mind, one that constantly wanders in search of ideas. There is a certain freedom or resistance of strategy, which allows for misinterpretations and open-ended responses. And, in essence, there is an attention to process rather than a polished and seamless result — a glitching aesthetic that manifests in the shells of structures and fragmented memories. Projections reaching into and spanning across space, extracting from, and condensing the centuries of time that we know, and our layers of lived experience. With a final rejoinder from Susan Sontag, "the very nature of thinking is but " [46]. As we approach histories, knowledge, thought and culture, we bear in mind that for any perspective we take or the sides that we see, there are a multitude of other interpretations and narratives to be parsed open and explored. The voyage doesn't end until our beings, words and art, cease to exist.
01

.

Joyce Beckenstein, "The Painter Thomas Cole, and His Architectural Ambitions," The New York Times, May 27, 2016. https://www.nytimes.com/2016/05/29/nyregion/the-painter-thomas-cole-and-his-architectural-ambitions.html

02

.

Arcadia is a "mountainous region of the central Peloponnese of ancient Greece. The pastoral character of Arcadian life together with its isolation are reflected in the fact that it is represented as a paradise in Greek and Roman bucolic poetry and in the literature of the Renaissance." The Editors of Encyclopaedia Britannica, "Arcadia," Encyclopædia Britannica, August 11, 2018. https://www.britannica.com/place/Arcadia-region-Greece

03

.

Thomas Cole was "an English émigré who is considered to be a founder of the Hudson River School, America's first indigenous art movement". Joyce Beckenstein.

04

.

Edward Hollis, The Secret Lives of Buildings: From the Ruins of the Parthenon to the Vegas Strip in Thirteen Stories. (New York: Picador, 2010), 3.

05

.

Stephen Hawking, A Brief History of Time: From the Big Bang to Black Holes (New York: Bantam Books, 2016), 29-31.

06

.

Stephen Hawking, 29.

07

.

Theresa Hak Kyung Cha, Dictée (New York: Tanam Press, 1982).

08

.

John Berger, Ways of Seeing (London: Penguin, 2008), 166.

09

.

Petros Moris, "Nature of Translation (to Theresa)," Petrosmoris.com, undated. http://petrosmoris.com/nature-of-translation-to-theresa/

10

.

This was discussed in my personal interview with the artist.

11

.

Hyung Soon Huo was Cha's mother, "a Korean born in Manchuria to first-generation Korean exiles". "Dictée by Theresa Hak Kyung Cha," University of California Press, undated. https://www.ucpress.edu/book/9780520261297/dictee

12

.

Jeanne d'Arc, otherwise known as Joan of Arc, was "national heroine of France, a peasant girl who, believing that she was acting under divine guidance, led the French army in a momentous victory at Orléans that repulsed an English attempt to conquer France during the Hundred Years' War. Captured a year afterward, Joan was burned to death by the English and their French collaborators as a heretic." Malcolm G.A. Vale and Yvonne Lanhers, "St. Joan of Arc," Encyclopædia Britannica, May 26, 2020. https://www.britannica.com/biography/Saint-Joan-of-Arc

13

.

Yu Guan Soon, also known as Yu Gwan-sun and Ryu Gwan-sun, was a Korean independence activist who lived from 1902 to 1920. Inyoung Kang, "Overlooked No More: Ryu Gwan-sun, a Korean Independence Activist Who Defied Japanese Rule," The New York Times, March 28, 2018. https://www.nytimes.com/2018/03/28/obituaries/overlooked-yu-gwan-sun.html

14

.

The Editors of Encyclopaedia Britannica, "Muse," Encyclopædia Britannica, March 26, 2020. https://www.britannica.com/topic/Muse-Greek-mythology

15

.

The Editors of Encyclopaedia Britannica, "Mnemosyne," Encyclopædia Britannica, November 8, 2007. https://www.britannica.com/topic/Mnemosyne

16

.

The Editors of Encyclopaedia Britannica, "Mnemosyne."

17

.

Hesiod, Hesiod: The Works and Days, Theogony, the Shield of Herakles¸trans. Richmond Lattimore (Ann Arbor, MI: University of Michigan Press, 1991).

18

.

Hesiod, 12.

19

.

Theresa Hak Kyung Cha, 177.

20

.

"Homicide, Homelessness & Winged Pigs," Village Voice, February 16, 1988, 107. http://www.robertatkins.net/beta/witness/artists/moves/tributes.html

21

.

Homer is the presumed author of epic poems the Iliad and the Odyssey, major ancient Greek poems. An epic poem is a long, narrative work of poetry that typically describes the heroic adventures of ancient characters. Atsuhiko Yoshida, "Epic," Encyclopædia Britannica, October 18, 2019. https://www.britannica.com/art/epic

22

.

Louis Doulas, "KERNEL," BOMB Magazine, April 3, 2014. https://bombmagazine.org/articles/kernel/

23

.

"KERNEL, Full/Operational/Toolbox," Petrosmoris.com, undated. http://petrosmoris.com/kernel-fulloperationaltoolbox/ See also "Full/Operational/Toolbox," KERNEL, undated. https://kerneloperations.net/fulloperationaltoolbox/

24

.

"Word of Mouth," KERNEL, undated. https://kerneloperations.net/word-of-mouth/

25

.

"Word of Mouth."

26

.

Louis Doulas.

27

.

"What Is Linux," Linux.org, July 2, 2013. https://www.linux.org/threads/what-is-linux.4106/

28

.

Klint Finley, "The WIRED Guide to Open Source Software," WIRED, April 24, 2019. https://www.wired.com/story/wired-guide-open-source-software/ See also Richard Matthew Stallman, "Biography," Richard Stallman's personal site, undated. https://stallman.org/biographies.html

29

.

Petros Moris, Commons (1,2,3,4,5)," Petrosmoris.com, undated. http://petrosmoris.com/commons-1-2-3-4-5/

30

.

"Petros Moris, Commons 16, 17, 18," Petrosmoris.com, undated. http://petrosmoris.com/commons-16-17-18-commons-16-17-18-phantasma/

31

.

Alexander Strecker, "Greece's Gifts — and Burdens: The Geneaology of Petros Moris," ARTWORKS via Medium, March 5, 2020. https://medium.com/@artworksfellows/greeces-gifts-and-burdens-the-geneaology-of-petros-moris-75332f43397

32

.

Frederick O. Waage and Per Jonas Nordhagen, "Mosaic," Encyclopædia Britannica, July 24, 2017. https://www.britannica.com/art/mosaic-art

33

.

Maurice Halbwachs, La mémoire collective (Paris: Presses universitaires de France, 1950). See also Jeffrey K. Olick, Vered Vinitzky-Seroussi, and Daniel Levy, eds., The Collective Memory Reader (New York: Oxford University Press, 2011).

34

.

Clifford Geertz, The Interpretation of Cultures: Selected Essays, (London: Hutchinson, 1975), 448.

35

.

"FFF6 | The Gift of Automation," Onassis Foundation, undated. https://www.onassis.org/whats-on/fast-forward-festival-6/fff6-gift-automation. See also "The Gift of Automation,"Petrosmoris.com, undated. http://petrosmoris.com/the-gift-of-automation/

36

.

"FFF6 | The Gift of Automation."

37

.

"Petros Moris » Future Bestiary «," ArtRabbit, undated. https://www.artrabbit.com/events/petros-moris-future-bestiary

38

.

"Petros Moris: Future Bestiary (Kerameikos)," Delfina Foundation, undated. https://www.delfinafoundation.com/platform/petros-moris-future-bestiary-kerameikos/

39

.

"Kerameikos," Ministry of Culture and Sports, undated. http://odysseus.culture.gr/h/3/eh351.jsp?obj_id=2392

40

.

"Petros Moris: Future Bestiary (Kerameikos)."

41

.

"Petros Moris: Future Bestiary (Kerameikos)."

42

.

Li Chunfeng was a Chinese mathematician and astronomer who lived from 602 to 670. Alexei Volkov, "Li Chunfeng," Encyclopædia Britannica, January 1, 2020. https://www.britannica.com/biography/Li-Chunfeng

43

.

Yuan Tiangang was a Chinese fortune teller. Unlike Li Chunfeng, there are virtually no English sources that detail his life.

44

.

"Tui bei tu:" An Illustrated Prophecy Book," World Digital Library, October 30, 2017. https://www.wdl.org/en/item/19486/

45

.

"Petros Moris: Future Bestiary (Kerameikos)."

46

.

onathan Cott, "Susan Sontag: The Rolling Stone Interview," Rolling Stone, June 25, 2018. https://www.rollingstone.com/culture/culture-news/susan-sontag-the-rolling-stone-interview-41717/