Daily Devotions: A Conversation with Munem Wasif
Writer Sharmini Aphrodite visits the temporary studio of filmmaker and photographer Munem Wasif, as he shares the delicate nature of his documentary practice.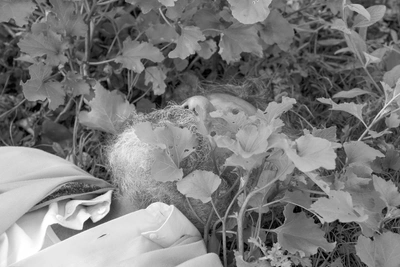 Grey light seeping in through a window. An old man with his eyes closed in a courtyard, a sheath of white sunlight over his body. A young girl skipping rope under a crown of trees, her shadow running over the ground beneath her like water. A dark street illuminated by two lonely headlights blinking against the stillness of the sleeping city. Then comes the sound, carrying images of its own: rainwater falling as if just next to you, the sound of it filling the room. A mournful voice stretching out a strain of song, then the low rumble of distant traffic. Everything coming together, all of the lives of the city — man and animal — folding in to form a singular, kinetic hum, the viewer tucked too within this fabric of light and shadow.  Kheyal  (2015-2018) by Munem Wasif envelops you completely and its gentle hook is its belief in the sacredness of small things. "Absolute unmixed attention," wrote the late Simone Weil [01], "is prayer."  In Wasif's dedication to the most fleeting of details, the artist grants his subjects these prayers. Absolutely and wholeheartedly.
Born in Dhaka, Bangladesh in 1983, Wasif works with photography and video to account for socio-political issues in and around his home region of South Asia. He studied the border between Bangladesh and India in the series  Land of Undefined Territory  (2014-2015), and documented the importance of rice in post-agricultural Bangladesh in the cyanotype print series  Seeds Shall Set Us Free  (2016-present). In  Spring Song , the work he embarked on during his recent residency at the NTU Centre for Contemporary Art Singapore (NTU CCA), he moves his eye further eastward, focusing on the lives and journeys of Rohingya refugees.  ‍ I met with Wasif in his studio at Gillman Barracks to ask him about the progress of his residency. Set in a lush pocket far from the main road and its bustling traffic, the location was quiet. Wasif's manner matched this mood; his words were chosen carefully, spoken softly. As we talked, it became clear to me that like  Kheyal ,  Spring Song —  albeit still in its research stages at the time of our meeting — was a work to which only the highest devotion would be given. A young boy with watery eyes, a snippet of conversation, a thumbprint turned from ash into gold — no detail was too small to escape the artist's attention. They were all are held up to the light.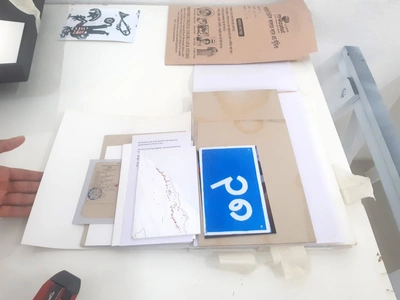 SA:   Let's begin by speaking about your recent work,  Kheyal . It was described as moving into the genre of magical realism. But you mainly work in documentary photography, and the nature of that medium assumes a journalistic idea of reality. How do you reconcile your methods with your subjects who also live in situations of violence where not just the physical self is compromised, but the psychological space is ruptured as well — situations similar to the Latin America where the genre of magical realism was born?  ‍ MW:   Well, the title  Kheyal  is itself a clue, a hint. In Arabic, it means "imagination". In Hindustani, it conveys imagining or dreaming. It is also a technique in Indian classical music where something is repeated in a loop. So when you hear something in the beginning, you try to figure out what is being said, but after 20 times, it becomes an abstract sound. The meaning of the text changes through this perception of sound.  Kheyal  in Bengali is a kind of saying, " Amar akdom kheyal nei ," meaning, "I completely forgot." It carries this notion of forgetting, of being lost-in-mind, or living in a dual world where your mind is occupied, is somewhere else, whereas in reality you are supposed to be  here . ‍ I suppose I have always been interested in the ideas of documentary and archive, and how these formats have been used in various ways to track back and reconfigure how we look at history and time. At the same time, I was examining the modes of fact and fiction, and the kinds of illusions that could be created when working with these mediums. Generally, when people look at images, they have a tendency to try to understand them, to discern factual information, truth or reality. They don't see these images are mere representations.  ‍ Kheyal  was inspired by the fictions of Akhtaruzzaman Elias and Shahidul Zahir [02], though not in a direct way. I was reading the stories that evolved from the façades of Old Dhaka, where I've been working for the past 16 years. The film shifts between real and imagined narratives, navigating between the conscious and subconscious, revealing very different rhythms of life that inhabit the old city. ‍ SA:   Could this also be what you're doing with  Spring Song , using these individual images or scenes as points of contact into something deeper? ‍ MW: Yes. For me, my photographs seem to be references. It's not so much about what you  see , but about what the image creates in your mind, what sort of impression it leaves. A lot of the time, I am unable to capture, talk about and present the experiences that are happening in front of me. I live within this state of failure, in which I'm not always able to express what I want to, but this always leads me to find interesting methods to construct different narratives, gestures or signs.  
SA:   Tell me more about your current project,  Spring Song .
MW: I have been working with the Rohingya refugees for quite some time. I wanted to understand how these borders and segments surrounding this situation were created. After all, these nation-states are very modern. For example, the place I was working in was known as the Arakan State. The present-day Chittagong Division and Rakhine State were once both part of the Arakan State, which was conquered by the British East India Company [03]. Now the entire area is divided into two modern nation-states — Bangladesh and Myanmar respectively. I was also interested in looking at borders and territories, which was something my previous works had also dealt with, such as the piece  Land of Undefined Territory  (2014-2015) that was displayed in the 2016 Singapore Biennale, which dealt with the border between India and Bangladesh.  ‍ The first time I went to the refugee camps in Teknaf was in 2009, so  Spring Song  is a continuation of that research. There are certain things that are happening again and again in those camps — things that we think are wrong but which we still  accept  as they are happening. So, I wanted to look at and understand what it means to be a refugee. What intrigued me was looking at both sides of history, and of the story, as well as the present situation. I was also looking at the idea of temporality in the camp — where nothing is fixed — a state that is inherent in such an environment, and how the people who live there are always in flux, always on the verge of having to move.  ‍ SA:   What changes between your last visit ten years ago and your most recent visit in 2019 were the most obvious? ‍ MW: The changes are physical. Now we have an unbelievable scale of refugees — almost a million, according to United Nations Office for the Coordination of Human Affairs (UN OCHA) [04] — so many more than there were the last time I visited [05]. Now when you stand on a hill and look across the landscape, you're overwhelmed by the magnitude of the camps. The scale is vast but at its core, on an individual level, nothing has changed. You still hear similar stories of suffering, torture and racism, again and again. ‍ SA:   And how do you articulate these difficult stories in your work? ‍ MW: Sometimes, when we want to express a situation, we don't have any words to explain what happened. When you don't have the right language to express your experiences, it becomes almost an inherent code. I'm struggling to find a way to talk about what I've seen. I do believe in multiple readings. ‍ One method I have of approaching their stories is collecting objects and materials. I photograph the objects that refugees carried as they fled from their homes in Myanmar, looking at what physical things were important to them, as well as what they used on a daily basis. In the camps, I was going from house to house, talking with them, trying to understand life under the tarpaulin — how you can really live a life when you are completely uprooted. These were the ideas of temporality, memory and vulnerability. 
Sometimes, when we want to express a situation, we don't have any words to explain what happened.
I was also looking at objects that the refugees created at the camps, because they can't buy anything. They have to work with what is already there. For example, the kids make toys from plastic water bottles that they've found in the camp, or the women create structures for which to do even the simplest things, like hanging their clothes. They're constantly re-adapting, re-building, re-configuring. It's a way of putting their state of flux — their constant movement — in context. A lot of material they've used, such as the fabric for the  thamis  (sarongs), bears similarities with the people of Chittagong. It is mostly the local, indigenous people (the Chak, Rahkain and Marma) who wear them, but during certain periods, when there was a lot of trade occurring between Rangoon and Chittagong,  thamis  were also worn by Bengalis. There are overlaps.  ‍ I was thinking of objects that are more like archives, things like documents that they carried from Burma, family photographs. I also found historical materials, and collected videos from the refugees that they documented on their mobile phones while they were fleeing. There are videos of the houses being burnt, of the people in the process of escape. I was looking at this materiality — how these low-resolution mobile images became a very strong tool of preserving and archiving the type of violence that was going on — the genocide.  ‍ It might take me another 10 years to really work with all these materials and find an appropriate form for which these complex experiences can be talked about. ‍ SA:   Could you talk more about this materiality? What struck you most about the objects that you photographed?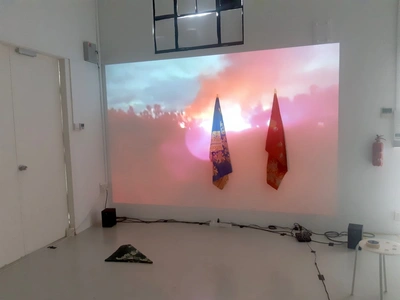 MW: Some of the objects have travelled from Thailand, China, Indonesia. For example, most of the women wear these  thamis , and they look extremely colourful within the context of the camp. But now, when I look at them, they seem a lot like Indonesian  batik  [06], while some of them could have come from Thailand. The colours, the patterns, the  batik  — these all signify Rohingya identities in the camps in Bangladesh. Some of the colours in my work came from these fabrics.  ‍ This is a lotion from Thailand that came from the border of Burma, then travelled into Bangladesh [with a refugee]… These are photos of dried mushrooms… the refugees don't have any capacity to store food, so they dry everything. These are photographs of married couples who have to apply to the police to be able to marry. These are toys made by kids with a loudspeaker, wires and various materials. A lot of refugees came with Burmese currency into Bangladesh, which of course doesn't have any value there. In just a matter of nights, the entirety of your life — all your savings — they become valueless because you have just crossed a border.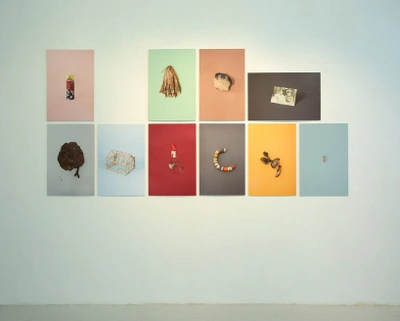 SA:   Looking at these pictures, I think about your previous work, which tended to be in black-and-white. The palettes here are very colourful in comparison. What prompted this change in colour palette?  ‍ MW: I was trying to move from the typical imagery that you see from these sorts of situations, usually images about suffering, or that express a state of emergency. I wanted to go beyond that usual, journalistic visual language, to looking at the more mundane parts of the life of a refugee, which included moving away from the usual black-and-white palette, which one associates with such imagery. ‍ Being a refugee is being stuck — you can't move forward or back — you have no control over your life. It's a study of banality, and how I could trace the journey of the refugees through these banalities, through the simplest of objects. So, I moved away from the palette used in typical imagery of emergencies into something that more reflects the everyday. 
It might take me another 10 years to really work with all these materials and find an appropriate form for which these complex experiences can be talked about.
SA:   What does this word mean? ‍ MW: It means "Rohingya". People aren't allowed to use the word "Rohingya" in public. The government has banned its use on televisions and in newspapers. When I copied this font into my computer, it broke down as I didn't have the Burmese font installed on it. It intrigued me to see that transformation — how the text became uprooted, and then broken, although you can still see it. This leads back to a sense of fragmentation, something that also drew me towards the Rohingyas. You're uprooted from everything, your land, your community, but you're still alive — you still have a body, and people can recognise you. ‍ SA: Speaking of being led back to fragmentation, one of the things you seem to keep returning to is the concept of borders. ‍ MW: I don't like to call them "borders" — that word sounds so loaded. With  Spring Song , yes, the work does deal directly with borders. But it's much more complex. In our part of the world, there's that history of Partition, the colonialist legacy, amongst many other things. For me, it's more about choosing to focus on the shared spaces that  do  exist. ‍ SA:   So instead of looking at the way that we were divided by the colonial period, through these violent periods of history such as the Partition of India [07], we can work on creating a language for ourselves. ‍ V Precisely. I really like the ideas of memory and time, and use them in my work. How you can reconfigure, recreate, relook and reinterpret situations from multiple contexts? I think it's always much more interesting when you can accept multiple narratives, multiple truths, and a coexistence of different voices. ‍ SA:   All of these existing simultaneously. ‍ MW: Yes. You need to have a certain kind of understanding to acknowledge these perspectives, see them, register and respond to them — and it's about who you are. If you're not in that space you may not be able to see those things. Only when you are ready, does this multiplicity then respond to you. ‍ SA:   That's a good point to end I think, but one final question — how has your time working at NTU CCA been like? ‍ MW: NTU CCA has given me an amazing sense of support and infrastructure. Also, Singapore is such a different place compared to where I am usually based. It's so sanitised, clean and structured. But it was good to work here, amazing to have a studio, to have conversations with the fellow artists who are also from the region, and curators from different institutions. It's also good to have that period of time where you can really focus and hear yourself better. These differences help me to understand who I am and what I'm really interested in. Residencies like this make you go beyond your comfort zone and see yourself — it gives you a certain clarity of mind.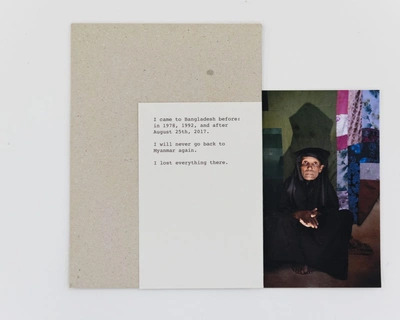 01

.

Simone Weil (1909 – 1943) was a French philosopher, mystic and activist. ‍

02

.

Akhtaruzzaman Elias (1943 – 1997) and Shahidul Zahir (1953 – 2008) were Bangladeshi novelists and short story writers whose works were highly acclaimed. They were noted for their major contributions to Bangladeshi literature.

03

.

The former Arakan State now forms the present Rakhine State in Myanmar. The Arakan Kingdom of Mrauk-U (1429-1785) encompassed not only Rakhine state, but also the present-day Chittagong Division of Bangladesh. The Chittagong Division was ceded to the English in 1760 by the Mughal Empire, which took control of Southeast Bengal from Arakan in the 1666 Battle of Chittagong. Arakan was conquered by the British East India Company in 1826. The modern state of Myanmar was formed in 1948, while Bangladesh declared independence from Pakistan in 1971.

04

.

The UN OCHA has placed the number of Rohingya refugees residing in Teknaf and Ukhiya to be over 909,000 as of March 2019.

05

.

A UN figure counted the Rohingya population in the whole of the Rakhine State at 723,000 in 2009.

06

.

Batik is a technique of wax-resist dyeing that originated in Indonesia.

07

.

In 1947, British India was divided into two independent states, India and Pakistan. This Partition of India, as it is formerly known, displaced millions of people and resulted in large-scale violence.