SOL-spot: SO-FAR at Breakpoint Lisbon
Co-Editor of Issue 4, Jing Yi Teo, takes us through SO-FAR's first crypto conference, ruminating on the importance of soul, art and history in the space of Web 3.0.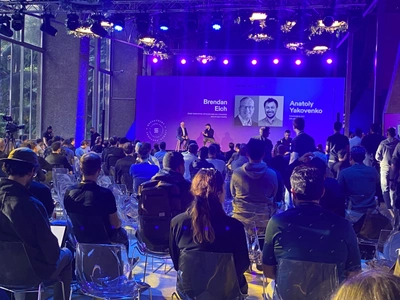 "If you like art, you should not miss this exhibition." Our AirBnB host marked an X on a riverside landmark and wrote on the map: Ai Wei Wei . I nodded in agreement, knowing that a visit to a massive exhibition such as one by the Chinese artist and activist would be unlikely given our trip's agenda. My expression must have seemed contrived as he then asked if we were here for work. I told him yes, we were here for a conference.
"Is it Web Summit?" The major, if generalist, tech event held in Lisbon since 2016 draws crowds of more than 70,000 people to the city annually. But this year, since mid-October, there had also been at least 5 crypto conferences hosted in the Portuguese capital, the loudest and grandest of which I was here for, together with Christina, SO-FAR's Co-Founder and Chief Editor. When I told our host that we were here for Breakpoint, the inaugural conference by the blockchain Solana, he dropped his head to one side and said, "Oh yeah, that boring stuff," while motioning with his hand, never mind .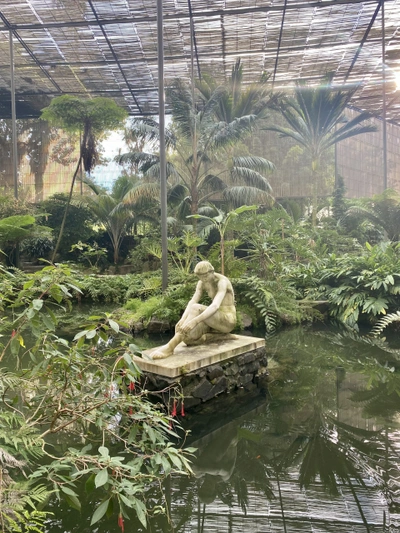 In a recap of Balenciaga's Summer 2022 show in Paris last month, Thom Bettridge, Highsnobiety's Editor-In-Chief, wrote that the experience felt "like visiting the Internet in person"[1]. In Lisbon, where a month of tech conferences climaxed at Breakpoint, held from 7 to 10 November, it felt like visiting crypto Twitter (or "CT" as abbreviations go in this space) in person, not only because of the presence of the Twitter-famous, but also because of the frenzy, the air of bustling commentary, and of course: the prevalence of insider language — or should I say, IYKYK[2].
It was also unlike anything that one might have expected of a tech conference. Each of the three locations were unapologetically fabulous without seeming overdressed, which might be fit to describe crypto-cool. Web 3.0 is where the young, smart and hip are at, just like how working in a startup was fringe and bold back in 2010. LX Factory, dubbed the "Ecosystem" stage, was a converted factory complex brimming with urban hipster staples: a health food cafe, organic skincare shops, artisan jewellery ateliers and fusion restaurants. The hall where the biggest announcements were made was no less impressive, with its brick walls hued in Solana's purple-to-teal gradient framing a star-studded line-up of emerging founders, thought leaders and influencers. A five-minute scooter ride away was SUD Lisboa, a two-level waterfront building where developers would gather for workshops and presentations on solutions to the structural challenges of their respective puzzles. Last but not least, the "Growth" stage was nestled within a lush greenhouse in a central park called Estufa Fria, also tinted with Solana's colours, but wielded in a balance that allowed the space to still feel earthly, fresh and un-intimidating. It was definitely the vibe that Solana wanted to emanate. It worked.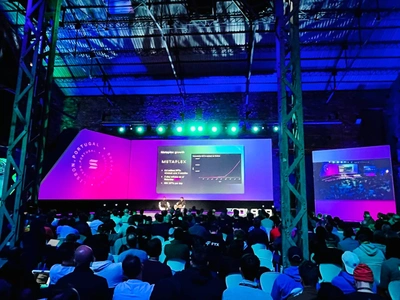 After picking up our badges, we did see some art. Ignoring our host's advice to visit Ai's exhibition, we instead went a few tram-stops further west in the Belém district to Museu Coleçao Berardo. The eponymous museum houses the once-private collection of José Berardo, one of Portugal's biggest art collectors, arrested in June this year on money-laundering charges.
What would a timeline of today's paradigm shifts look like, and which innovations will mark them?
As Christina, myself and a friend, R (a game economist) zig-zagged through the halls of modernist masterpieces, the experience of viewing these century-old artworks IRL[3] post-NFTs brought a euphoric rush of joy as well as a tension with the contemporary. We shrieked, "OG Art Blocks!!![4]" when we turned the corner of Constructivism[5] to an abstract moving image composed entirely of black rectangles and lines fading in and out, overlapping one another melodically. Although Art Blocks is a platform for a curated but vast selection of artists to upload and sell generative art NFTs, the artworks that shot it to fame are characterised by simple geometries in a limited palette of colours. Hans Richter's Rhythmus 21 (1921) may not have been generated on — or from — a blockchain, but along with other works by avant-garde composers, Richter had pioneered the transposability of one composition onto a new medium, in this case, a music score onto an image. Generative artists today transpose hash string into a visual image through an algorithm.
Standing in front of Lucio Fontana's Spatial Concept, Waiting (1960), R remarked that he wasn't too taken by what seemed to be an effortless slicing of the canvas, but that it probably was significant in the transcendence from 2-D to 3-D at that point in time. Half a century later, Fontana's attempt at transforming a painting into a sculpture with the stroke of a blade comes across as a momentarily important yet self-aggrandised innovation, while Richter's composition, decades in advance, feels timeless. Of course, all this is easy to say when we were merely visitors looking at art curated in historical sequence. In the chronology of our own trip, it was Day -1 to the inaugural conference of one of the most hyped-up players in an already dizzyingly hyped-up sector. What would a timeline of today's paradigm shifts look like, and which innovations will mark them?
The privilege of a retrospective vantage point is also an impetus to think of the future as it would be historicised
At a house party, a veteran investor reminded us that, not too long ago, Mark Zuckerberg had been the prodigious inventor-savant admired not only by Silicon Valley venture capitalists seeking profit from Facebook (now Meta), but also in the relentless court of public opinion where Zuckerberg even drew sympathy as a rich but nevertheless lonely outcast, no thanks to The Social Network[6]. 11 years on from the film's debut, most would hate to be in his position in spite of his wealth —reviled, parodied, cancelled.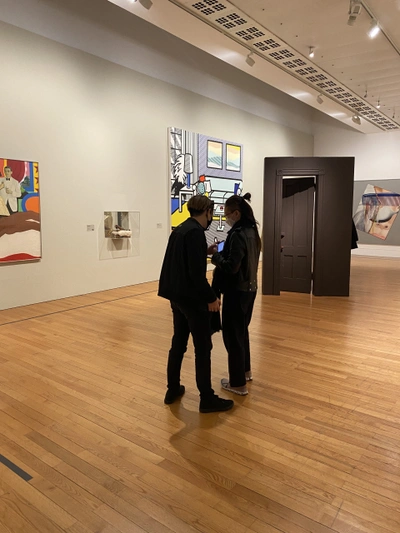 What exactly went wrong with Facebook — and other members of the Big Tech clan — however, was no longer the focus at Breakpoint. The focus had shifted to the alternatives brewing amongst the crowd of founders and funders, a near future that felt inevitable. Given that social media is the channel through which mainstream society experiences the Internet, the leap from Web 2.0 to Web 3.0 was perhaps the most poignant on Day 2 at LX Factory, as Reddit co-founder Alexis Ohanian announced a sizeable investment in the "future of social media" with Solana through his venture fund Seven Seven Six. Through the crypto grapevine that sprawled through the city of Lisbon, news spread that the investment was to be announced at $50 million. But when Raj Gokal, co-founder of Solana, was suspended from Twitter the day before for a casual, poorly-executed inside joke, the amount doubled to $100 million, pledged to the decentralisation of social media. With Ohanian onstage, it felt palpable: a future where protocols are built bottom-up, around community needs and collective ownership in place of platforms that allow for communication and interaction but only within a centralised governance, leading to outcomes like misfired censorship, such as the case of Gokal's tweet.
SO-FAR — our artists, nerds and dreamers alike — will be pacing the future.
Would Web 3.0 enable communities to grasp the nuances of their own subcultures? Amongst a host of promises that Web 3.0 beckons, the recognition of culture and the elevation of community are held in the highest regard, nevertheless because these measures are the hardest to quantify. But as we see with Richter, Fontana, and all the other artists that have entered the archives of art and cultural history — and all those (women! people of colour!) that perhaps haven't yet — innovation that withstands the test of time isn't always interpreted, or felt , as intended.
As we move on from our very first crypto conference and onto our transition into Web 3.0, perhaps what drove us to a modern art collection was likely what brought us to Lisbon in the first place: the privilege of a retrospective vantage point is also an impetus to think of the future as it would be historicised, to ponder how it would be curated for posterity. In their spatial computing gear, VR headsets or tourist shoes, the culture-curious of the future would walk through the archives, footsteps pausing with curiosity, or hastening with indifference.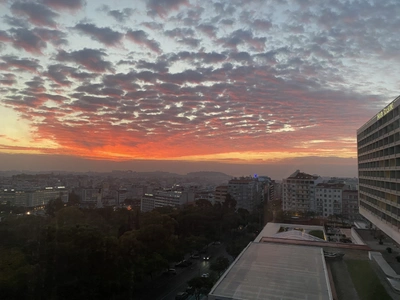 In other words, SO-FAR — our artists, nerds and dreamers alike — will be pacing the future. Nevertheless, our "SO(U)L-spot" remains in the present, where the greatest gifts lie. In looking, seeing and learning from a moving image here, right now, in real life, in a single, precipitous moment that will be marked for ages to come.
1

.

Thom Bettridge, "Fashion is dead, long live MerchTainment™", Highsnobiety, accessed November 2021. https://www.highsnobiety.com/p/merchtainment/

2

.

Short for "If you know, you know".

3

.

Short for "in real life", referring to life that occurs outside of online realms, gaming, social media, thus is typically used to indicate physical experience.

4

.

OG is short for "original gangster", but is used commonly to mean original, typically with a legendary connotation.

5

.

Constructivism was an art movement in the 1920s that followed Cubism, Futurism and Suprematism. It was led by Russian artist Vladimir Tatlin. The object is to be treated "simply a product of an industrial order like a car, an aeroplane and such like. Constructivism is a purely technical mastery and organisation of materials". https://www.tate.org.uk/art/art-terms/c/constructivism

6

.

The Social Network (2010), directed by David Fincher, is a biographical drama portraying the founding of Facebook.