M-pesa: East Africa's Mobile Money Transfer Service Bringing Cattle Herders Home
Writer Kang-chun Cheng brings us on a journey to East Africa, where a mobile money transfer service is changing the way cattle herders trade.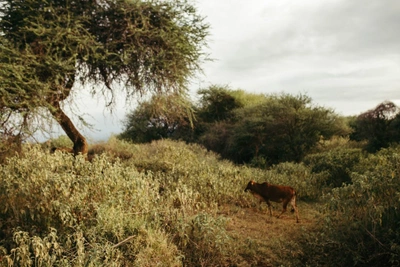 The genesis of East Africa's digital economy was marked by the launch of M-pesa by Kenyan telecommunications giant Safaricom in 2007. This revolutionary SIM-based method of making payments not only allowed for freedom from cash but also created a market independent from conventional retail banking framework — one that put Nairobi on the map as one of Africa's most cosmopolitan cities, yet isolated many remote communities. Just two years after the advent of M-pesa, Bitcoin was founded by Satoshi Nakamoto with the mission of introducing an alternate peer-to-peer payment system unattached to centralised control or government regulations. In its sheer technological form, the parallel to East Africa's emerging M-pesa system is striking. Yet a major difference persists despite Bitcoin, cryptocurrency and now, blockchain-enabled Web3's rising popularity: they remain constrained amongst relatively niche demographics in the Western or first world, of interest to those with the means to learn about and access the decentralised fintech world.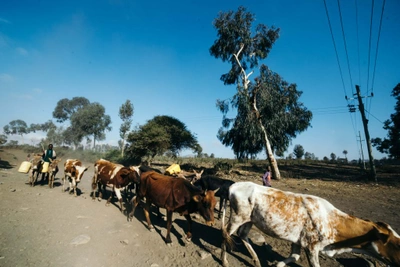 Meanwhile, M-pesa is truly ubiquitous — the majority of ordinary Kenyans use it in their daily lives, not necessarily to elevate their spending prowess, but so they aren't weighed down by cash and coins. M-pesa also makes it easy for people to sustain a hand-to-mouth lifestyle, buying two eggs or single cigarettes rather than a whole tray or carton. Today, Nairobi is known as a formidable tech hub — "Silicon Savannah" — and is synonymous with the incubator model, global crowdsourcing, and mobile money. Fast-paced and cutting-edge, the city is packed with hustlers determined to make it.
Fast-paced and cutting edge, the city is packed with hustlers determined to make it.
Stephen Nduati Mwaura is an official at the Central Bank of Kenya (CBK) who spearheaded the process of implementing fintech that would wholly transform Kenya's technological ecosystem. Dubbed "the father of M-pesa", Mwaura is dedicated to enabling strategic environments and believes that regulations are a priority. In Kenya, the focus was on "building institutional capacity[01]," Mwaura said in an interview with CIO Africa in April 2021. M-pesa is all about payments, not banking. It offered a solution to shift dependence from an inept government to privatised institutions. The idea was that people could use M-pesa as a tool for their own specific needs and situations.
It did not take long for the majority of Kenya and Tanzania to start using their phones as mobile wallets. 93%[02] of Kenyans have access to mobile payments while nearly half of Kenya's GDP[03] is processed over M-Pesa. Any phone with a SIM card could now be converted into a roaming money-transfer device. This was a game-changer particularly for people who lacked access to banking due to their socio-economic status or distance from westernised payment systems.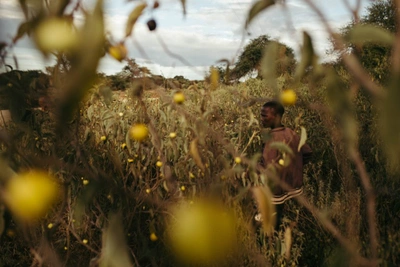 Kenya was part of British East Africa before gaining its independence in 1963; the Brits in fact introduced currency in the form of rupees — the colonial currency of India and other colonial states — to Kenya. With its colonial legacy, the banking infrastructure largely modelled after the Global North does not necessarily always translate to the realities on the ground in East Africa, which are anything but homogenous. Kenya has over 42 ethnic groups, while Tanzania has more than 160 tribes. Everything from lifestyle to cuisine varies depending on the people and the region. Spending styles in remote villages, for instance, do not necessitate the need to take out massive loans for mortgages or education as traditional lifestyles are oftentimes communal in nature.
The jua kali (gig economy) makes up an estimated 86%[04] of the workforce on the African continent. Those working in the financial sector would be prudent in considering the cultural relevance behind the conventional assumption that informal markets eventually will bridge into formal ones. Barriers to socioeconomic mobility include a dearth of legal rights and standardisation as well as a lack of benefits. Understanding and accepting such general uncertainty makes dynamic, decentralised systems like M-pesa all the more fitting and adaptable.
With its colonial legacy, the banking infrastructure largely modelled after the Global North does not necessarily always translate to realities on the ground in East Africa
As the city-slickers of the capital seamlessly adopted M-pesa into their urban lifestyles, the advent of mobile payments has had surprising benefits in more remote areas.
A predominant ethnic group in East Africa, the Maasai are easily identified by their plaid shukas (shawls), vibrant beaded jewellery, and close ties with their animals. To the Maasai, cattle is life. Their identities are inextricably intertwined with their livestock, which dictates nearly all aspects of their existence. Traditionally, the Maasai survived solely on meat and milk, although today their diets include vegetables and ugali (maize meal). Rice and eggs are still considered very strange foods to the rural Maasai. Competition from agricultural and developmental activities has impacted their cultural livelihoods through the fragmentation of immemorial grazing lands.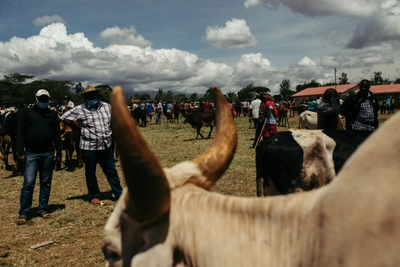 The introduction of M-pesa amongst the pastoralist Maasai communities stripped away the cash element from many transactions but also resulted in a surprising element of security. Throughout regions like Arusha in western Tanzania, murders amongst young Maasai boys, sent by their warrior fathers on market days to sell cattle, were not uncommon. Thieves could easily peg out the children who were doing their fathers' bidding — selling cows for whatever price was dictated — and rob them on their way home, oftentimes ending in murder.
M-pesa removed the burden of carrying vulnerable wads of cash entirely. Buyers could send the money directly to the phones of the Maasai warriors, completely excluding their sons from handling money. The boys can now walk home empty-handed, no money in their pockets for the taking.
It's tough work, being responsible for what might as well be a roving stack of cash on legs.
In Tanzania, Vodacom is the telecommunications company that offers M-Pesa. The Bill & Melinda Gates Foundation pledged nearly 4.8 million dollars[05] back in 2010 to improve accessibility to its infrastructure and help more Tanzanians develop financial security. The population density of this expansive nation is a mere 64.92 people per square kilometre. According to Dietlof Mare, the Managing Director of Vodacom, enabling access to the mobile grid specifically "to those living in remote parts of the country" may mitigate issues that come with high population dispersion.
Incidences of cattle rustling[06] have also decreased, with the prevalence of cell phones allowing herders to alert incidences of theft in real-time. Boys sent to tend a herd all day used to be far more susceptible to rustlers making off with cattle. Easy targets and frequently defenceless against armed warriors, the boys might delay heading home straight after such attacks, instead hanging around trying to figure out how to break the news to their fathers. By the time they were home, the rustlers would be far away.
The landscape of Namanga, one of the borders between Kenya and Tanzania, is expansive, stunning in a desolate way: red soil, thorny bushes, elegant acacia trees. It's amazing that out of such dryness — Tanzania has on average only 600mm rainfall each year — and brush and bramble, goats and cattle manage to grow fat. To do so, however, they must move across vast tracts of land for sustenance, covering up to 20km a day.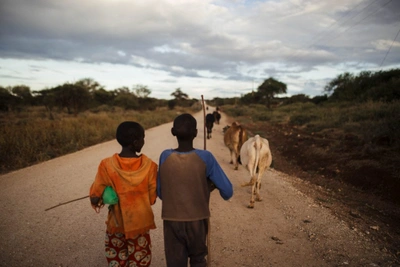 Lemuani, around the age of 12, dutifully watches over a herd of nearly 40 cattle each day. It's tough work, being responsible for what might as well be a roving stack of cash on legs. His burner phone is there to help break up the monotony of the day; he can SMS his friends or his father.
Even this simple technology would have been unthinkable mere decades ago. But realistically, for communities such as the Maasai devoid of a culture of saving, where children and cattle constitute one's retirement plan, the capability of fintech such as M-pesa remains constrained. Although there are emerging blockchains such as Celo[07] dedicated to building financial systems and prosperity around mobile phone users in the Global South, for such remote communities still rooted in traditional livelihoods, the very concept of money has to expand before M-pesa — or its next generation in some kind of crypto solution — can further change lifestyles.
Sometimes Lemuani is with his brothers or crosses paths with neighbouring pastoralists, but he is mostly alone. "We feel safer now," Lemuani said to me as I walked with him out in the bush just outside Arusha, Tanzania. "If anything bad happens, help is just a call away."
01

.

Carol Odero, "The Father Of M-Pesa: One On One With Stephen Nduati Mwaura", CIO Africa, April 17 2021, https://www.cioafrica.co/the-father-of-m-pesa-one-on-one-with-stephen-nduati-mwaura/

02

.

Alex Rolfe, "Mobile Money Transactions Equivalent of Half of Kenya's GDP", Payments Cards & Mobile, January 25 2019, https://www.paymentscardsandmobile.com/mobile-money-transactions-half-of-kenyas-gdp/

03

.

Thomas McGath, "M-PESA: How Kenya Revolutionised Mobile Payments", N26 Magazine, April 9 2018, https://www.paymentscardsandmobile.com/mobile-money-transactions-half-of-kenyas-gdp/

04

.

Aubrey Hruby, "A New Kind of Company is Revolutionising Africa's Gig Economy", 28 May 2019, https://www.weforum.org/agenda/2019/05/new-kind-of-company-revolutionising-africa-gig-economy

05

.

Fumbuka Ng'wanakilala, "Vodacom Tanzania gets Gates Fund for Money Service", November 16 2010, https://www.reuters.com/article/vodacom-tanzania-gates-idAFLDE6AE1SQ20101116

06

.

The act of stealing cattle

07

.

Celo is global payments infrastructure that makes financial tools accessible to anyone with a mobile phone.