Dissolving Margins, Defying Gravity
Christina J. Chua encounters the indescribable weight of the virtual through the Institute of Contemporary Art Singapore's exhibition "Dissolving margins".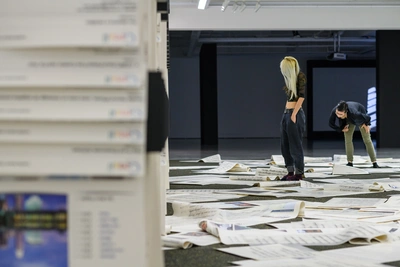 Do you ever notice the sinking feeling every time you scroll, as if your sliding fingers are wired to your gut? Is this why we feel tired after too much on-screen work? Maybe it's not just the glare. Scrolls are meant to go downwards. They sink in virtual gravity. There is an unknowable depth to their layers: click, scroll, click... And so, we all drown in unread emails, and unseen Instagram feeds. 
With LASALLE's Institute of Contemporary Art Singapore's current exhibition,  Dissolving margins , the indescribable gravity of the virtual is given physical volume and mass to the extent that it positively overwhelms you. The third in her series of spatially stunning exhibitions, curator Melanie Pocock has positioned together digital prints, a multi-channel video, a performance piece, and two sprawling installation artworks that cut a massive diamond in the gallery. Within this brief review, I'll hone in on the text and print-based pieces by Camille Henrot, Darius Ou, and Tara Kelton.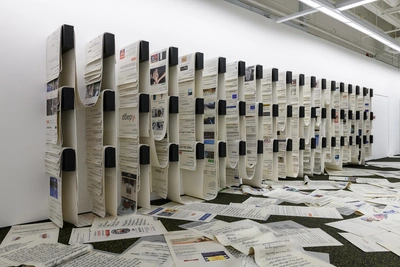 Office of unreplied emails  by Camille Henrot is the evident centrepiece of the show. The artist has placed sheets upon draping sheets of silicone print-outs of spam from, on the one hand a host of e-commerce websites — your Groupon, Petco, TripAdvisor, and then on the other, a number of petitions from Democrats and activists. The artist responds to each email, crafting emotive letters to the senders, taking their appeals and calls to action very, very personally. Strewn in haphazard layers of translucency, the emails open an inviting trail. You take off your shoes and toe through the alleys between the silicone mats. But Camille disrupts the orderliness of margins that are designed to yield clarity so that her text plays peekaboo with its own redundant echo, its illegibility made even more pronounced by a hyper-stylised calligraphic scrawl. You can lose yourself for awhile, in this maze of layers and misplaced margins, wondering if her missives were ever even sent. (I took a video of my path through the emails to demonstrate this.)
The effect upon exiting the email field is dizzying, also because you are soon flanked by Darius Ou's floor-to-ceiling plane of badly, sometimes even horrifically, designed posters. The graphic designer embarked on a design-a-poster-a-day challenge for a whole year, for no other reason but his own self-expression, and  Autotypography was the glorious, unfettered result. Typefaces swirl in space like Microsoft Word Art from the 90s, GIF-like amoebas hang in glowing grids, and digital planes collapse upon their own excess. There is no question that all rulers and margins have been upended in this maximalist, anarchic spread. (Try to stand in the centre betwixt Darius and Camille, for awhile, as I did.)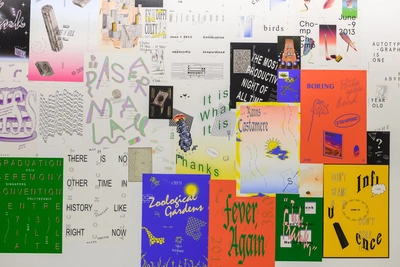 Now as your peripheral gaze is engulfed, as I said before, by a massive diamond of flattened entrails — hundreds of illegible texts on the floor and hundreds of garish images on the wall — you must at some point feel the weighty gravity of your vision, of your understanding, of even your own body. The virtual has become so heavy.
Melanie has orchestrated this all quite dramatically, and titled the exhibition after a phrase she found in a novel by pseudonymous writer Elena Ferrante,  My Brilliant Friend  [1]. For someone who's experienced hallucinogenic mania herself, though I admit it's disturbing to conjure those memories, I must say Ferrante's words are absolutely, if not also poetically accurate. The narrator Elena Greco describes her friend Lila Cerullo's psychosomatic episode:
"The thing was happening to her... that she later called dissolving margins. It was — she told me — as if, on the night of a full moon over the sea, the intense black mass of a storm advanced across the sky, swallowing every light, eroding the circumference of the moon's circle, and disfiguring the shining disk, reducing it to its true nature of rough insensate material. Lila imagined, she saw, she felt — as if it were true — her brother break... something violated the organic structure of her brother, exercising over him a pressure so strong that it broke down his outlines, and the matter expanded like a magma, showing her what he was truly made of... she had the impression that, as Rino moved, as he expanded around himself, every margin collapsed and her own margins, too, became softer and more yielding."

[2]
The curator is peddling a radical proposal, that this could be the gradually disfiguring, dissolving state of our selves — of our psyches — every time we scroll in and out, as the virtual seeps into the material, the two realms commingling, festering incestuously. Maybe it IS madness to receive thousands of letters written by targeted algorithms... and KEEP THEM! Maybe it IS madness to see thousands of images all at once... and LIKE THEM! A storm advances across the sky, and a full moon rises on the year 2019. 
Well, not all is ominous, all doom-and-gloom. There are some giggles to be had (you have to see Eng Kai Er's Compressible sentiments where the dancer embodies a meme, the inflatable T-Rex). I can assure you Melanie has a sense of humour, and I'll come back to this in a moment.
Maybe it IS madness to see thousands of images all at once... and LIKE THEM!
I'll end my tour by pointing out Tara Kelton's digital image composites. The artist engaged online workers on the human-resource platform Amazon Mechanical Turk (MTurk) [3] to write a simple description of a  famous still-life painting by Paul Cezanne . Then the artist sent those texts onto another group of workers at a 3D visualisation studio in Bangalore, India's "Silicon Valley", where she is also based. The results are bizarre, fluorescent, and kind of... floaty. They float in an ahistorical space — utterly detached from the State Hermitage Museum in St. Petersburg where the Cezanne sits, or the MTurk platform, or a Bangalore office — they break with all origins altogether. The images are three-dimensional, but the precise dimension they occupy cannot be identified. And maybe this is the reason for their buoyancy, because without origins, they relieve themselves of any ties to centres, weighty ideologies, serious things.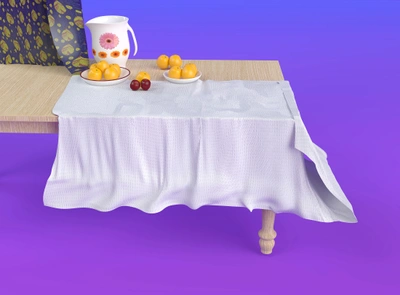 Tara, as with Camille and Darius, are toying with what it means to labour — to work — under virtual conditions. But composing poems to spammers and designing posters without clients are not just exercises in a futile irony. In fact, their oddball humour does liberate them, kind of like how Tara's tablecloths seem to defy virtual gravity. And maybe this is Melanie's point, that the best way to cope with the dissolution of the self within the endlessly liminal pathways of the Internet, is to simply giggle, troll a spammer, crawl into a T-Rex suit, or howl at the moon.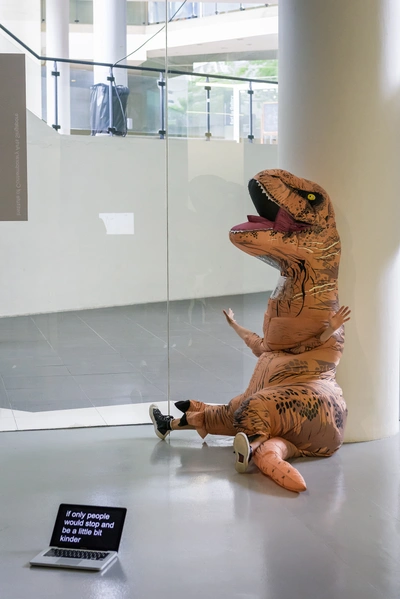 Dissolving margins  runs until 22 January 2019. Browse the e-catalogue  here .
1

.

Elena Ferrante is an award-winning, pseudonymous Italian novelist. My Brilliant Friend (2012) is the first book in a series of four entitled the Neapolitan Novels. The series traces the coming-of-age of Elena Greco and Lila Cerullo from their childhood to old age. ‍

2

.

Elena Ferrante, My Brilliant Friend, trans. Ann Goldstein (New York: Europa Editions, 2012), 27.

3

.

MTurk is a crowdsourcing marketplace that allows "individuals and businesses to outsource their processes and jobs to a distributed workforce who can perform these tasks virtually". "Amazon Mechanical Turk," Amazon Mechanical Turk, accessed January 3, 2019, https://www.mturk.com.