Collecting, Silicon: KADIST (Paris & San Francisco)
Shona Mei Findlay, curator of KADIST, shares about the institution's work in advocating for technological art collecting.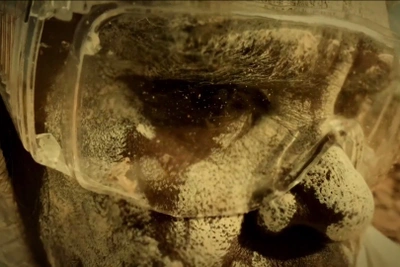 Nearly two years ago, so-far began as an experiment connecting the worlds of contemporary art and technology through long-form dialogues on a range of issues where specialists in both domains found overlap: smart cities, artificial intelligence, the blockchain. Through this intersecting discourse, we hope to provoke questions and raise original solutions to an increasingly complex world.
Aside from the research that emerges from or around these discussions, another domain that so-far underscores is patronage and collecting — collecting the artworks that our artists produce in response to such topics — in order to support their livelihoods and creative practices. Here and there, you will find that some articles contain artworks for sale, pushing you to the so-far shop .
Somewhere, within the interdisciplinary dialogue, and amongst the art we choose which pivots around tech, is the long-term hope that more individuals within the domain of technology will also become art patrons. Perhaps they will discover the resonances that these artworks have with their own line of work, or how creatives are challenging preconceptions that are baked into modern technology.
so-far collects is a new column that looks at how the most experimental and sophisticated collections today are revolving around new media practices and especially, new technologies. I spent a couple of months interviewing Shona Mei Findlay, curator of the KADIST through a shared Google Document. Based out of San Francisco, its proximity to Silicon Valley and founder's tech-informed history, make this private art collection a prime forerunner for a new generation of technological art collecting.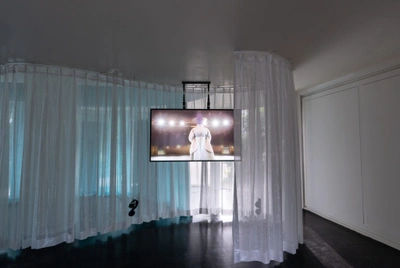 CJC: The other evening, I stumbled into what I thought was a "community" dinner. I had expected Modern Singapore cuisine, casual Saturday night, pre-drinks… Instead it turned out to be a venture capitalist (VC) mixer and somewhat cocktail-formal. Private bankers, private equity (PE) partners, and start-up founders were in attendance. A little slice of Silicon Valley on our own Club Street [01]. I suppose, Singapore has become a little bit like that — a hub for arbitrage and brokerage, a hub for capital that is looking to spread its tentacles throughout Southeast Asia. In the art world, we tend to forget about this world.
But I know that KADIST exists because of this world. Can you tell me a bit about how your activities are funded, and how it came into being through venture capital? And when you're working at the art space, do you ever feel like you are passing in between two spheres?
SM: Living in the Bay Area always feels like you are passing between two spheres, no matter which industry you're in. On one hand, it is the epicentre for technology, innovation and social media, and this has led to immense wealth in the Bay. On the other hand, the poverty and inequality are astounding.
KADIST was co-founded in Paris in 2001 by an uncle and his niece, Vincent Worms and Sandra Terdjman. Worms, who is now the president of the organisation, is a venture capitalist based in the Bay Area and also runs a philanthropic family foundation, and both of his roles feed into KADIST's sustainability.
While our funding is not infinite, it does feel like our relationship to tech does provide a stable foundation for us, which is unique for an organisation that is part of the hugely precarious Bay Area arts ecosystem. The Bay is facing a rapid artist exodus due to the rising living costs and a shortage of working and living spaces. Being a cultural worker is becoming less and less sustainable, so having fundamental assets like a space to bring people together does feel like a great privilege.
Being a cultural worker is becoming less and less sustainable, so having fundamental assets like a space to bring people together does feel like a great privilege.
CJC:   Besides operating so-far, I am also an art dealer and have been in the art market for a long time. And I am always thinking about how to convert capitalists or technologists into collectors. How did Vincent Worms discover contemporary art?
SMF:   I believe the family has always had an underlying interest in art, but he got serious about it by way of his niece Sandra Terdjman, who studied at Goldsmiths and now runs Council [02]. Through conversations with colleagues in the industry, they began their collection somewhat privately, and it eventually expanded into the KADIST collection.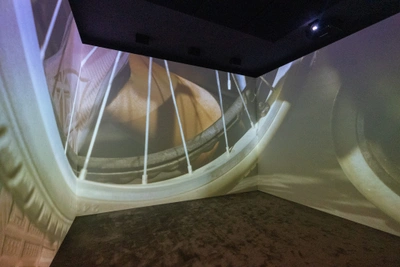 CJC:   How is the collection structured and subdivided? I understand it's done by region. Can you explain how these territories are mapped out and covered by different curators?
SMF:   Our Paris-based curators oversee Europe, the Middle East and Africa, while our San Francisco-based curators like myself oversee North America, Latin America and Asia (which includes Oceania). Stemming from each of our local hubs is also a series of three-year programmes that comprise commissions, symposiums and exhibitions led by a curator who is based in the region.
For example, we are working with Hyunjin Kim who is based in Seoul and her project Frequency of Tradition [03] examines the entanglements between tradition and modernisation in Asia. So far, we co-commissioned siren eun young jung's work with the Korean Pavilion at the Venice Biennale last year, an incredible piece that expands on the artist's Yeoseong Gukgeuk project [04], which focuses on a disappearing genre of Korean traditional theatre that features only women actors. We also co-commissioned Chia-Wei Hsu's work Stones & Elephants (2019) [05] with the Singapore Biennale, and collaborated with the Gwangju Biennale in 2018 for a series of programs initiated by Ho Tzu Nyen that expanded on his research into the Kyoto School, a philosophical movement at Kyoto University during the Meiji era, in collaboration with the improvised music group Far East Network [06].
On the ground in San Francisco, I focus on expanding our Asia collection, working with artists-in-residence from the region and local programming related to Asia. The collection is the starting point for everything we do at KADIST.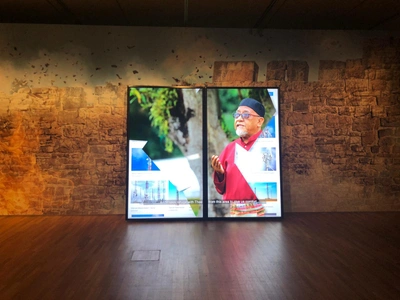 CJC: It's excellent that the artworks that form the core body of the collection are extended and expanded in these programmes and exhibitions around the world. That way, the collection becomes an organic, living thing.
KADIST is also very supportive of pieces that may be literally composed and manifested by living bodies. Last we met, you were telling me about a performance by Duto Hardono that was recently acquired. Can you elaborate on the collection's approach to performance artworks?
SMF:   The first performance we acquired was Roman Ondak's The Stray Man in 2006, a performance and documentation of a man peering through the windows of an empty gallery. The Stray Man is an exercise in curiosity that takes a nuanced approach to the act of looking. Nothing actually happens. The seemingly trivial action of looking explores the poetic possibilities and difficulties and of socio-political permissiveness or constraints at large.
KADIST seeks out artists and artworks that address key issues of our time, so naturally, the medium's ability to respond to global issues with an element of immediacy is important, even if it is sometimes with minimal props, costumes and materials. The accessibility and the wide scope of potential audiences is also significant to KADIST's position as an international and multilingual organization. I'm particularly excited about the acquisition of Duto's work as it is the first performance by an artist from Southeast Asia that we have acquired and I also had the opportunity to see the work evolve from its first iteration while he was in residence at NTU CCA Singapore [07] when I worked there.
KADIST seeks out artists and artworks that address key issues of our time, so naturally, the medium's ability to respond to global issues with an element of immediacy is important.
CJC:   What are some other examples of the artworks in the collection that come to your mind which respond to today's most pressing "key issues", as you say? 2020 is an especially challenging year where a lot of these things are at a tipping point.
SMF:   Over the last year I have constantly found myself returning to the Karrabing Film Collective's Mermaids, or Aiden in Wonderland (2018). The collective's mode of idiosyncratic filmmaking and storytelling demonstrates powerful acts of resistance in the reclaiming of their own narratives. The film is a surreal exploration of Western toxic contamination, capitalism, and human and non-human life. Set in a land and seascape poisoned by capitalism where only Indigenous Australians can survive long periods outdoors, the film tells the story of a young Indigenous man, Aiden, taken away when he was just a baby to be a part of a medical experiment to save the white race. He is then released back into the world to his family. As he travels with his father and brother across the landscape, he confronts two possible futures and pasts embodied by his own tale and the timely narratives of multinational chemical and extractive industries. The psychedelic and fragmented nature of the film reflects the insidious, creeping violence of toxicity that corrupts those who are structurally, economically and politically displaced, drawing uncanny parallels with the disproportionate impact of the global pandemic and revealing the systemic racial inequity in America and around the world.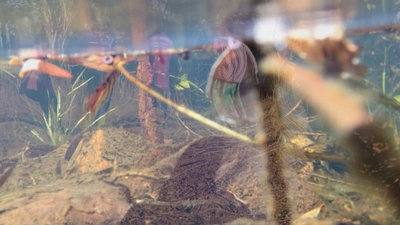 CJC:   It sounds like an incredible and layered piece. Do you think artists can remake the world through visions like these? It seems trite when it comes from art world people, but remembering how your institution's co-founder is also a venture capitalist, it makes me wonder about his own deeper reasons for looking at contemporary art.
SMF:   Silicon Valley was built on the foundations of innovation and reinvention. Much of what thought pioneers and artists do is to reveal alternative or forgotten narratives and how we remember history. The most successful entrepreneurs in the Valley need to be disruptive, and historically, artists are also renegades who have gone against a status quo. I think that both of these industries aim to disrupt the world and that's where they share an affinity.
CJC:   Are there any moments in your curatorial research where you have to interact with new ideas and startups coming out of Silicon Valley? I recall you telling me how the team was looking at new virtual reality (VR) technology, amongst other tech. How is it like to interweave this "testbedding" process into your curatorial framework?
SMF: Technology's ability to make art accessible is at the core of what we do. The Kadist Video Library is an initiative we launched about a year ago that gives people free access to contemporary video artworks in the collection. It's really exciting that people who may not have access to galleries and museums can still watch video artworks and experience online exhibitions. We're also working on a thematic mapping program that will function as a search tool for curatorial research. The spirit of KADIST and by nature of being located in the Valley definitely encourages us to look at "innovation" within the realm of art. We've been researching VR, not just as a way to experience art (e.g. exhibition walkthroughs) but as a medium for artists. We're interested in being part of the discourse around how VR work will evolve and how artists' conceptualisation of ideas will shift with the development of this medium and the collecting and conservation of these works.
The most successful entrepreneurs in the Valley need to be disruptive, and historically, artists are also renegades who have gone against a status quo.
CJC: Speaking of VR as a discourse and a new medium, it's all such an uncharted territory. Are there any theorists or practitioners who are mapping it out that have guided you in your visual and philosophical understanding of it?
SMF: We have been working closely with Michael Connor, artistic director of Rhizome, a digital art institution based on the web and affiliated with the New Museum [08]. Through Michael, we've had discussions centred around specific artworks that address the medium as a whole, but this has also revealed how unchartered this territory is. We still don't really know how to collect it, and the technology hasn't evolved beyond gamer use cases, and it is slowly being used in the health industry. While this is outside the sphere of contemporary art, I learned a lot about VR through Dr. Albert "Skip" Rizzo while doing research for our upcoming exhibition by Jeamin Cha [09] entitled "Troubleshooting Mind I, II, III" .  Skip is an expert in the use of VR technology in mental health applications and is developing a virtual avatar named Ellie that helps interpret user's emotions from speech and physical gestures to indicate psychological stress that may be imperceptible to a human therapist. Through reading about Skip's work and having the opportunity to interview him about his research, I learned of VR's potential to rehabilitate from post-traumatic stress disorder, in Skip's case. Similarly, contemporary art has the potential to change perspectives. Jeamin was researching the relationship between technology and mental health, which resulted in her video essay Ellie's Eye  tracing the history of technology in medicine.

CJC:   Those are such exciting possibilities and I love it when I hear about these different domains converging. My hope is that more individuals like Skip will come into the art world and vice versa, opening up the channels and membranes for interdisciplinary infusion.
Coming back to that VC mixer, I wonder, have KADIST's artists and curators interacted much directly with those sorts of people? How do we bring research that you have discovered between Jeamin Cha and Albert Skip Rizzo to their attention?
SMF:   I don't have the answer to this yet, but I think it's really important to keep growing a relationship with the community of VC and technologists in order to create a new generation of arts philanthropists and a new ecosystem in the Bay Area. I think if there were more opportunities to spend time together and share research, we would find we have a lot more in common than we think.
01

.

Club Street is a heritage district in Singapore that is now home to several restaurants and bars.

02

.

Council is an art organisation devoted to fostering better understanding of societal issues through a long-term artistic program of partnering thinkers with makers from different fields of action and expertise. Read more: www.council.art/about

03

.

KADIST, "Asia: Frequency of Tradition", Events, International, 2018. www.kadist.org/program/frequency-of-tradition/

04

.

Elephant, "The Korean Artist Exploring the Vanished Drag Act of the All-Female Opera", 17 September 2018, www.elephant.art/siren-eun-young-jung/

05

.

Singapore Biennale, "Chia-Wei Hsu", 2019, www.singaporebiennale.org/art/chia-wei-hsu/

06

.

KADIST, "Gwangju, South Korea: The Kyoto School & Far East Network", Events, International, 2018, www.kadist.org/program/the-kyoto-school-extreme-noise/

07

.

NTU CCA Singapore is the national research centre for contemporary art under the Nanyang Technological University, located in Gillman Barracks.

08

.

The New Museum of Contemporary Art, or New Museum, is a museum in New York City at 235 Bowery, on Manhattan's Lower East Side.

09

.

KADIST, "Jeamin Cha", www.kadist.org/people/jeamin-cha/