Art Dubai Digital 2022 – Blockchain as the Medium of the Future
This March, SO-FAR and its newly established HORIZONS virtual gallery, created in collaboration with AORA, took part in Art Dubai Digital. We bring you a piece of the atmosphere and our selection of the fair's highlights.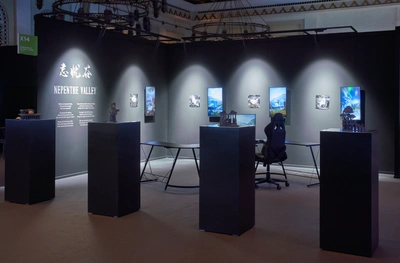 This March, SO-FAR and its newly established HORIZONS virtual gallery , created in collaboration with AORA , took part in Art Dubai, a prominent art fair representing art from the Middle East, north Africa, and south Asia. This was the first fair edition to place a distinct focus on digital art and NFTs, dedicating an entire section and two talks series to this new media alone.
This deliberate choice serves Dubai's objective to position itself as the global crypto-asset hub and confirm its self-proclaimed title as the "city of the future". Further prompted by the growing trend for NFTs in the art world, which now constitute 16% of the global art market according to Nonfungible.com [1], and with the crypto community multiplying, it appeared natural to open new spaces for digital art to occupy. This shift marked the 15th edition of the fair, the largest one to date with a record attendance of more than 30,000 visitors across five days .
Through its specialised programme, Art Dubai Digital , the fair's organisers contextualised NFTs, cryptocurrency, video art and virtual reality (VR) by exploring historical currents in digital art going back to the 1980s. The section presented 17 galleries, DAOs, collectives and platforms that presented works created with VR, generative AI models, 3D printing and other new technologies.
The fair featured two curated talks series to complement Art Dubai Digital, sponsored by crypto companies. The first, Bybit Talks, enabled by the top-four crypto exchange Bybit, was a series of conversations about crypto technologies, the metaverse, digital media and NFTs designed to explain their influence on today's art world. Among the guest speakers, visitors could hear SO-FAR founder Christina J. Chua in conversation with NFT designer and metaverse architect Andrés Reisinger; Joe Kennedy, co-founder, Unit London and Institut; Dima Abdul Kader, co-founder of Emergeast. The second, a recurring highlight of Art Dubai, the Global Art Forum, was commissioned by curator and critic Shumon Basar and sponsored by crypto analytics firm Nansen. The forum was entitled "This is the Picture" and featured discussions on innovative NFT platforms and projects, DAOs, Web3, the metaverse, crypto subcultures and meme economies. One of the panellists was Lawrence Lek, an artist exhibited by SO-FAR.
Returning to Art Dubai Digital as a new paradigm for art fairs and assuming the role of an educated observer, it was impossible to remain indifferent to the potency of the digital presentations present. Along with the SO-FAR x AORA booth featuring Nepenthe Valley , the inauguration of the latest NFT project by Lawrence Lek , the SO-FAR team selected a group of artworks that highlighted the event.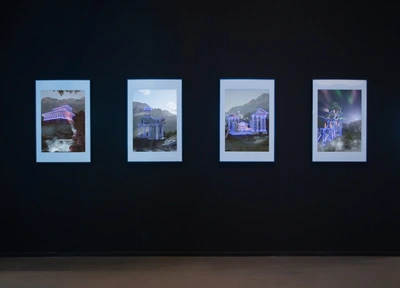 Art Dubai Digital Highlights
Pieces that stood out at the Art Dubai Digital section breached the boundaries of the medium, belonging to that group of forward-thinking, cross-media works that demand attention through their visual impact or resounding message. While they boldly incorporate key traits of blockchain-based art, each of these pieces is more than an NFT. Led by our own proclivity for interdisciplinary approaches, we've curated a selection of the digital pieces that impressed us the most.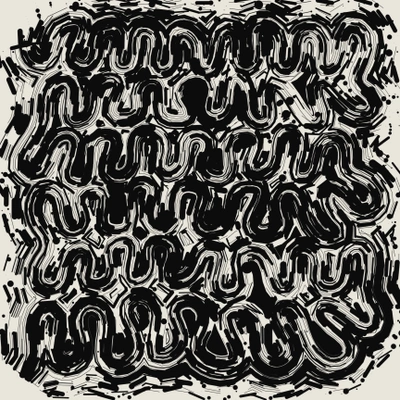 Top NFT Sales at Art Dubai Came from Institut, London
For their debut appearance at an international art fair, Institut from London curated a selection of four prominent NFT artists, among which were Tyler Hobbs and Krista Kim.
Tyler Hobbs' Elektroanima 0.9 continues his investigation into combinations of human linework and algorithmic processes. The work began as a hand-drawn curve, then transformed by custom algorithms to finish the piece. Resembling an abstract drawing guided by repetition, Hobbs' work raises various medium- and process-related questions.
Reportedly, Elektroanima 0.9 also came out as the biggest reported sale of the art fair, sold to ArtOnInternet , a foundation for emerging art and technology, for 88ETH (around $230,000).
Famous for combining digital and physical installations to produce Zen experiences, Krista Kim has distinguished herself as one of the leading NFT artists today. At the fair, Institut showcased Mirror of the Mind v.5 , a series of 8-minute meditations, each featuring a rotating prismatic sphere that captivates attention and draws the observer into a state of calmness.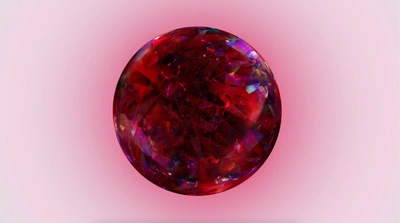 A Lesson in the History of Digital Art
Among its five artist presentations, Postmasters Blockchain — a division of the digital art pioneer Postmasters Gallery from New York, exhibited a magnetic piece by Jennifer and Kevin McCoy titled Quantum Leap (Primordial Star 3) . This 2021 piece of generative art was inspired by the duo's seminal 2014 piece Quantum , the first-ever work of art tokenised on blockchain. An image in motion, Quantum Leap drew its name from theoretical physics and its attempt to develop a theory of the universe. As the final result, we have a work that continually evolves, presenting itself in many iterative variations, each more complex than the previous one.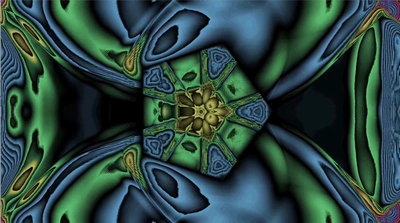 Redefining the Architectural on a Smaller Scale — Refik Anadol
A contemporary art gallery from Istanbul, Pilevneli joined Art Dubai Digital with one resonant name on its roster, Refik Anadol. Famous for adding imaginary dimensions to architectural spaces, the artist presented a series of works on a smaller scale directing the focus to their visual opulence. Anadol makes use of machine-learning algorithms to forge oneiric environments filled with alternating organic shapes that mesmerise in their perpetual digital motion.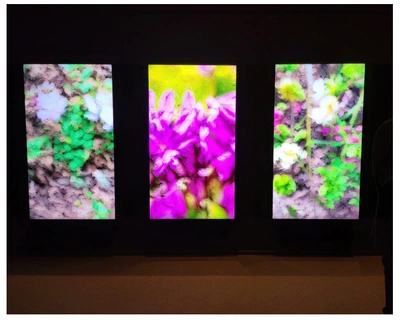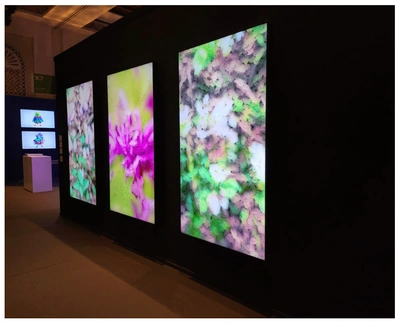 Dastan's Basement and NFTation Introduce Tehran's NFT Scene
Dastan's Basement from Tehran, in collaboration with NFTation.io, presented two Iranian contemporary artists, Yousha Bashir and Alireza Asadi Zendehjan. Incorporated into a classic arcade machine, two digital animations by Zendehjan, Hot Tub and WAK WAK, feature a psychedelic palette and distorted figures in their bleak futuristic visions. Bashir presented three large-scale NFT works, landscapes that revert to the retro-futuristic aesthetic of the 80s, drenched in fluorescent hues. The pieces were hung on a wallpapered background printed with the artist's signature digital motifs and displayed on large-scale monitors.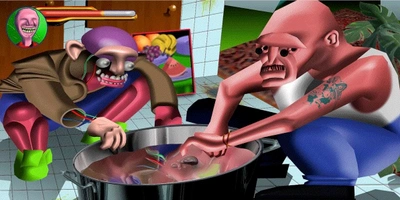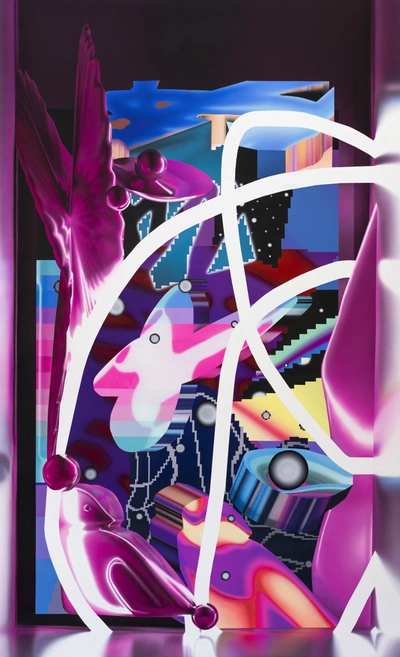 Cultural Heritage in Focus at GAZELL.iO and Emergeast
A digital subsidiary of Gazelli Art House, GAZELL.iO presented Orkhan Mammadov to the Dubai audience, showcasing his unique take on the Azeri ornamental heritage. His works form part of the Revival of Aesthetics series and use an artificial intelligence algorithm to collect Middle Eastern carpet designs to produce generative patterns. Intricate as their visual sources, Mammadov's works represent a fresh outlook on the dominating legacy of ornaments in Islamic art.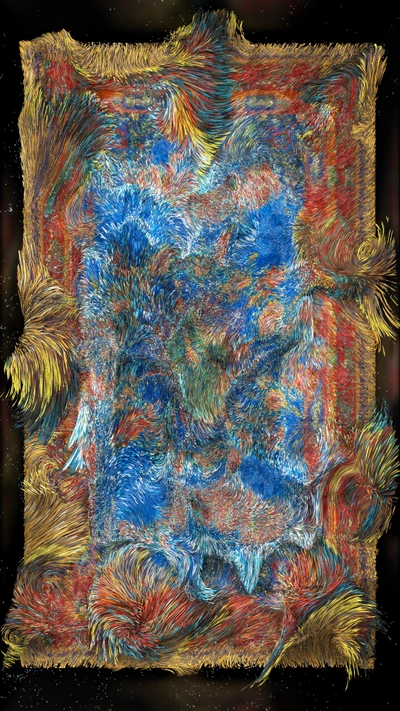 A highlight of Middle Eastern digital art collective Emergeast was Hana Shahnavaz, known for combining traditional Persian miniature painting techniques with large-scale presentation in her depictions of narratives inspired by Persian art, literature and folklore. Her piece A Meadow for Shabdiz shows Shabdiz, a key figure from an ancient Persian folk-tale and the fastest horse in the world, now rendered "alive" by the magic of digital animation. Shabdiz resembles an ethereal creature from a beautifully illustrated and animated storybook while representing a symbolic unity between humanity and nature.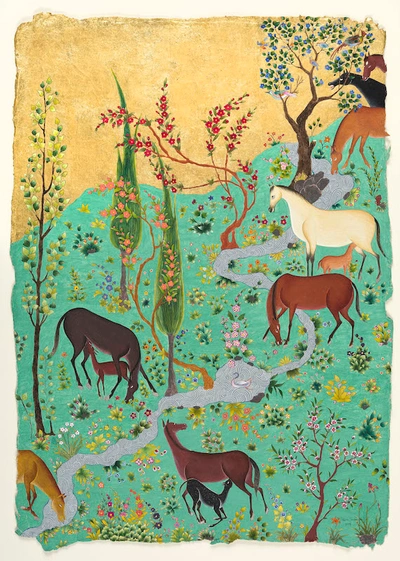 Seed Capital - Rethinking the Blockchain
Finally, the terra0 and Fingerprints DAO collaboration presented one of the most progressive and conceptually complex pieces of the fair with a project that explored the economic and ecological relationships between artworks, viewers and institutions. Seed Capital is an interactive sculpture that works as a technologically augmented organic system that engages in social and financial contracts with its environment.
It consists of a plant — Dypsis lutescens — positioned on a public-seating-shaped metal sculpture, surrounded by tech monitoring soil moisture and temperature. The plant was connected to the Ethereum blockchain through a set of technological prostheses that allow it to mint tokens. If the plant was cared for properly and the readings recorded were within a suitable range, it would mint a token — a Certificate of Growth — in a given interval.
Dypsis lutescens effectively communicated with the caretakers by incentivising them to provide it with the best conditions possible, thus motivating its human guardians to act .[2]
Seed Capital is a powerful installation challenging our views on blockchain technologies and their ecological implications and our human position within such a universe.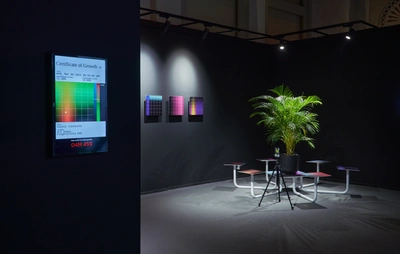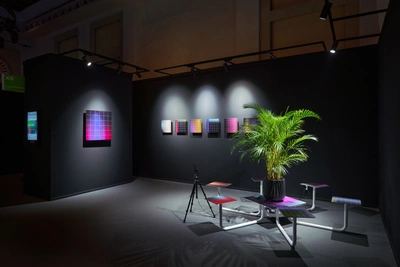 To conclude our recap of the Art Dubai Digital section, we return to SO-FAR's presentation of Lawrence Lek's Nepenthe Valley , a project with the notion of healing in focus. Even though advanced technology made room for new representations in art across the fair's various presentations, the viewer is still at or near the centre of the experience. Even if the art is fully generative, it is us who envision and meditate on it. It is still humans who create. And we are yet to see how the future of art will evolve.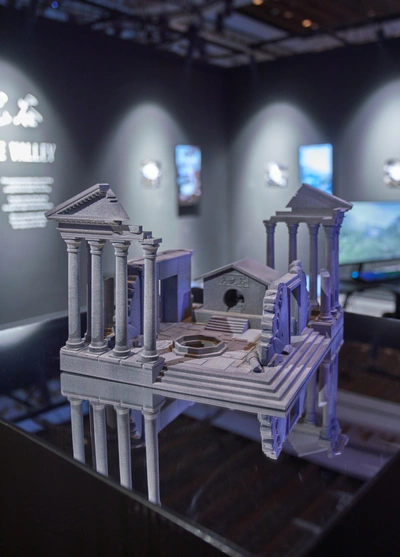 1

.

Sam Gaskin, "Out of Nowhere, NFTs Now Constitute 16% of the Global Art Market", Ocula, 2022.

2

.

terra0, "Wen growth? An introduction to Seed Capital", Medium, 2022.