Wayward Tourism
Writer Sihan Tan tells the demise of an aged man who has an unorthodox dependency on a pair of binoculars.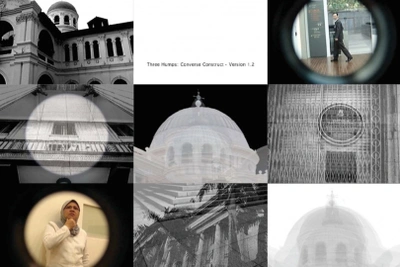 He had just enough room for a digital camera and so he brought his binoculars. 
A bird of prey took down a morning pigeon and tore it open next to a dog park. (A salivating dog is more dog-like than a barking one.)
Drones, more birds and balloons jostled for sky space. (Have birds ever been suspicious of balloons?)
Cracks on skyscrapers. (The usual flock of pigeons, yes, but surely drones too these days.)
Killer litter. (How to go about burying dead pets on rooftop gardens?)
Spotting an object or intrigue in the distance, he'd walked towards it, entertained a passing thought, saw something else again. 
"Speak to the locals," his daughter called, suggesting. "Maybe," he said.
"How is John?" he asked, after a pause.
Binoculars were useless in museums, or so everyone thought. For months his son-in-law had been living with prostate cancer and the slightest exchange with his daughter provoked repeated talk about treatments and glandular transplants. From the steel-glazed atrium of the former colonial administrative building, he zeroed in on those who snuck pictures — elbows on rails — and then, vibrantly-dressed ones who barely looked and imagined continuous seasons of window shoppers wary of all those out-of-reach, soft and smooth textures. He recognised the boredom of security guards and a few customers — young men his daughter's age loitering outside the gift shop without walls. 
Binoculars were useless in museums, or so everyone thought.
He tapped on a small shoulder and handed his binoculars to a boy he thought the most self-conscious from the parade of school children passing. No, he was just someone's boy. What little had been said of him, if said at all, over the years — that he was so very quiet, shy and introverted —  were they not politely disguised attacks? Who's been counting all the damage and grief averted courtesy of his reticence, his refusal to impose on others? How… how is John? 
 Momentarily blinded after staring at spotlights, he listened in to the commotion of footsteps on marble surrounded by century-old derivatives. (Sounds like hail, or hasty showers in cheap fibreglass bathtubs.)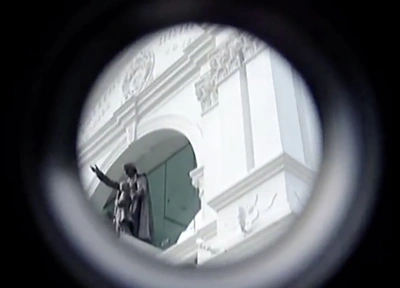 The binoculars sported new scratches on the lens surface. "Ask your parents for a better model on your birthday," he told the boy, escorted by a bespectacled face sighted from the gift shop. 
At his age, he wondered if autistic masculinity  — a term bandied by smokers outside a speakeasy — was merely a rehash of the way society wanted to think about men. He wasn't a dazhangfu  [01], and neither was he obnoxiously conscientious, he averred, watching from afar the dejection on other people's faces on missing a train. More waves of people missed more buses and some trains. The opinions of others were akin to looking through the wrong end of binoculars. 
"We are seriously considering prosthetic sex organs smart enough to predict motion," his daughter texted. His son-in-law was a self-made, cashless, post-tech millionaire.
He liked being able to think he could have been a better father, that there was always — always — room for improvement. Over the years, the indistinct suspicion that his daughter was altogether different folded neatly into the pointed wish that she would come out as a homosexual. He had yet to tell her the greatest gift a man could ever ply a woman with was to cry hard and freely in her presence and John was — and could continue to be — a loud, proud, insipidly neurotic man. 
His son-in-law was a self-made, cashless, post-tech millionaire.
At the cinema, he calibrated his binoculars, forcing the lady seated next to him to leave. He stared at the locals who didn't look like him, and wondered if any of them had bionic penises that stayed hard when half charged. He bought linen clothes for they were hospitable to travellers and medically castrated patients. He spotted a gangland crime and, having caught up with its potent adrenaline of broken glass and loaded ambulances whirring, boldly wandered streets without lamps. Their gutters twinkled with chromatic lines of creamed oil. 
The tourist without a camera had two more weeks to spare.
"If I could only spend the rest of my life spotting the heat of each moment before approaching," he explained to his daughter. 
"Where are you now?" she asked, from the hospital. 
After the call, he upgraded to a suite with a balcony. 
John was in a coma and time was running out to find a compatible donor. (Certainly, the old were seldom compatible with young men).
He woke up to the curtains lurching, half-drawn, stricken by the thought of his daughter dying from something as unnatural and horrible as a broken heart. He slid the glass doors open and watched a space station fall. He saw wildfires in the Arctic; flying dinosaurs with feathers, not scales; new looks on old fugitives of Most Wanted lists; and everywhere — like pink teetering teardrops — the stranded uvulae of peoples laughing, talking, yawning. Thirty years ago, he had climbed Mount Merapi in Central Java. He rediscovered the rusted tin cans lodged in dirt. Even the rock face his porter had fallen from.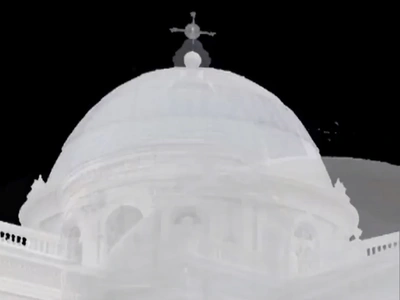 What could his daughter's mother be looking at right now? Her newly painted nails, or her step grandson wobbling from one end of a carpeted room to the other. Yet again, she appeared too well-preserved in his thoughts, artlessly languishing, agelessly everything . No, he knew he was projecting. She would be complaining about the noise, cockroaches, the price of living. She would be telling on his fabled inaction to people he considered strangers, of how he wasn't assertive enough in bed and with other men. He preferred microfibre cloth to canned air when cleaning the lenses of his binoculars.
"Pray for John," his daughter texted. "We got the green light for an artificial transplant. The next twenty-four hours will be very, very crucial." 
Having splurged for an expensive tour in a passenger submarine, he thought hard about his reply: Men expect women to expect men to be both invulnerable and sensitive. I'm sure your husband feels the same?  "One less person to care about is one more aspect of myself to work on," said a young man to another in the packed vessel. Like everyone else, they were taking pictures and he could see, moments before submerging, flaming debris in the wake of a commercial plane falling. 
"Marine snow is the continuous shower of biological debris," the audio guide informed. "It buffets an ocean floor scattered with ruins and the slow-to-decay carcasses of whales."
Wouldn't the submarine's sonar system detect anomalies as obvious as broken parts from a plane, he wondered, and could he continue to expect a grandchild from his son-in-law with his made-to-order manhood? The submarine's lights illuminated sectors as vast as cathedrals, and there were fish. He imagined, and revisited, degrees of excitement on both their faces — if his family were with him — from as recently as thirteen years ago. What escapes an old traveller, he thought, glancing at the binoculars on the empty seat next to him full of a feeling that this could well be the beginning of a most unusual journey. 
"The pressure of water eliminates most life," the audio guide continued, "shatters unfortified glass." 
Talk and laughter faded to expose the submarine's calm mechanical whirring. All fish were silver darts. At 120 metres below, they heard a thunk on the roof. Several more thunks poignantly followed. There were complaints of headaches in other passengers' murmurs.
"We are now entering the realm of the giant sq-quidd," announced the audio guide. 
He thought of names for baby boys and girls but could not settle on the right English, Pinyin or A.I. ones. The sound of glass cracking elicited more screams. 
"Hey, it's okay. It's just my binoculars," he shouted at his fellow submariners, for something was hurting him from the inside. Something was hurting everyone. The submersible seemed to have stalled in the midst of successive tremors. 
He pressed his face onto the frenzied floor, discomposed by the opportune accession at the quiet, shy and dull  person he'dinvariably become; an old ghost wary of his son-in-law's motion-predictive cybertronic sex organs; a light shadow passing through hotel rooms and that memory called home. And the inert bubble of space between opposing lenses of a binoculars, not unlike the emptied hull of a novelty submersible, or the sudden absence of flesh, infected and extracted from the pelvis… 
After a flameless combustion, passengers of the mangled submarine co-mingled with ones from the downed plane and it was difficult to separate rising bodies from those sinking.
01

.

"dazhangfu" is a Chinese word that describes a gentleman, one of masculine character.