Simulating Asphalt: New Ways of Seeing in the Work of Genevieve Chua
Writer Rachel Tan questions abstract artist Genevieve Chua on how she observed the behaviour of autonomous cars to imbue an exhibition with virtual ways of seeing.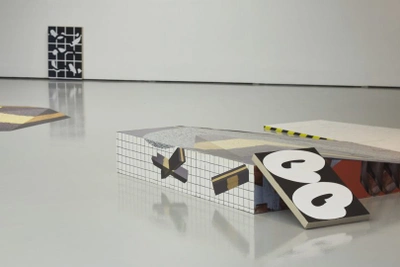 Grasping firmly on the silver door handle of the Earl Lu Gallery at the Institute of Contemporary Arts Singapore (ICA Singapore), I yanked the glass door back, only to be rewarded with an unyielding clang.
Maybe the other door would work , I thought. I switched hands and pulled on the left door, with equally unsatisfying results. Still nothing.
Was today a Monday? No. Was I too early? No. Was I too late?
Almost embarrassed with my struggle with the doors, I began "reversing" towards where the title of the exhibition and wall text was for clues to explain my predicament. The sign read: "Closed during opening hours".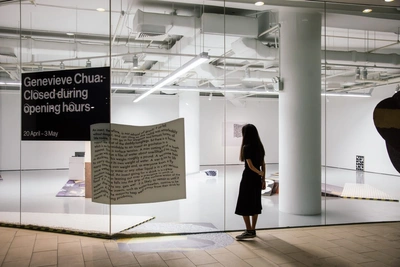 I peered back into the gallery space. The table and chair where a gallery attendant would have usually sat were now empty. Yet the gallery was not empty. An array of art objects within the space were spread therein, but wholly out of reach behind a glass wall that defied expectations and conventions of seeing — especially seeing art from up close . Ramps, tiles, paintings, gravel, decals, concrete, steel and stone… on a wall, against a wall, balanced on each other, leaning against other, near the floor, on the floor… But all out of reach, like the images that lay behind a television or computer screen.
But the exhibition also extended out of the space, in some ways. I glanced at the ground where an "asphalt" sticker appeared to be slipping past the glass walls of Earl Lu Gallery and under my feet. I looked back at where a video of animated GIFs was launched through the glass to project against an empty wall just above a staircase that led to the basement of adjoining LASALLE College of the Arts, before watching the video's reflection bounce back into the gallery space against a pillar within.
What secrets lay within the space? What were the objects doing? What were they made of? How did they feel? I found myself crouching down to try and get a better look, craning my neck and twisting my body, moving up and down the staircase to the basement. I got a sense, then, that this was a show that would challenge the familiar and invite new ways of seeing and thinking about spaces.
I left feeling like I had failed to see the exhibition, and achieved nothing on this visit. But trailing my fingers against the cool glass walls of Earl Lu Gallery, I also felt like I was on the cusp of a new revelation, or a new understanding… I wondered if speaking to the artist who devised the exhibition, Genevieve Chua, would shed some light on her practice and process, perhaps offering some clues to uncover the source of frustration, discomfort and confusion that I felt so keenly while navigating this unconventional presentation. And if anyone could help me work through this, I was sure that it was the artist herself.
RT:   I felt that a big part of "Closed during opening hours" is the idea of materiality and its relationship with virtual images. Could you tell me more about your process of making the exhibition?
GC: My practice largely deals with abstraction in painting, and one of the first parameters for my process is flatness. However, the materiality and the technical aspects of making and installing a painting are still of huge interest to me. 
I dealt with the space at the ICA Singapore by merging two instances of what I felt to describe dimensions of flatness. One was an onscreen flatness, and the other a flatness in painting. The ICA space was more glass than wall, so I felt that it would be a good staging of an on-screen reality. 
Ramps, tiles, paintings, gravel, decals, concrete, steel and stone… But all out of reach, like the images that lay behind a television or computer screen.
I worked with curator Melanie Pocock to assemble the paintings and other objects in the space to not only give a certain depth to it, but also to play with different types of materials — laminated wood, ceramic-tiled flooring, acrylic on linen paintings as well as vinyl stickers — within, around and outside of the space. One of the pre-requisites for the materials that I chose was that they not only had to be flat, but could also be visibly felt to experience them. For other art makers viewing the space — especially painters — they would be able to tell from the outside that they were viewing a painting, specifically a painting that was done on linen. Others who would not have had that kind of experience making a painting might not know that it was a painting, and that would be fine as well.
In addition to the assembly of objects was a projection from the inside of the space out onto the wall that I created on Instagram Stories. I noticed that there was a certain dead space where the staircase led to the basement, and adjacent to that wall was where students went to complete projects. In a way, the projection was a way of contributing back to the gallery as an art institution, gesturing to its life and connection to the arts college, outside of the exhibition.
The paintings in the exhibition were part of an ongoing series called Edge Control (2016 — ). They are mainly monochromatic and painted edge-to-edge, which means that there was no invisible margin around the painting, just as there was no invisible margin around the gallery space with the elements from the exhibition projected outside of the Earl Lu Gallery.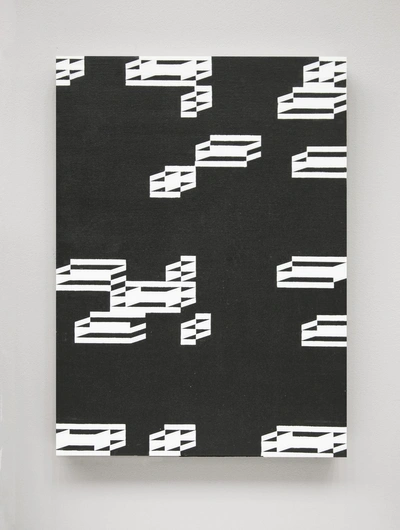 RT:   I see. Well, for me, I experienced quite an intense sense of confusion and mismatch brought about by the mechanics of the exhibition, in which I was unable to enter the space and was forced to view the works from outside or at a distance, much like the screen of a computer or television. How does this virtual dimension figure in the experience of the exhibition?
GC: You could say that the exhibition was a kind of simulation. First of all, I wanted the presence of the gallery sitter to be inside the space even though I knew it would be logistically impossible to lock someone inside the space. That was why I placed the table and chair in the space. They would function as a projection of someone in a space or an insinuation of an absence of that someone in the space, and that would give the whole gallery a sense of virtual reality.
There were also other simulations, like material simulations. Some of the vinyl stickers had asphalt textures on them, and they were juxtaposed with the cement objects and cement-laminated objects that were within the space. I was interested to test trompe-l'œil [01] in a 3-dimensional space, to discover other art makers' experience with materials through conversations with them on the exhibition. 
I was trying to disentangle ideas of hard or soft, or heavy or light, outside and within the space to illustrate other realities or simulations.
RT:   Speaking of simulations, I understand that you were interested in driverless simulations of autonomous cars, while developing this exhibition.
GC: I once came across an article on Google DeepMind about the problems that self-driving cars were facing. This was about 10 years ago. The AI guiding these cars struggled to determine if an object was hard or soft. For instance, the machine could not make out the difference between a crushed paper or a pebble, if the object was being hurled towards the car. This was a problem in the case of difficult weather conditions such as snow or falling leaves, as both would stall the car despite being both relatively soft. Initially, the cars only had Light Detection and Ranging (LiDAR) sensors on top of them that made a three-dimensional scan of the environment. But the sensors did not tell the car in an instant whether something was materially "true" — in the sense of its volume or weight in space. You could place a printed picture of a rock in front of the car and it would still stall. 
In "Closed during opening hours", I created these hexagonal forms that looked like asphalt printed on vinyl stickers, and installed them outside the glass to give an impression of a certain weight or gravitas. In a way, I was trying to disentangle ideas of hard or soft, or heavy or light, outside and within the space to illustrate other realities or simulations.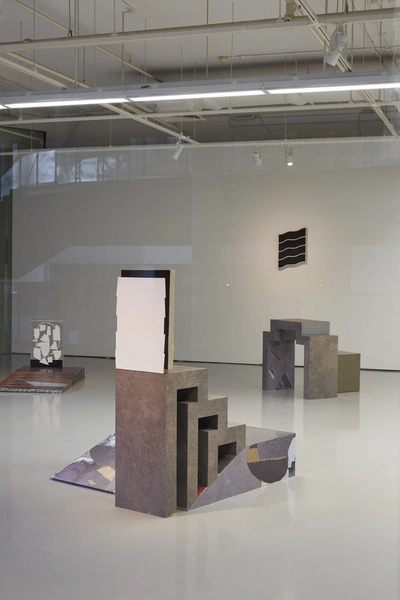 RT:   Do these elements enable viewers to draw connections between humans and AI? Having been confused by actual asphalt versus asphalt printed on vinyl sticker, I felt this mis-recognition could demonstrate that my senses can be just as limited, similar to the ways machines learn — or don't learn.
GC: The operating systems of AI are still programmed by human beings. When the stalling problem surfaced, engineers tried to retrace how the human mind would perceive textures or the weight of an object. However, teaching the AI to do the same is quite complex and impossible.
In comparison to the machine, the human mind acquires the difference of lived experience. In the case of the exhibition, I didn't think for an instant that I was tricking the human mind, except for some nuanced instances where there was wood laminated with the texture of asphalt or cement, or an object made of cement. 
RT:   Does the exhibition open up conversations on how the virtual is changing our ways of seeing and interacting with the world?
GC: Underlying the exhibition is something I've always been interested in — the idea of errors, especially with a machine when something hangs or stalls. But an erroneous situation can happen without machines as well. In a psychological sense, the idea of doubt is an erroneous situation. When we doubt or hesitate, a certain kind of glitch occurs. But that pause is necessary in order for us to process a situation better. So, we can say that when an operating system hangs, perhaps that pause is also necessary in order to identify the problem.
The gallery being closed during opening hours is quite erroneous and not being able to interact spatially with it is kind of like an error in the system as well. As visitors tried to push the locked doors, the gravel that lined the inside of entrance would move a millimetre, causing just the slightest change within the exhibition space to mark a failed attempt to enter.   This indicated a "404". Some viewers were frustrated that the door couldn't be opened. They commented, "If it's closed, I might as well stay at home and watch TV." But that is exactly the point of the work. You can stay at home and watch TV, or you can watch these images through the glass. Both are projections you cannot touch. The exhibition became a way to slow down the image, a way to slow down the viewing experience, but without ending it.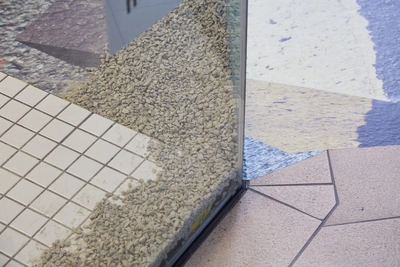 RT:   Let's move on to painting, since you're a painter who dwells a lot on new technologies. How do you think machine learning can expand our present understanding of painting?  
GC: Some parts of machine learning programming are if/else statements [02], so it's a matter of identifying conditions and exclusions. If in the example of self-driving cars, conditions are created either by code or sonar to identify the difference of density between objects [03], then an expanded approach to painting could also be achieved in the same way. There could be other permutations to approaching, viewing and placing paintings with the use of filmic, literary or architectural devices.
But an erroneous situation can happen without machines as well. In a psychological sense, the idea of doubt is an erroneous situation.
RT:   In Western art history, there has been a traditional preoccupation in painting with capturing an authentic image, an attention to flatness and depth, proximity and close-looking. Where does this exhibition and your practice sit in this conversation on painting?
GC: I'm not so much interested in figurative painting as I am in the placement of paintings in and around a space. Painting is essentially a two-and-a-half-dimensional object — it never really leaves the wall. For logistical reasons, it's never put around a space or placed on the floor, because it can be hazardous for the works. With the exhibition, however, Melanie and I were able to create a situation where it was safe for the paintings to be placed on the floor, hung really closely to the floor, and placed on objects where in any other scenario they would be knocked over.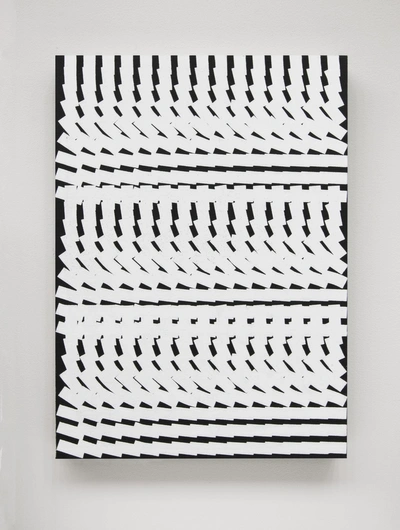 There was also a paragraph of text on the glass of the exhibition wall written by evolutionary biologist J.B.S. Haldane in the 1920s [04]. It speaks of an insect trying to drink from a pool of water without drowning itself. That references the idea of being on the edge of something — in the case of the insect, it was on the edge of a sip or a gulp. In my mind, the idea could also be about being on the edge of a painting, or placing a painting on the edge of a table, and projecting on the edge of a space…
RT:   — And I think for viewers like me, perhaps even being on the edge of a new revelation or understanding of painting and exhibition spaces. Could you share with us what are some of your ongoing projects and future exhibitions?
GC: The Edge Control series that was featured in "Closed during opening hours" is still ongoing and will probably accumulate to about 50 to 100 artworks. This is the fourth year that I'm working on the series, and it's largely a glossary of forms and shapes. Every 5 works from the series make up a "family", and each of the paintings have "siblings" or "cousins" that bear some resemblances. There are about 20 starting points of forms, each bearing five permutations. I have a solo show next February at STPI (Singapore Tyler Print Institute) and I'll hang all the works in the series in their entirety. Hopefully they make interesting interactions.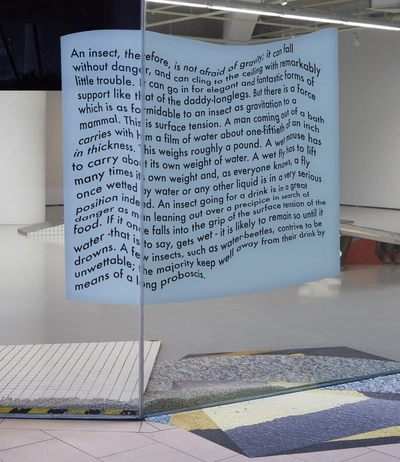 01

.

"Trompe-l'œil" is a French term that means "trick of the eye" or "to deceive the eye". It is used to describe an art technique in painting that creates illusions through the material reality of the object depicted.

02

.

An if/else statement in programming refers to a conditional statement that runs a different set of statements depending on whether an expression is true or false. If an expression is true, it runs the statements inside the 'if' block. If an expression is false, it will skip the statements inside the 'if' block and run the alternative 'else' path. Statements under the 'else' block are executed only when the 'if' condition is false.

03

.

In this instance, an if/else statement could be used in the following manner: sonar sends sound waves out to the self-driving car's environment. As sound waves travel differently through objects of different density, the reflected sound goes through a series of coded if/else statement paths to determine whether an object in front of the car is of a density that can be driven through or should be avoided.

04

.

J.B.S. Haldane was a scientist known for his work in genetics, physiology and evolutionary biology. In 1926, he published an essay titled "On Being the Right Size" that posited that there was an optimum or ideal size for an animal, and if its size changed, its form would too.